#Aadhaar
hearing continues.
CEO UIDAI has been granted permission to make a presentation at 2.30 pm. Petitioners allowed to put their questions in writing on Tuesday.
A-G wants to limit audience to counsels appearing in the matter considerig paucity of space. CJI smiles.
A-G continues reading from ID4D world bank report.
pubdocs.worldbank.org/en/20564144345…
Still reading from it. Lots of jargon. Too many occurrences of pretentious terms like "stakeholders" etc. Therefore not tweeting.
Still reading....from pages 25 and 26 in the report above.

With absolutely no sense of irony, A-G now reading the bit on the necessity and the greatness of purpose limitation in a data protection regime...
Still reading...at one point, A-G says India has transferred 9000 crores to set up and operate uidai. (No further details).
The ID4D report refers to the NIPFP "cost benefit analysis" to say there could be a 58.5% cost savings because of Aadhaar... (Recall that the assumptions in the study and the non-disclosed sponsorship that NIPFP had from UIDAI were pointed out by Prof. Reetika Khera right after!)
DYC J queries about authentication and enrolment services fees.

A-G says that as of today both enrolment and auth services are free.
Concludes saying the goal is to comply with Sustainable development goal of legal identity for all by 2030.
Says India has taken a leap ahead of all other countries. As big an exercise with 1.2 Billion enrolments have not happened anywhere else, A-G asserts.
Sikri J and DYC J in discussion ( My wishful thinking mind voice speculates that it is about how a programme trying to implement a sustainable development goal could be a Money Bill).
A-G hands over a list of dates on the history of the Aadhaar programme.
He makes the point that Aadhaar is not a casual venture undertaken in a routine manner..but a lot of thought has gone into the programme.
Also hands over a compilation of all related documents.
Sikri J asks about the relevance of all these documents beyond demonstrating that much effort has gone in. Says that does not answer constitutionality questions of the Act.

DYC J points out that as far back as Aug 2009 it appears the need for legislation was felt. Asks why it...
...took till 2016.

Bench rises for lunch.

PPT at 2.30.
PPT about to begin. One of the two installed projectors does not work. The one facing the judges is thankfully working.

CJI unhappy with the projector angle. Being adjusted. But the rectangular slide has taken a shape of a different quadrilateral on the screen though.
Has four agenda points.
1.
Introduction
2.
Technology
3.
Privacy safeguards and Contrast with smart cards
4.
Short movie on security.
Many people did not have a nationally acceptable id.

All ids are limited in their own way. EPIC for example cannot be given to children.
fondly recalls that he joined
@UIDAI
even before the first aadhaar number was issued and is happy with having been part of every milestone that it has achieved.
Reads and explains each bullet from this slide.

He is now explaining the enrolment process and asserts that UIDAI collects very minimal data. Contrasts that with the US SSN application process which is a data overload.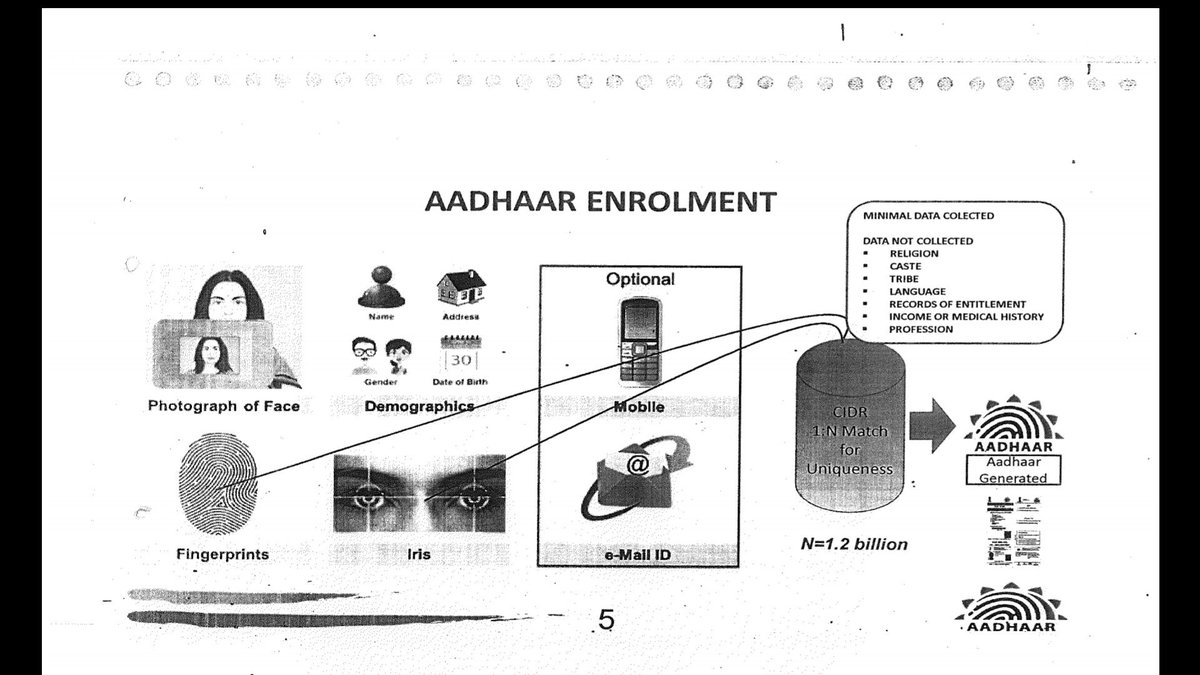 DYC J wants to know how a biometric exception enrollee get authenticated.

Dr. Pandey explains that they will have to use other modes of auth like OTP or Demographic authentication.
Pandey says there will be 13 modes of auth if you take 10 fingers plus 2 iris plus otp!

(Me thinks: each finger will atleast have one mole and each mole may have some Avogadro number of molecules? Should you then not take it into account?)
Pandey now good-mouthing his ecosystem.
And the 2048-bit encryption. Says 256 is the standard..but Aadhaar has a much superior hardest to break 2048-bit encryption standard.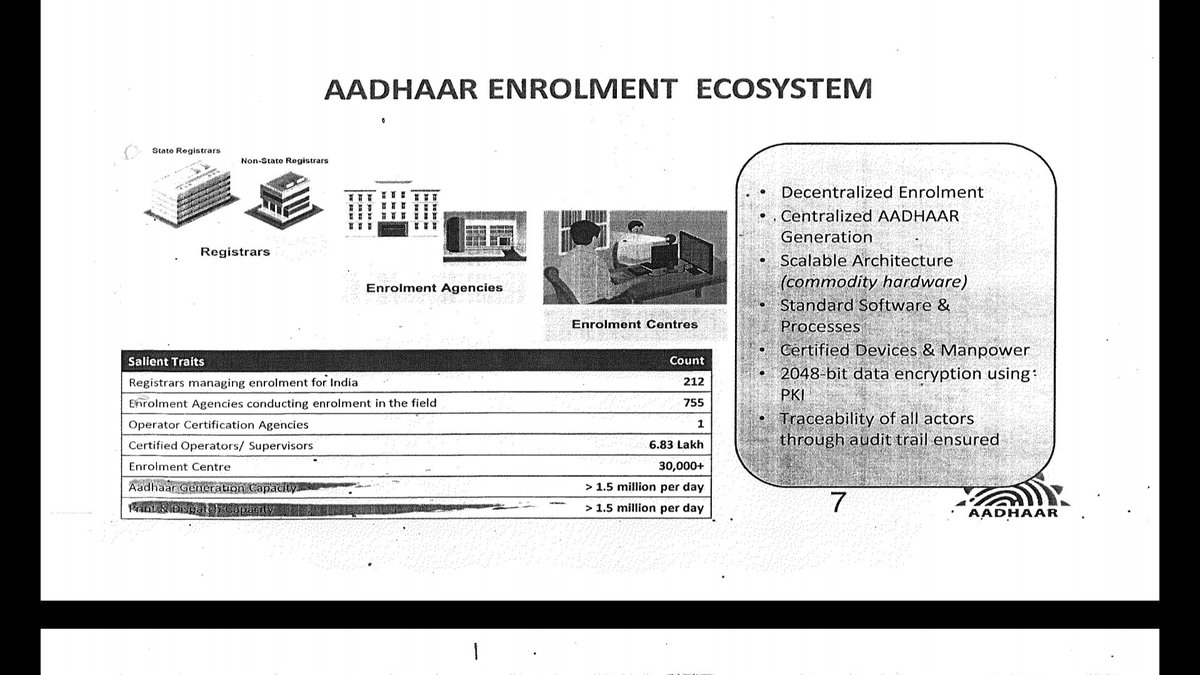 Sikri J asks the pertinent question. The complaint of the petitioners was that at the time of capture or before transmission.

Pandey asserts it is not possible. Says all machines are STQC certified and software are all UIDAI provided.
Sikri J asks for 49000 enrollers blacklisted.

Pandey says:
People who took money for enrolments.
People whose demographic data quality is very bad etc.

Sikri J does not look convinced that 49000 would be this way.
Pandey says some of them also misused the biometric exception.

Pandey says some of them also registered a tree or hanuman etc earlier...says they used to trust enrolment operators a lot earlier but they no longer do and have more stringent quality control.
Shows this pic. DYC J asks about world bank report saying under 5 not having id.
CEO says even infants can have aadhaar. We don't check for 182 day limit. There is an eyeroll in many of the lawyers in court.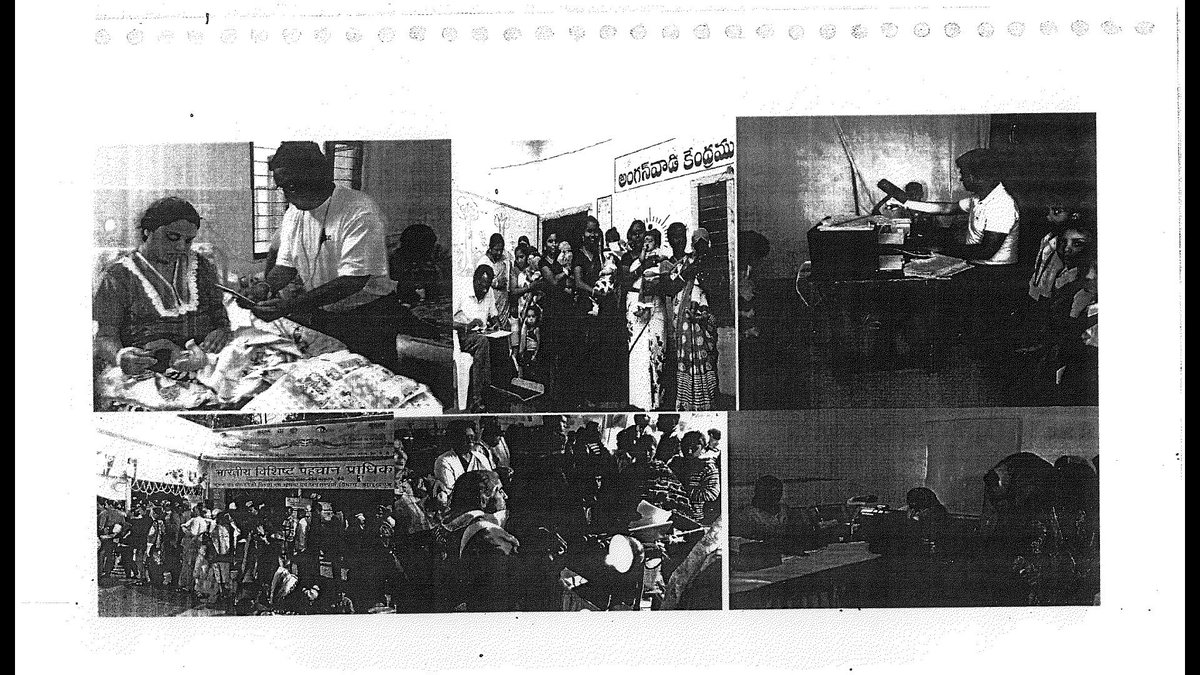 DYC J asks how are biometric update done?

Pandey says for children even aanganwadi workers can double up as aadhaar enrolment operators. Sikri J asks if they take Parental consent. Pandey says all legal compliance has to be taken care of.

For others he says they can....
...go to enrolment centres and they also do update.

Sikri J wants to know how does one know that one's biometric has changed. Says there are so many technically illetare and illiterate people and how they know when to update.
Pandey says Section 7 and Regulation 14(1)(i) make sure people are not denied in the meantime.

Says how QR code in the aadhaar card itself has some smartness built into it. Flashes the QR code in his aadhaar card!
DYC J asks that UIDAI does not know if denial of service happened but only if auth failure happens.

Pandey answers in the negative but says they constantly advise ministries that on the ground there will be exclusion if they solely depend on aadhaar auth. Which is why in law, ..
...they made exceptions and that any official not obeying and denying services would be taken a strong view of!

DYC J asks if there is official data of denial of service, Pandey says no.

Sikri J asks about shopkeeper appropriating the grain by saying biometric mismatch.
Pandey says Aadhaar cannot cure every kind of malaise referring to Jharkhand case.

Pandey says atleast now we have proof that it is the ration shopkeeper is caught. Earlier he could not be.
Pandey says 100% auth success is NOT possible. Many variables, connectivity, machine not working, etc etc. But asserts that Aadhaar Act takes care of it.

DYC J and Sikri J unconvincedly look on.
Pandey now says at the Govt level a decision has been taken that enrolments will happen only in banks, govt offices and post offices.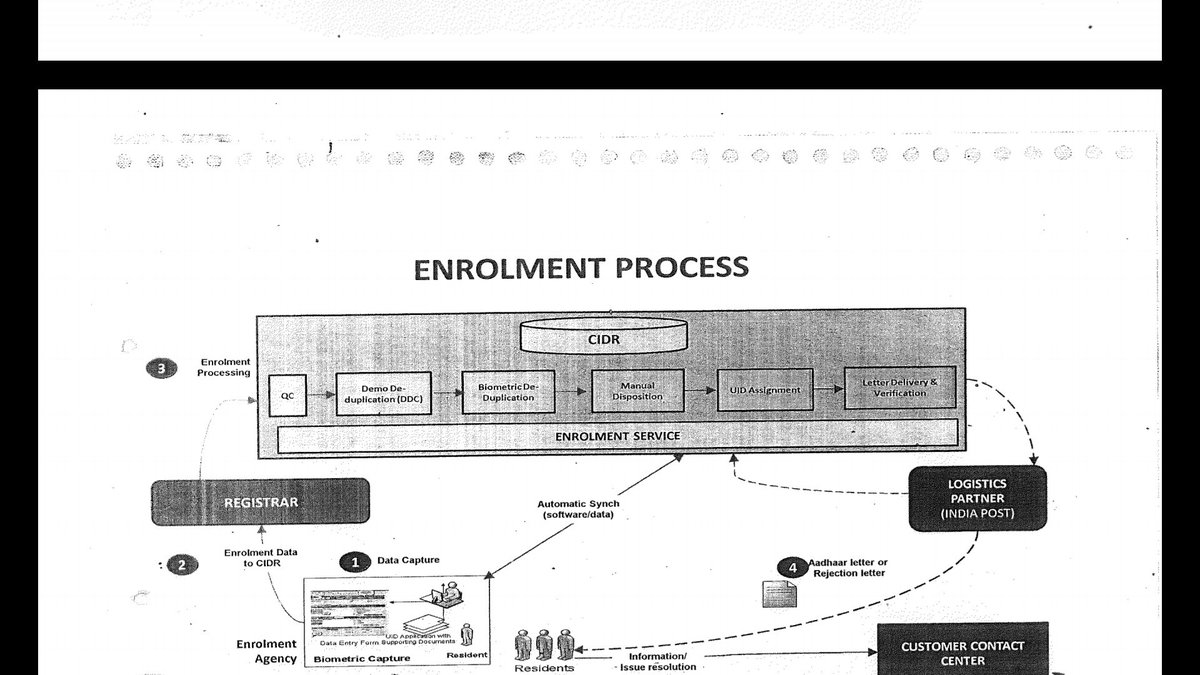 Khanwilkar J asks about software not being Indian.

Pandey says only the biometric match software is licensed from foreign companies. World's best companies in that industry he says.
Pandey says those software run on our data center. Says they are all 6000 server farm..very very powerful.
Pandey says just because Banks use SAP or Oracle, does not mean Banks give data to Oracle.

Says that these algorithms are their IP just like how Microsoft has IP in Windows.
Pandey says there can be no false positive dedups because there is also a manual override process.
Proudly says the contact centre at 1947 receives almost 1.5 lakh calls a day...one of the largest, he says!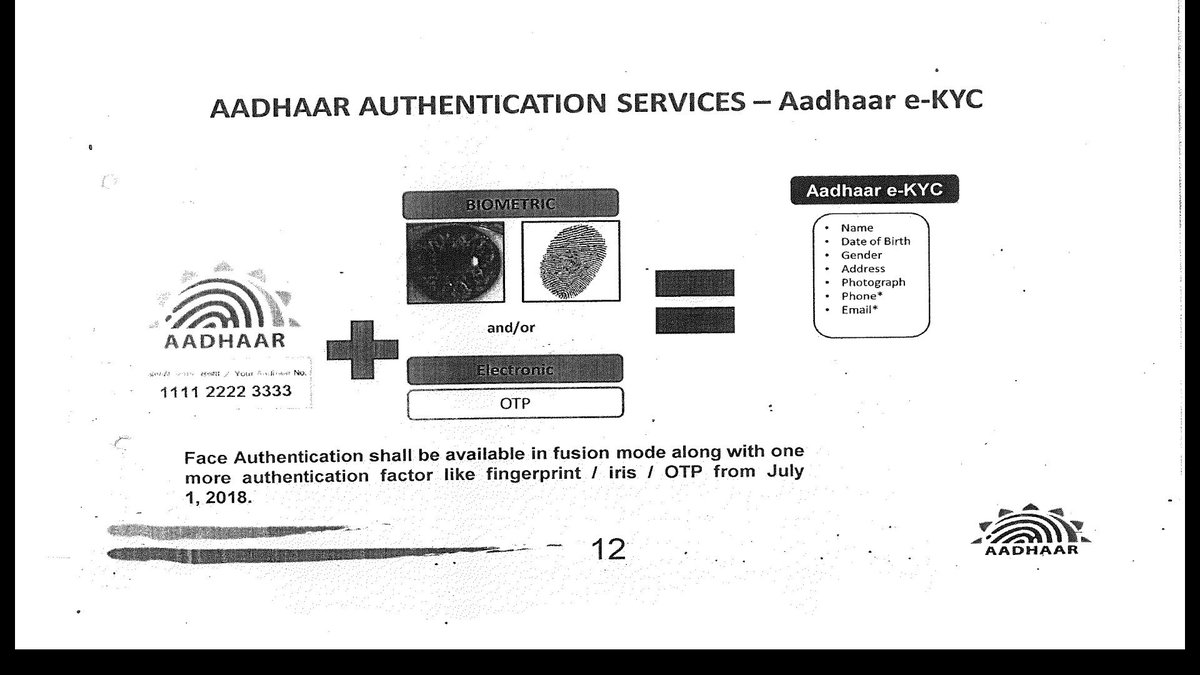 Pandey says once biometrics reaches CIDR..it can never be shared on any ground whatsoever except for national security under S 33. (He should know, even that does not allow biometric sharing!)

Says in 1.5 years no request for biometrics from govt for anyone!
Says auth data is not transmitted to CIDR!
DYC J asks about meta data. Pandey says he will come to know.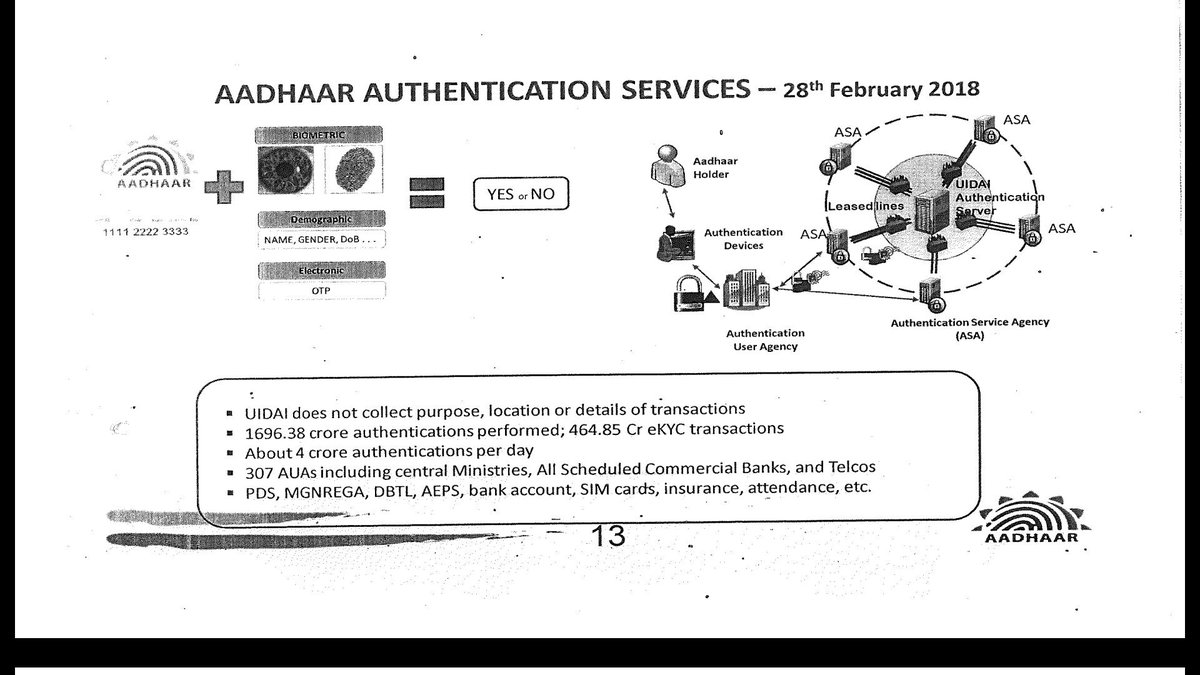 Bench rises for the day even as Pandey says there is a prohibition on merging the silos.