1)
Q: "NSA pledged allegiance to the Republic"
Decoded brackets from posts 576-77 for message.
CLAS- prefix and modifiers from Graphical Logic.
Basically, sophisticated cut-and-paste.
Acronym likely "Cut, Lift, And Substitute".
Numbers are words from Qsecret text. UFind
#QAnon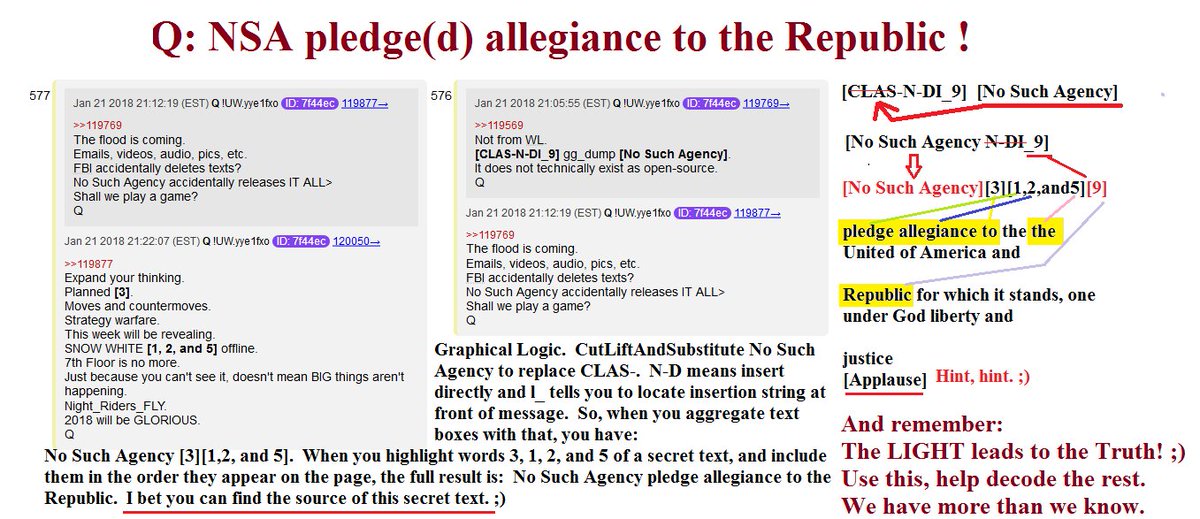 2)
Graphical Logic that Q is using may look complicated, but it's really not.
Think cut-and-paste. But where do you paste? There are a few codes to figure out, but they mean simple things like 'paste at front' or 'insert at end of the rest'. Go bag some decodes for us!
#QAnon


3)
Here's another decode, simpler, but with a twist. Yes, literally, a twist.
Q: Defense Condition (of Hawaii) was G. W. (Bush)
Why Hawaii alert system an issue?
YT: Reminder That Was GW Bush Responsible For Letting North Korea Get Nukes:
#QAnon