BE CAREFUL major distraction attempt being led today by the BBC's Laura Kuenssberg. She's pushing the story fed to her by a source that the Government are "close to a solution on
#socialcare
"
More in this Thread (1 of 7)...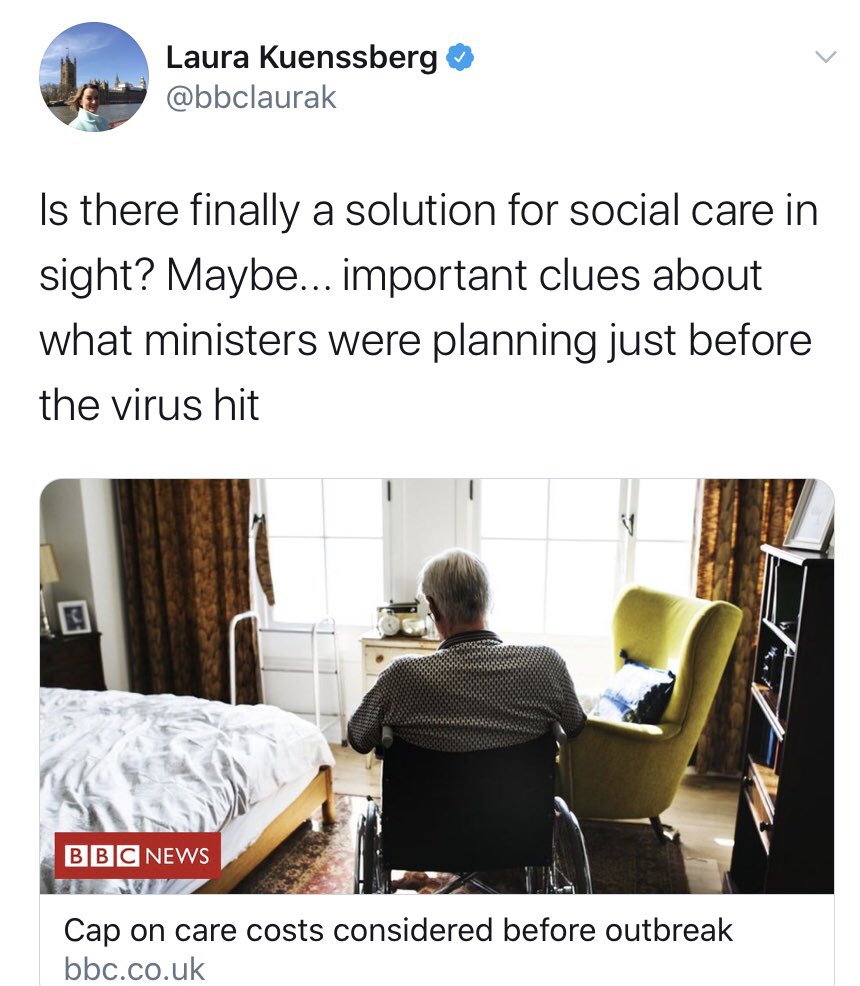 If you listen to her, she's selling hot air. She's saying the Government had "90% of a solution" before
#COVID
hit and they were planning to launch the policy in the autumn. This is based on one source telling her this and is based only on a handful of meetings..

2/7
..Andrew Dilnot had with the PM, the Chancellor and Health Secretary.
None of this stands up to analysis. The Tories had no plan for social care in their manifesto in December. When pressed after the election they said their plan was..
3/7

..a clue to "90%" of a plan in a matter weeks on a massive policy area of the back of half dozen meetings? She makes no mention of the this history, how ridiculous this timeline is or the previous plan to talk to opposition parties first.
5/7
This is the worst kind of propaganda masquerading as news. It's clearly a planted story from one source and is another distraction away from the tragedy in care homes. That the BBC'S political editor thinks her job is to uncritically push a fake story like this..
6/7
..with no evaluation or critique is beyond shameful. But sadly this the standard we've come to expect from the BBC and Kunessberg. The BBC are a power onto themselves and there's nothing we can do about this other than to distrust the BBC and avoid their news
#BrokenMedia

7/7