People love evidence. If there's no evidence then they don't believe you. First of all, I have witnesses to his abuse & they've known him longer than I but I do have a few recordings that fuck me up every time I listen to them but let's do this
#RamseyOrta
#DomesticViolence
The one time I kept asking him to stop yelling at me and calling me a bitch and he just kept defending it saying it's just "his language". You can also hear his deafening silence when I tell him I'm tired of wondering what he's going to think of to do to me next
Remember that time we got into an arguement where I confronted him about kidnapping my son and giving my address to people who wanted to harm me. This is part 1 of that conversation.
Here's where he explains to me that I'm a "bird bitch" because I'm married to him & I bent over to pick something up. Apparently, that's "sticking your ass out". I respond by telling him that all over the world, he's textbook domestically violent. He never denies it or
Apologizes. He just tells me that if that's how I feel that I need to leave him alone AND I DID. I drove across the country nonstop & y'all have him money to come terrorize me. Anyway, moving on, here's another conversation
Remember when he called me and threatened me because my friends wouldn't participate in lying to say he want abusive online. I didn't even know what he was talking about but threatening me was a regular thing
He was SO upset that people would publicly hold him accountable for CHOKING ME after he filmed
#EricGarner
be choked to death. He wanted me to make another public statement or something to stop people from supporting me
He didn't want to tell me what was said that was SO offensive because it was the truth he just didn't like that the public would find out. He's just an opportunist that was upset he was being held accountable not even sorry for what he had done to me
Here is where He says he understands he was wrong for spitting in my face but just wants me to keep the abuse quiet. Don't tarnish his precious image so he could get support from people online.
Once again he understands but my friends need to not hold him accountable for kidnapping my son for ransom money, choking me, holding me at knifepoint, spitting in my face etc. let's not forget what he's insinuating I will have consequences for here
This is my last one because I'm traumatized & don't want to keep reliving this shit to satisfy talks excessive requirements to see the truth about your mans. He admits to the stuff from Valentines Day. He "understands" it's wrong but he just don't want y'all in our business
Y'all gave this man more than $200k after he did this to me during the
#BlackLivesMatter
movement. I am a Black Woman with a Black son that has been trying to be heard about this since it happens years ago. Y'all highlight his voice over mine every single time.
I'm still Black and still have a Black son and am still for this same movement that has let me down so much. I will continue to fight because I can't avoid the fight and just like he keeps threatening, it's always at my front door no matter where that door is.
Here's my fb post. The "mutual friend" I'm referring to was Jacob Crawford from We Cop Watch. Turns out he was more interested in protecting
#RamseyOrta
than helping me get my son back.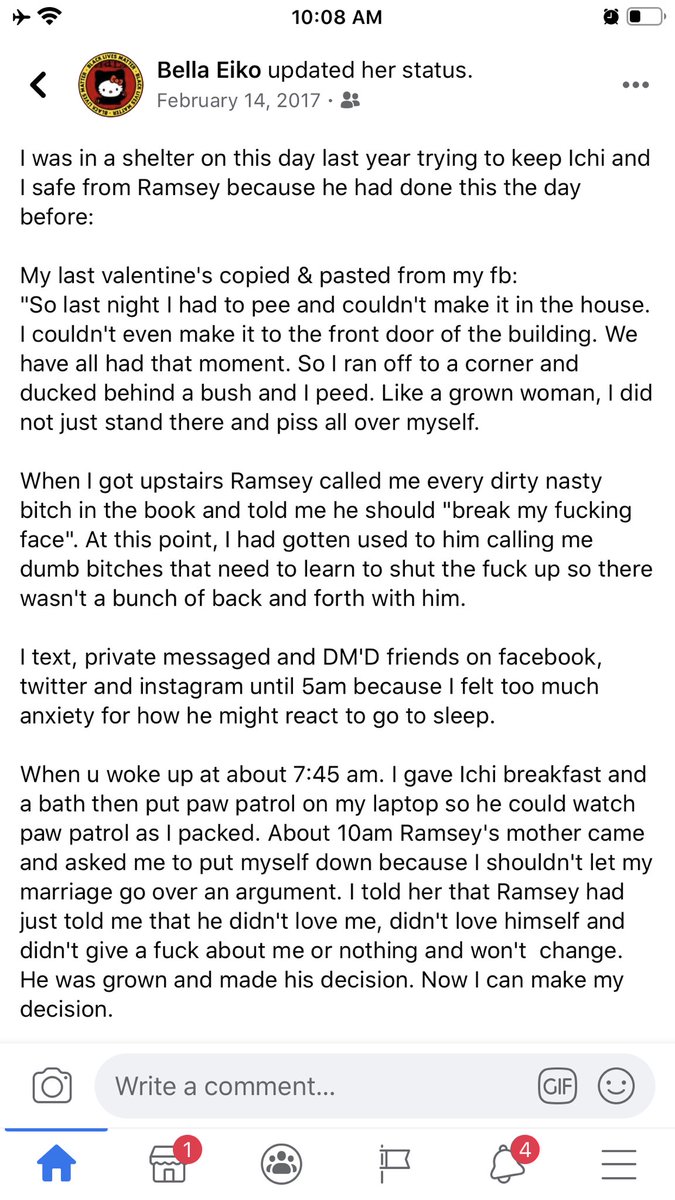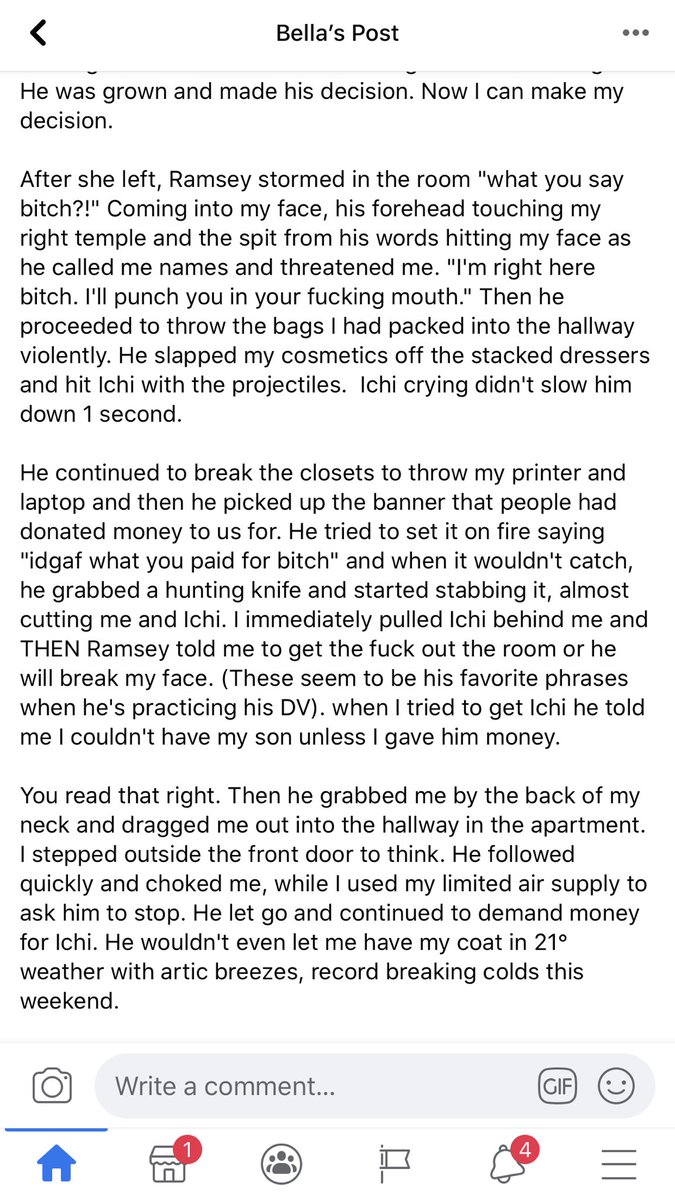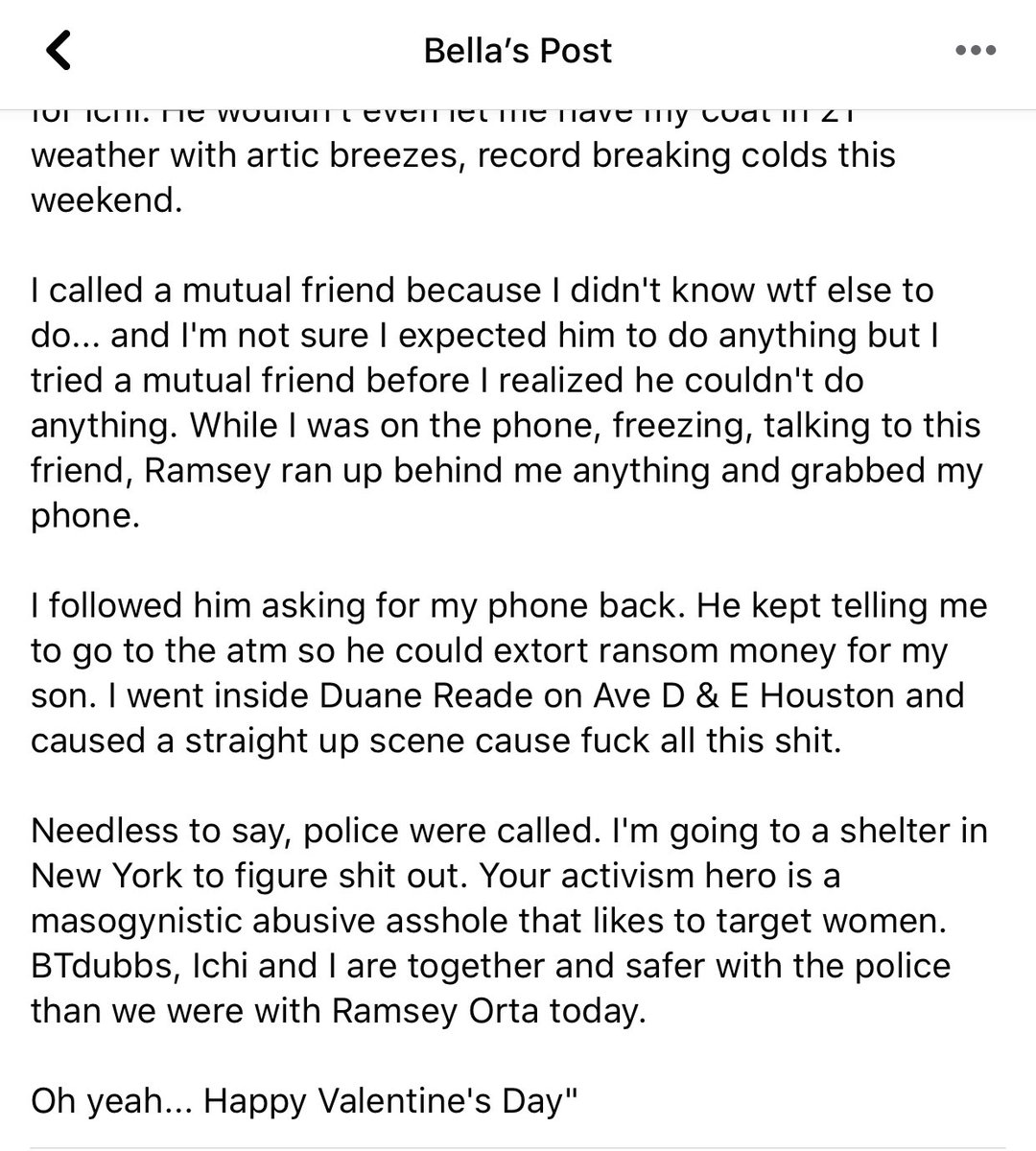 Matt Tabibi with
@RollingStone
came to talk to me about it and I looked him and everyone else right in their faces & lied because I believed it would be the safest thing for me to do until I could get away from all of Ramsey's support.
Ramsey has almost this entire movement that I have dedicated my everything to in multiple occasions standing behind him. He also is a gang member & never let me forget how far that reach could go. That girl that says is his fiancé was his girlfriend when we met &
I wasn't aware she was staying at his house until we were already together & on the road to Missouri & then New York. He kicked her out by the time we got there telling em that she was already leaving, but the 5 page love letter she wrote to him
and left at the house read differently. He read it and laughed & I should have left his ass right there. Maybe this is my karma for not doing that but I deserve karma for that surely he deserves to be held accountable by SOMEONE for what he did.
I stayed. I married him and he turned into the worst person I had ever seen in my life. I had never been treated in such a way, I had never been spoken to consistently how he did to me. I swear on everything I love that I hella believe in defunding the police
I believe in investing in community and beating this white supremacist system that has been profiting off of us and our ancestors since it's inception. What I want to know is what will we do about things and people like this? How will we protect the next me & her son?
Because the way y'all excuse him and support him like... in my face and in my comments is sick and not the world I'm fighting for
For those who want to help me.... help me get an attorney that will get me a divorce. I'd also like to hold him accountable for his abuses toward my son and I. Also, stop donating to him.
For those of u who don't know me, here I am 8 years ago begging for revolution because the police had been doing the same exact things to us, daily, for years. I never stopped fighting for Black Lives because I can't.
Even after y'all silence or hate and slander or smooth ignore me for this truth, I will always continue because I can't stop. This struggle is still my life but I just wish we would collectively do better.
I didn't really expect to get support around this but i am so grateful I am.
@CopwatchK
helped me put together this
@gofundme
for those who want to offer support to stay safe and to find an attorney to file for divorce and to hold him accountable
gofundme.com/f/legal-fees-a…
A few notes: I fought but I did it in a way that reduced the chances of physical harm for my son and I as we left Ramsey because I had such little support in NYC. He was clear when he said "you'll be lucky if you leave alive" & I didn't have the luxury of testing his seriousness
I need help amplifying my voice. Many people just don't know because there was nobody talking about me as they advertised him in a way to be idolized by the masses for filming Eric Garner. I don't have We Cop Watch invested in my image so they
don't assist in making sure I'm heard. Please share this thread so people can know and understand exactly who this man is