1.
OK, lets take a deep breath and look at the full scope of the last 48 hours. Yes, things are coming rapidly to a head.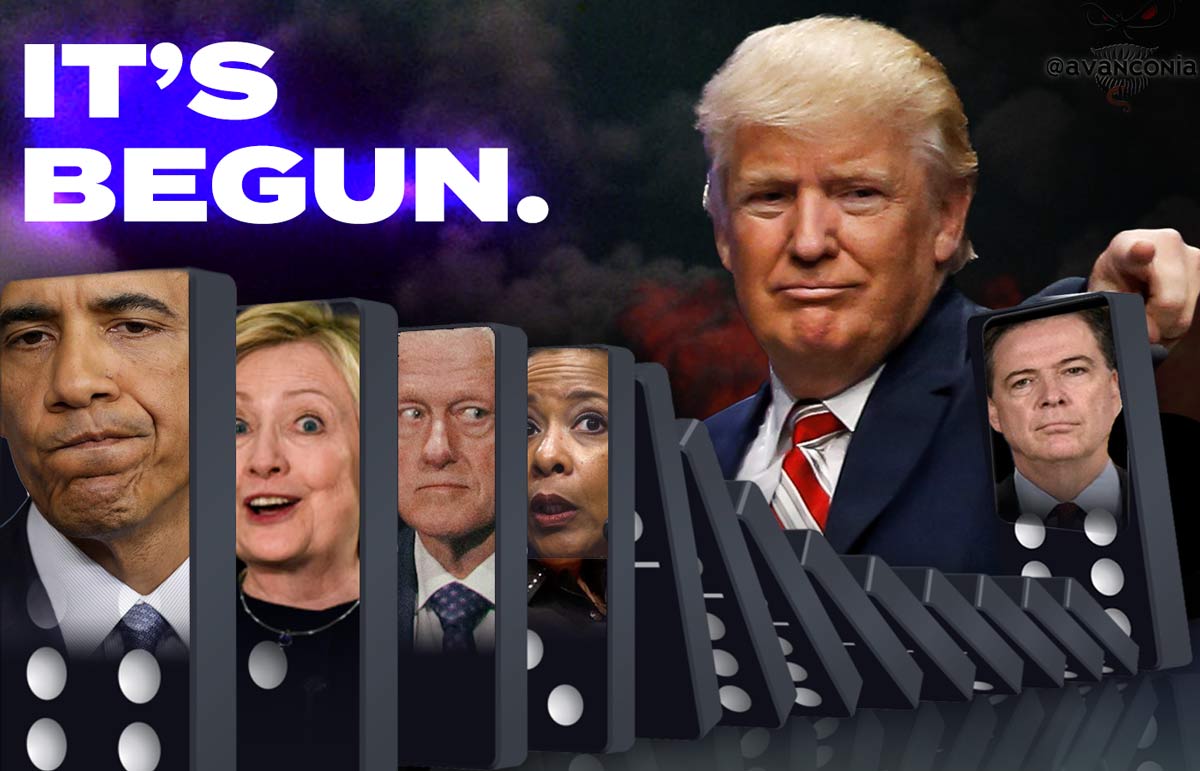 2.
There have been multiple reports today that build upon the larger story.
3.
Yesterday we focused attention to the years-long DOJ Office of Inspector General investigation and how it appeared to be coming to a conclusion.
oig.justice.gov/press/2017/201…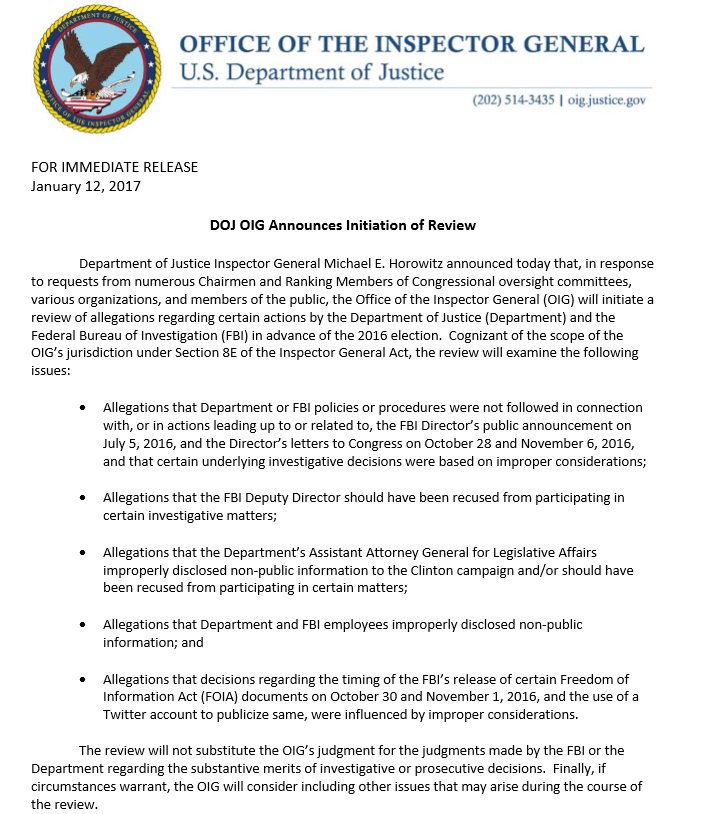 5.
In essence, the *leaked* reports from The New York Times and Washington Post appear to have come from an advanced intention to get out ahead of the IG report, and defend/protect the interests of the Top-Tier of the domestic Intelligence Community.
nytimes.com/2017/12/02/us/…
7.
The larger stories today seem to build out on a specific narrative that appears, well constructed, to further defend those interests. The Deep State, and the 'Black Hat' operatives within it, is/are circling the wagons per se'.
8.
A part of that clear strategy now appears to be a willingness to throw Deputy Head of Counterintelligence, FBI Agent Peter Strzok, under the bus in an effort to avoid their own culpability in politicized FBI investigative practices.
9.
A day of headlines, explosive headlines, appear entirely shaped to make Deputy Head of Counterintelligence, FBI Agent Peter Strzok, the scapegoat. Let's take a look at what roles the media are assigning to Strzok from recent publishing.
10.
According to media reporting: Peter Strzok was the lead FBI agent in charge of the Hillary Clinton email investigation.
11.
Additionally, his role was so important... Agent Peter Strzok was one of a small group who actually interviewed Hillary Clinton.
12.
Agent Strzok was also reported as the FBI contact person to receive the Russian Dossier and interview the author Christopher Steele. [Remember, Hillary Clinton's team paid Christopher Steele (via Fusion GPS) to create the dossier.]
nytimes.com/2017/12/02/us/…
13.
Throughout 2016 Agent Strzok was the primary counterintelligence investigator for the 'vast Russian election-hacking conspiracy', and subsequent narrative.
14.
Agent Strzok was then hired, this year, by Special Counsel Robert Mueller to lead the FBI unit investigative efforts into the "Russian Election Collusion/Conspiracy."
15.
Over the weekend reports of agent Strzok being removed from the Mueller Team after the OIG Inspector General discovered anti-Trump/pro-Clinton content within his internal communication. That DOJ-OIG investigation has been going on all year.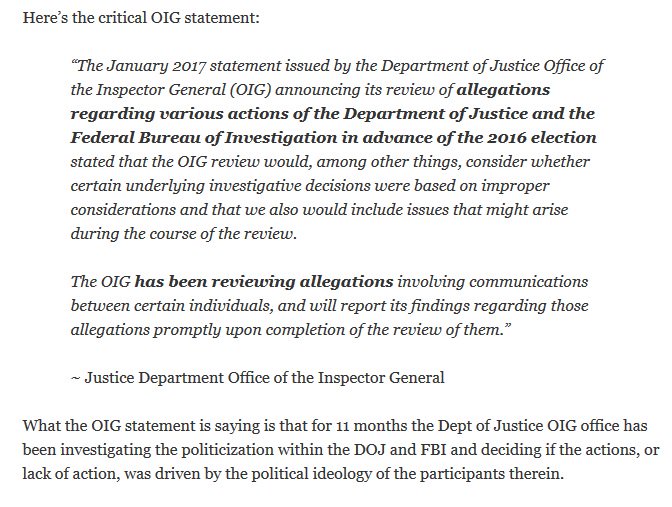 16.
Yet the internal leaks, to the media, about Strzok, only surfaced now that the OIG is close to completing their investigation and reporting on the findings. Very conspicuous -and opportunistic- timing
17.
Within today's media cycle the framework around Agent Strzok expands with additional information: "[He] was the person who interviewed National Security Advisor General Michael Flynn on January 24th, 2017"
saraacarter.com/2017/12/04/fbi…
18.
And, additionally for the scapegoat narrative we learn, "agent Strzok never informed Flynn he was going to be interviewed." [A classic set-up/ambush tactic]
19.
The Flynn interview led to charges of "misleading the FBI" and Mueller charging him with lying to the FBI. An expanded explanation of why Flynn appeared to take this approach is here 👇
threadreaderapp.com/thread/9370638…
20.
The Deputy Head of Counterintelligence, FBI Agent Peter Strzok *appears* to be positioned within all of these reports as the epicenter of a variety of angles within the FBI investigative action throughout 2016 and 2017. That framework doesn't appear to be coincidental.
21.
Then comes THIS stunning revelation: That Agent Strzok was the actual person who changed the wording of the FBI Director James Comey script ...which changed the outcome from "clearly illegal" to a matter of "poor judgement"
22.
Hell, amid an investigative department of over 35,000 FBI people, we are led to believe Agent Strzok was a one-man investigative and determination machine. He must never sleep, huh?
23.
Meanwhile, according to this playbook, script and ridiculous narrative, poor FBI Director James Comey was tricked, or something.... Don't look at Comey, look at Peter Strzok etc.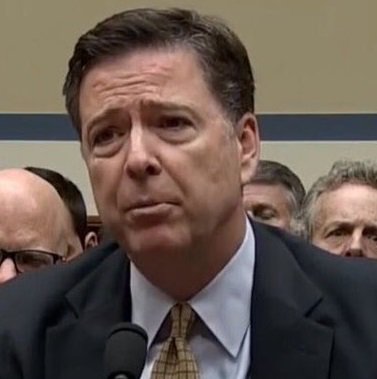 24.
Don't look at FBI Deputy Director Andrew McCabe... Look at Peter Strzok.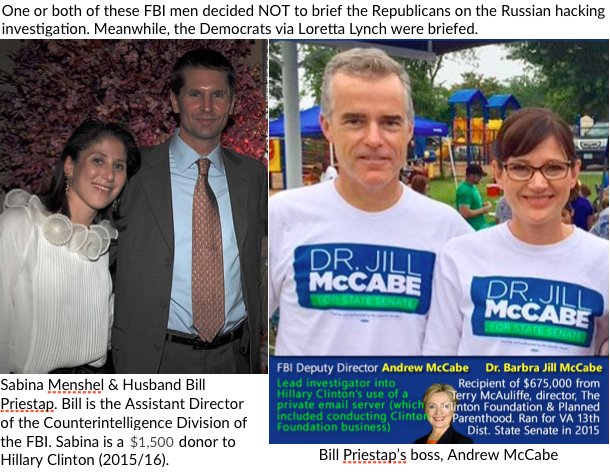 25.
Don't look at Asst. DOJ Sally Yates who traveled to the White House to discuss Flynn's ambush. Don't look at senior member of the DOJ's National Security Division, Bill Priestap, who accompanied her.... LOOK only at Peter Strzok !!!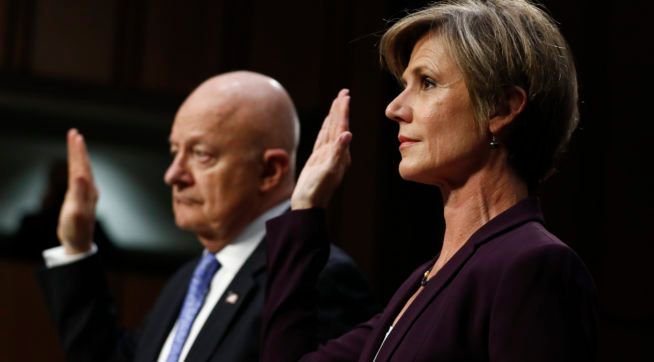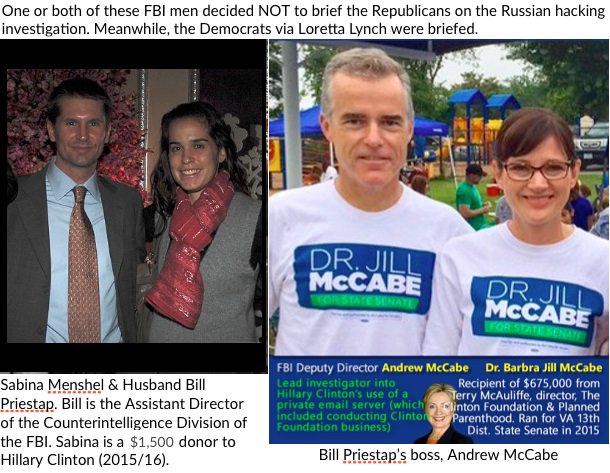 26.
See where this is going?
Deputy Head of Counterintelligence, FBI Agent Peter Strzok - is being set up as the fall guy for the entire apparatus.
27.
This is a classic maneuver to protect the interests of the deep state officials, from the outcome of a pending, almost complete, Inspector General investigation. Pin all the bias on Strzok and position him as the hub in the wheel of consequence.
28.
However, there's two sides/risk to making Strzok both the ROOT and the TRUNK of the poisonous (bias) FBI investigative tree.
29.
If FBI Agent Strzok is shown to have conflicting political and institutional bias, then every outcome of the investigation he was involved in comes into question. And Deep State is positioning Strzok at the EPICENTER of every aspect, of EVERY investigation.
30.
Which implies their willingness to admit there's no actual 'there' there, within the "Vast Russian Conspiracy" investigation.
31.
Of course, the gamble is the viewing U.S. electorate will accept the end of the ridiculous Russian Ruse (likely) -AND- also the end of the Clinton investigation outcome (not likely).
32.
Which takes us full circle back to the DOJ-OIG Inspector General years-long investigation. If the IG wants higher officials than FBI Agent Peter Strzok, they might strike an immunity deal for cooperation. However, Comey and Mueller et al would also know that approach.
33.
Mueller (if needed), and to a lesser extent Comey, have allies within the FBI/DOJ community that can position on their behalf... The Clintons, notsomuch.
Hillary and Bill must attack from the outside, hence:
34.
There's a limited number of safe seats in this game of musical chairs; and if the OIG investigation is indeed the originating influence for this recent deep state positioning, the Inspector General is controlling the music.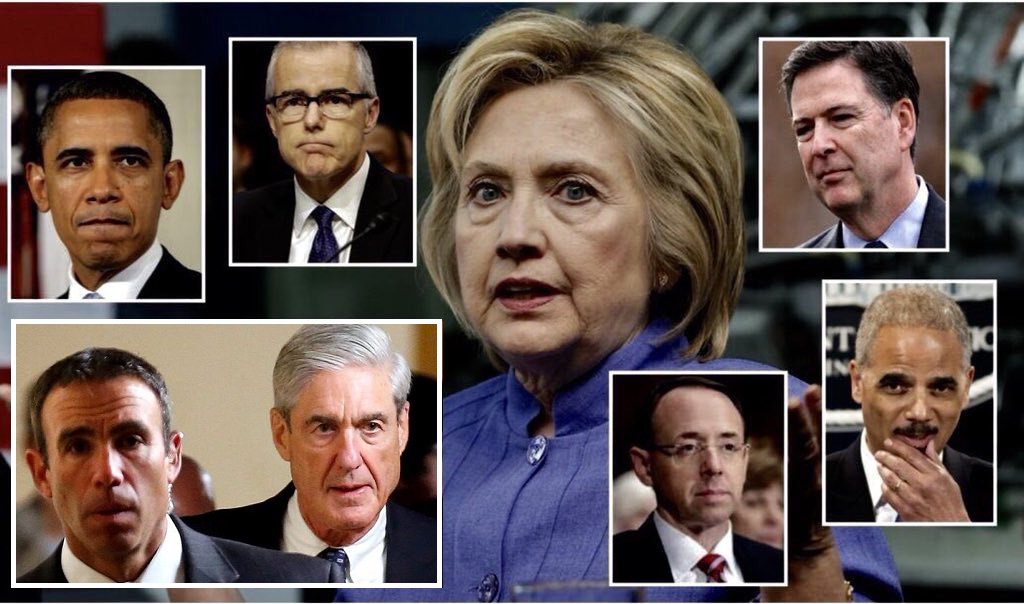 35.
Perhaps we'll soon find out.