2/10. On Tuesday, rape survivors & activists took the stage in front of an invited audience of 200 journalists, politicians, judges & police officials for the launch of a "bombshell report" revealing Denmark's "rape culture" & endemic impunity for
rapists.
amnesty.org/en/latest/news…
4/10. The report launch was the peak of a campaign that had involved hundreds of activists & survivors. Behind the scenes,
@amnestydk
's
@Helle_Jac
had numerous meetings with govt representatives & the
#LetsTalkAboutYes
campaign brought thousands together.
5/10. What made this campaign so powerful was that it was led by survivors: women who'd been raped & were telling their stories & appealing to Denmark's government, in the hope that other women will not have to experience the same trauma they went through.
7/10 But this isn't just about Denmark.
Shockingly, only 8 out of 31 countries in Europe have laws that recognise sex without consent is rape. Sweden changed its last year & campaigns are building in Portugal, Switzerland, Slovenia, Greece & Spain.
#IWD19
amnesty.org/en/latest/camp…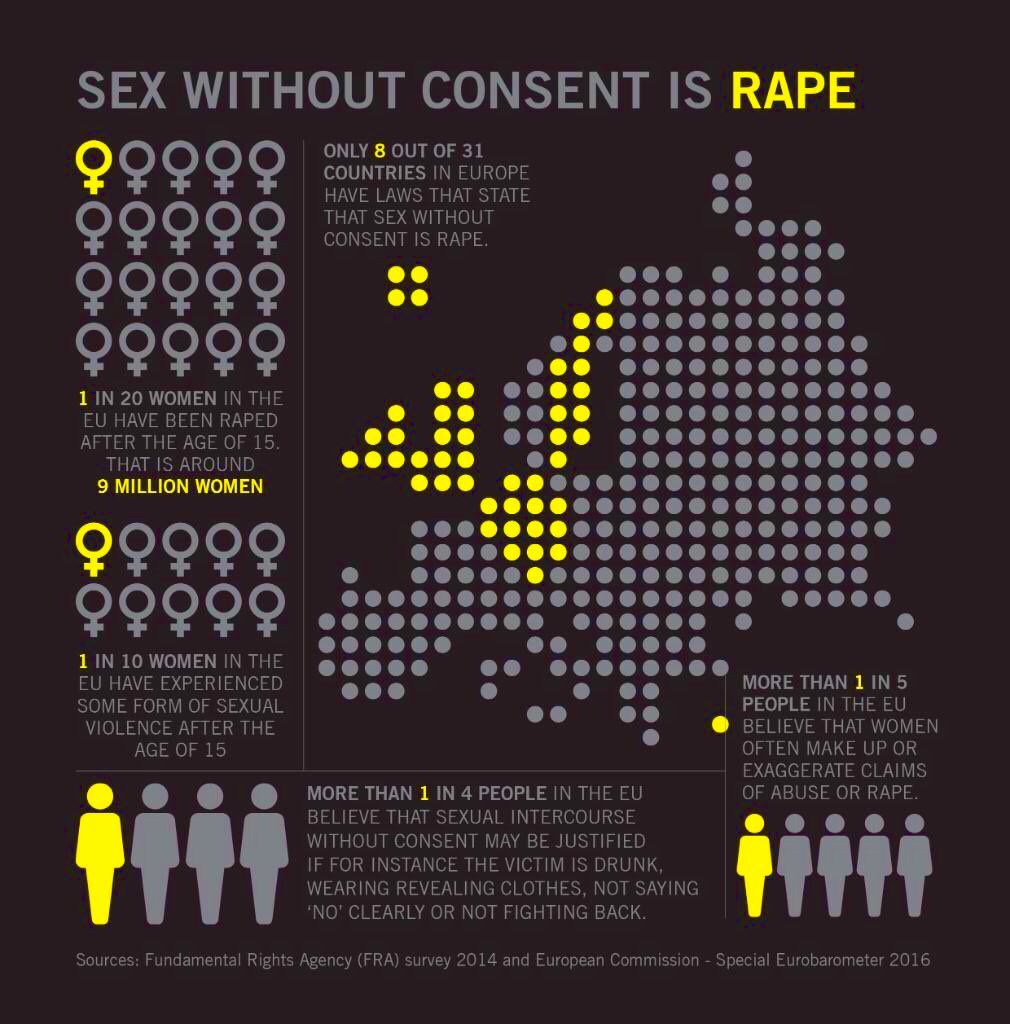 8/10. Changing laws is a vital first step, but much more needs to be done to end the culture of victim blaming & impunity reinforced by myths & stereotypes which pervade many societies: from playground to locker room, police station to witness stand.
#IWD
amnesty.org/en/latest/news…
9/10. The
#LetsTalkAboutYes
campaign - led by courageous women in partnership with Amnesty - has brought Denmark to the brink of an historic change. And it won't stop there. It will carry on in Denmark & across Europe. Today, on
#IWD2019
, we celebrate it.
10/10. Tonight's
#BreakingNews
: Danish Justice Minister,
@SorenPape
, has just announced that the Conservative Party will back a new consent-based rape law. Fantastic news which demonstrates how campaigning can indeed change the world. Happy
#IWDay2019
#IWD
12/10. More good news.
Today
#Denmark
's prime minister,
@larsloekke
announced that his government will back consent-based rape legislation. We look forward to seeing the law & hope it will be drafted it in close consultation with survivors &
@amnestydk