Manafort Trial Day 9: There are four govt witnesses left -- three appear to have ties to Federal Savings Bank, and two were given immunity. The govt has alleged the head of a bank (believed to be FSB) engaged in a quid pro quo, loan money for a Trump campaign/possible admin job
Assuming there aren't delays, the govt has said it expects to finish presenting its case in chief today. Then, the judge will ask Manafort's lawyers if they plan to put on any witnesses, or submit any motions. He doesn't have to. And then it's the weekend.
Things have consistently been tense between the judge and prosecutors throughout the trial, and that came to a bit of a head yesterday. For more on that:
buzzfeednews.com/article/zoetil…
It's been an unusual morning in the Manafort trial. Judge came in at 9:45, immediately called the lawyers to the bench (no jury). ~15 min. later, judge announced he was taking a recess. About 50 minutes later (11:05), he came back, called the jury in — and said he'd recess again
We haven't been told what's going on. At one point, a court security officer was called over to the bench conference, which is unusual. Before we recessed, the judge repeated his instruction to the jury not to discuss the case w/ anyone, and to keep an open mind until the end
The judge told the jury he was recessing now because he had other matters on his docket that he needed to attend to. We'll reconvene at 1:45pm.
A filing of note this a.m. while we were in court: Yesterday there was a tense exchange where the judge admonished the govt about evidence it was putting on:
buzzfeednews.com/article/zoetil…
Today, the govt asked the judge for a curative instruction about that
assets.documentcloud.org/documents/4741…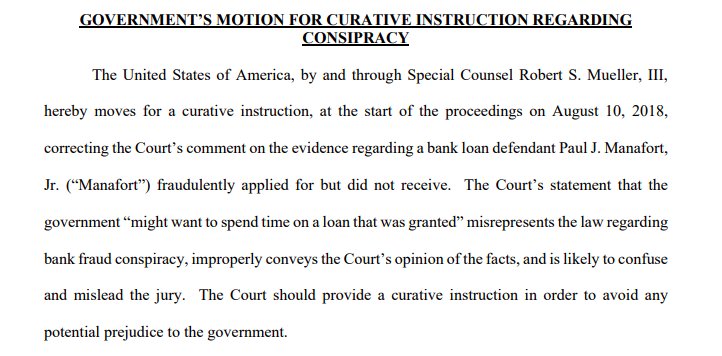 You may recall that Rick Gates, who was Paul Manafort's former longtime right-hand man and the former deputy campaign chair of Trump's campaign, was a star witness for the govt in Manafort's ongoing trial in Virginia:
buzzfeednews.com/article/zoetil…
Earlier this week, the govt asked to seal part of a sidebar with the judge that took place during the cross examination of Gates by Manafort's lawyer. That discussion revealed "substantive evidence pertaining to an ongoing investigation," the govt wrote
assets.documentcloud.org/documents/4741…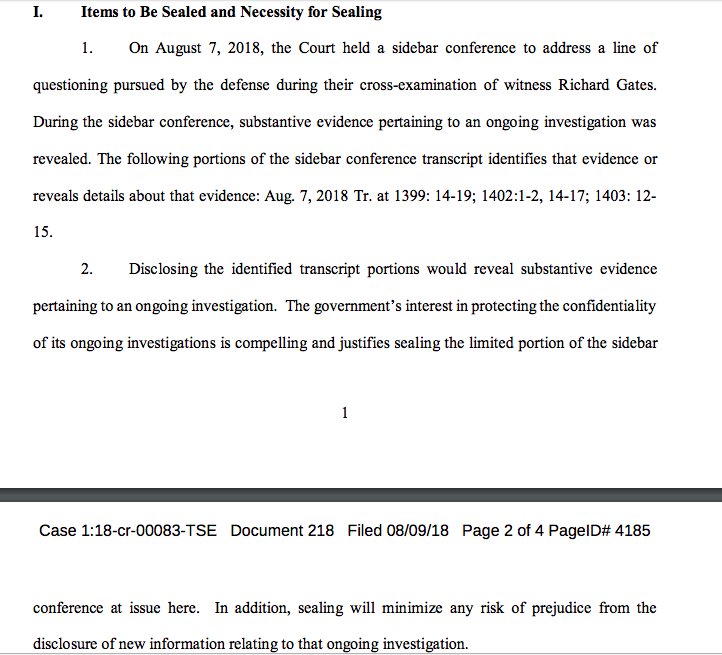 Very short p.m. break. When we returned, there was no mention of what had held things up in the morning or what was discussed at the bench. We went straight into the next witness, who is Dennis Raico, a former employees of Federal Savings Bank
Raico testified that Stephen Calk, CEO of the bank, was more involved in negotiations re: two loans Manafort got, totalling $16M, than he'd ever seen Calk be involved with before
Raico said that when he first got the referral of Manafort's business in April 2016 (by that time, recall that Manafort was involved with Trump's campaign), Raico contacted Calk, because he knew that Calk was "interested in politics"
On 7/27/16, Raico said he was part of a mtg that involved Manafort and Manafort's then-son-in-law Jeff Yohai, and Calk video conferenced in. At the end of that, Raico said Calk said he was interested in helping out with Trump (Calk did serve as an econ. adviser to the campaign)
On 8/3/16, Manafort emailed Raico to ask for Calk's CV. Why did Manafort ask for that, prosecutor asked Raico. Because Calk had asked if he could help serve the Trump admin, Raico replied
Raico said requests that he serve as an intermediary between Calk and Manafort made him "uncomfortable." On 11/11/16, he said Calk asked him to contact Manafort and ask if Calk was up for Sec. of Treasury of HUD Sec. Raico said he didn't do it: "It made me very uncomfortable"
The govt asked Raico about issues with Manafort's loan application process, and Calk said there were some — for example, when it came to confirming Manafort's income, he said, "A plus B didn't always equal C all the time."
The govt has prev. said it would introduce evidence that there was a quid pro quo — that Calk pushed through the loans for Manafort in exchange for positions with the Trump campaign/administration (Calk has not served in the administration). So that's what this is about
We're just finished cross examination — defense Qs were about the collateral posted for these $16M in loans. Raico testiifed that the collateral posted did exceed the value of the loans. We're now in the govt's redirect of Raico. Stay tuned.
Just saw I had a typo in an earlier tweet — should say Raico testified that Calk asked Raico to ask Manafort if Calk was up for Sec. of Treasury *or* HUD Sec (I typed "of", which wouldn't make sense, of course)
We are done for the day. More in a bit, but a few things:
- Federal Savings Bank employee Dennis Raico finished his testimoy. Defense had asked about loans being over-collateralized. Govt on re-direct asked about the importance of income, versus collateral on a loan
- Why is that distinction important? Govt is arguing that Manafort submitted false info about his income to the bank (so, their argument would go, whether there was enough collateral is a separate issue)
- We also heard from a NY Yankees employee, Irfan Kirimca, who testified about the duration of Manafort's season ticket holdings. We saw docs showing Manafort had season tickets at least from 2010-2017, and we saw emails about him confirming he'd be at opening day in 2016
- Why does that matter? We saw emails where Manafort was asked by a bank about $ owed to the Yankees for season tix in 2016, b/c it was a significant amount of debt. Manafort submitted a letter from Rick Gates saying Manafort let him use Manafort's credit card to buy the tix
- So the govt is using this to argue that Manafort falsely represented to the bank that Gates actually bought the tix, and the debt was really his, not Manafort's (the letter from Gates indicated Gates planned to pay Manafort for the tix)
- On cross exam., the defense lawyer asked if it was unusual for people to buy season tickets for business purposes. The witness said it wasn't unusual. It was a very quick cross
- Final witness today was another bank exec from Federal Savings Bank, who testified about docs that Manafort signed that spelled out the consequences for giving false info to the bank. He didn't testify about anything else specific to the loans. There was no cross examination
Day 9: A Bank CEO Who Approved $16 Million In Loans For Paul Manafort Was Angling For A Trump Admin Job, Witness Testifies
buzzfeednews.com/article/zoetil…