Before we begin this epic tale: a disclaimer:
*Names, characters, business, events and incidents are the products of the author's imagination. Any resemblance to actual persons, living or dead, or actual events is purely coincidental.*
One day, Tyler (a lawyer by trade) became a Health Minister. He was in charge of a health crisis. One that was in the works for years:
#Privatization
Then a deadly virus, Corona, came along that and a president drink bleach.
But that wouldn't stop Tyler from doing his job.
Tyler allowed private companies to charge the government for services that doctors used to (Bill 30). To hide the fact that private companies were paid to deliver healthcare, he called them "persons". The "person" in our story is named Telus.
But
#CanadaHealthAct
you ask?
The Canada Health Act required Tyler to provide publicly funded services. It didn't specify the quality of those services. It didn't specify who had to provide those services. And it said that you could charge patients for uninsured services.
#TwoTiers
canada.ca/en/health-cana…
So back to Telus. Telus was the CEO of a big corporation that was starting to buy medical clinics even before Tyler came along. He even endorsed a crappy foreign medical app with privacy issues.
With Telus and Tyler's new deal, Tyler would pay Telus a fee+ for each service
But Telus needed to get more Alberta doctors. Fortunately, Corona had badly hurt the revenue of most small businesses, including medical clinics. These small business were usually owned by physicians, who were also getting their income slashed by Tyler. A lot of owners were sad.
Working in one of these small businesses was Dr. HereF orU. Don't bother looking him up. (It's a pseudonym).


The government paid Dr. Heref Oru $38 to see a patient w/ chest pain and possible heart attack. In less time and doing less CPR, an eye doctor more to do simple eye exams. The
@Albertadoctors
were trying to fix this income equity, but Tyler hated unions and dumped the AMA.
So Dr. Heref Oru's clinic was sold off to Telus because of Tyler's cuts. Now Telus made Dr. Oru treat a patient, paid him less than $38, and pocketed the $38 plus 5% profit that Tyler promised them. Dr. Oru still didn't have a pension.
#PeopleOverProfits
So now Telus made a tidy profit plus they forced Dr. Oru to see 10 patients an hour to bring in more revenue. Telus also laid off Dr. Oru's disease prevention nurse, as she wasn't bringing in any new revenue...
In fact, Dr. Oru's disease prevention nurse was preventing people from needing to see the doctor, and that really was cutting into Telus' bottom line. She had to go.
But Telus' investors wanted bigger and better the next quarter...
So Telus starting charging patients for uninsured services like the Copeman Clinic, and it seemed to work. Patients would pay a yearly fee, and in exchange, would be able to access Dr. Oru 24/7 by phone. Now Telus knew the college required Dr. Oru to be on call 24/7 for free.
You see, the government didn't pay family doctors to provide after hours coverage. So Telus decided not to pay them for this either. But Telus still charged the patients for the "uninsured" after hours coverage, which was allowed. The Copeman Clinic has done it for years.
By this point in our story (it's almost over), Telus had bought more clinics with more doctors like Dr. Oru. In fact, most of the clinics in Alberta were being sold off to private companies. They all started charging yearly fees to patients, and charged for odd extra services:
Well along came Jason. Jason was a private health insurance provider. His nickname was "Great West Life" Jason. And Jason knew Tyler and Undrea Shambro very well. In fact, "Great West Life" Jason would provide health plans to employees that Undrea sold to their employers.
So when Tyler made employees have less coverage under the public system, employers like Telus responded by getting more coverage from Jason through Undrea.
(i.e. if their employees weren't covered by Seniors spousal Drug Coverage anymore.)
Then Jason "Great West Life" said to Telus:
"if you cut me a deal, my private health insurance plans will cover your clinic fees.
Then employees needed Jason's private insurance plan to pay Telus' clinic fees.
When the employers wanted to attract more employees, they included private health insurance in their compensation package.
Telus was charging patients to see Dr. Oru for "uninsured" services.
Jason was selling private health insurance plans to cover the costs of those "uninsured services"
Undrea helped Jason sell private health insurance plans to employers.
And Tyler had his hands in it all.
That's the story of how Tyler did the health crisis.
#ResignShandro
Now
#AbLeg
, time for your story...
Follow
@AB_MD_WarRoom
,
@FriendsMedicare
,
@Albertadoctors
,
@_AUPE_
,
@albertateachers
@SOSAlberta
,
@CJEdmonton
,
@UnitedNurses
, and
@dr_oru
for more stories about the UCP.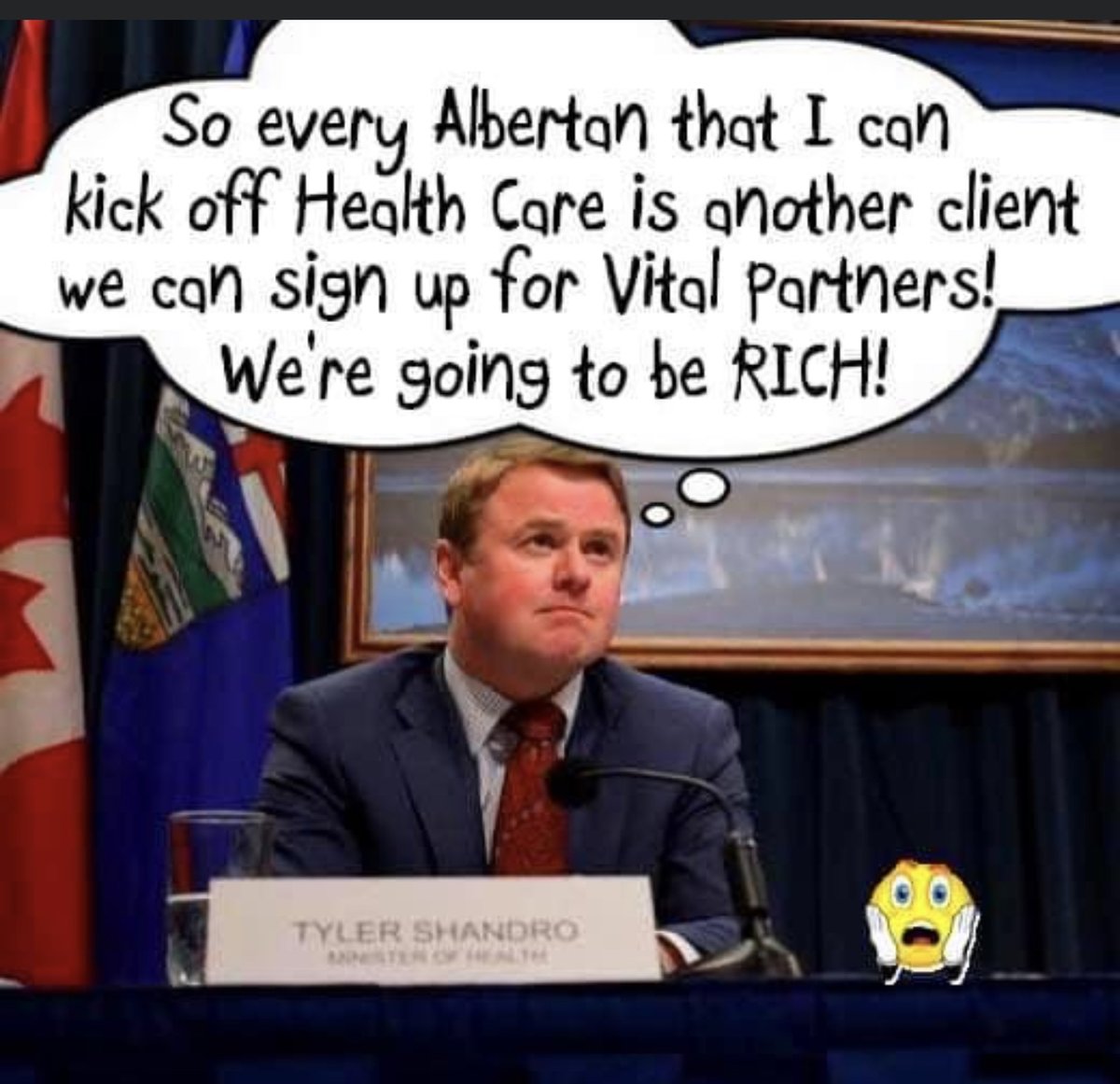 It is time we rise up. We pay taxes for quality public education and healthcare. But those taxes are going to private schools and private clinics. Unions are being destroyed as they are the key to a
#GeneralStrike
Let's work together to
#FireTheUCP
and invest in equity.