According to confidential documents, Google analysed search terms entered into a Beijing-based website to help develop blacklists for the censored search engine it has been planning to launch in China.
As part of the censorship project - code-named Dragonfly - Google sampled search queries from
265.com
, a Chinese-language web directory service.
Google has owned
265.com
since 2008 & the site is hosted on Google servers, but its physical address is listed under the name of the "Beijing Guxiang Information and Technology Co.," which is based out of an office building in northwest Beijing's Haidian district.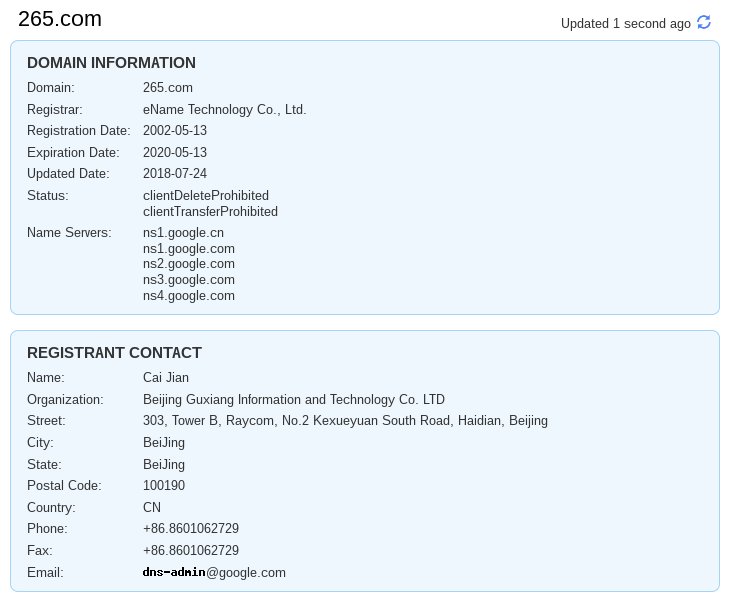 It appears that Google has used
265.com
as a de facto honeypot for market research, storing information about Chinese users' searches before redirecting them to Baidu, the leading search engine in China (which is heavily censored).
Google developers used a tool they called "BeaconTower" to check websites blocked by China's so-called Great Firewall. They compiled a list of banned sites & integrated this info into a censored version of Google search, so the banned sites would be purged from Google results.
The documents indicate the censored search engine was planned as part of a "joint venture" w/ another company, presumably one based in China. We have some new info about the joint venture which raises major questions about how the censorship would function in practice.
It's unclear whether the partner company would be able to unilaterally update the blacklists of censored info as part of the arrangement. But docs suggest that *may* be the case, stating that the "joint venture will have the ability" to blacklist websites & "sensitive queries."
A source w/ knowledge of the project told me that Google has planned to provide the partner company with an "application programming interface," or API, that it could potentially use to add blacklisted words or phrases.
The source said they believed it was likely that the third-party company would be able to "update the blacklist without Google's approval," though could not confirm this with certainty.
I have asked Google to answer questions about all of this. It has not responded to me.
Only a few hundred of Google's 88,000 employees knew about the censorship project – around 0.35 percent of the total workforce.
Staff who were involved in Dragonfly were ordered to keep quiet about it. "We were told to avoid referencing it around our team members, & if they ask [what we're working on], to deflect questions," said one insider w/ direct knowledge.
Since the disclosure last week, many Google employees who did not know about the project have expressed anger about it. Staff have been circulating anti-censorship memes.
One meme Google employees have shared depicts a Chinese internet user searching for information about the Tienanmen Square massacre in 1989, only to receive a result saying that the atrocity was a myth.
Another meme references Dong Yaoqiong, a 29-year-old activist who disappeared in Shanghai last month after she staged a protest against President Xi Jinping. The meme circulating inside Google depicts a search for information about Dong – but it returns no results.