on the agenda for tonight's albemarle county school board is their new "anti racism policy." it's... weak. it totally fails to mention the thing
@hatefreeacps
has been asking for for a year - banning white supremacist imagery in schools.
esb.k12albemarle.org/attachments/3d…
the anti racism policy should be up around 7:30 & public comment is scheduled to start a 9pm - come on down!
starting a few minutes late, but under way now. wonder what that closed session was about 👀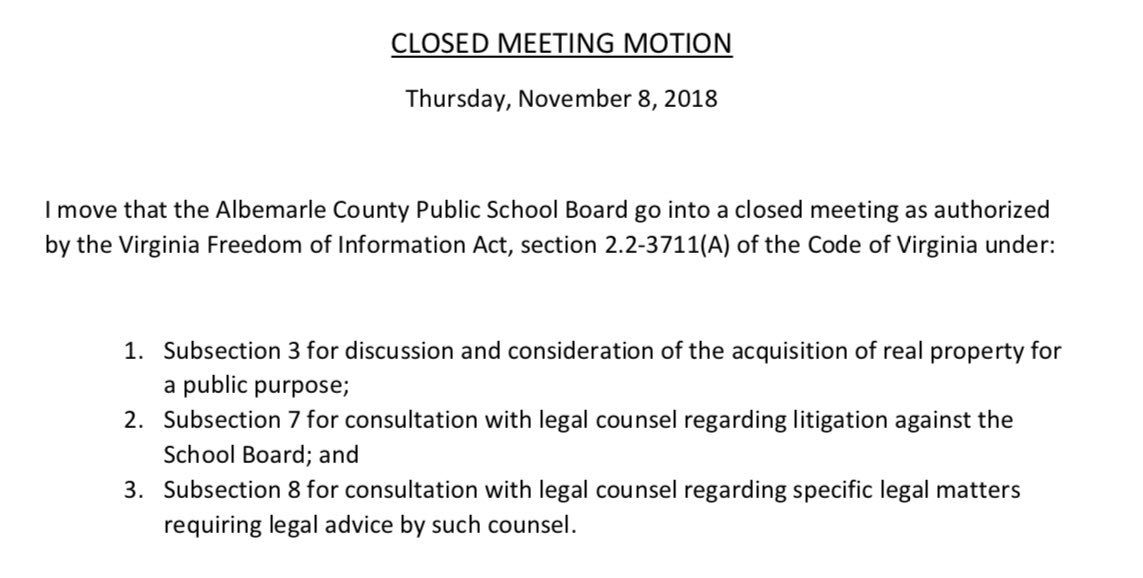 school board member katrina callsen isn't speaking into her mic. normally i'd give a board member a shout to let them know no one can hear them, but this board would have me hauled out in handcuffs for it.
board member david oberg coming out hard against the proposed cell tower near the high school. he's worried about the as yet unknown risks of cell radiation.
he also says he's personally strongly opposed to any partnership with the company, milestone communications. wonder what that's about.
acuff reminds oberg that last time they voted on a similar issue, they had engineers & health experts testify to the lack of health risks of cell towers. oberg recounts the time he chose not to buy a house near high power lines because of the health risks.
i think the school board needs some special sessions with a scientist. between oberg's anxiety about radiation and buyaki's skepticism about the existence of fossils... i'm nervous about these guys making decisions about science curriculum.
someone ask jason buyaki if he believes dinosaurs existed


the cell tower agreement passed with buyaki & oberg as the only no vot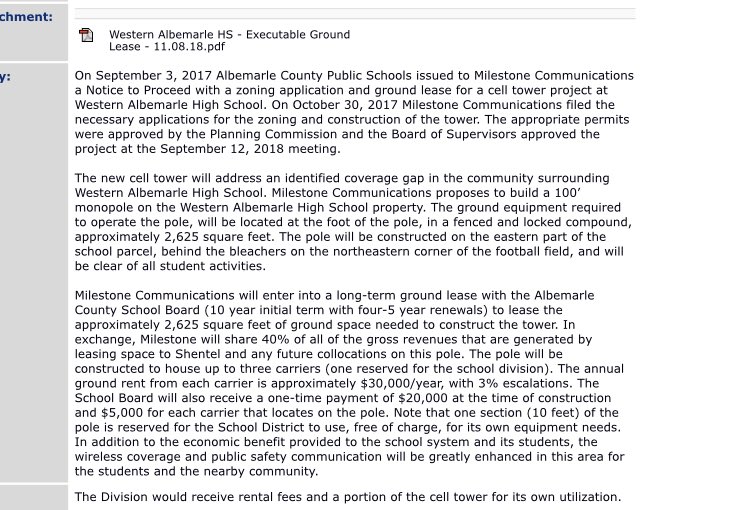 HZl4
board member jonno alcaro says he learned a lot from a recent session he attended on microaggressions. maybe he learned something about racism! 🤞
oh hell yeah jason buyaki is offering an "alternate resolution that has language in it that i agree with," which he calls "politically neutral" — he has serious issues with the green energy resolution.
his motion to amend the resolution can't seem to get a second... board member katrina callsen says the original resolution was already passed by the board of supervisors.
board member graham page says he checked the textbooks & the SOLs - both mention climate change. removing the language about climate change from the resolution would be a disservice to students.
fuckin' dying trying not to laugh — his amendment got no second. the resolution passed as written with buyaki being the only no vote.
interesting to note that a group of maybe ten people is here in support of that resolution. there was a bit of clapping, sign waving, and at least two women audibly cheered when it passed. kate acuff did not order them arrested, ejected, or assaulted by the police. fascinating.
oof, is this really gonna be a 45 minute presentation? dr haas has a cold or something, his voice isn't gonna hold up that long (nor is my attention span)
if you're coming out for the next agenda item, get on over here!!


not entirely paying attention to the superintendent's presentation (not sorry), but i REALLY don't like calling students "customers."
"grades are the currency of secondary schools."
what's with all the language of capitalism?
"it's a very touchy subject - it's one of the most private acts" (we're talking about grading, not sex, in case that wasn't clear)
dr haas says "i want us to be the exception to the rule" when it comes to... racism? is that what he meant? i guess that's better than nothing, but it seems a bit defeatist.
"we must treat every senior citizen in albemarle county like royalty," says the superintendent. because they invest in the school system despite having no children in it. (yes, because old people are the only taxpayers without school aged children)
dr haas says the district needs to "set a target for diversity hires."
"if we hire 25 minority teachers each year, it will take 8-10 years" to achieve a teaching staff that reflects the student population.
"we have a marginalized population of students that are not accessing" all of the opportunities county schools have to offer. dr haas keeps using the phrase "diverse students of color," which feels heavy & uncomfortable.
and now he's telling the parable of the good samaritan? it's probably time to wrap this presentation up, bud.
update: it really did last 45 minutes


oh thank god there's a powerpoint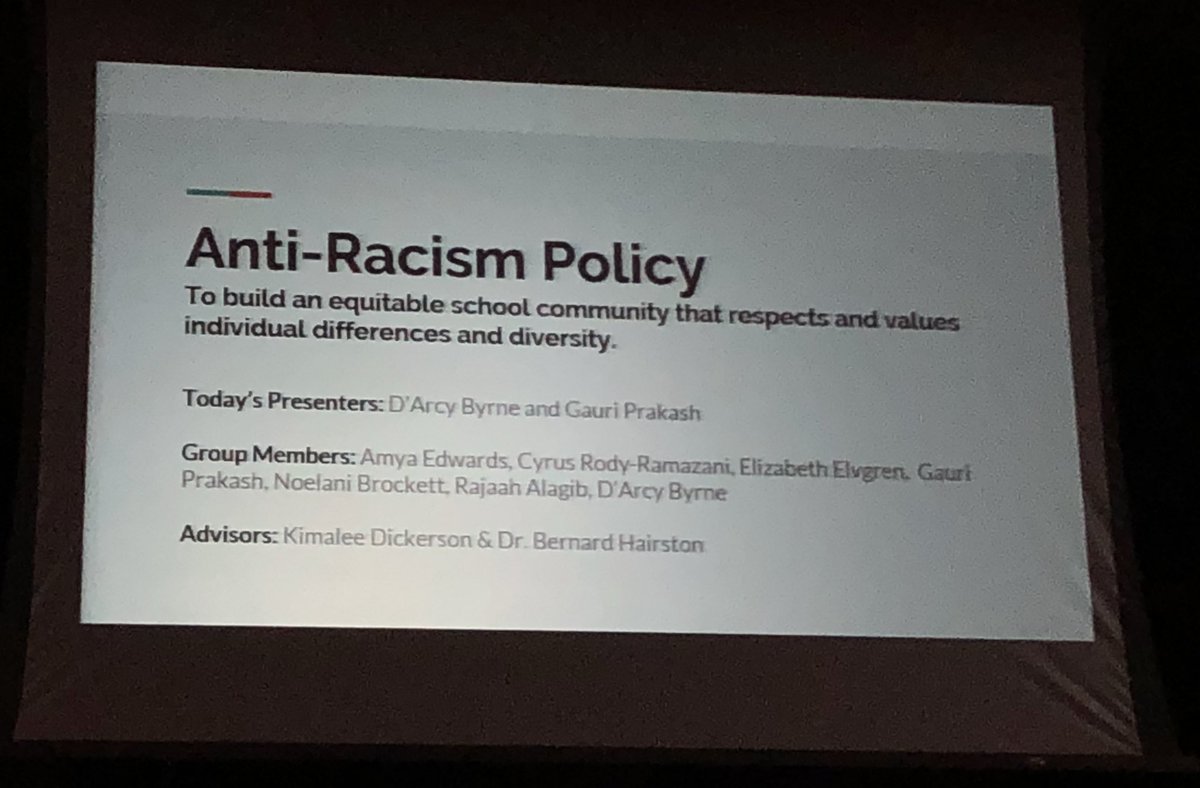 is it uncharitable of me to read something sinister in the district having high school students present this draft policy?
implicit bias training cannot and will not solve racism.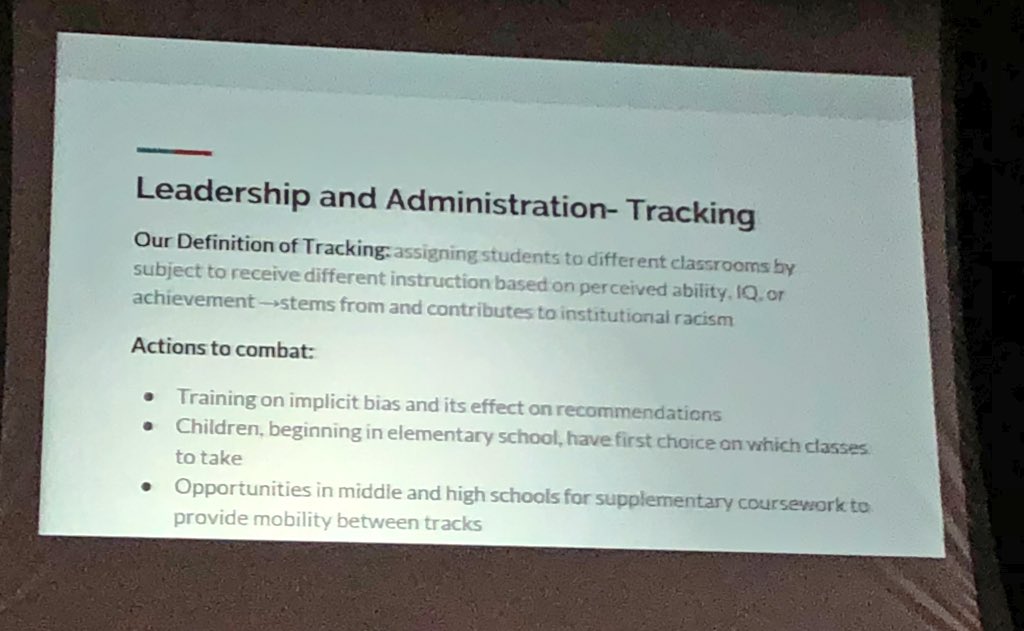 "if textbooks contain racial bias, that should be clearly communicated."
but what if we stopped using textbooks that perpetuated the lost cause narrative?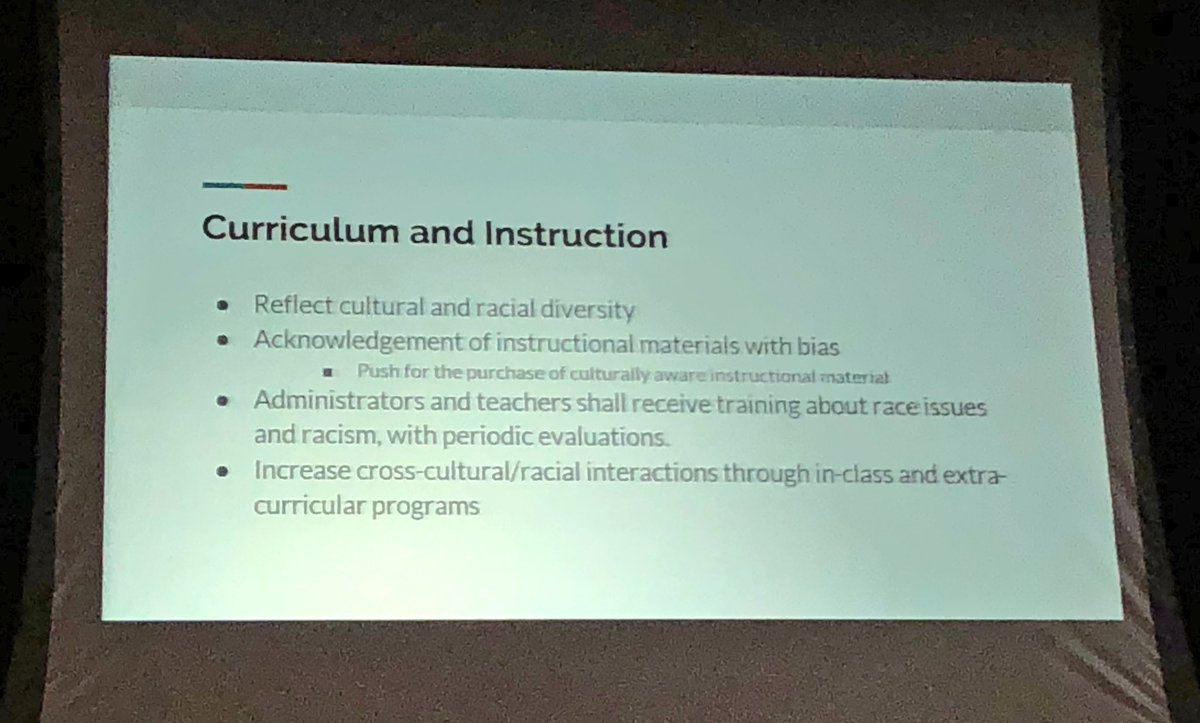 board member graham page asks the students if other school employees, like secretaries and bus drivers, would be forced to take the trainings outlined in the draft policy. current district policy would apply only to staff currently subject to professional development requirements
graham paige asks if they would consider adding to the policy some requirement about all class offerings being available to all students - perhaps offering some classes online or in the summertime. (i took german via webcam in high school - it can be done!)
board member david oberg says that school board members should also be required to take the culturally responsive teaching training. there's some applause from the audience which nearly gives kate acuff an aneurysm.
the draft policy includes updates to the board on an annual basis. graham paige says they would need more frequent updates, "at least every three months."
oberg says results should be made available not just to the board, but publicly.
"we need to make sure this is something that we're owning," says oberg.
"this policy, i love it, i appreciate all the work you've done," but says we need to be more clear. "it doesn't say why we need it."
oberg appreciates the definitions of structural racism in the draft, "we need to own the fact that we suffer from those conditions"
katrina callsen says she'd like to see them explore including restorative justice in the policy.
jason buyaki now arguing that the school board should be provided data BEFORE it's shown to the student diversity committee and school equity teams.
katrina callsen commends the students for thinking to include the bit about allowing students to make class selections BEFORE teachers/guidance counselors make recommendations. she says she wouldn't have thought of that, but it's a place where low expectations hold students back.
katrina clarifies that this draft antiracism policy is NOT intended to replace the dress code policy. i'm hopeful katrina will raise that issue & get it back on a future agenda.
just because we're 45 minutes behind schedule doesn't mean we shouldn't still take a ten minute recess...
i live in this auditorium. this is my home now.
time for another powerpoint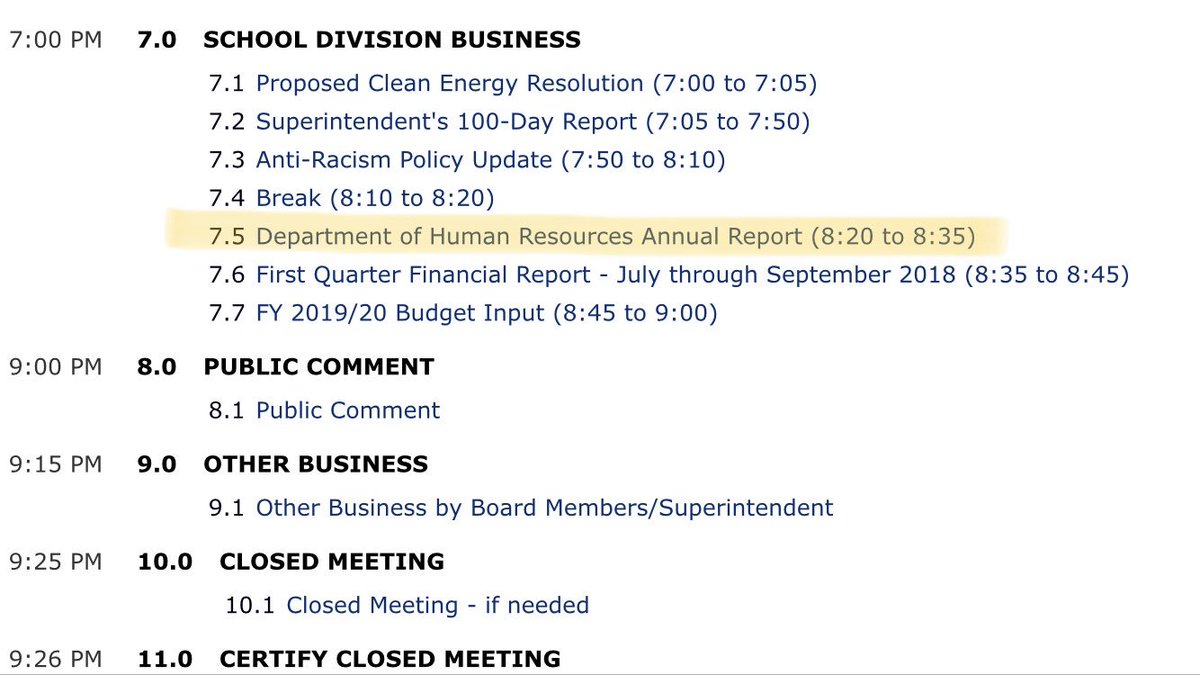 anybody know exactly what they mean by "minority"?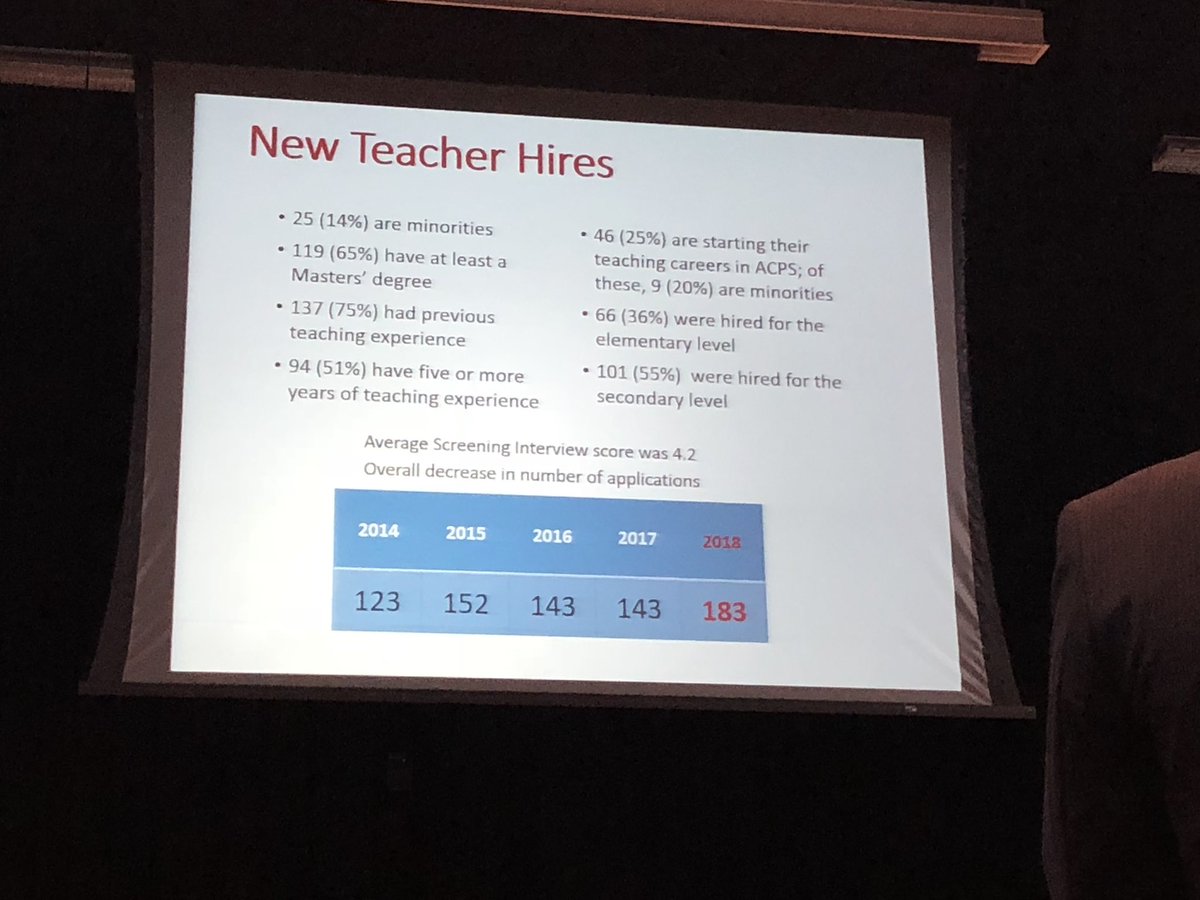 oh hell yeah i just remembered the halloween candy
@marymcintyre
gave me at the beginning of this meeting, approximately 95 years ago. hello, skittles in my coat pocket.
oof, most albemarle county schools have 90% white teachers
kate acuff says that when the new wegmans opened, the district lost a lot of teachers aides because the grocery store paid better. that's fucking bleak.
they're now showing a powerpoint they already showed at the joint session of the school board & board of supervisors on monday. that feels like a million years ago. i've already seen this one.
public comment at 9:40pm, totally normal and not at all an attempt to discourage public engagement! love this warning about how they'll arrest us if we're rude! everything is fine here!
first speaker laments the rule prohibiting addressing any individual board member, as some board members obviously think some comments don't apply to them. but he doesn't want to be arrested & went to the hospital (as has happened to a friend of ours)
he's talking about the trial we witnessed last week for our friends arrested at the august 30th school board meeting. it was a hard one. acuff took no responsibility for what happened that night.
"you have no business being in charge of a fruit stand, let alone our school board"
oh this board has not been well trained on how to interact with this community — they should NOT try to interrupt tanesha 😂
tanesha says it's good they're trying to hire diverse teachers, but the have to do more than just attend job fairs at virginia union university.
commenter #3: "it's not really rocket science: if you don't pay teachers well, they're not gonna be retained."
"it is almost 10pm, what is this? it is ridiculous." it's also ridiculous that they are afraid to address this board - if they get too passionate, are they in danger?
re the august 30th arrests: "with the wave of a finger, a certain board member got activists whisked away," they say, skirting the ban on addressing kate acuff directly.
"i think it's pretty shallow that you guys are suddenly interested in antiracism" "why is this so controversial?" they ask the board why they still haven't addressed banning white supremacist imagery in schools.
aubrey from
@hatefreeacps
up now. she thanks the students who worked on the draft antiracism policy.
"there's nothing stated about how a child who is harmed" by a racist incident will be cared for. she asks for a restorative justice component.
aubrey also raises questions about this board's capacity to deal with enforcement of the policy.
the next speaker also thanks the students for their work on the policy. she then voices some concern over dr haas recounting a biblical parable during his address to the board & works in a dig at buyaki, alluding to "the climate change denier on the board." 🔥
she voices support for many specific aspects of the antiracism policy but emphasizes that "we have to ban confederate and other hate imagery"
"i believe the board should stop avoiding one of the most obvious" steps they could take — banning hate symbols in schools, says the next speaker.
he's struck by the huge divide between the board's theoretical support of antiracism & the way they've actually treated antiracist activists. (that is: having them brutalized by police)
the issues of white supremacy & racism aren't in the past - "they continue in the present day with this 2018 board. they are disturbingly current."
i love every single person making a public comment tonight. this community is incredible.
"if there is mistrust of this policy it's because the context in which we're having this conversation" is that the board collaborated with the commonwealth's attorney to "launch an all out attack" on community members.
this speaker says she is unaware of any collaboration on this policy with any local experts on racial equity. we should take advantage of these resources rather than vilifying them.
"real change is hopeless in the absence of an understanding" of white supremacy
"this policy is absolutely nothing without an explicit ban in racist imagery."
LARA! i haven't heard her address this board since they shut down their meeting on 8/23 because we snapped for her ❤️🖤
she opens by asking for a moment of silence for the monacan and saponi peoples whose land we occupy.
it's troubling that culturally responsive training is optional. she calls for the board to make it mandatory & terminate teachers who can't make it through the training.
why would people of color want to work in a district where their colleagues aren't culturally competent?
"you have everything necessary to do this except for the courage. and the empathy."
"we need to name white supremacy for what it is. and an antiracist policy that does not name white supremacy should not move forward."
reverend don gathers opens by saying "when you know better you should do better."
"you haven't taken the one step that is the most basic & simplistic of steps:" banning hateful imagery.
"if you don't want to be looked at as racist, stop doing racist things."
"it's not even a major step. it's not a giant leap for mankind," he says. just ban confederate imagery.
he also asks what the consequences would be for a teacher refusing to abide by the draft antiracism policy.
walt up next. his children are albemarle county grads & he's a professor at the education school.
he says his kids recently reminded him that racism was rampant in their time at albemarle county schools.
he encourages them to follow the example of the city school board. not only did they recently pass a resolution banning white supremacist imagery in schools, they aren't using the cops to brutalize the community at their meetings!
and that's the end of public comment. at 10:10pm.
on to other business. katrina callsen brings up the subject of the dress code issue. she says it would be helpful to the community if they could offer a timeline for addressing that.
katrina echoes the concerns several people raised during public comment — it may be helpful to reintroduce public comment at the beginning of meetings. oberg agrees - public comment comes AFTER they've voted on issues, which isn't ideal.
for someone as brutally invested in civility as she is, kate acuff sure as shit interrupts people all the damn time.
unclear if they just reached a decision at all about either of the issues katrina raised... acuff cut off oberg and adjourned the meeting. good night, i guess.