"This requires the customs union as the basis of the future relationship" - more details
thetimes.co.uk/edition/news/m…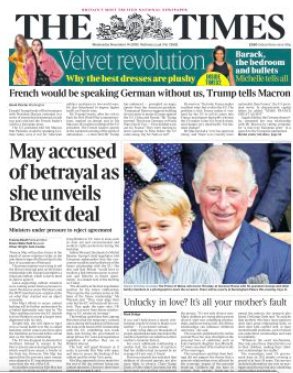 Weyand told Coreper ambos last Friday that "customs union will be fully operational in the withdrawal agreement"
"Fully operational" - so no need for a customs treaty in transition, or a bridging guarantee of one
Britain will be bound by "level playing field" clauses in the new international treaty to follow the EU's competition and state aid rule as well as environmental legislation until 2030 - yes, 2030
The measures, which are legally binding, have been demanded by the EU prevent British business getting any unfair competitive advantage by being inside Europe's external tariff customs border but outside the requirements of single market regulations
During talks, and concerns raised by countries including France and Germany, commission assured ambassadors that the planned deal would place Britain at an economic disadvantage leaving the EU in position of strength.
EU to be "in the best negotiation position for the future relationship...
"The level playing field will be the basis for future negotiation. It would secure governance is a construction which goes beyond anything [else agreed with non-EU countries]"
In reference to the need for other single market regulatory checks, such as product and good safety inspections, outside of customs, it was explicitly stressed the arrangements would be disadvantageous for British business and investment
More helpfully for the government, a "joint termination clause", exists for Britain to end the customs arrangement if a successor trade treaty, negotiated in 2020, removes any need for an Irish border
That's also why the workings of the "joint committee" that administers the clause is so important because the withdrawal agreement will mean UK is tangled in a "fully operational" customs union, level playing field structures that effectively dictate shape of future relationship