1.
This morning we shall continue our mandate of bursting Lies.
#FactsAboveLies
. Our question is this: What drives the Nigerian Senate President
@bukolasaraki
that he must tell untruths in order to diminish the stature of PMB/PYO. Is it hate, mischief, sabotage or ignorance?
2.
@bukolasaraki
attacked the
@Trader_Moni
programme saying that it is a vote-buying exercise & he wondered why it was coming in 2018 & not 2016 & 2017? He surreptitiously also wanted to take some credit for the programme for he said "when we approved the money" meaning Budget..
3.
Let us now look at the
#FactsAboveLies
of Saraki. Every single Budget of FGN (there are 3) Saraki deliberately caused delayed passing thereby limiting the FGN's ability to disburse timely & deliver on schedule. Not only Budgets' delay, but delays in approval of borrowing plans
Let us remind ourselves that as at the time Saraki was sabotaging FGN, he was a member of APC, the ruling party and Number 3 in hierarchy. We all know how he ascended to that position (subterfuge). Can we then conclude that from day one,
@bukolasaraki
set out to sabotage FGN?
6.
It is instructive that the Executive had requested that part of the INEC funds be taken from the NASS excess approvals for themselves against reason and selfishly. Surely what was sauce for the goose should also have been sauce for the gander. Not in Saraki's dictatorship.
7.
The
@NSIP_NG
is the FGN's flagship 5-pronged intervention to address human development deficits as shown in the diagram. By cutting the budget of the SIPs,
@bukolasaraki
deliberately set out once again to sabotage the Executive. But he is sabotaging the people & not the Exec?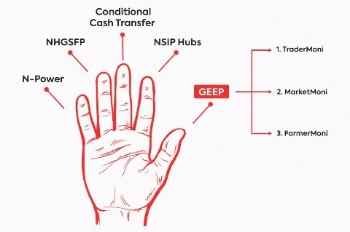 We will let you think on the issue of sabotage raised above & come back to let you know details of the carefully-thought out Social Investment Programme (
@NSIP_NG
), its position as a strategic tool for development of the masses as contained in the ERGP. It is not VOTE BUYING