This image which I sourced from
manasataramgini.wordpress.com/2011/09/17/reh…
presents a very interesting view. This gives us the number of times Muslims attacked India till they gained a foothold in 1192. I am not interested in the actual numbers. It's the general trend which I am interested in.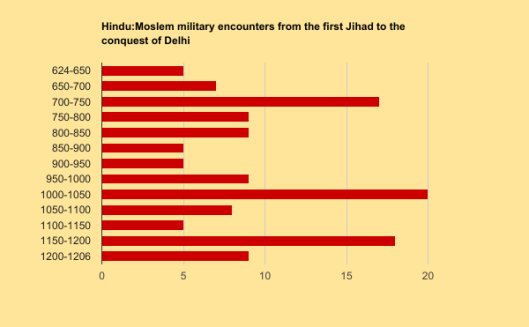 The article itself is a very great read. Coming back to the topic. The depiction clearly shows there are three waves of Islamic advance into India - Arab Imperialism, Turkic advances under the Ghaznavids and Turkic advances under the Ghurids. And the first two, clearly failed.
The first wave was that of an imperialistic juggernaut where the Arabs tried to conquer whatever lands they can. Islam was formally founded in 622 AD and within a decade, it was a powerful militaristic force to reckon. Persia was attacked in 633 AD for the first time and the
empire, considered to be one of the most powerful one in the world ceased to exist in less than twenty years. Coming to India. The first raid towards India was in 635 AD when a naval expedition was launched against Mumbai and Bharuch general area but it was defeated.
When Persia was being pulverized, a naval force was sent against Sind in 638 to raid Debal. Probably, we should see both of them in the same light - they were making the ground clear for the next kingdom beyond Persia. There was a lull till the gates to India were opened.
India, from West, is generally accessed through Khyber and Bolan Passes. While Bolan Pass led into Sind(Kikkan was in the area where Quetta stands now), to use Khyber, you need to cross the Shahis. The first serious force was launched in 660 but it withdrew on the news of death
of the Caliph. Waves after waves were launched against Sind. Of the total of 14 invasions of Sind, Arabs lost 13. The trouble they faced both from the inhospitable desert and the armies of Sind were enough for a Caliph to declare India is not worth invading.
The story was to end one day or the other...A massive force was sent under Muhammad bin Qasim to take Sind, come what may. Debal fell first. The king took personal charge and held the Indus. He was defeated and killed, and Sind was annexed to the ever expanding Arab empire.
The invasion force marched forward till the Himalayas before turning back. Qasim met a gory end, that's a different story altogether. But, the real thing is that Arabs faced something which they never faced anywhere else - a roll back of their conquests.
After Qasim withdrew, Sindh rebelled under Dahir Sen's son, Jay Shah. It's a matter of time the Caliph recognized the ground realities. Jay Shah was accepted as a vassal but was allowed to do whatever he can. By the time next governor Junaid came,
nothing was literally left to the Arabs in Sind. He had to go forth painstakingly to conquer each area. He conquered considerable tracts of Gujarat, Rajasthan and parts of Madhya Pradesh, sufficient enough to set up a new province for the Caliphate before he was recalled in 726.
Al-Hakim followed him and pressed forward. By then, the Hindus identified Arabs are a menace and should be crushed. A major Chalukya force intercepted Al-Hakim at Navasiri and turned the Arabs back. He died in 740 fighting against the Maitrakas.
Parallel to this, another massive force was crushed by Pratihara Nagabhatta in 738, famously known as Battle of Rajasthan. Two major defeats in 738 combined with massive losses/pyrrhic victories elsewhere(Kabul/Ardabil/Defile) made the Caliphate a spent force.
This massive loss of manpower resulted in weakness of the centre and an eventual rebellion which forced the Caliphate to withdraw back into Arabia.
There were raids till almost 860, but they never made any real sense. This is with regard to advances through Bolan. What's happening in the Khyber area?
Legend says a Turk by name Bahra Tegin took control of the throne as if by divine sanction in 661. The story goes like, there is a prophesy which says the next king will be a fully grown boy who will come out of a cave and become a king. Bahra Tegin, a Turk who was hiding in
that cave for whatever reasons, emerges from the cave and people accept him as a king. The reason for the dynastic change was preempted by an Arab raid of Kabul in the same year by a force which was searching for the Persian Crown Prince Peroz who withdrew into China.
His brother, who is known only as Rutbil slices off to create his own kingdom in 670. One can say, Kabul was almost shielded by Zabul till Zabul toppled in 785. Terrain was to their advantage. Kabul and Zabul literally crushed every army sent against them.
Not just defeating, they had the temerity to raid deep into Arab Empire and give asylum to fugitive Arab armies. The first Zunbil was killed in a raid of Sistan in 685 and a massive invasion force was sent in 697. It was killed to the last man. In resposne,
they sent another force under Abdurrahman ibn Muhammad ibn al-Ashath. The expedition was a huge success. But, when the soldiers understood it's not an invasion force but a settlement force, the 40,000 strong army rebelled. The Zunbil gave them asylum.
They invaded the Arab Empire and were defeated only in Iraq. This serious blood letting, highlighted before, led to the end of the Empire itself. By 738, Arabs were out of the theatre, replaced by local Muslim kingdoms.
Now, the game changed. It's no more Arab vs Turk, it's your Turk vs my Turk. Kabul and Zabul somehow held fort with some reverses, and Zabul dragged on till 865 when the last Zunbil died in a battle against Yaqub al Laith, the founder of Saffrids.
The Zunbil crown prince escapes into Kabul. Kabul has already shifted it's capital to Udabhandapura, on the other side of Khyber to proof itself. In 814, the Kabul Shahi ruler was forced to convert to Islam. As usual, they took their time to rebel.
When the crown prince of Zabul held fort in Kabul, Laith invaded Kabul, captured it and got him executed. In 890, there was a dynastic change when a Brahmin minister Lalliya captured the throne in a palace coup. It was a see saw from then.
Kabul Shahis raided as far as Samarqand, Kabul was taken, Zabul changed hands atleast three times, with Bhimadeva being the most powerful in the new lot. By the time of Bhimadeva, Saffrids were toppled by a Turkic slave, Alptegin. Now, the fight for Zabul took a vicious turn,
with the city changing hands every few years. Bhimadeva didn't have any sons. His only granddaughter, the famous Didda, was married into Kashmiri royal family and he felt the level of troubles he is facing, Kashmir and Kabul cannot be ruled by the same person. He nominated a
southern vassal(it is said so. It can also be a palace coup) Jayapala. He took the Shahi title of Deva and called himself Jayapaladeva. By this time, Alptegin was replaced by Sabuktegin, his slave and slowly, Shahis started losing foothold on the other side of Khyber.
By the time Sabuktegin's son, Mahmud of Ghazni came to throne, Kabul Shahis didn't exist in Afghanistan. Jayapaladeva invaded Kabul with a massive force but was defeated. That battle literally broke the back of the Shahis. That defeat opened Khyber to Muslim armies
for the first time and India saw raid after raid by Ghazni. Though it is portrayed as a grand raid of India, all of Ghazni's attacks were nothing more than raiding Kabulshahis and their allies. Of the purported 17 raids, atleast 13 are against Shahis and their allies.
Shahis spent whatever they got and moved into obscurity by the raids of Ghazni. Their tremendous effort to stop Muslims became a matter of legend. After all, they are the only kingdom in the whole world who challenged the mighty Arab caliphate again and again and outlived it!!
Bhimadeva's holding of Khyber against Ghazni itself is a matter of legend. It's possible, by 1030, Mahmud himself became a spent force. One who had the temerity to invade Baghdad just to be declared an emperor - he is the first Muslim king who is not a governor of the Caliph,
we see that he raided Somnath in 1030 and ran back away, fearing the Paramaras who were waiting for them, through hostile territory, only to see his army plundered. He led a punitive mission after that, but that's the end of his story.
His nephew, Salar Masud led a grand invasion, may be, to settle in India in 1033. But he was defeated and killed at Bahraich. After that, it was reversal after reversal to the Muslims. Parallel to this, the Ghaznavid Emperor, Masud had to face an invasion from Seljuk Turks
and faced a massive defeat at the Battle of Dandanaqan. The Ghaznis themselves became a spent force. Muslims had to wait for another century and half to rise as a potent force again in India.
History is not what we are taught. India was not conquered by Muslims because Muslims were bored. India was not conquered because Indians stopped the Muslims. And in both the times, there was an external independent act which broke the back of Islamic invasions.
Chalukyas, Pratiharas broke one wave with brute force, Kabul Shahis stood alone for centuries before being overwhelmed. Even when they are overwhelmed, someone else took the mantle and stopped the Islamic forces. This is what we should remember -
the valour, the might and the contempt they showed. Another important thing is, Islam in India is spread not by the Arabs, the original beacons of Islam but by their Indian converts - Ghazni and all. And this is achieved only by sheer valour.