HEC: 10 mins to read paper containing recommendations given to us after Branch Delegates Meeting + 1 hour discussion. 6 Motions submitted by members of HEC, including mine on
#ReviseandResubmit
. Paper passed + Chair judged 5 motions to fall+1 (setting valuation end date) remitted
I do not think the paper that was put forward (which recommended a consultation with members) needed to be incompatible with all 5 motions that fell, especially the one I argued for on
#ReviseandResubmit
b/c I believe there was time to include R+R in the process. Chair disagreed.
Here's the
#ReviseandResubmit
motion I proposed to HEC. I moved it arguing it seemed clear from observing Branch Delegates mtg that a *huge* no of members were asking for some form of R+R & not to discuss would have been a dereliction of our duty to represent members.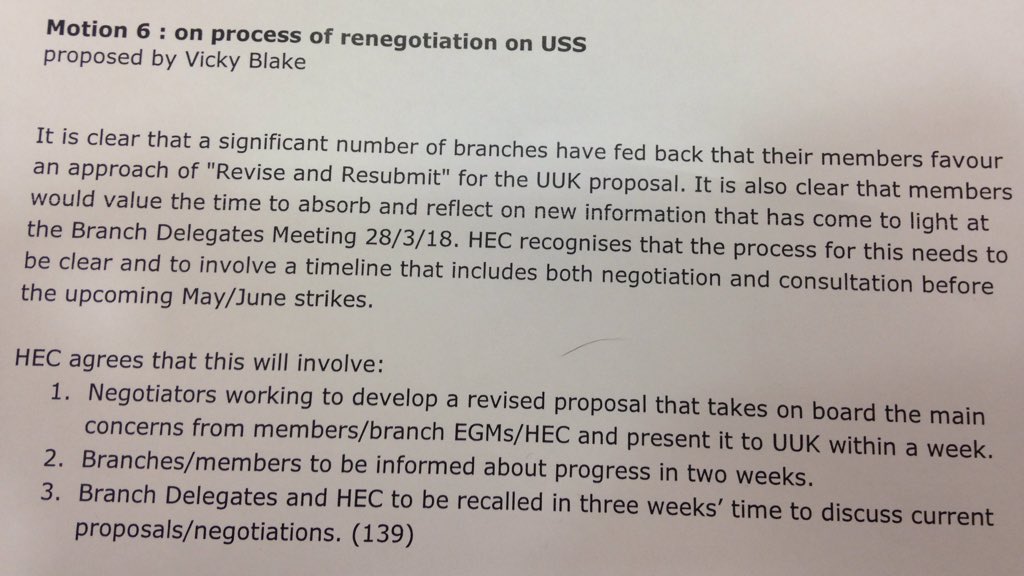 In HEC we were given recap of extra info that had been presented to the Branch Delegates Meeting (which was about 3.5 hrs long I think, as it extended slightly) this morning, including letter from UUK's Alistair Jarvis received by the union this morning (
)
There was also an update on *indications* from the pensions regulator seeing "opportunity to bring all stakeholders together to avoid recurring disagreements" - the letter was confidential + not in GS's "gift" to share but was referred to as broadly supportive.
Branch Delegates Meeting was also told (via Jarvis' letter) that we should consider the idea of UUK bringing the 23 Jan JNC decision back (ie to introduce fully DC scheme) "dead" - considered major concession from employers
There were LOTS of questions from branch delegates about how far UUK et al could be trusted + discussion of how "vigilance" & momentum could be ensured. Lots of praise for members' strike + ASOS action + how far it has brought us. Branch delegates had a lot of Qs, esp on process
(I have been SO uplifted & heartened by the member-led, grassroots democracy at work in growing & mobilising our union throughout this dispute + have become increasingly concerned that we have struggled to make usual processes clear + therefore harder to explain "unusual" ones!)
It's very significant that the industrial action remains ON during the balloting process on the proposal. So don't stop your
#ASOSforUSS
+ note strike dates. Many feared action might be suspended during ballot - I'm glad that we're keeping up pressure on employers during ballot
Things I don't know:
*Wording of ballot question
*Whether there will be recommendation on how to vote inserted (HEC did not discuss or vote on this)
*How differently (or not) any members might've voted at
@leedsucu
EGM / fed back by email had they had today's info (or more time)
Things I don't know cont:
*Whether I should've voted differently today (abstained but felt utterly hideous, under pressure+note it wouldn't have swayed vote-will explain in another tweet shortly)
*If I'll ever get out of UCU HQ (am still tweeting b/c can't face doing on train)
Things I do know:
*This+previous Branch Delegate Mtg+HEC Combo (13 March) tell us members *need* more info on processes in plain English so ev1 can understand (& can orientate understanding when the union is responding to weird situations) See also:
Things I do know cont:
*We need to *keep doing amazing branch democracy + supporting all members to engage+be heard+ask Qs* &then some. Ev1 will have even more Qs about proposal + context + today.
*We need to focus on ways to build consensus alongside space for collegial debate
"How will I vote in the ballot consultation?"
Currently, don't know. Want to scrutinise every scrap of information (noting the GS has promised more after Easter) + urgently organise meeting for all
@leedsucu
members to discuss *in depth*. (Mis)Trust in UUK et al is a *huge issue*
That we'll (probably) be asked a variant of a Yes/No Q where many branches saw not 2 but 3 possible broad routes worries me + is why I proposed
#ReviseandResubmit
(with timely timescale) motion to HEC. I sought to avoid division+build consensus where possible as
#unityisstrength
This is also why I found voting so difficult. I could *not* vote for the 1st paper with recommendations as framed at HEC b/c it had been judged it would cause all motions to fall (incl
#ReviseandResubmit
also specific amendment ideas, motions on process, timing + transparency
(My personal perspective:) We ended up at vote in a rush, b/c time was *so* tight -we started late+ironically HEC time squeezed b/c needed more room for debate at Branch Delegate Mtg, which was fair, but we lost time for HEC to debate/discuss as thoroughly as I think we should've
But I also felt enormously conflicted about voting *against* the paper b/c it summarised a great deal of progress in this dispute that - above all else, we must not forget to *celebrate* because our incredible
#USSstrike
+
#ASOSforUSS
has moved the allegedly immovable a LOT and>>
>I knew among
#ReviseandResubmit
folks we have a spectrum of what ppl would find acceptable&how they'd like it framed. As several Branch Delegates pointed out earlier, we didn't know what members thought about new info that came today (+they didn't know when voting in EGMs/polls)
I absolutely *hate* abstaining, not 100% sure was right decision, but didn't feel I could objectively justify voting for/against paper *as presented* in any good conscience in moment (which came upon us *very* fast). Paper was not simple Y/N, will find out if we can share it! >
> B/c I think it will help members to understand this timeline + today's outcomes better if we can. And I think that's really important.
[Will tweet more + try to answer stuff later but now really need to leave the building or get locked in overnight + want to go home to
#Leeds
!]
After sleep + some discussion with
@leedsucu
committee we decided the absence of the word "confidential" + fact no one said it was conf = the paper we were asked to vote on 1st + motions that it was decided fell as result would be useful to share w members who want to see framing
(So if I get in trouble for this please be aware I gave it thought + consulted amazing
@leedsucu
committee who agree this is a useful thing to see) - several pages (excuse my awful handwritten scribbles + sorry some are sideways):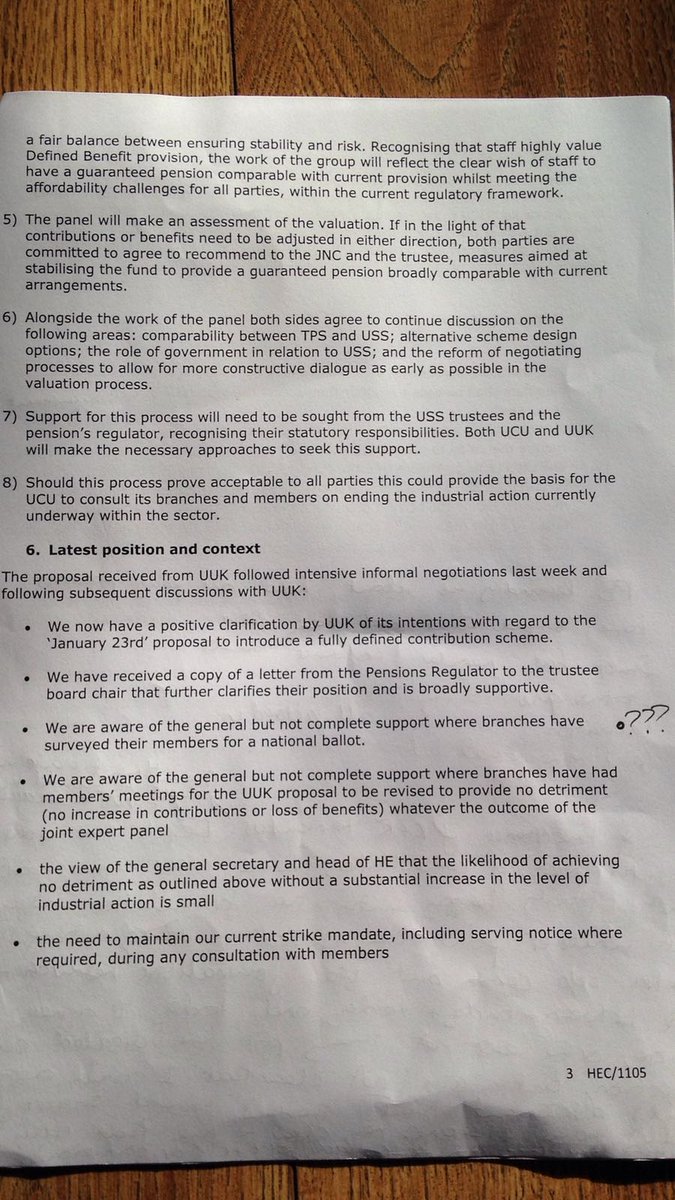 6 Motions also tabled at HEC - all 'fell' except 5 (remitted). Genuinely do not understand why was felt that all these motions necessarily fell as a result of voting on paper moved first. I believed there was room for
#ReviseandResubmit
if done swiftly+organised way.