#THREAD
: WHAT TRUMP'S EXECUTIVE ORDER DOES...AND DOESN'T DO.
Trump begrudgingly "caved" due to the backlash.
But, as it was all about holding the children hostage to get his demands...the order still pressures Congress to act quickly to avert the problems it delays and creates.
1.
KEEPS FAMILIES TOGETHER...WITH BIG CAVEATS.
While the DOJ will continue to prosecute ALL adults crossing the border illegally, it keeps families together but only "where appropriate and consistent with law and available resources."
Leaves flexibility.
2.
KEEPS FAMILIES W/ DHS.
Parents can stay with their children in detention with DHS, but the catch is only to the "extent permitted by law and subject to the availability of appropriations."
BIG CAVEAT...THE FLORES AGREEMENT PREVENTS CHILDREN FROM BEING DETAINED AFTER 20 DAYS.


3.
DOESN'T SOLVE THE 20 DAY DETENTION LIMIT MANDATED BY THE FLORES AGREEMENT.
If not changed by the courts, families will still be separated after 20 days as long as the Flores Agreement stands. Prior administrations tried.
SO ALL OF THIS IS LIKELY BS.
4.
SEEKS INDEFINITE DETENTION
Trump ordered Sessions to challenge the Flores Agreement's 20 day limit on child detention, setting up a lengthy litigation process that would seek the power to detain families indefinitely.
So instead of separating...jailing families indefinitely.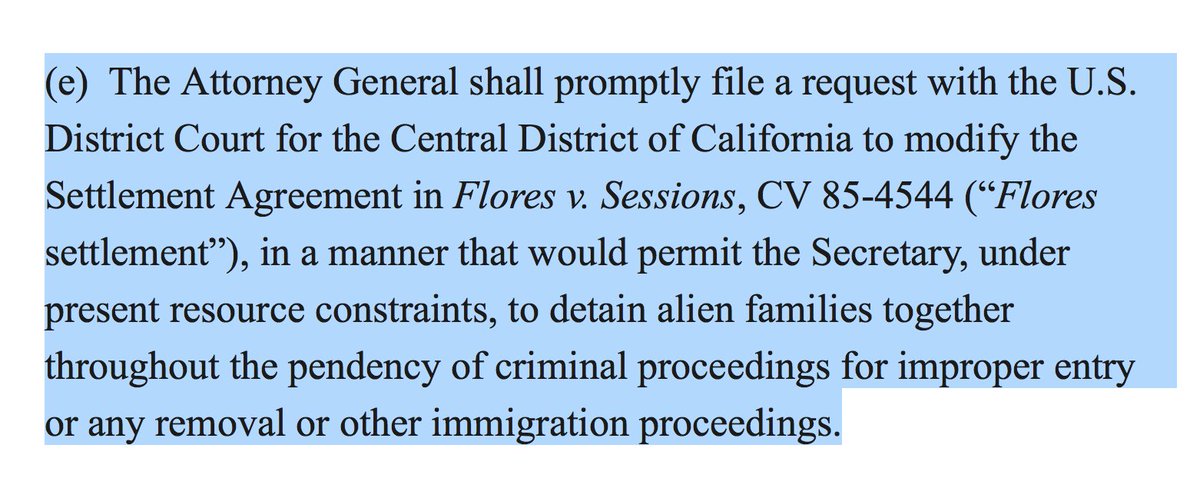 5.
DOESN'T REUNITE THE 2,300+ CHILDREN ALREADY SEPARATED.
The order doesn't reunite families already separated. Existing policies put the onus on parents to find their children in HHS custody and "seek to reunite with them."
But, there isn't a process...
6.
PRIORITIZE FAMILIES TO FRONT OF LINE IN COURT.
To expedite deporting the family (or giving them legal status), they'll cut the time before a judges hears cases "involving detained families."
It'll likely disadvantage them by giving no time to prepare.
7.
SETS UP FAMILY DETENTION AT MILITARY FACILITIES
The order also instructs federal agencies, especially the Defense Department, to begin to prepare facilities that could house the potentially thousands of families that will now be detained by the government.
Military prisons.


8.
POTENTIALLY ONLY APPLIES TO PARENT-CHILD RELATIONSHIPS.
This could mean that other familial entries DON'T COUNT AS FAMILIES...
9.
DHS ALLOWED TO SEPARATE FAMILIES, BY SIMPLY CLAIMING CONCERN.
"The Secretary shall not...detain an alien family together when there is a concern that detention of an alien child with the child's alien parent would pose a risk to the child's welfare."
10.
PROVIDES COVER IF FAIL TO FOLLOW THROUGH ANYTHING IN THE EXECUTIVE ORDER.
So, it's a lot of nothing. This entire order is negated by this one provisions, and you can't sue them for failing to execute it.
#DISCLAIMER
: While I tried to provide a comprehensive summary, I can't guarantee this includes absolutely everything.
I'm sure there are more things I didn't catch, so please feel free to comment or share links to anything I missed!