Why
#StatiSenseDataChallenge
?
Well, we now know the importance of
#data
, how it affects perspectives, and its use in decision making.
For as many as are interested in improving their analytic skill, we want to encourage and support.
By this
#StatiSenseDataChallenge
, we are also creating a community of Data Analysts....who will look into National and States' data and make sense of our economic and social realities, for better understanding, engagement and participation in our national development.
For your Info, there are:
23 Ministries
Agriculture
Budget & Nat. Planning
Communication Tech.
Defence
Education
Environment
Finance
Foreign Affairs
Industry, Trade & Investment
Information
Interior
Justice
Labour & Employment
Mines & Steel Devt
Niger Delta
Petroleum Resources
Cont'd.

Science & Technology
Transportation
Water Resources
Women
Youth & Sports Development

There are some Executive Bodies:
Office of Head of Civil Service
Auditor General
Office of National Security Adviser
Infrastructure Concessionary Regulatory Commission
Office of SGF
Cont'd.

ICPC
Fiscal Responsibility Commission
Nat Salaries, Incomes & Wages Commission
National Population Commission
Code of Conduct Bureau
Code of Conduct Tribunal
Federal Character Commission
Federal Civil Service Commission
Police Service Commission
RMAFC
INEC
NHRC
PCC
NDDC
There are 915 Agencies of Government whose Budget are included in the
#2018Budget
....too many to list here.
There are some whose Budgets are not public, the likes of:
BPE
CBN
CAC
NNPC
FAAN
FIRS
NCC
NCAA
NCS
NAMA
NDIC
NERC
FMB
SON
NTA
NPA
NBC
NIS
NABTEB
ITF
NAFDAC
SEC
NSDC
.
.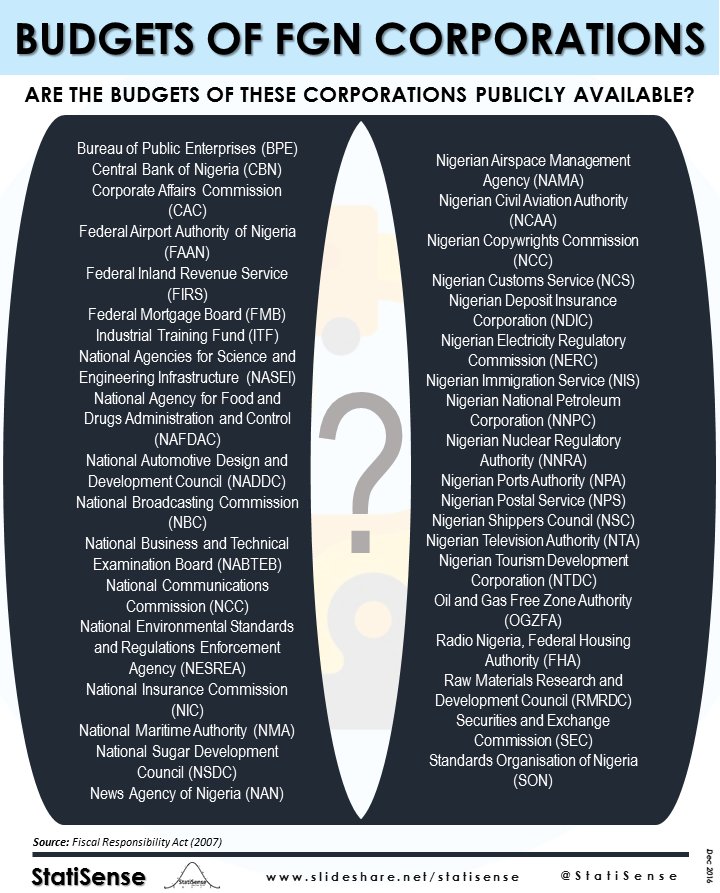 We omitted the Ministry of Health, the budget exist and available for sharing.