Gundy v. US, on the constitutional limits of the role of the executive in criminal law, is a really fascinating case. Briefs here, and intro to reply brief below.
scotusblog.com/case-files/cas…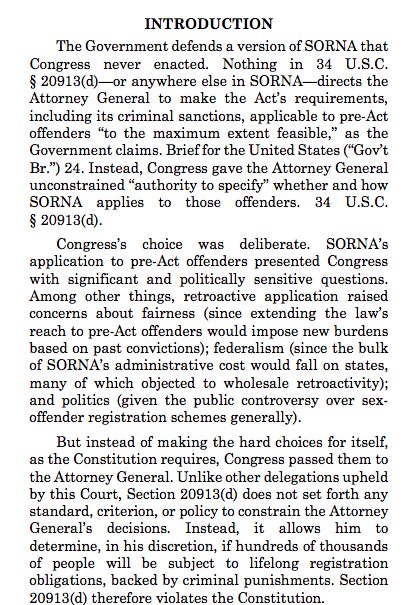 I should say that I find the whole category of crimes that punish violating regulations to be a constitutional oddity. A longstanding oddity, see US v. Grimaud, 220 U.S. 506 (1911), but an oddity nonetheless.
Incidentally, there's an interesting paper to be written on the limits of legislatures in defining crimes based on the laws of other government bodies. For example, with regulatory crimes, the legislatures makes the crim line what the regulatory body says was criminal.
You also have criminal statutes that invoke evolving constitutional law standards, like the wiretap act on bugging-- it incorporates by reference the 4A reasonable-expect-of-privacy test. The common theme is criminal statutes that define criminality by reference to other law.
Gundy happens to involve Congress delegating the standard to the executive, so the Q is put into the non-delegation doctrinal box. But it seems to me that this is just a subset of a broader issue of legislatures defining crimes based on some legal actor's decision somewhere.
I'm not entirely sure the problem is a potential non-delegation issue, though, as it seems not so much Congress delegating regulatory authority as outsourcing the criminal law line in ways similar to the Assimilated Crimes Act, Wiretap Act, etc.
.
@isamuel
makes a somewhat similar point on the latest
@FirstMondaysFM
in suggesting that maybe the issue is fair notice, not non-delegation. But I'm not sure the problem is notice, either; seems more like a Q of what are the structural limits of outsourcing crime definitions.
Anyway, it's a cool case to watch. Will be argued tomorrow.