I'm starting a running thread on the prospects for further review (certiorari) of
#AdnanSyed
opinion by Maryland's highest court (the Court of Appeals) /1/
Review is discretionary, if the Court of Appeals finds review is "desirable and in the public interest." It's a flexible standard. For mechanics, see this post:
mdappblog.com/2018/03/29/adn…
/2/
Generic stats for certiorari (or "cert") grants would indicate long odds. But the odds are much higher in this case than generic stats suggest. /3/


Four major factors increase chances of cert here:
1.
There was a dissent in the Court of Special Appeals (COSA)
2.
COSA opinion was reported, and therefore precedential in future cases
3.
State would be the petitioner
4.
Case is high-profile & interesting /4/
There are COSA dissents in about 1% of cases. MdAppBlog's former blog manager used to cover COSA dissents quite a bit. /5/
mdappblog.com/2015/11/10/cos…
If I knew nothing about this case but the four factors I listed above, I'd say the odds of certiorari were about two-in-three (67%). My head says Court will probably review. But my gut feeling is that the Court of Appeals will deny cert. /7/
Starting with the assumption the Court of Appeals will grant cert, I'm going to periodically update this thread with reasons to think it may deny cert. /8/
POINT #1: Time & Prejudice.
The State has two options. It can retry Syed using what it has characterized as "overwhelming evidence. Or it can try to get COSA case reversed. /9/
The probability at this point is that new trial order will stand, even if Court of Appeals grants cert. The State loses more often than not before Court of Appeals these days, in the kinds of close questions it usually takes. /10/
If Syed is going to be retried, the sooner the better from a truth-seeking perspective. All of the witnesses are still alive & willing to testify. That may not be the case in two years. /11/
I was involved for one portion of a case that went to 4 different trials over many years. Each round, more witnesses were unavailable or had died, and only the transcripts of prior testimony came in. Not ideal. /12/
The State already got One discretionary appeal, when COSA granted it leave. That added about two years to the case. /13/
It would have shortened the process if the Court of Appeals could have granted "bypass" cert, as soon as COSA granted leave to appeal. But under 2010 Stachowski case, that's not possible.
scholar.google.com/scholar_case?c…
/14/
In Stachowski the Court asked the parties to brief cert jurisdiction in post-conviction cases. State actually argued the Court of Appeals could NEVER review COSA decisions in non-capital post-conviction cases. /15/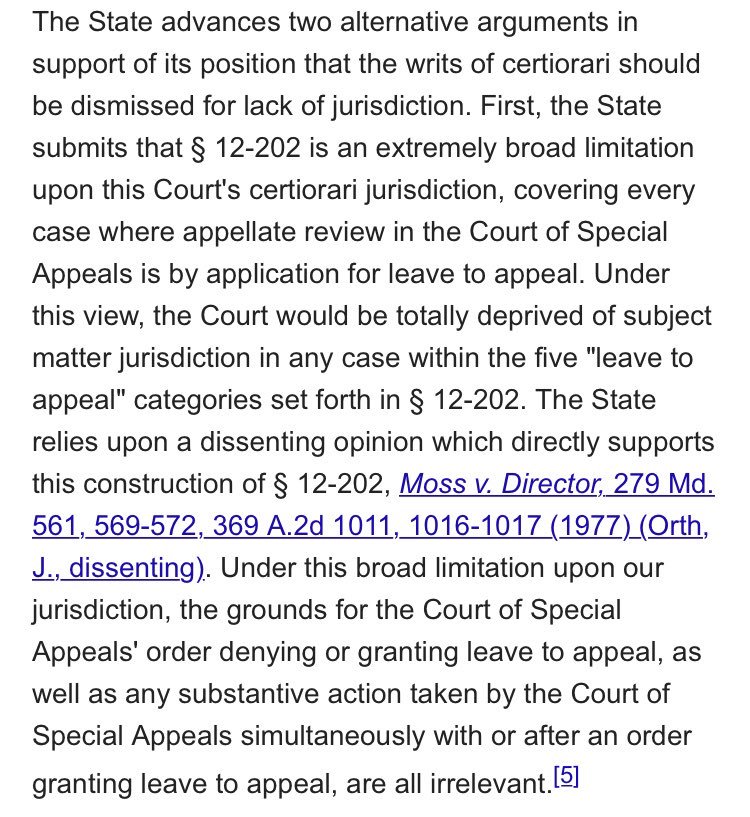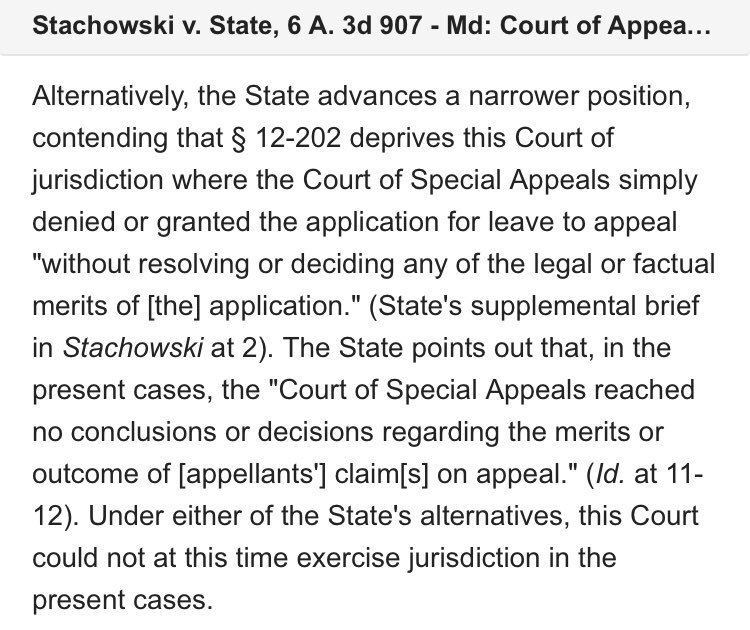 The Court of Appeals rejected that broad argument but accepted the State's alternative argument that jurisdiction can arise only after COSA issues a final opinion on the merits. /16/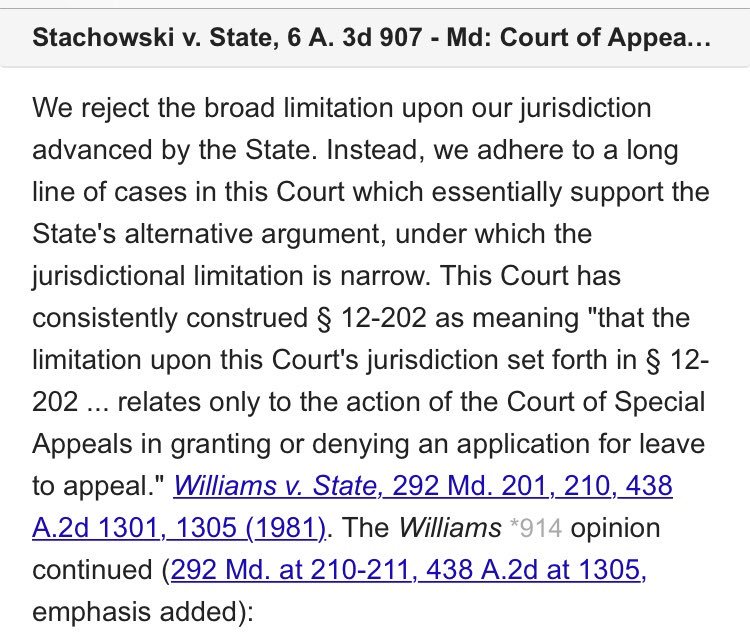 Three judges dissented from Stachowski and would have found no such limitation on bypass jurisdiction. But the State narrowly won, making it much harder to expedite post-conviction appeals. /17/
And since bail is rarely granted in post-conviction cases, that means more time in prison, even if conviction is ultimately voided. /18/
In Stachowski, the State won a rule that helps it in most cases. The Court of Appeals could conclude it weighs against the public interest to prolong appeal further, given State can still retry on what State considers overwhelming evidence. /19/
I don't think this point (or any other I discuss) would be dispositive, just that it could weigh against cert in larger analysis. /20/
POINT #2: JUDGE WRIGHT & THE KULBICKI FACTOR
Most focus is on Chief Judge Woodward's majority opinion and Judge Graeff's dissent. I'll focus on the swing vote, Judge Wright. /21/
As you can see from his bio, Judge Wright really knows criminal law/policy. His vote for Syed is significant. /22/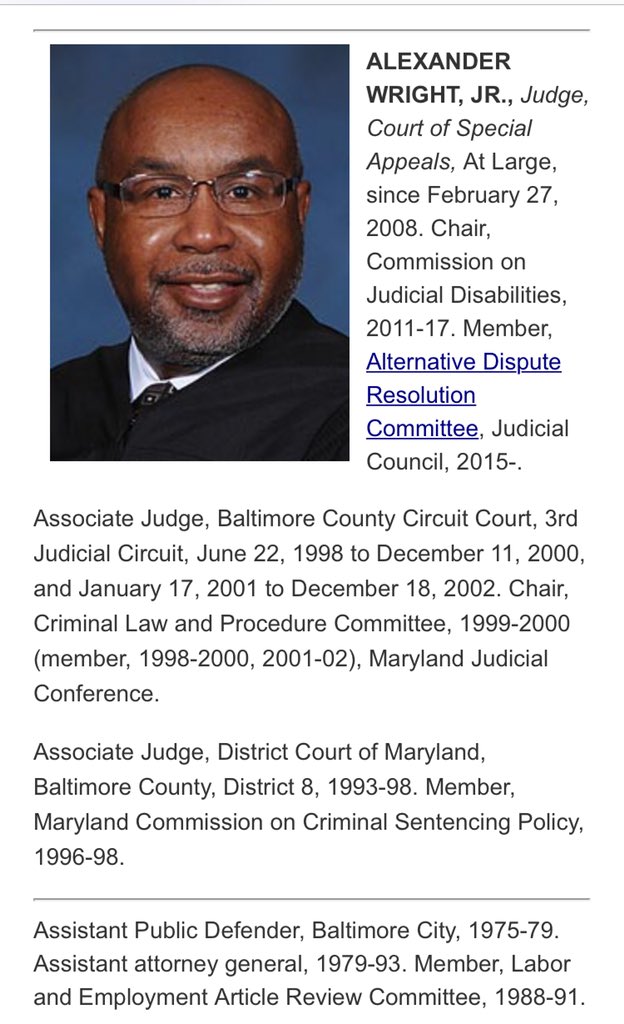 That's significant b/c State has often cited Kulbicki in opposing a new trial. There, Court of Appeals granted cert, narrowly reversed, and US Supreme Court ultimately ruled for State.
scotusblog.com/case-files/cas…
/24/
On remand, Court of Appeals summarily affirmed Judge Wright's opinion.
scholar.google.com/scholar_case?c…
(Side note: I successfully lobbied Westlaw to remove the "red flag" for Judge Wright's opinion) /25/
So here, State's efforts to analogize case to Kulbicki are going to ring fairly hollow. /26/ (I'll continue thread later)
One more quick note for now: Judge Wright was once a public defender, giving him a valuable perspective on whether there could have been a strategic decision not to call a potential alibi here. /27/
POINT #3: The tragedy of Cristina Gutierrez
The dissent focuses solely on whether Syed met his burden of showing deficient performance, ie, non-strategic failure to contact alibi. No dispute that, if deficient, there was prejudice.
/28/
Did Judge Welch clearly err (the standard of review) when he found no strategic reason? It's an uncomfortable question, because finding a strategic decision requires grappling with Gutierrez's state of mind.
/29/
I've discovered that Cristina Gutierrez's story is a painful topic among her contemporaries. She overcame early questions about her character to be admitted to the bar in 1982).
scholar.google.com/scholar_case?c…
/30/
She overcame the odds and became a well-respected defense attorney. It is HARD even now for women to overcome implicit (or explicit) bias as private defense lawyers. Gutierrez did so in the 1980s.
/31/
And then she got sick. Multiple sclerosis, diagnosed in 1999. By all accounts, the pain, stress, and money crunch left her in terrible shape, leading to disbarment in June 2001.
/32/
It's hard to over-emphasize how seriously the Court of Appeals takes it when money is missing from attorney trust accounts. And then a dozen clients complained she took money and didn't file pleadings.
/34/
I don't want to stigmatize lawyers who fight through disease and pain to show up for work. But it's hard to escape the conclusion that Gutierrez's judgment was seriously impaired, taking on more than she could handle.
/35/
At the February 2016 remand hearing, State accuses Syed of smearing Gutierrez. But, given the sad facts of her disbarment, the kindest thing to her memory is to acknowledge she wasn't herself in final years of her career.
/36/
Gutierrez's story is deeply saddening and downright TERRIFYING to lawyers (and judges are lawyers too). Our judgment is the core of our professional selves. That Gutierrez still fought as hard as she did in court is a testmanent to her skills.
/37/
But the inquiry here is her judgment. And to find clear error in Judge Welch's finding, based on David Irwin's expert testimony, is problematic in light of what we know about Gutierrez's state of mind.
/38/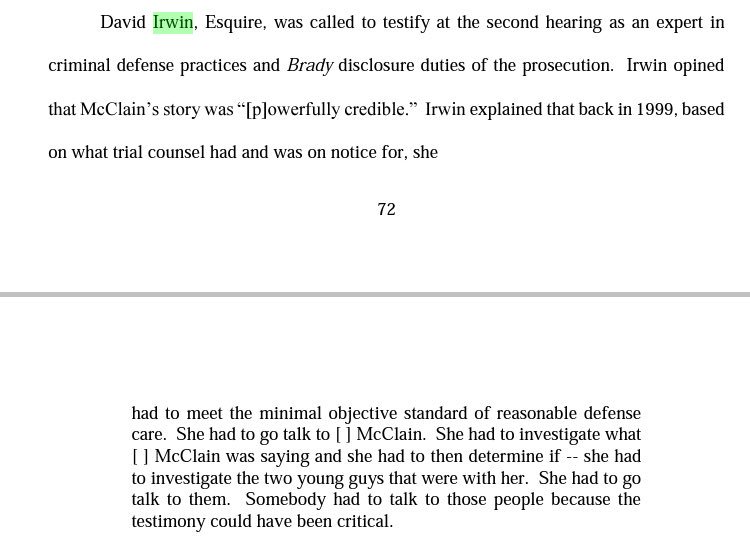 Judge Welch's opinion nor Chief Judge Woodward's COSA opinion discuss it much. Why not? I have to speculate here, but I keep coming back to how sad this story is to the generation who knew her, personally or by reputation, at her peak.
/39/
The Court of Appeals isn't just our highest court. It's also in charge of attorney discipline. It may have access to the full grievance files from the unadjudicated client complaints.
/40/
For the Court of Appeals to agree with the COSA dissent, it would need to grapple with the idea that a lawyer breaking its strict rules on trust accounts, and allegedly accepting $ for no services rendered, was simultaneously exercising good professional judgment.
/41/
This concern could cut the other way, and perhaps lead the Court of Appeals to be MORE inclined to grant cert. But my gut says that, if on the fence, the Gutierrez tragedy will weigh against cert.
/42/
Clarification, based on some comments: I don't have an opinion on whether Court could or should review attorney grievance files. I'm just saying there are a host of thorny questions inherent in finding an exercise of professional judgment
/43/
It's been a while! More on the Gutierrez factor. She was counsel for John Merzbacher in a 1995 trial. That was before she became ill. In 2000, after she became ill, Gutierrez testified in post-conviction hearing that she failed to convey a plea offer. /44/
scholar.google.com/scholar_case?c…
State post-conviction court found that Gutierrez perjured herself at hearing. It cited the Koenig article on Gutierrez's illness and resignation in face of bar complaints. It even cited Judge Quarles calling her liar in Syed trial. /45/
scholar.google.com/scholar_case?c…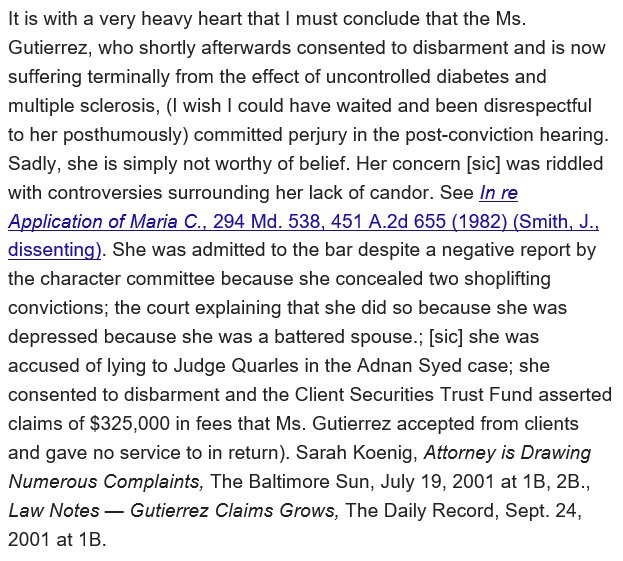 COSA denied leave to appeal. In federal habeas proceeding, Judge Andre Davis noted that the State had NOT asked state post-conviction judge to take notice of Gutierrez's bar complaints. He ordered a new trial for Merzbacher. /46/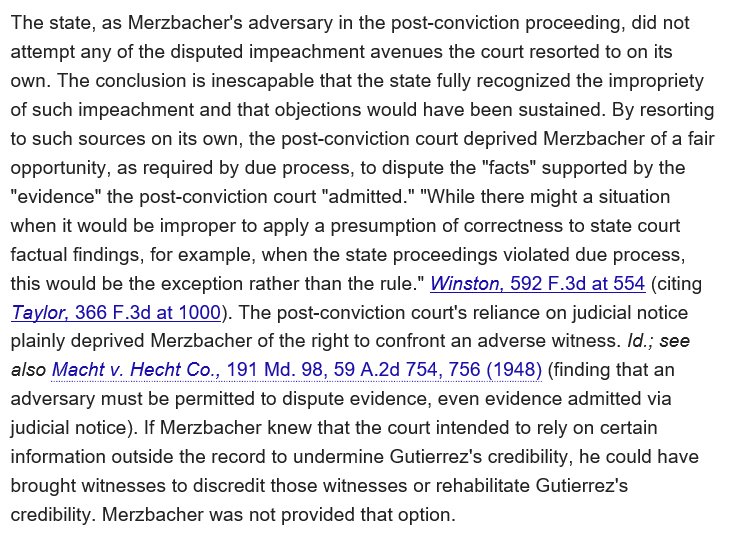 Now here's where things get interesting. On appeal to the Fourth Circuit, the State downplayed the importance of the bar proceedings in the state post-conviction court, but still insisted that the information was both relevant & subject to judicial notice. /47/
From the State's opening Fourth Circuit brief in Merzbacher. /48/
pacer-documents.s3.amazonaws.com/199/10-07118/0…


And from the State's Fourth Circuit reply brief in Merzbacher. /49/


The Fourth Circuit reversed the new trial grant on other grounds without reaching the appropriateness of judicial notice. /50/
scholar.google.com/scholar_case?c…


To be clear, Vignarajah was not yet with AG's office & didn't draft the briefs in Merzbacher.

But the State is on record that, where relevant, it is appropriate to take judicial notice of the circumstances of the bar complaints against Gutierrez & her disbarment. /51/
In Merzbacher, those facts were relevant only to Gutierrez's credibility in 2000, because the trial was back in 1995, before her illness & decline. Here, they're relevant to State's insistence that the failure to contact alibi was strategic.
/52/
It's unsettled whether it's actually appropriate to take judicial notice, but the question is hairy. And I suspect it cuts against cert. State's key argument is that there's no evidence of non-strategic reason, & State's Merzbacher arguments are in tension with that. /53/
Also, a key theme by State before Judge Welch was that Syed was smearing Gutierrez's memory. But here's what the State told the Fourth Circuit in 2012. /54/
pacer-documents.s3.amazonaws.com/199/10-07118/0…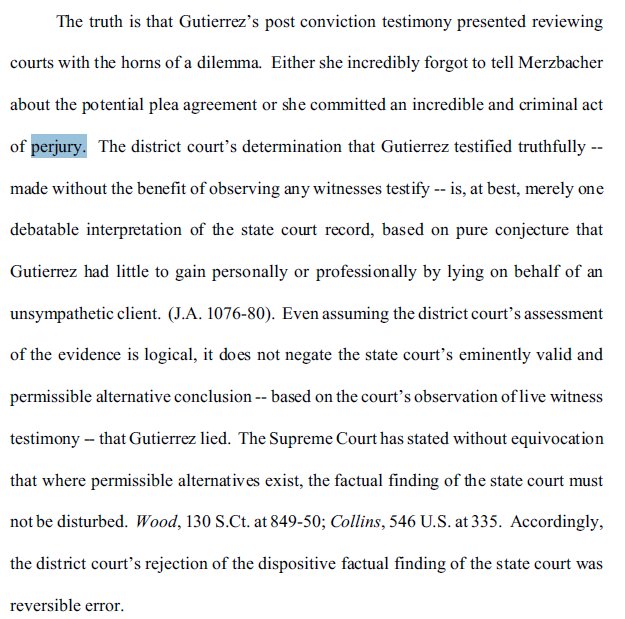 I'll be moving on to other topics the next time I return to this thread. I had gotten some reader feedback about the Gutierrez issue, including about the Merzbacher case, and I wanted to close the loop on that issue before moving on. /55/