Must-read from
@JeffreyToobin
. We should all get this entire piece tattooed on the inside of our eyelids. Things would been much, much worse if we hadn't gone nuclear. Now, the conversation should be about going forward with more rules reform, not back.
newyorker.com/news/daily-com…
This is the critical point. We are rightfully appalled at how many judges Trump and McConnell are confirming. But if Dems hadn't gone nuclear in 2013, we would have confirmed fewer Obama judges and left Trump and McConnell with even more vacancies to fill.
newyorker.com/news/daily-com…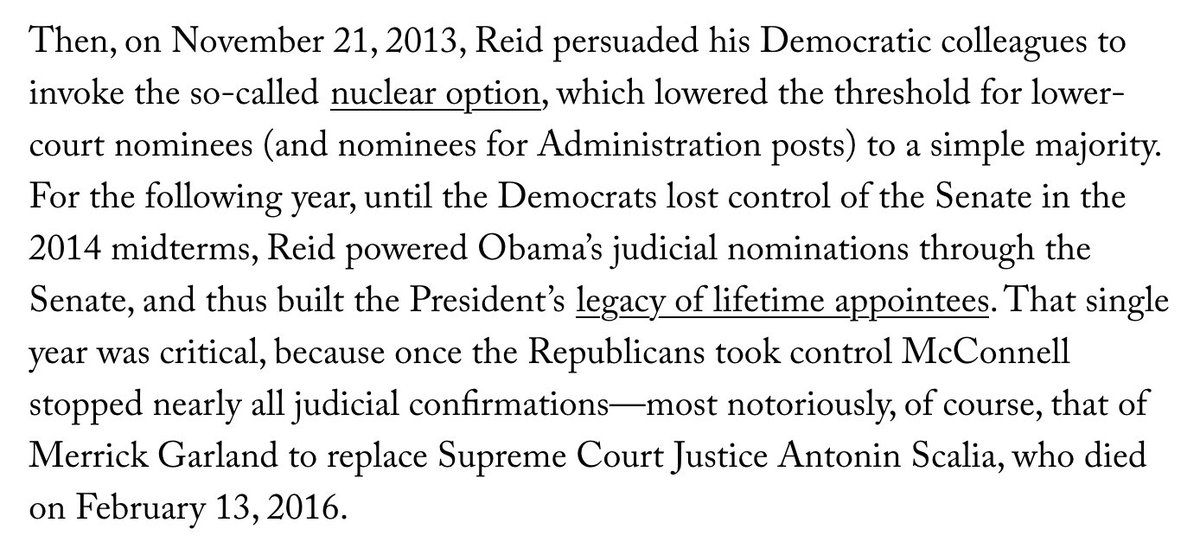 "Thanks to Reid, then, Obama has a robust judicial legacy. The Senate confirmed 324 of his nominees to the federal courts, including Sotomayor and Kagan... Obama's confirmed nominees set records for diversity; 42% were female and 36% non-white."
newyorker.com/news/daily-com…
I feel like it goes without saying, but of course McConnell would have gone nuclear immediately and lowered the threshold for himself if Dems hadn't. And remember that you can use any type of nominee to go nuclear on all nominees. This is important re: the SCOTUS debate...
The first time Dems filibustered *any* Trump nominee early in 2017- say, Sessions - McConnell would've gone nuclear for all nominees including judicial, & lowered the SCOTUS threshold before Gorsuch was nominated. So Trump would get all his nominees & have more vacancies to fill.