THREAD about some of the
#economic
/
#technology
chatter we're hearing from the media/public/govt while the
#China
-
#India
boundary situation has been playing out
1/
For one, there are once again calls in India to boycott Chinese products (seen these before, including during Doklam) with hashtags like
#boycottmadeinchina
,
#boycottchina
and
#boycottchinesegoods
. Also saw these recently when COVID-related anti-China sentiment was peaking
2/
The boycott calls have been spurred to some extent by Sonam Wangchuk (inspiration for Aamir Khan's character in 3 Idiots), who has called for a
#GrabYourWallet
response by Indians. Some "influencers" have since claimed they have deleted Chinese apps
3/
indianexpress.com/article/trendi…
There have also been reports of Chinese app TikTok trying to block some related content in India. Comedian Saloni Gaur, for instance, said her video (
bit.ly/3ch0lri
) was blocked (then unblocked) & she's reconsidering using the TikTok platform
4/
Meanwhile, an app "Remove China Apps," which claims to ID & help remove Chinese apps on smartphones, has become the no. 1 most downloaded free app on the Google Play Store in India (worth noting that TikTok remains among the top 5).
5/
gadgets.ndtv.com/apps/news/remo…


China/economic angle goes beyond the public. On Modi govt policies of the last yr, Home Minister
@AmitShah
just noted the opposition to RCEP (which he linked to China in Nov 2019) & mentioned China's "role in the coronavirus situation" as reinforcing the RCEP decision 7/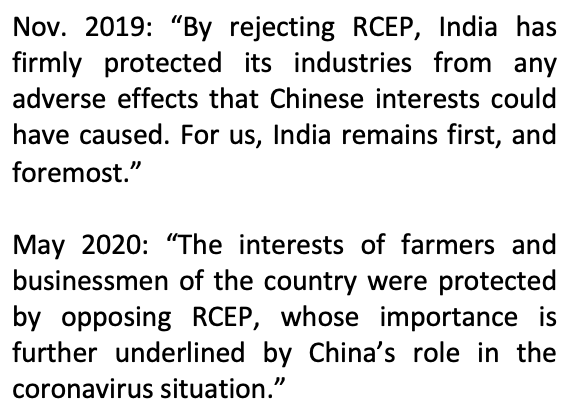 From the Chinese side, Global Times has said that if "India leans toward US," Sino-Indian economic ties "will suffer a devastating blow" that "the crippling Indian economy cannot afford." But China might offer support if India behaved "rationally"
8/
globaltimes.cn/content/119009…
During Doklam, we saw calls for boycotts, & GT & China Daily assert it'd hurt India more. Chinese emb said sthg similar in 2016, implying boycotts cld -vely impact Indian mkt access in China, Chinese investment in India, & broader bilateral relations
livemint.com/Politics/qKjD4…
9/
These calls and threats are coming, of course, on the heels of India's decision on greater scrutiny for Chinese FDI (and potentially FPI
reut.rs/3gfnXQ2
) 10/
Serious move away from Chinese apps/tech cld be impactful given IN mkt size. But whether boycotts are feasible or not, boundary + coronavirus situation is likely to reinforce Indian concerns abt econ dependence on China & shape views on Huawei/5G (that were already hardening)
11/