AntiSemitism is a real issue within the left and we need to really sort it out. I cannot imagine what Jewish comrades in the Labour Party and our Jewish compatriots in wider society go through every time the Labour Party fails them and all of us on the issue of anti-Jewish hatred
Of course severity of antiSemitism and the danger it poses from right-wing and violent sources should remain a priority. But if we on the left aren't even willing to acknowledge there is a problem in our own ranks then we aren't going to tackle antiSemitism, we in fact enable it.
I can't even count how many twitter threads I've done now on antiSemitism - I'm glad some people listen and pay attention, but a massive number of my fellow leftists just ignore everything being said and carry on as though there isn't any problem at all.
Leftists who are in positions of power within
@UKLabour
- in particular those sitting on the NEC - must place the protection, safety and security of vulnerable communities ahead of ideological hegemony. Tackling antiSemitism and all other bigotry and racism must be a priority.
This means calling out our fellow leftists, in particular prominent activists, when they do and say harmful, offensive and oppressive things about a particular issue or community. It means identifying antiSemitism and what constitutes antiSemitic language so we can stamp it out
Fellow leftists simply must give careful consideration to the language we use and actions we take... being sensitive to the concerns and unique circumstances surrounding issues of antiSemitism. We must also stop rehashing the Israel-Palestine conflict on Holocaust Memorial Day.
It's also important that we consistently reject and eschew those who are among us in the left that do and say absurd and hurtful things such as individuals like Mike Sivier who is reported to have said a number of disgusting things regarding a 'cabal of Jewish advisers'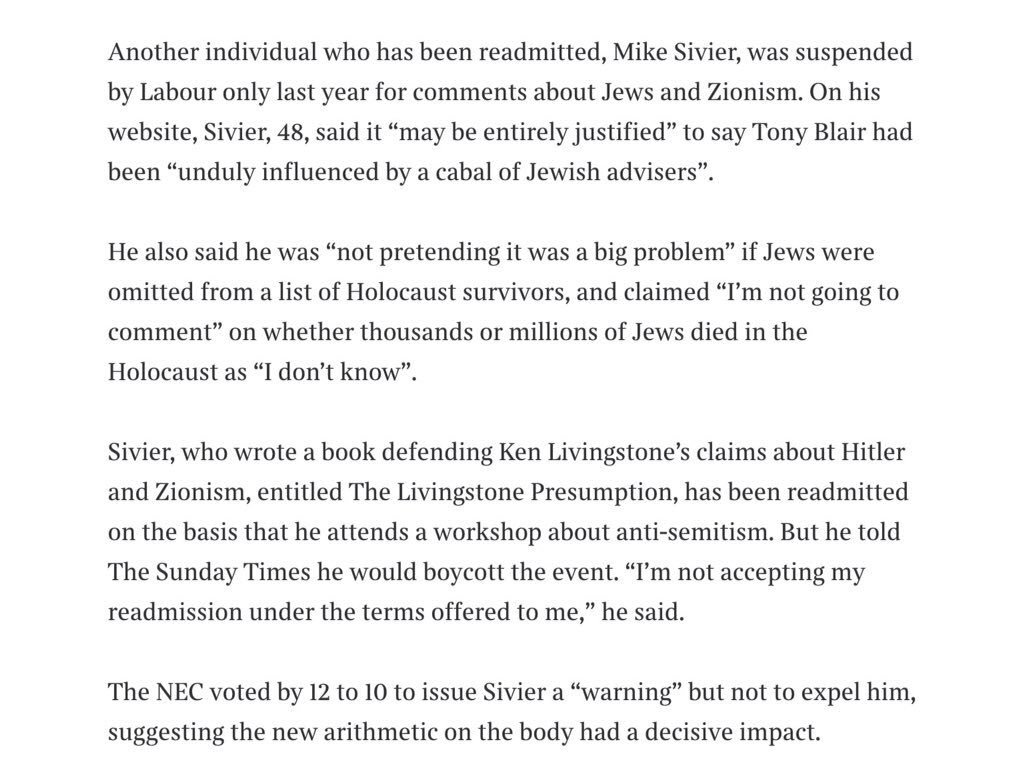 At the end of the day, I don't care how important a particular figure is or whether you've all been a big fan of their advocacy and activism on a variety of issues... someone could be spot on about the NHS, social welfare and much more but still be a disgusting antiSemite.
If someone is doing or saying something antiSemitic then call them out on it. It shouldn't matter whether the individual in question has an exemplary track record on other important issues. We cannot go on protecting and even re-admitting racist bigots and conspiracy theorists.
It is incumbent on every single one of us on the left - particularly those of us who are involved in Palestine solidarity activism and criticism of Israel and Zionism - to be able to educate and train ourselves and one another on the difference btwn anti-Semitism and Anti-Zionism
Being fully clued up on how to identify antiSemitism and also fight against this vile scourge will help us be true and genuine allies to our Jewish compatriots whilst also being equipped to respond properly to any weaponisation of allegations used to smear critics of Israel.
But remember: being dismissive about antiSemitism simply because some people misuse the allegation to further political agendas is absolutely NOT the right way to respond. We have to be sensitive to the issues and concerns, really understand the problem and tackle it together.
It also means no playing clever buggers by reworking antiSemitic tropes such as 'the Jews control our government' vs 'the Zionists control our government'... swapping out the word Jew for Zionist doesn't make your rhetoric any less antiSemitic and it's obvious what you've done.
As non-Jews, as non-Israelis and as non-Palestinians who are involved in issues on the Israel-Palestine conflict and Zionism we have a series of duties and responsibilities to both our Jewish communities AND the Palestinians which we mustn't procrastinate on even for a second.
It benefits both our Jewish communities and Palestinians with whom we stand in solidarity when we work to reassure everyone that our opposition to Israel is not underlined by antiSemitic intent or ideology. We do this by taking genuine action to challenge antiSemitism in our work
Ultimately, this issue is a minefield and very difficult to navigate. That is why we have to all be so careful and sensitive when discussing and debating these issues around antiSemitism.
My advice to the Labour Party: Ensure investigations are robust, factual and follow all due process and procedures. Ensure that a non-partisan panel decides the fate of those who have been suspended from the party. Ensure to expel those who have clearly made antiSemitic remarks.
Further advice to the Labour Party NEC: Place value in relations with our Jewish community and other minority groups above the value some of you seem to currently place on leftist hegemony and being chummy with fellow leftist friends. Stop re-admitting antiSemites to the party.
Yesterday, the account
@LabourAW
tweeted in response to my thread on antiSemitism with a link to this article written up by
@alanmaddison20
and hosted on the
@JVoiceLabour
website. Their tweet also rather bizarrely claims I am 'confused' about antiSemitism
The entire focus of
@alanmaddison20
's article on the
@JVoiceLabour
website is the downplaying of antiSemitism through comparing it to Islamophobia and anti-black racism. Despite the article's claim to not want to downplay and belittle the seriousness of Jew hate... it does.
Interestingly,
@alanmaddison20
has form when it comes to antiSemitism and the use of the prevalence of other forms of oppression & discrimination as a tool in his effort to dismiss the very real experiences of Jews in the United Kingdom as they endure horrendous antiSemitic abuse
Here are just some of
@alanmaddison20
's disgusting tweets and views. Note: use of a token 'Jewish pal' who is '90 years old' (read: Holocaust survivor) to bolster the claim antiSemitism is only used to silence critics of Israel and to oust Corbyn. Also the Khazaria conspiracy.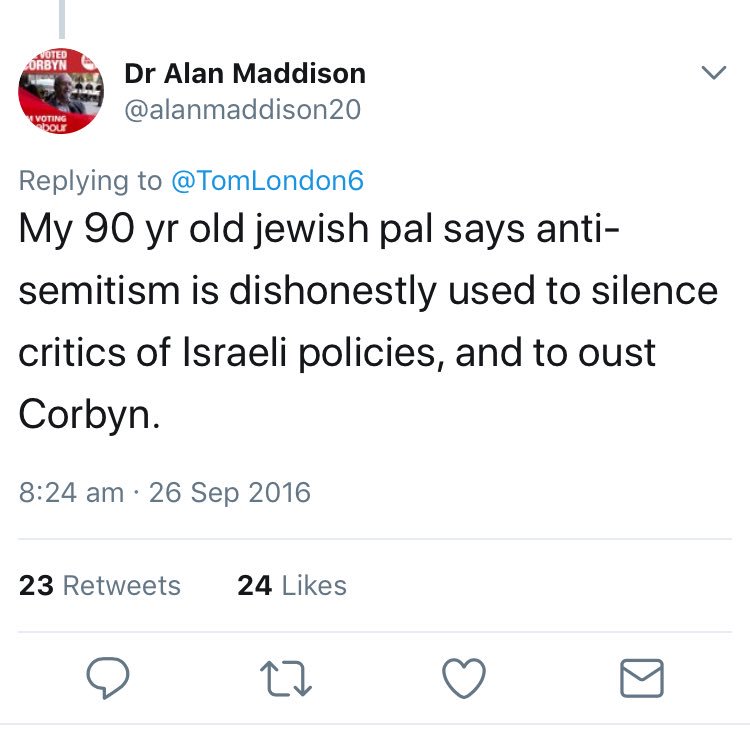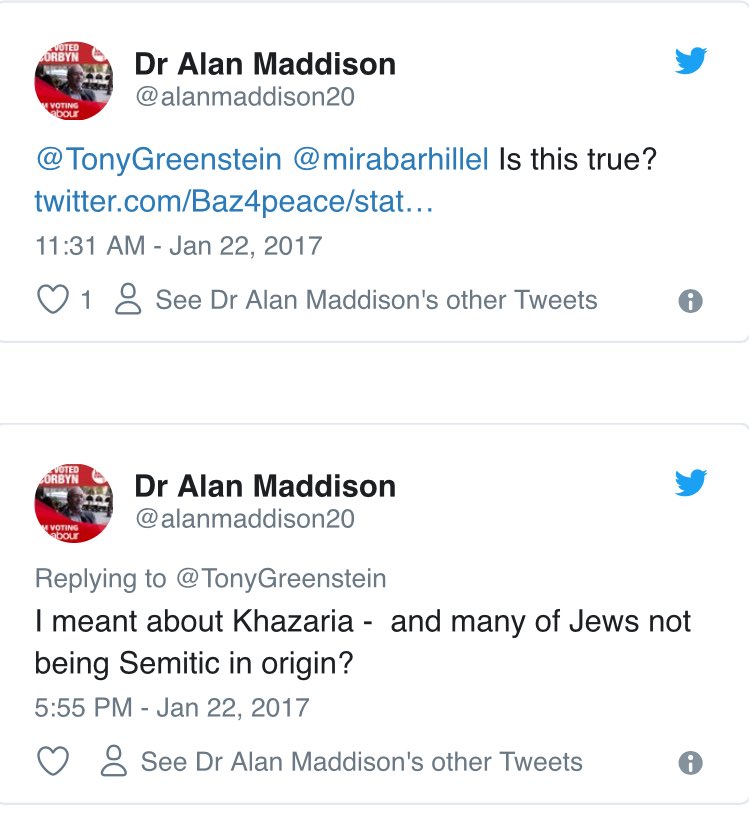 Other tweets from
@alanmaddison20
suggest that he has confirmation bias in anything that he has written on the subject of antiSemitism vs Islamophobia and other forms of oppression. Note here he is downplaying antiSemitism by highlighting Islamophobia and anti-black racism.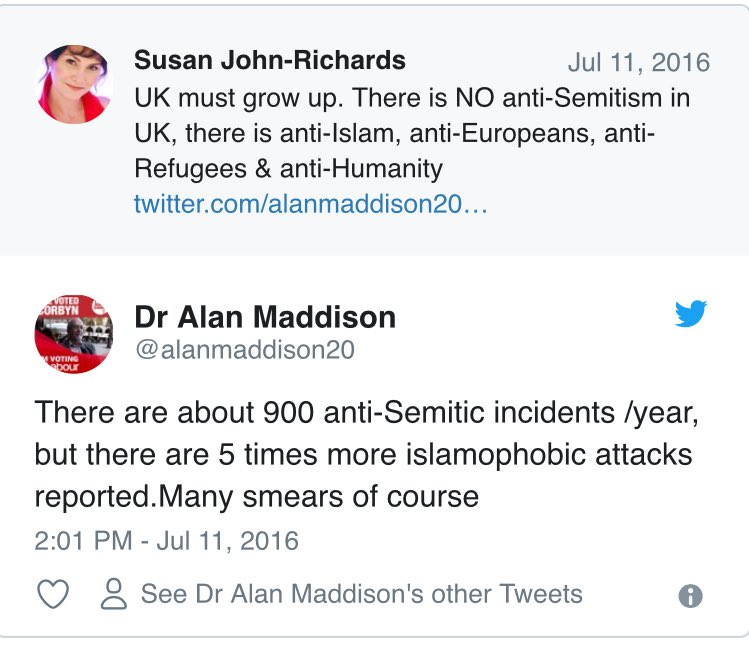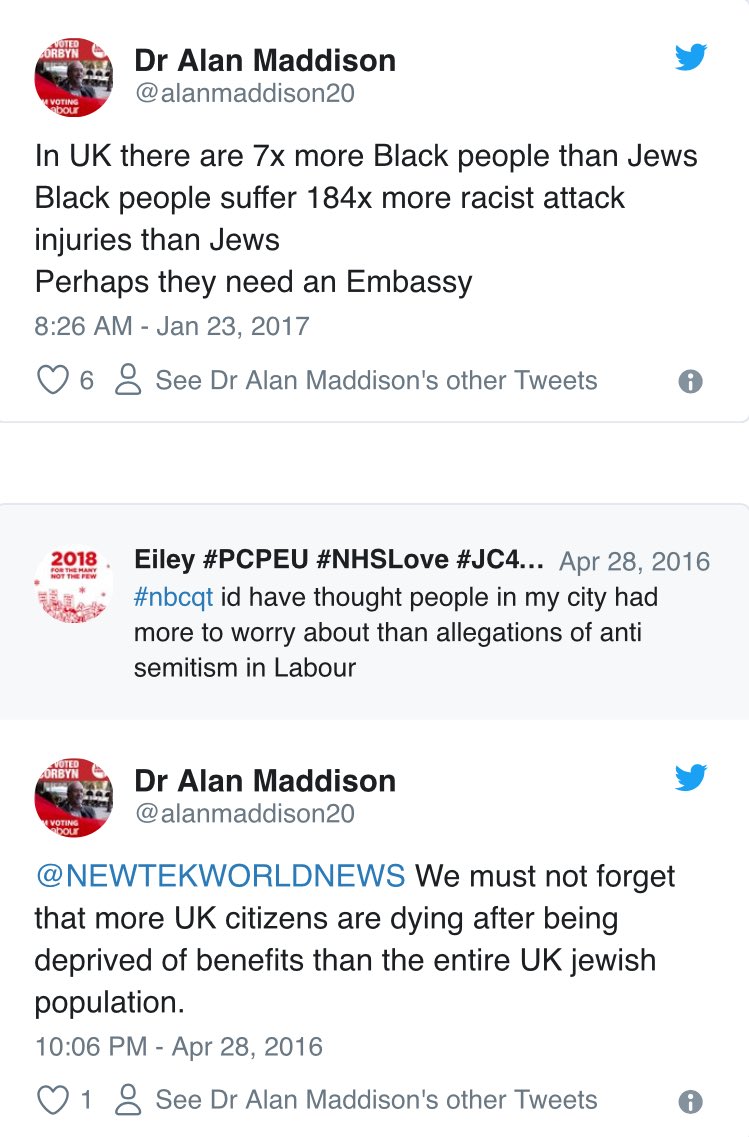 If you speak to
@CST_UK
or
@TellMamaUK
or pretty much any serious anti-racism organisation in the United Kingdom they will tell you that it is extremely dangerous to pit one oppressed group and their experiences off against another oppressed group as if it's a competition.
It shouldn't matter that the incidents of Islamophobia are higher in number and frequency to that of antiSemitism. We shouldn't be trying to dismiss the experiences and concerns of our Jewish compatriots by pointing to the oppression faced by other groups. It's frankly absurd.
It's particularly problematic when white folk compare two oppressions that we do not experience in order to downplay and delegitimise the members of one of those vulnerable communities...I've never seen someone on the left say 'Islamophobia is bad but anti-black racism is worse'
TLDR; Stop pitting Jews against Muslims in a weird contest of who suffers the worst oppression today. It's a very ugly thing to do and is deeply disturbing. The only reason anyone could have for doing it is to downplay and smear our Jewish compatriots who raise their voices.