SCANDAL #6
Just weeks after Rick Scott became Governor, he followed through on a campaign promise to sell the state-owned planes used for past governors, cabinet members and other senior state officials.
tampabay.com/news/politics/…
Private plane! Rick Scott is rich! No problem. This plan was supposed to save money for the state of
#Florida
.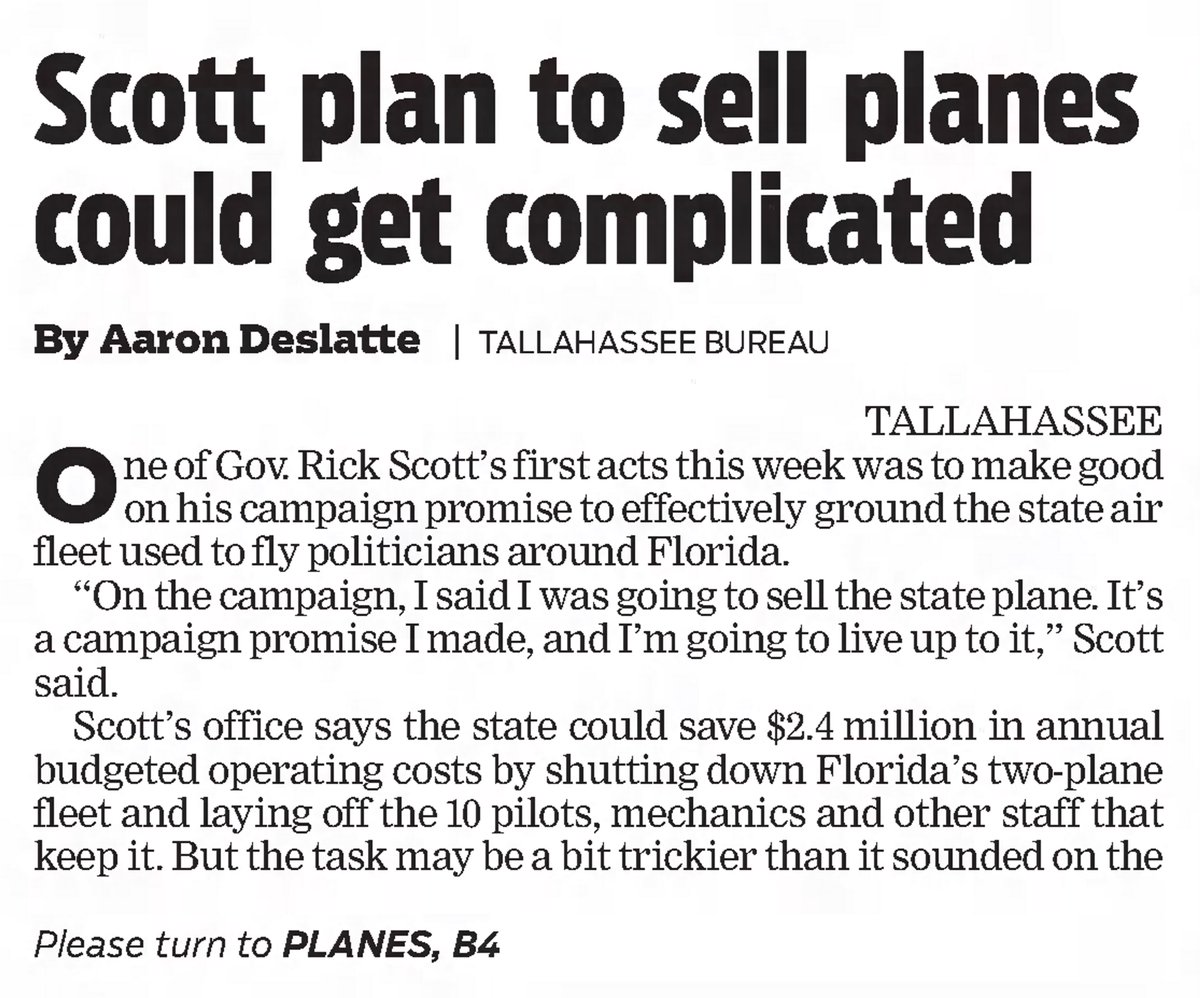 ⚡️Scott also imposed a new code of ethics: he barred his office employees and agency heads from traveling in private airplanes without prior approval from Scott or his chief of staff. This new code was designed to stop rich lobbyists from courting state officials.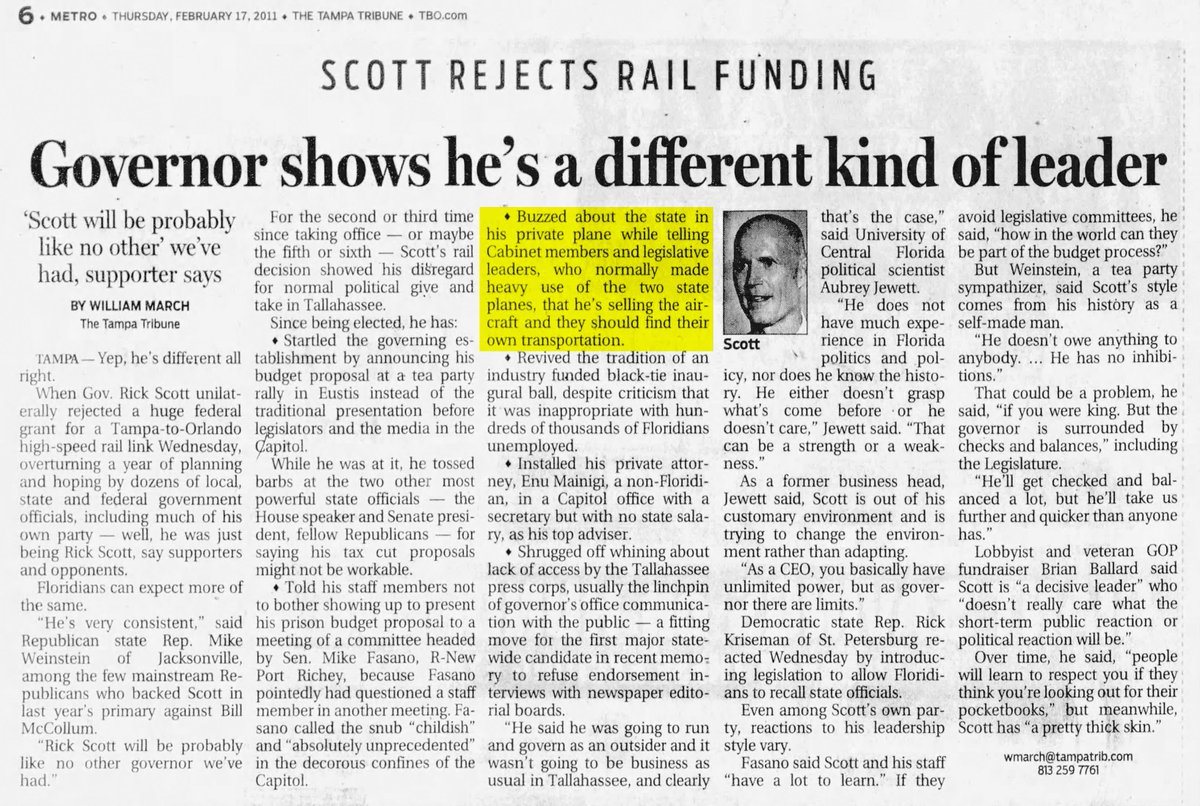 🤫[By the way, this article also notes that Scott announced his budget proposals at a Tea Party rally weeks into his first term, avoided the press and installed his own out-of-state private attorney at a desk outside his office and there was talk of a recall in February 2011.]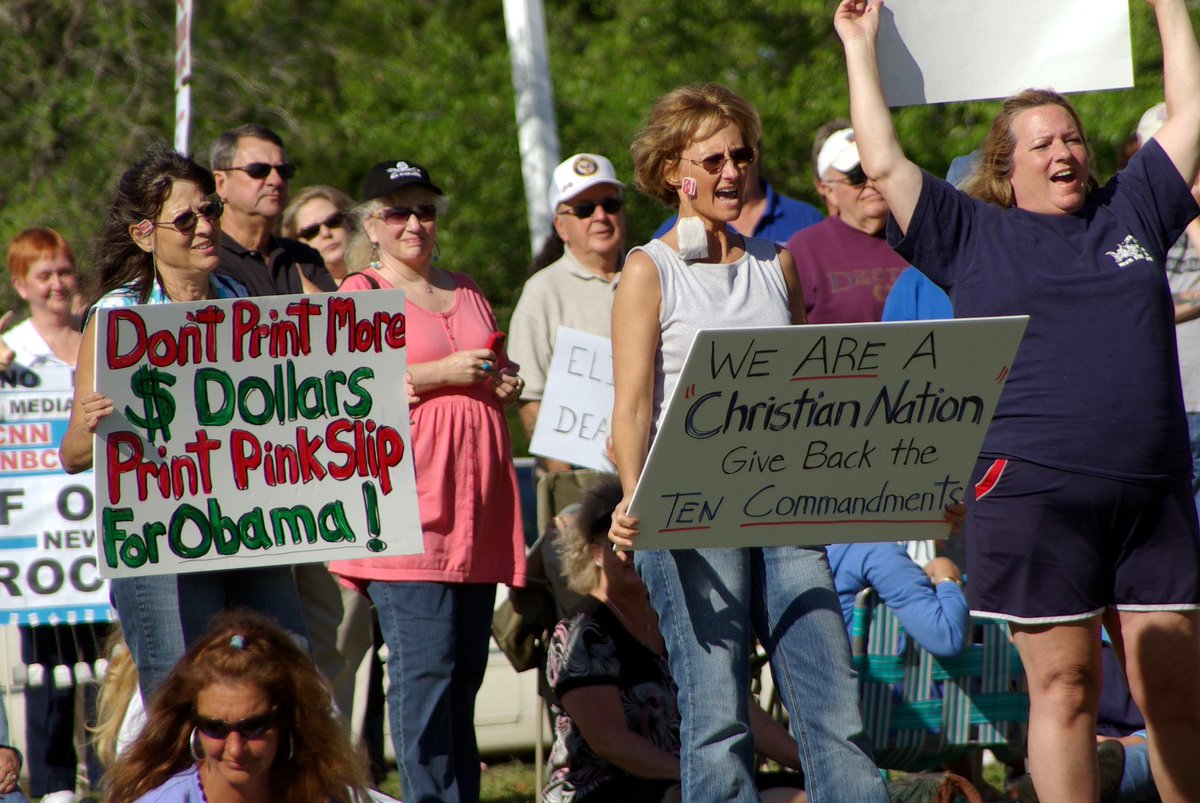 Despite selling when the market was quite "low," the state netted $556,000 for the two planes—a 2000 King Air 350 and a 2003 Cessna Citation Bravo—and saved annual operating and leasing costs of $2.4 million.
politifact.com/florida/promis…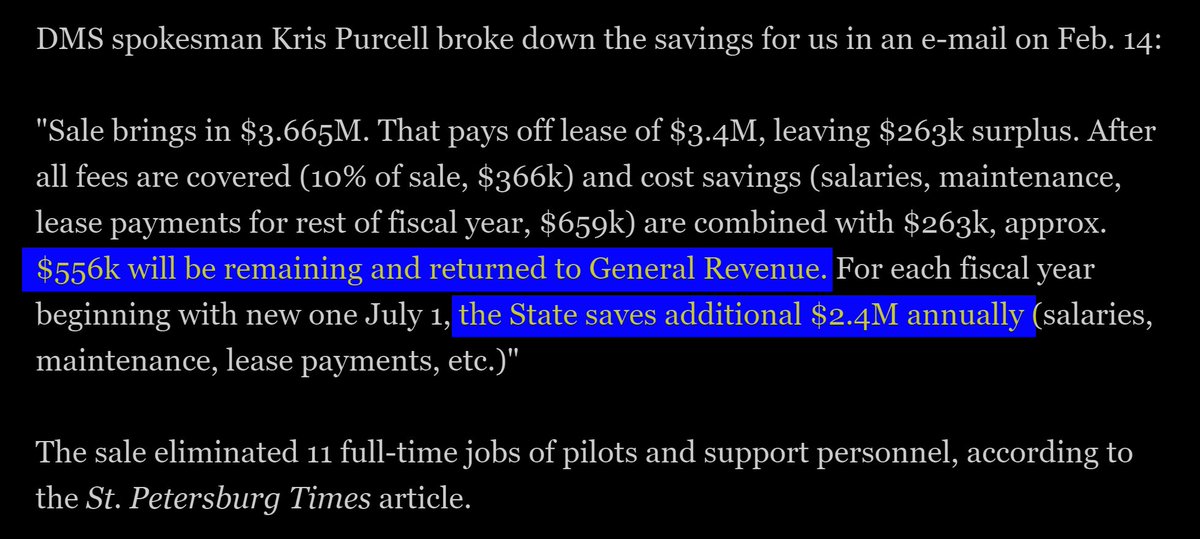 So Rick Scott's private plane? Well, it's not his. It's his wife's. The Cessna Citation Excel is owned by a company whose only officer is his wife, Ann Scott. Her initials, "A.S." are on the plane's tail.
But it was only transferred to her in 2013. Before that, the owner was Richard L. Scott Investments, a company obviously owned by Scott.
"Scott himself announced that he would pay for all the costs for the plane for the 4 years (at the time, but it extended to 8). He also announced at the same time that he would not release any travel records to the public. "I've never done it. I don't believe in it," Scott said.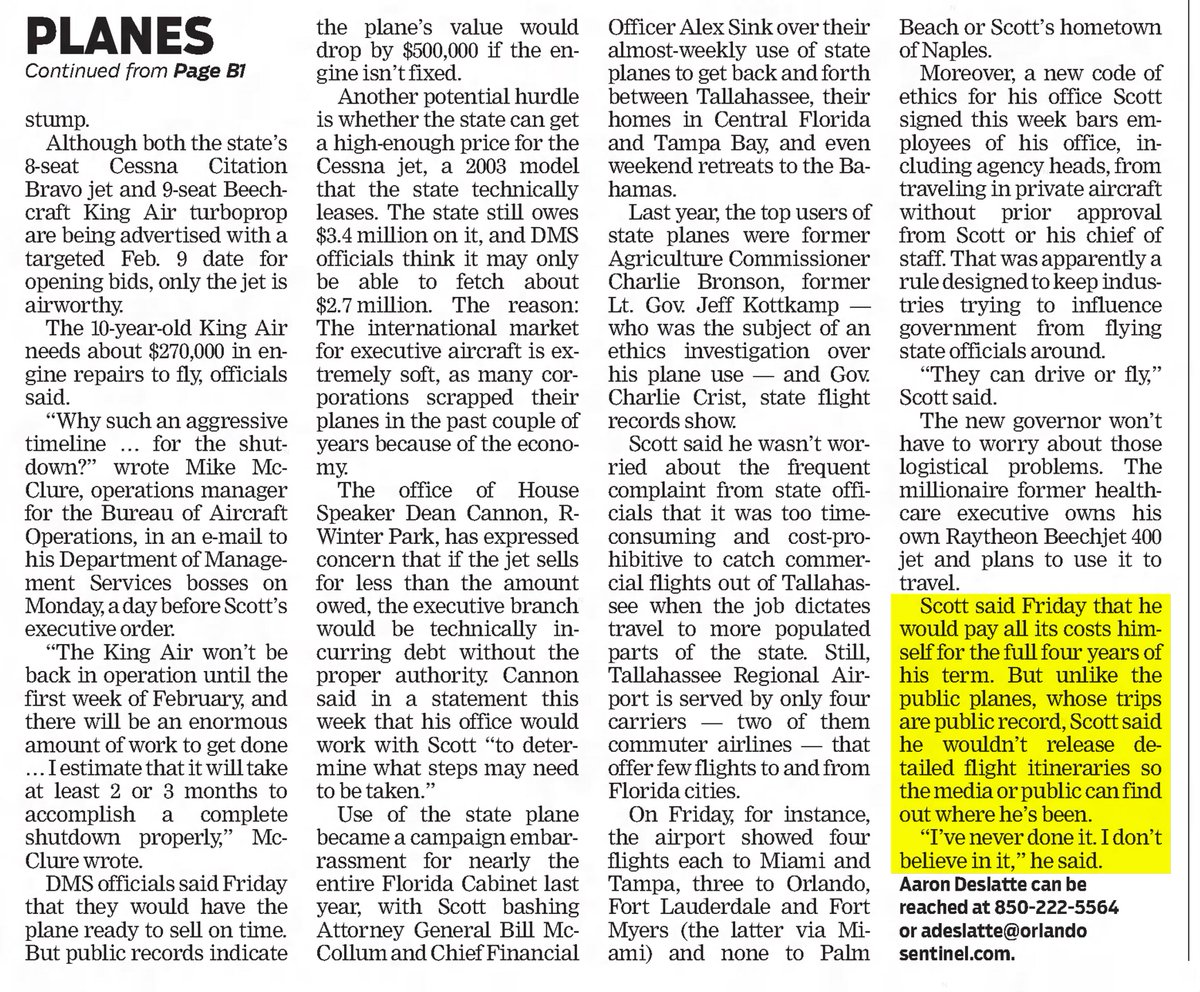 0⃣No flight itineraries and no records of air travel expenses, such as fuel.
And this arrangement makes his personal plane a necessary business expense so that operating and maintenance costs are tax deductible.
But he's saving the state of
#Florida
money.
🤭However, even though he "didn't believe in it," once you are in campaign mode—and Scott's second reelection campaign started December 10, 2013—you do have to publicly disclose your expenses with the Division of Elections in the Department of State (
#Florida
).
So in May of 2014, Alejandro Victoria, 22, of Kissimmee,
#Florida
filed three complaints Thursday with the Commission on Ethics and the Florida Elections Commission, accusing Scott of violating the law by not fully reporting his campaign's air travel details.
But Scott's campaign reacted when they read about the violations in the Herald/Times report on April 4th, 2014 and started listing his expenses.
bradenton.com/news/politics-…
💥And there's another issue. The other people that used to use the state planes? Remember—cabinet members and other senior state officials? They have to find their own transportation, and of course the state has to pay for that.
There's also another small detail that Scott forgot to take into account. Great that he saved all that money for Florida while there was a rich Governor, but what is the next Governor going to do? [One of these 4 candidates?]
sun-sentinel.com/news/politics/…
I'll tell you what happens.
#Florida
has to go private plane shopping! And put up a lot of capital to buy two new (or used) planes. Cessna Citation Excel jets cost between $1,795,000 and $3,495,000.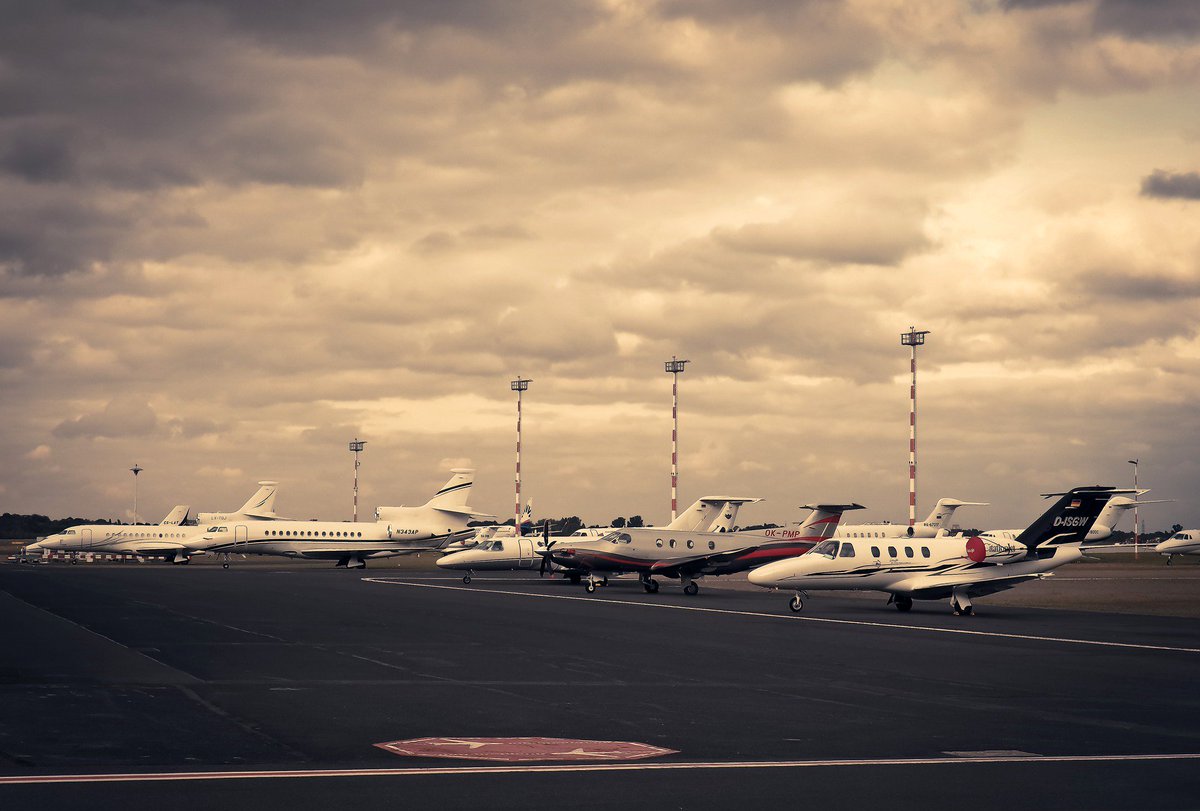 💥And they'll have to hire back all the personnel they used to employ to run the aviation travel schedule.
⚡️💸And all that money saved? Maybe it will end up costing Florida more in the long run.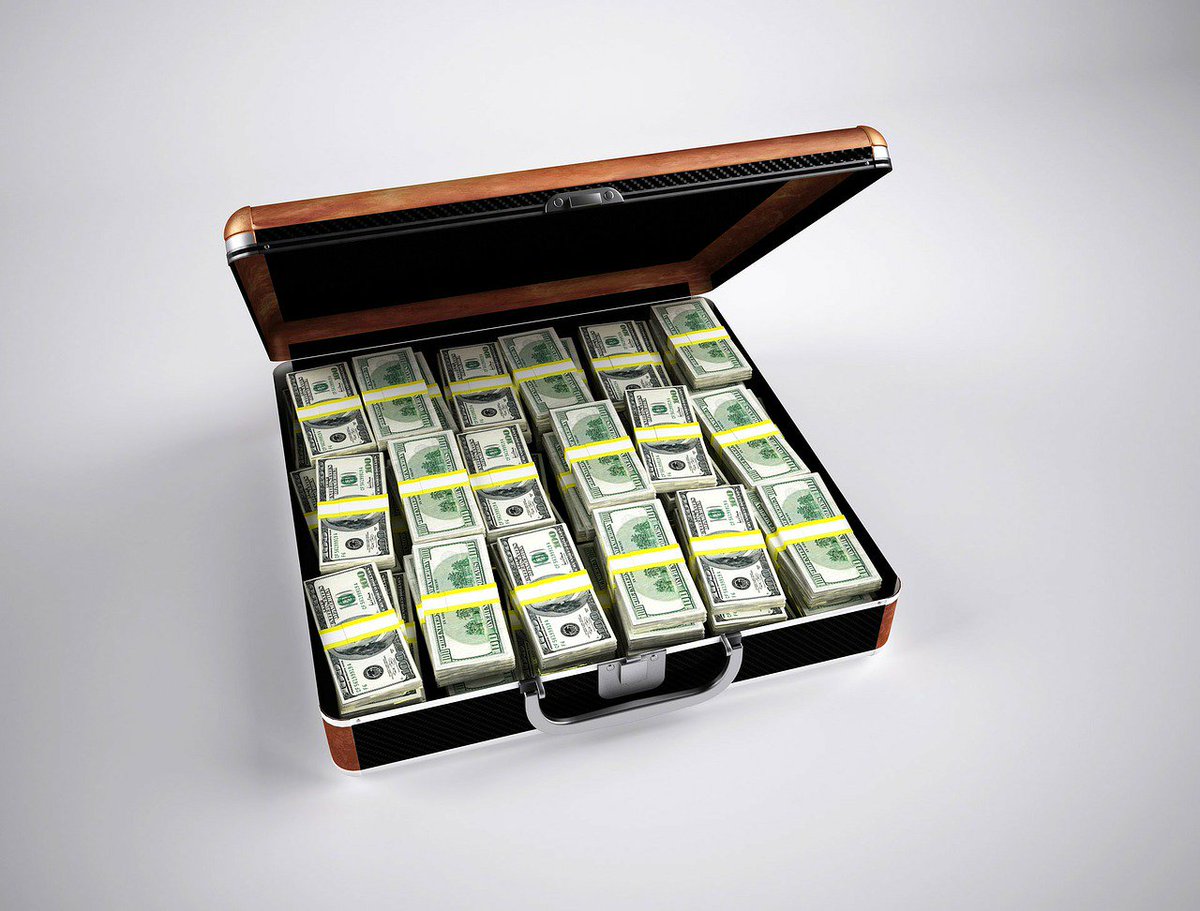 At a press conference in October of 2017, Rick Scott wouldn't answer questions about budgeting for new planes for the new Governor. "My goal is, the next governor is going to focus on how they can get more jobs in the state," Scott replied.
tampabay.com/florida-politi…
⁉️So, you tell me: did he save the state of
#Florida
money in the long run?
⁉️Did he absorb these costs just so he didn't have to make his air travel schedule public?
⁉️Did he leave the next Governor of Florida without a ride?