\0
#BRI
and its disdiscontents: while in NZ
#PwC
、United Frontlings、pollies、their families、cacademics tirelessly tout Xi's project, others begin to realise its consequences. How long will it take for them to volte-face & reinvent selves as
#nuanceds
?
nytimes.com/2018/06/25/wor…
\1 Take, for the sake of the argument, one Jason Young of
@nzccrc
. In '15, he was apparently invited to some
#Xinjiang
BRI event in and liked it just fine. As per 曹参赞's retroactive
#CorrectGuidance
—"you will listen!" And sit up and listen they did.
#WIN
thepolicyspace.com.au/2015/25/57-chi…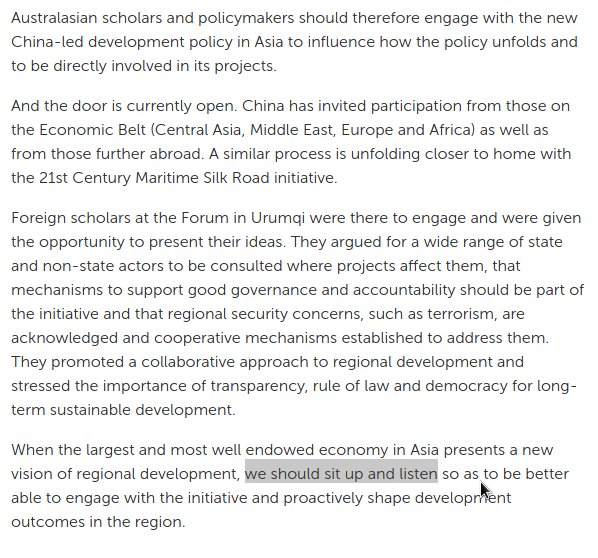 \2 So that was '15, OK. But not a year ago, he was telling the People's Daily he believed China would certainly "further globalise". Very stable genius! (It will take one to back pedal from all this BRI-luv.)
world.people.com.cn/n1/2017/1021/c…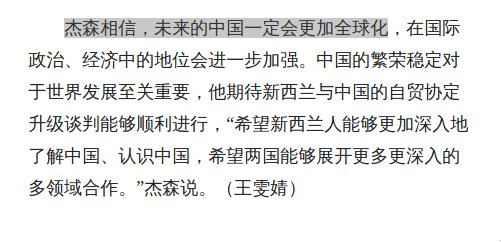 \3 In Nov, seemingly back from another
#CorrectGuidance
session, he was demanding NZ insert itself into Xi's pet geopolitical reverie.
asiamediacentre.org.nz/opinion/opport…
Why ever learn new tricks? If it ain't broke, &c. Cf. this earlier BRIprop item & spot the diff—
asiamediacentre.org.nz/opinion/a-plac…


\4 Young is part of a motley constellation of BRI-pedlars that also includes the 'Confucius of Trade'
@nzchinacouncil
,
#PwC
and the actual Confucius Inst. They endlessly generate 'grappling with success' so-tired-of-winning copy for no one to read, and meet at such meetups as 👇.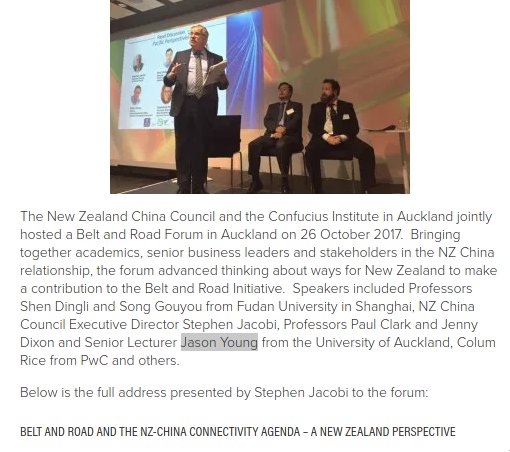 \5 One rare person who seemingly reads cheap Young/Hanban/
#PeewC
BRIprop is Michael Reddell, a local economist. He's taken the trouble to debunk some of it.
croakingcassandra.com/2018/06/11/pla…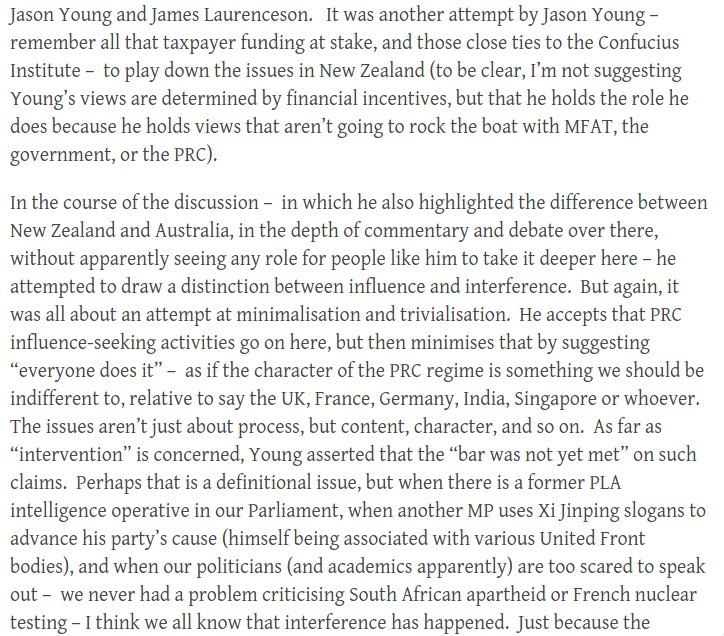 \6 In May, the NZ Xi-licker squadron (sans Young this time) took some $$ from the taxpayer,
#Fonterra
,
#PeeWC
to produce the culmination of years of work: a mega report on why BRI is good and "you must listen" (just when people are realising it's a scam).
nzchinacouncil.org.nz/wp-content/upl…
\8 This is what those 11M are filled with: "Promote intergovernmental cooperation
expanding shared interests, enhancing mutual political trust and reaching new cooperation consensus." As if a China Daily intern had been playing with autocomplete, and one at
#PwC
then copied it.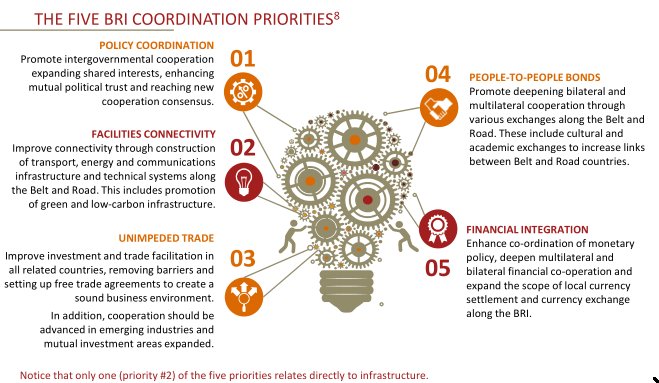 \9 "Following this report the NZCC has identified next steps including the development of web-based materials to assist understanding of BRI and further consultation with stakeholders."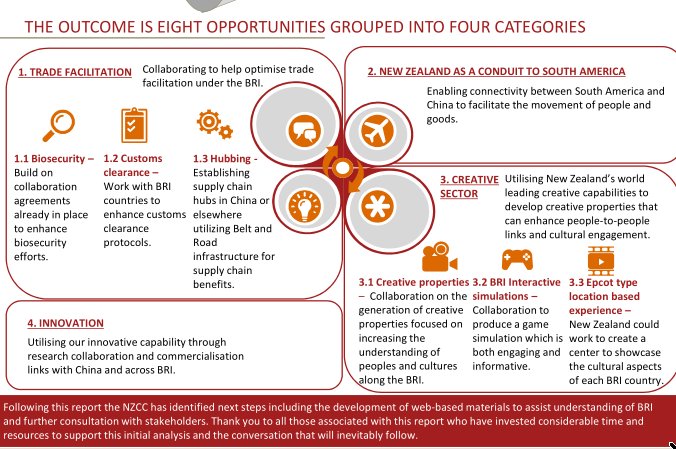 \10 Hard to figure out who actually wrote this report. Did
@nzchinacouncil
actually write it, or 'commissioned' it? What was
#PwC
's exact role? Who was paid to produce this majestic BRIprop summary? How much?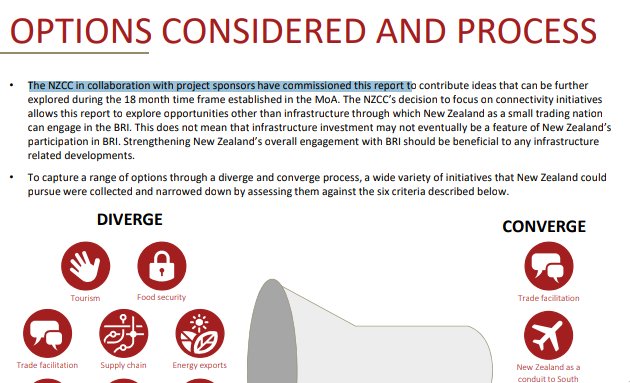 \11 "The proposed initiatives are summarise [sic] above"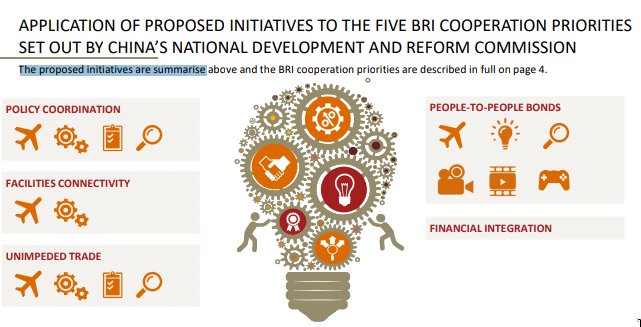 \12 Then there's this South America idea—under a pile of incomprehensible feel-good win-win lingo, the whole proposal is to have a transit visa system (to entice rare Chinese tourists flying to Chile to buy tourist tat at NZ airports?). Yay! Economic genius.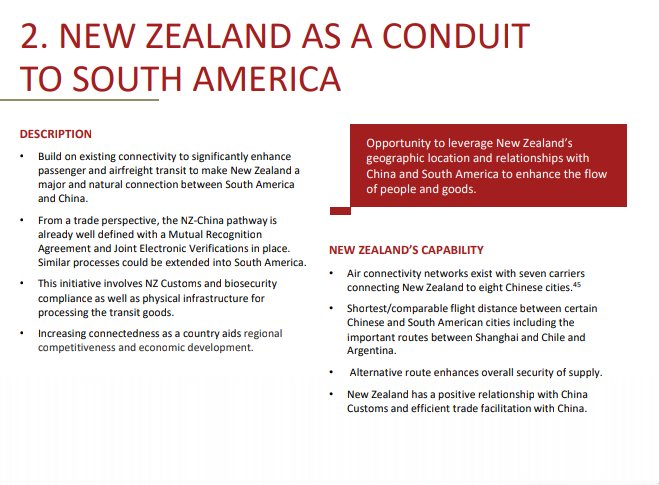 \13 "Introduce educational and cultural content related to Belt and Road countries into existing properties." Read: hire
@nzchinacouncil
/
#PwC
to do Xiist propaganda at schools. Also: '
#copro
-duction treaties'—make the PropDept decide what Kiwis can film.