1/
Let's continue with Day 7 of the cardiology
#FITSurvivalGuide
#tweetorial
! Today we will talk about basics of stress testing for diagnosing CAD.
#ACCFIT
#CardioMedEd
#FOAMed
@ACCinTouch
@ACCCardioEd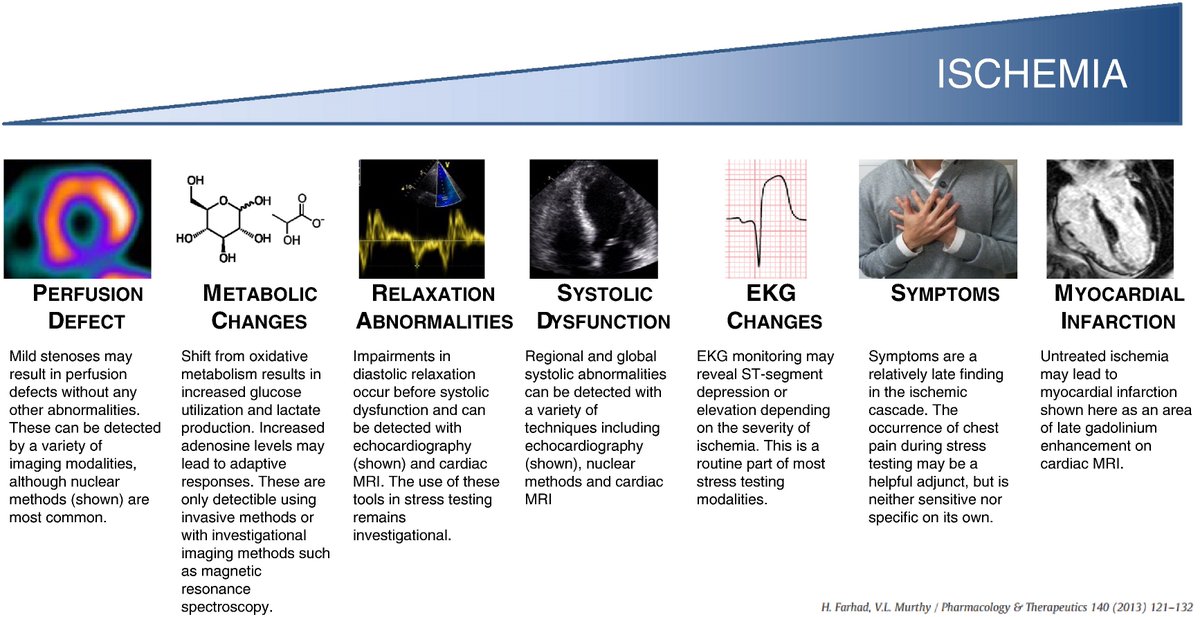 2/
Let's start with a case: 55 y/o woman with CV risk factors presents to clinic with mild CP for 3 months. What is the next test if you want to diagnose significant CAD?
4/
Her mild CP is a sharp, lower chest, usually exertional, relieved w/ rest, a/w dyspnea, no radiation. Has knee OA that limits walking after 2 blocks, poorly controlled HTN. ECG with LVH. Prior TTE with LVH and normal wall motion. What stress testing do you order?
5/
Vasodilator + NM SPECT is correct. Exercise testing gives more info, but with her limiting OA needs pharmacologic stress. Would choose vasodilator over dobutamine given uncontrolled HTN. Needs imaging because of abnormal baseline ECG.
7/
So what does it actually mean to have an "uninterpretable" baseline ECG? Our patient had LVH with ST changes. Choose the one from this list that DOES NOT count.
8/
Trick questions. All count as baseline ECG abnormalities making it hard to see stress ischemic changes.

Two related teaching points:
⏺️Even w/ nl ECG, can add imaging if intermediate/high pretest prob
⏺️Stress ECG changes (except ST elevation) cannot localize ischemia
9/
Her stress results: normal resting perfusion (SRS 0), stress defect in the mid/distal anterior and anteroseptal walls (SSS 11). What next?
10/
She meets criteria for a cath. Artifact usually is there on rest and stress. She should be on meds, but this is a high-risk scan with 20.6% of myocardium at risk (11/68 segment score). Meds alone an option for low risk scans.
13/
Takeaway points: ✈️
☑️History/physical key to decide on further testing
☑️Choice of stress modalities numerous but remember exercise when possible and image only when needed
☑️Not all positive stress tests are equal➡️remember what high risk features look like

/fin