So, here's a little thread for anybody who's feeling uncomfortable with the
@Tess_Holliday
Cosmo Cover. Its about health, weight, fat phobia, and weight bias. So go grab yourself a cuppa
@piersmorgan
and have a read - you never know, you might learn something 1/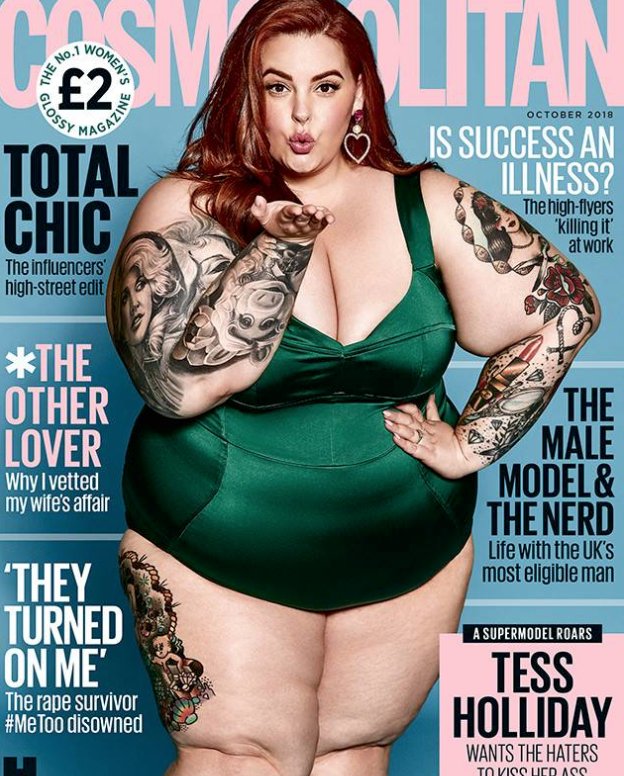 1st: Tess is a woman doing her job. It doesn't matter how fat she is, how healthy she is, what her exercise routine/diet looks like, or whether you think she's attractive. She has the right to be in her body and be seen, without being subject to abuse, bullying or shaming
2/
Basic human rights aside. Most of the complaints about this mag cover have covered the same ground. So let's look at these arguments one by one.
3/
"She's unhealthy". This is a shitty cover up for weight bias. You don't know anything about her health status or how she takes care of herself. You know nothing of how she eats or how she moves her body. And (most importantly), it's none of your business
4/
If your next comment is "But,Cost to the health service!" you should know that health concern trolling is fat phobic (or stigmatising) i.e it discriminates against, marginalises & creates an openly hostile environment for people in bigger bodies. This doesn't promote health
5/
Weight stigma (fat phobia) like this promotes weight based-stereotypes (e.g. that people in big bodies are lazy, weak-willed, unintelligent & greedy) and is linked with physiological and psychological health risks. i.e. your attitude is probs costing the health service money
6/
Health is also not a moral obligation. 'Healthy' doesn't make you a good person. It's not a marker of character. Thinness, doesn't mean that you don't participate in risky behaviour. People who are unhealthy still deserve respect, love & to be treated with common decency
7/
But, "glorifying obesity"! This is not a thing. Our culture is awful to people in fat bodies. Would you aspire to eye rolls, tuts, sniggers & trolling, for just 'being'? Seeing this cover is not going to send people out on a mission to gain hundreds of pounds. It's just not.
8/
What it might do (which is what ppl seem to be worried about) is help people in higher weight bodies accept themselves, perhaps even love themselves. Why is that so scary to people? I'll tell you….9/
Because "she should lose weight". Subtext: If she doesn't loathe herself, how will she get thin?! Weight bias might mean you feel uncomfortable seeing fat bodies, because you fear being fat, or see acceptance as "giving up". But there's some assumptions tied up with this
10/
1: You can shame people into being healthier. Incorrect. Diversity is a good thing. We know that ppl who accept their bodies, are more likely to take care of them - where ppl who feel the shame and stigma (that you're promoting) are more likely to engage in risky behaviour.
11/
2: Long term wt loss is possible for everyone. Incorrect. Most ppl can lose wt initially, but will regain over the long term. Spoiler: This doesn't mean health improvement is not possible, participating in health behaviours can improve health, even if ppl don't lose weight.
12/
3: Bodies that exercise and eat well, all look a particular way (i.e. thin). Also not true. Healthy, active bodies come in all shapes and sizes.
13/
Summary: Health is not a moral obligation. Wt isn't a behaviour (it's a complex mix of genetic, environmental & social factors). Celebrating body diversity is a good thing & body liberation/healing, rather than body shaming/ stigma, promotes health. So
#effyourbeautystandards
14/
3.
Impact of weight stigma on physiological and psychological health outcomes for overweight and obese adults: A systematic review:
bit.ly/2oESJIS
4.
Impact of Non-Diet Approaches on Attitudes, Behaviors, and Health Outcomes: A Systematic Review:
bit.ly/2Q3DV2D
P.S. For those that asked, weight bias is your own internalised attitudes and beliefs about weight (which are obviously influenced heavily by our culture and experiences).