So, if you, like me, are still thinking about the ongoing court challenges related to the city's election on a Friday night, I have some updates:
/1
Several applicants - candidates, voters, community groups - challenged the province's old legislation cutting council to 25 wards (Bill 5) in court. On Monday (I can't believe it was only Monday), Superior Court Justice Edward Belobaba ruled that legislation unconstitutional
/2
On Wednesday, the province filed an appeal (
thestar.com/news/city_hall…
). They say Belobaba erred in his decision in several ways (see link) and asked for a lone Court of Appeal judge to hear a motion to essentially prevent ruling from taking immediate effect
/3
The Court of Appeal has, interestingly, decided to hear this motion for what's called a stay with a panel of three judges. That hearing is on Tuesday at 10AM. Other parties are now filing their responses to the province's materials filed in court ahead of that date
/4
Written arguments from Goldblatt (representing
@ChrisMoiseTO
@IshAderonmu
and
@WomenWinTO
) have also been filed: "Realistically," they read, "this court will not be able to entertain, let alone decide this appeal prior to ballots being cast"
/11
Because of that, Goldblatt group argues, the Court of Appeal's decision on the stay motion "will effectively decide whether the mid-election changes to the pre-existing 47 ward structure imposed by Bill 5 - found to be unconstitutional . .. are to be reinstated."
/12
Goldblatt group (
@GPLLP
, btw) also says the province has it all wrong when they say going back to 25-ward election is in the public interest and more convenient. I'll let them explain: /13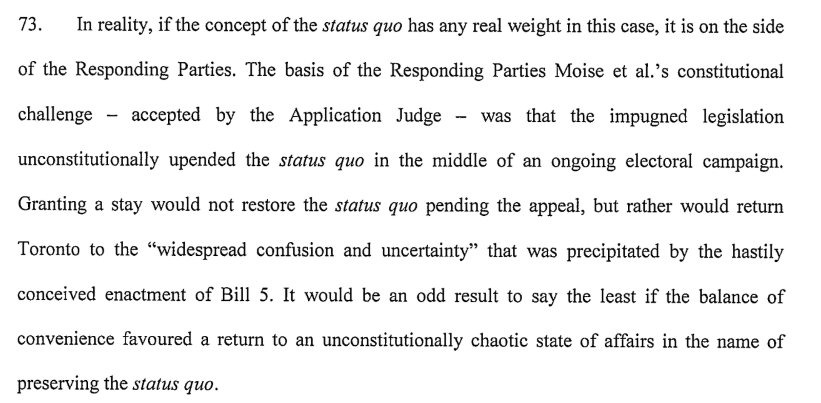 You can read whole Goldblatt factum if you're interested here:
goldblattpartners.com/wp-content/upl…
. More filings to come from
@PaliareRoland
, city and potentially others. But I can tell you confidently that Tuesday's hearing will be a very important next step in all of this. /end (Goodnight)