1/
Understanding why customers cancel may be one of the most frustrating parts of building a company.
Asking users during the cancellation process why they're cancelling can be really useful, but data is only as useful as the action you take on it.
2/
Lots of SaaS companies have a simple form on their cancellation page that asks the users why they're cancelling...but almost nobody does anything with the data.
It may get piped in to a spreadsheet somewhere or sent to someone's inbox, but then it just fades away.
3/
In addition, even if you're collecting reasons, knowing which reasons to pay attention to is many times nearly impossible.
Sure, maybe most people are cancelling b/c "It's too expensive", but is that actually who's causing the most lost revenue?
4/
Getting insights in to cancellation reasons is a problem every single SaaS company has and so we decided to create the solution for it.
Introducing Cancellation Insights:
baremetrics.com/features/cance…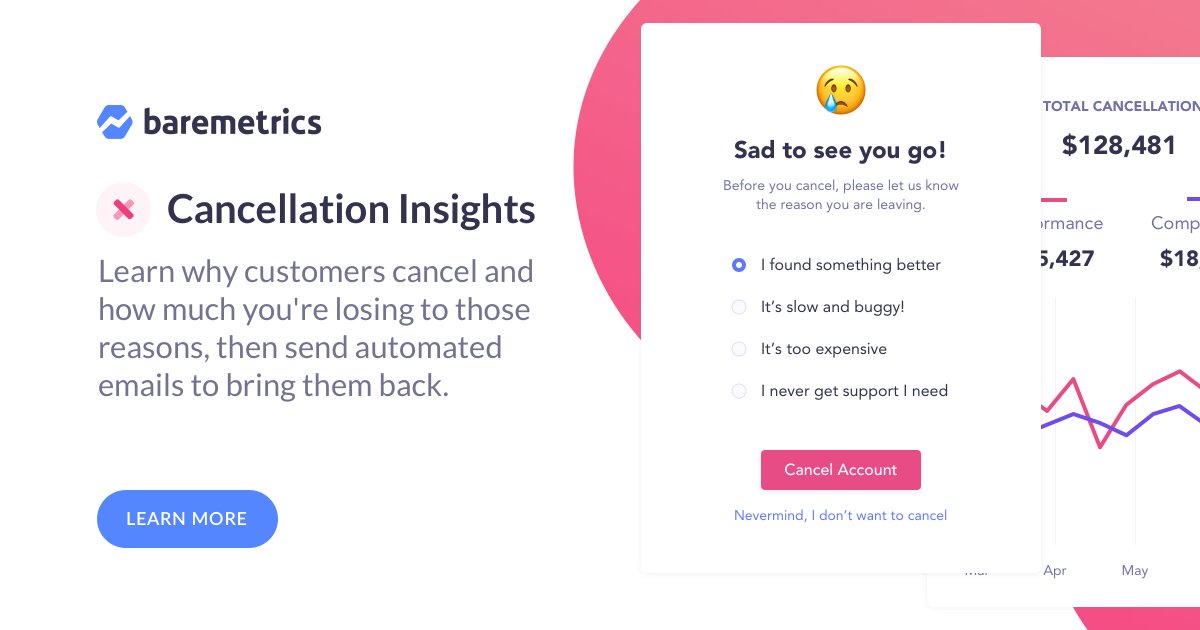 5/
With Cancellation Insights you can now learn not only *why* your customers cancel, but also *how much you're losing* to those reasons and then send automated emails to bring them back!
9/
As a cherry on top, these reasons get saved automatically to each customer's profile in Baremetrics so you can then Segment your data by cancellation reason! 💥
10/
We've been using this tool internally for the past month and have already gained way more insight in to cancellations than we ever did with our previous hacked together solution.
Stoked for others to start using it as well!