As it's Halloween, I thought I'd share a
#ghoststory
with you. It happened in this house (pictured), and it's completely true. I'll start at the beginning... 👻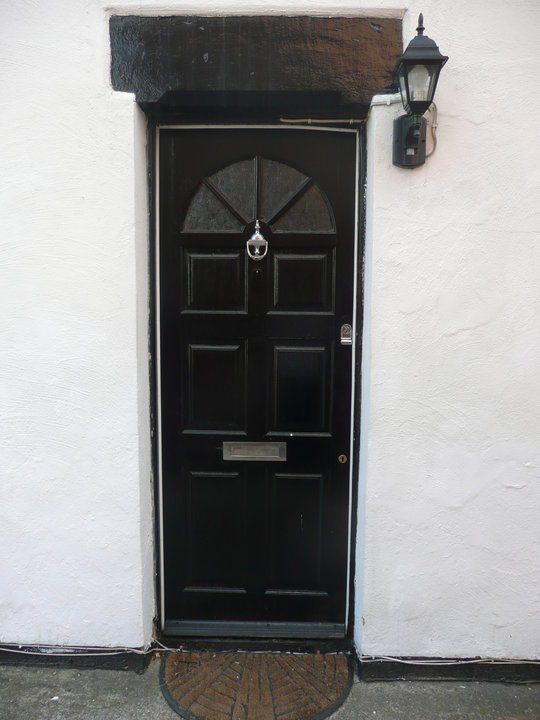 Late in 2009, shortly after we got married, my husband and I went to view a house... it was a complete wreck but seemed like a bargain as a 'project' 🤦‍♀️
So, after about 2 years of work (it was meant to be 8 weeks - haha!), the main builders had gone, leaving us with many things half-finished (that's another story)... we got a new guy round to fix the roof and do some rendering of the back walls...
One day, after he'd done a fair bit of work, he came round to get some money. We had a chat on the doorstep, I invited him in but he said he was in a hurry. As he was about to leave he glanced into the dining room and said, 'Your daughter not here today?'
I smiled. 'Oh, I don't have any children,' I said. 'Ah,' he said. 'Who was the girl then?' I remembered the neighbours' grandkids being round earlier in the week. 'Ah, you must be thinking of next door,' I said. 'They were playing in the garden...'
He gave me a strange look. 'No,' he said. 'It wasn't next door.' I shook my head, starting to feel a little uneasy. He took a step back, out onto the driveway. The colour drained from his face.
'There was a little girl,' he said. He pointed at the table. 'She was playing on the floor, drawing... colouring... She was under the table.'
I was trying not to panic. ;I have to go,; he said. 'I'll come back tomorrow.' He practically ran down the drive.
I went back to the front room where I'd been before he arrived - I was writing my first book at the time - I was working on some of the creepy sections about a boy in the woods. I had Echo and the Bunnymen singing 'Killing Moon' on the stereo.
I was a little freaked out.
I went straight to social media. As you do. I made a vague comment: I'm home alone and the builder says there's a ghost in my house. LOL *scared face* - something like that. I gave no details.👻
A message appeared in my inbox. A friend of mine who I knew was interested in these things. She visits mediums. She senses things. She feels things. She believes.
'Hey,' she says, calm as you like. 'Is this about the little girl in your dining room?'
I should say here, that she'd been to the house only once before, at a BBQ before we started pulling everything apart. She slept overnight, sleeping in the front room, where I was right then. Next to the dining room.
'I didn't say anything at the time,' she said, 'because she seemed happy. Peaceful. I didn't think it was anything to worry about. But if you are worried, maybe bless the room. Buy something spiritual and say a few words.'
My husband came home shortly after, and I told him all this. We were scared. We tried not to think about it, but felt uneasy. No longer able to navigate the house in the dark, we'd both put every single light on from room to room.
...I tried not to think about the weird old photograph I'd found a few months before... under the carpet in the bedroom directly above. 👻
After a few days, we decided to go to the local church gift-shop. We bought a little Angel, and put it on the mantelpiece. I said something like 'this is for you. Don't be scared. I hope you're at peace'
Soooooo... a year later, we did decided to leave the house. On moving day, I said to my husband, leave the angel behind. It's hers. He agreed.
At the storage unit the next day, I lifted a box and the contents shifted around. I opened the flap, and there it was. The angel.
My husband swears he didn't put it there, and the movers had already gone...
As far as I know, it is still in the storage unit...
...waiting for us to let her back out.
Anyway,
#HappyHalloween
- I have a new book out soon. It's called
#TheLingering
. It contains a creepy old house, ghosts, and an angel... can't think where I got the ideas...