Federal prosecutors are investigating whether Trump's inaugural committee [headed by Trump & Manafort longtime pal Tom Barrack] misspent the $107M it raised and if donors gave money in exchange for access to the administration.
by
@rebeccaballhaus
#Maddow
on.wsj.com/2LgGU6a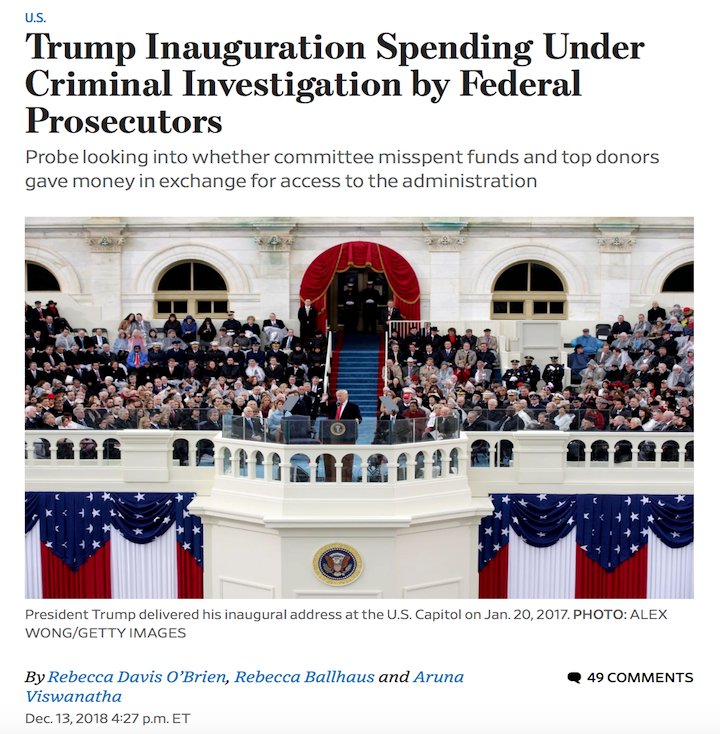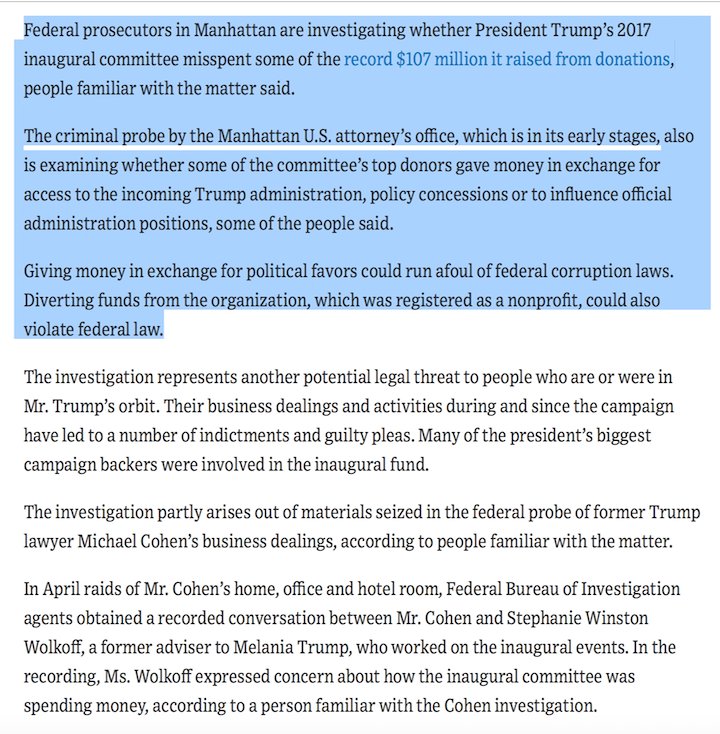 Feds have asked cooperating witness Rick Gates, Trump's former deputy campaign chair and inaugural committee deputy chair, about the fund's spending & donors. Mueller has also probed whether foreign money flowed to the inaugural fund. [It did.]
#Maddow
NEW by
@JustinElliott
@ilyamarritz
: Trump's inaugural committee – now under criminal investigation – overpaid Trump Org for rooms, meals, and event space at Trump's DC hotel [with inflated rates negotiated by IVANKA], which could violate tax law.
#Maddow
bit.ly/2S8ufEE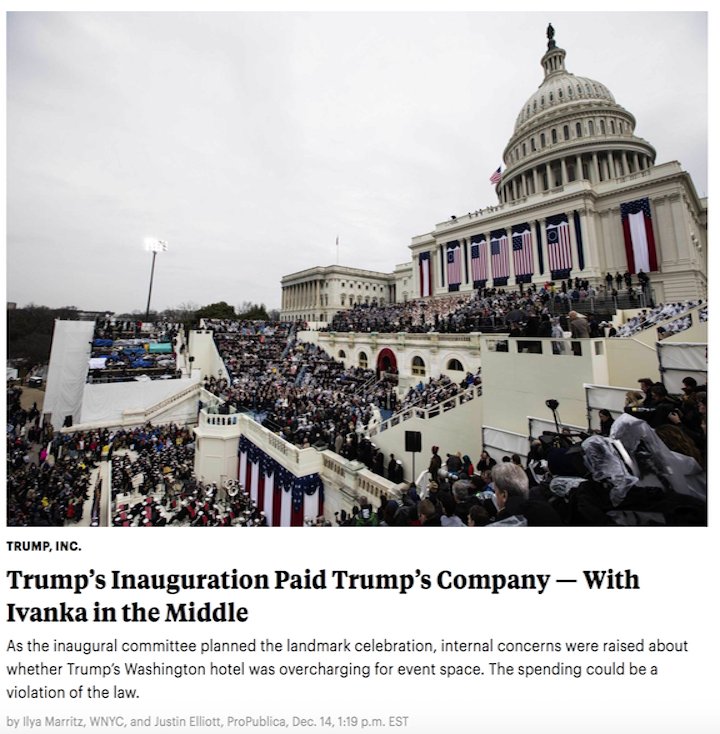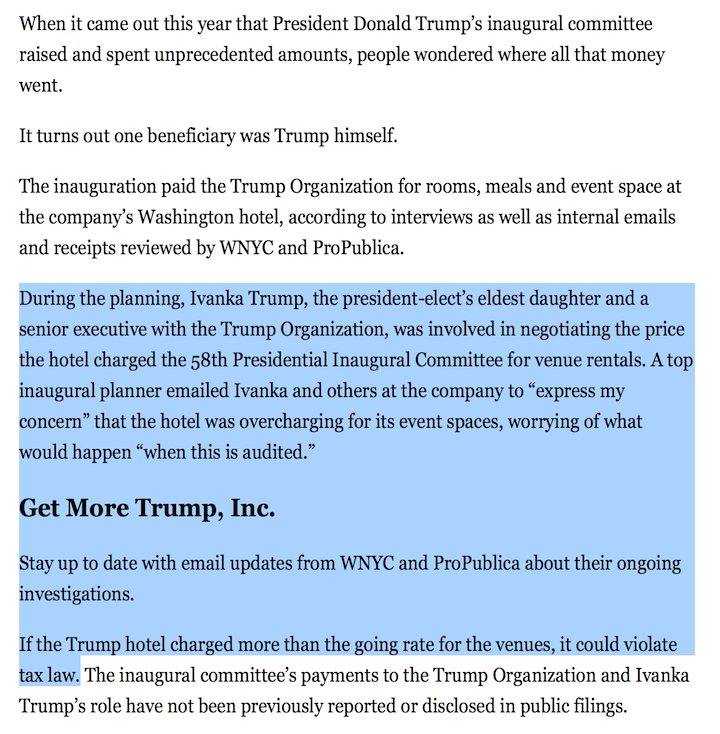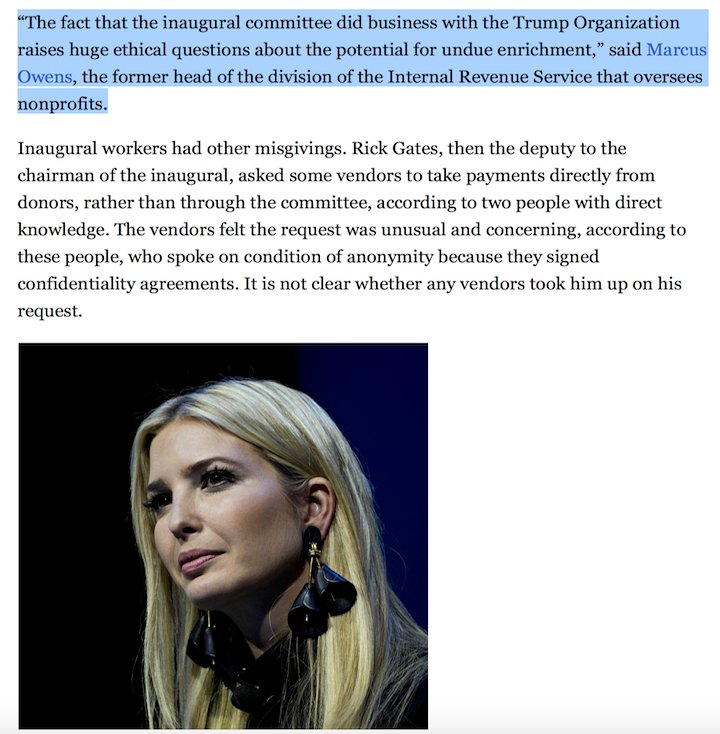 Then-Trump Org senior executive Ivanka was involved in negotiating prices Trump's DC hotel charged Trump's Inaugural Committee. One inaugural planner warned Ivanka the hotel was overcharging, worried about what would happen "when this is audited."
#Maddow
ICYMI: Mueller's team has already questioned several witnesses about donations to Trump's inauguration committee from donors with connections to Russia, Saudi Arabia, the United Arab Emirates and Qatar.
#Maddow
Key members of Trump's Inaugural Committee are cooperating with Mueller: Committee chair Tom Barrack [longtime pal of Trump & Manafort], deputy chair Rick Gates, and finance vice-chair Elliott Broidy [convicted in 2009 of bribing public officials].
#Maddow