OMG a bunch of us just put an eyepiece on the
@LCOAstro
Swope 1-meter telescope & POINTED IT AT ETA CARINA.
You could see the structure! The bipolar lobes!! THE STAR WAS BRIGHT RED BECAUSE OF THE DUST!!! AAAAAHHHH 🤩🌟🎉
...I should explain why I'm screaming.
#TheLastStargazers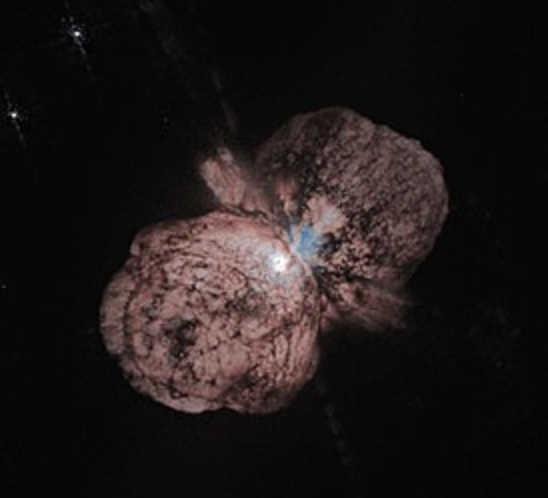 When I interview people for this book I always ask what they think a common misconception might be about what professional astronomers do.

By far the most common answer is "people think we still look through eyepieces. We don't anymore."

This is 99% true...
These days we point and focus telescopes using computers and gather our data using what are essentially extremely complex digital cameras. Many of the best telescopes in the world don't even HAVE eyepieces.
Astronomers mainly work with electronic data these days and it's fantastic. But we all got into astronomy because we fell in love with the sky, and for many of us this meant exploring it with our eyes first.

Even for us, getting to see what our best telescopes see is a novelty.
This means that when you DO give a bunch of professional astronomers a big telescope and an eyepiece, we promptly SPONTANEOUSLY COMBUST WITH EXCITEMENT.

We are every person who's ever looked through a backyard 12-inch and shouted "OMG SATURN'S RINGS", just on an extreme scale.
At the 1-meter Swope telescope tonight we ran through some favorite objects and ended on Eta Carina. It's a mysterious and ENORMOUSLY massive star, many tens of times as massive as our Sun, that is nearing the end of its life (aka, my personal favorite type of star to study...)
It erupted in the early 1800's - we still don't know why - and hurled off a bunch of its own mass, making that dual-bubble shape. It got so bright people in the southern hemisphere could easily see it with the naked eye, but even then it just looked like a tiny pinprick of light.
Tonight? With an eyepiece on a telescope with a 1-meter-diameter mirror? WE COULD SEE THOSE BUBBLES WITH OUR OWN EYES. We could see the shape. We could see that the star looked red because the huge amount of dust around it was blocking the bluer light. IT WAS AWESOME.
True, it wasn't as dramatic as the above image from the Hubble Space Telescope (which is more than twice the size of the telescope we were using tonight, and, you know, *in space*), but it was still mindblowing to see something I'd only ever seen in pictures IN PERSON.
There's a paper sitting open on my laptop RIGHT NOW, getting its finishing touches, that presents some theoretical and mathematical results by myself and a colleague that could explain how stars like this work and what might cause that strange shape.
Getting to see, WITH MY OWN EYES, something that has only ever existed previously in my life as bits on a computer or scribbled equations in a notebook, was...just...yeah, I stand by my original AAAAAHHHH.
👋 Hi, fellow space fans! You'll love my upcoming book,
#TheLastStargazers
, about the crazy and wonderful adventures of being an astronomer. To get even more awesome stories before it comes out, sign up at
thelaststargazers.com
!