I have pretty much the opposite opinion of this NYTimes piece. The track record of democratic institutions managing the money supply is worse than private institutions. It's more a statement of socialism vs. capitalism than a statement about money.
nytimes.com/2019/06/19/opi…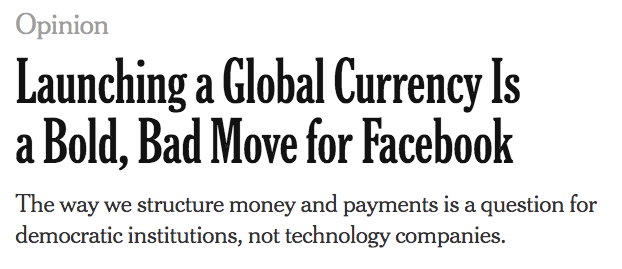 Greece during the financial crisis is a great example of a "democratic institution" destroying its banking system and harming its populace in the name of populist politics. A Facebook-managed currency will likely be better managed than the median government currency.
And that's a "democratic" country, compared to the utter economic destruction and mass starvation in Venezuela's non-democratic mismanagement of their currency.
Sure, the Libra/ZuckBucks are likely going to be not as good as the dollar, but that's not an argument against it: it'll be better than the median government currency. Had it been a practical alternative, it wouldn't helped Venezuela's citizens.