Welcome to
#FallacyFridays
, the day we explore logical fallacies in hopes of making better arguments & having sound logic. Today's logical fallacy is the fallacy of relative privation. And it's incredibly popular. Please retweet to let your followers in on this.
[THREAD]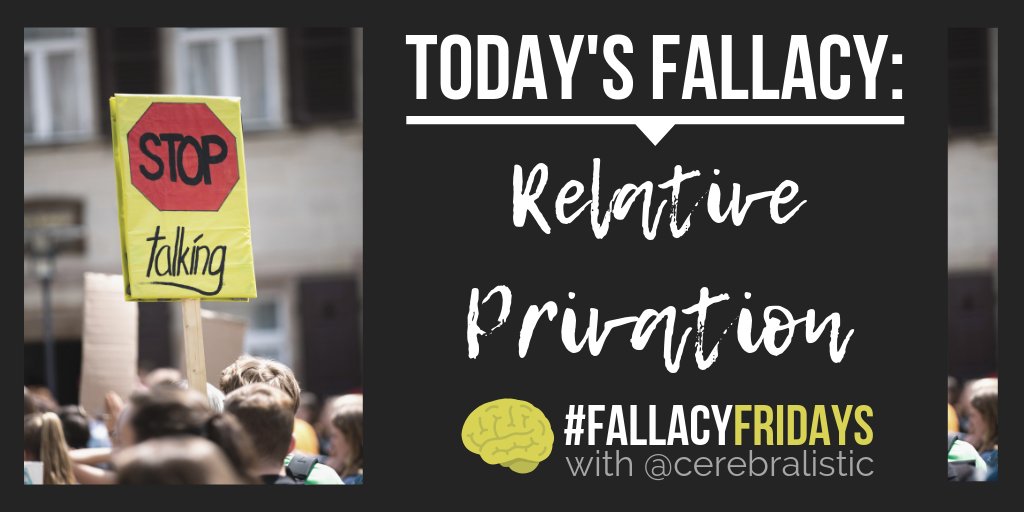 If you are privy to the Nigerian side of social media, you've likely seen the relative privation fallacy used within the past couple weeks. In fact, if there's a sociopolitical issue talked about, I can almost guarantee that someone will use it.
The fallacy of relative privation also goes by "appeal to worse problems." I personally like to call it the "starving children in Africa" fallacy b/c that unfortunate, common saying captures the essence of the fallacy.

By now, you've may have gotten the gist of the fallacy.
Whatever the case, the fallacy of relative privation looks like this:

-Event A is stated
-Event B is brought up as a more important issue
-Event A is dismissed as irrelevant or not as important as Event B

Now, let's look at some examples.
Example 1:

Little Tom: "Mom, I don't want to finish my food. I'm throwing it away."

Tom's Mom: "Don't throw it away! It doesn't matter that you don't want to eat. You must finish it! Don't you know there are starving children in Africa?"
In this scenario, the Mom committed the fallacy of relative privation. Instead of addressing Tom's issue on its own, she appeals to starving children (in Africa 🙄) who have it worse than him, thus negating the issue of him justifying throwing his food away b/c of how he feels.
The mother could address the root of the issue. And in addressing it could even find that throwing it away is the best option (perhaps due to the nature of the food). But it's not either/or. She can address the concerns of her son while caring about starving children.
In all of these examples under Example 2, instead of addressing the rape allegations, those people negated it and deemed other issues worth more important. Some went further to insult the ppl for asserting the importance of the allegations, an ad hominem fallacy.
The thing about the fallacy of relative privation is that it rejects the obvious reality that people can care about multiple issues at once. The popular saying goes, "We can walk and chew gum at the same time."
In that first video the former Big Brother Nigeria star, Angel, asserts, "If you're still talking about rape, you must be mad," as if there is a point to stop talking about this issue and only one issue can be talked about/cared about at a time.
Like in Angel's case, the other tweets show ppl who find other matters more important than the rape allegations, as if multiple issues cannot be dealt with or be sympathized with simultaneously.
Now, there is time in which determining a situation more important than another is not a fallacy of relative privation: when something poses as an immediate existential threat.
Let's say a doctor has patient who hasn't been to the doctor's office in a decade and, after a physical evaluation, this patient is found to be down with all sorts of medical issues.
It isn't fallacious for the doctor to determine which conditions need the most immediate attention due to its severity and its impact on the life of the patient compared to other conditions the patient has.
In the case of a large number of patients compared to the doctors available, it's not fallacious for the doctor to prioritize certain patients over other patients due to the severity of their conditions or injuries.
The relative privation fallacy would not occur in just about any situation in which you have to make an immediate assessment of priorities due the otherwise catastrophic results if left unassessed.
Dr. Bennett from "Logically Fallacious" also provides this exception: "when used intentionally to manipulate emotions (especially with good intentions), not to make an argument on reason, then this might be acceptable."
Here is his example of this: "I know that you've just lost your job, but at least you still have a great education and plenty of experience, which will help you get another job."
Source:
logicallyfallacious.com/tools/lp/Bo/Lo…
Moral of the story: let's aim to make this fallacy less popular as we discuss the issues that are important to us. This dismissive behavior is unnecessary. The sting of your paper cut does not become unimportant simply because of the existence of someone else's fractured arm.
Now for the quiz! In the following tweets, I will share a few arguments. Find the one that contains the fallacy of relative privation.
A.

Person A: We need to stand against injustice against women!

Person B: I completely agree. 100%. We also need to stand against the epidemic of suicide against in the male population. Suicide ranks high in the leading cause of death in men.
B. The Chibok girls are missing. Where are the feminists? Where are their cries for the justice of these girls? Do they not have a heart?
C. I know you think your car looks like a piece of trash but at least you have one. There are people who can't afford a car.
Which of the following contains the fallacy of relative privation?
Special shout out to my brother for bringing this fallacy to my attention last week. 💜