1.
Tonight, something kinda magical happened on the steps of the Capitol. It started like this: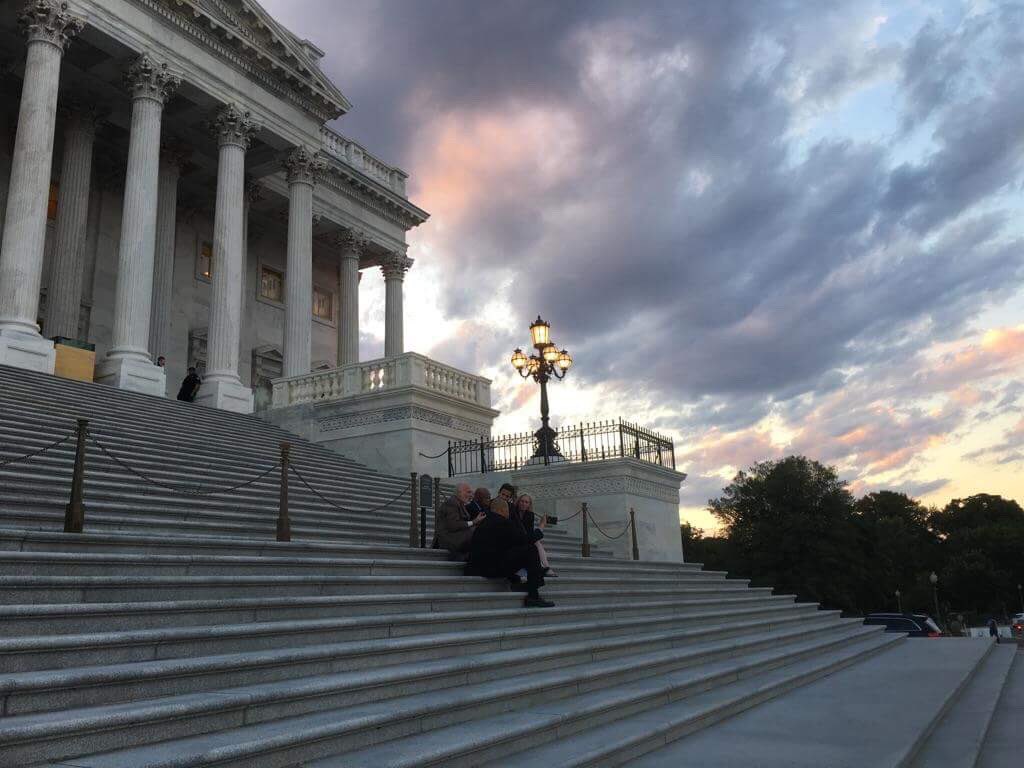 2.
Those two guys on the Capitol steps: NJ Sen
@CoryBooker
and civil rights hero
@repjohnlewis
. Another shot of the beginning: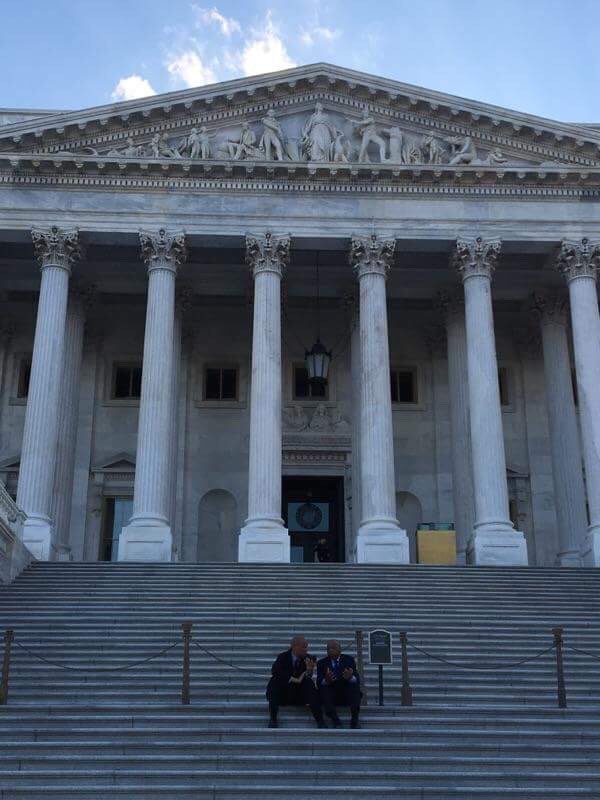 3.
Booker and Lewis started a Facebook Live to talk about Trumpcare and what this moment means for America.
4.
I didn't know that it was happening when I walked up to the Capitol. I work with
@MoveOn
and was there for something else. Snapped this.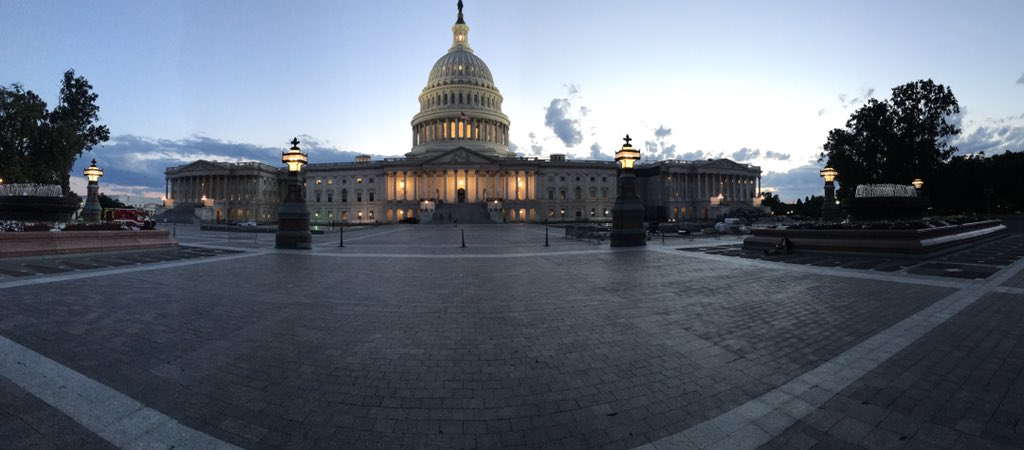 5.
When I took that picture, I was going to tweet: "something vile is brewing in that building.
#Trumpcare
." But I got a text—
6.
The person I was trying to meet up with told me he was on the East Capitol steps on the Senate side. I found him, and saw this: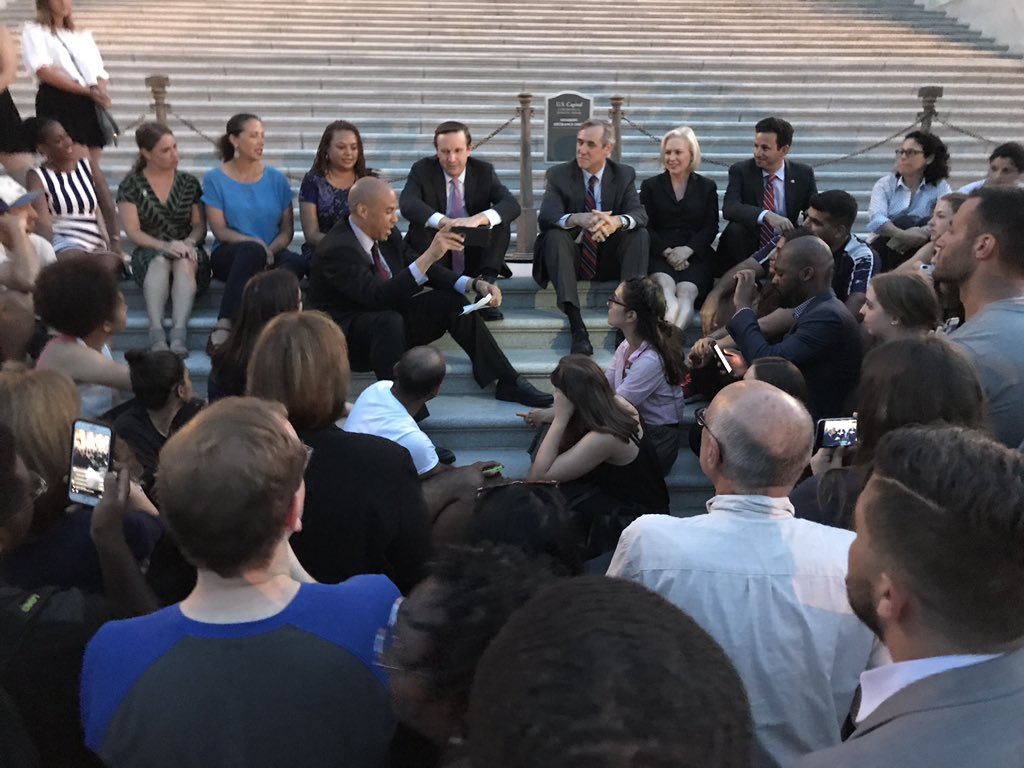 7.
@CoryBooker
@SenJeffMerkley
@ChrisMurphyCT
@SenGillibrand
&
@brianschatz
, five fighters, passing around an iPhone. Whoa! Hi, Senators!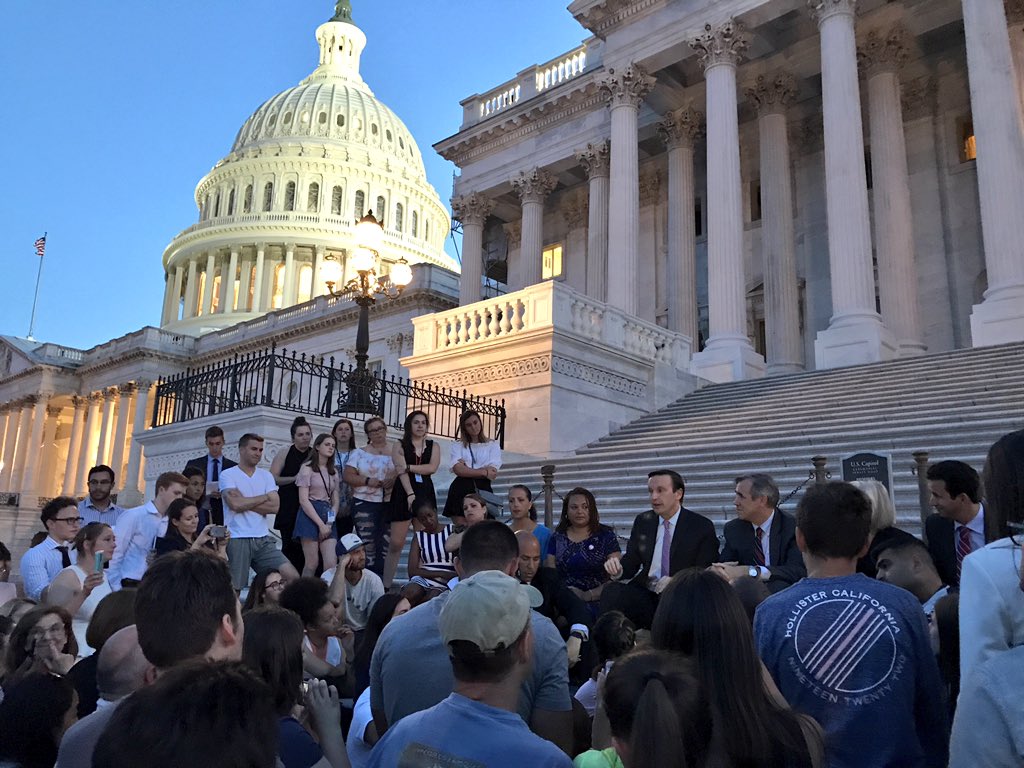 8.
Maybe 20 people were sitting around them. They were telling stories about health care, laughing, answering questions. Felt like a picnic.
9.
I sat down. Realized I was sitting on the jacket of
@SenBobCasey
, who I realized was sitting next to me. Oops! Hi! Wow! Is this real?
10.
Totally real. Organic, spontaneous. Senators kept drifting out. Passers-by kept wandering over and sitting down.
11.
This, I thought, must be what democracy is like in very tiny countries, or Ancient Greece. Senators & citizens kibbitzing about issues.
12 The funniest thing to me was seeing people you normally see on TV passing
@CoryBooker
's phone back and forth to shoot video.
@SenSchumer
!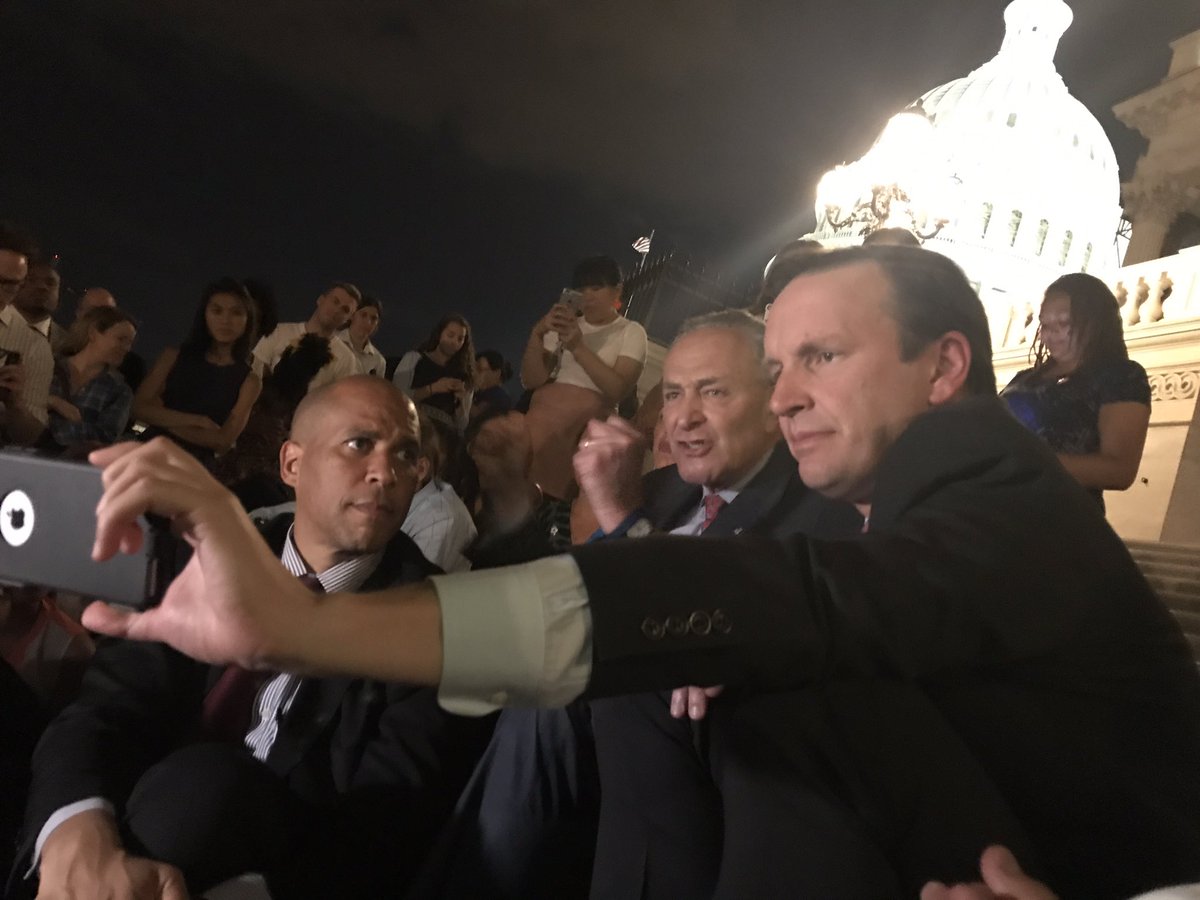 13.
And then
@CoryBooker
asked me to speak. And he said, stand up so the crowd can hear you!
And I realized it had grown.
A lot.
14.
Suddenly everyone was on their feet—and roaring. Hundreds of people. There spontaneously. Ready to fight for health care.
15.
It was hard to get a shot of thr while crowd, but here's a piece of it. That's
@ChrisMurphyCT
holding the phone, videoing
@CoryBooker
.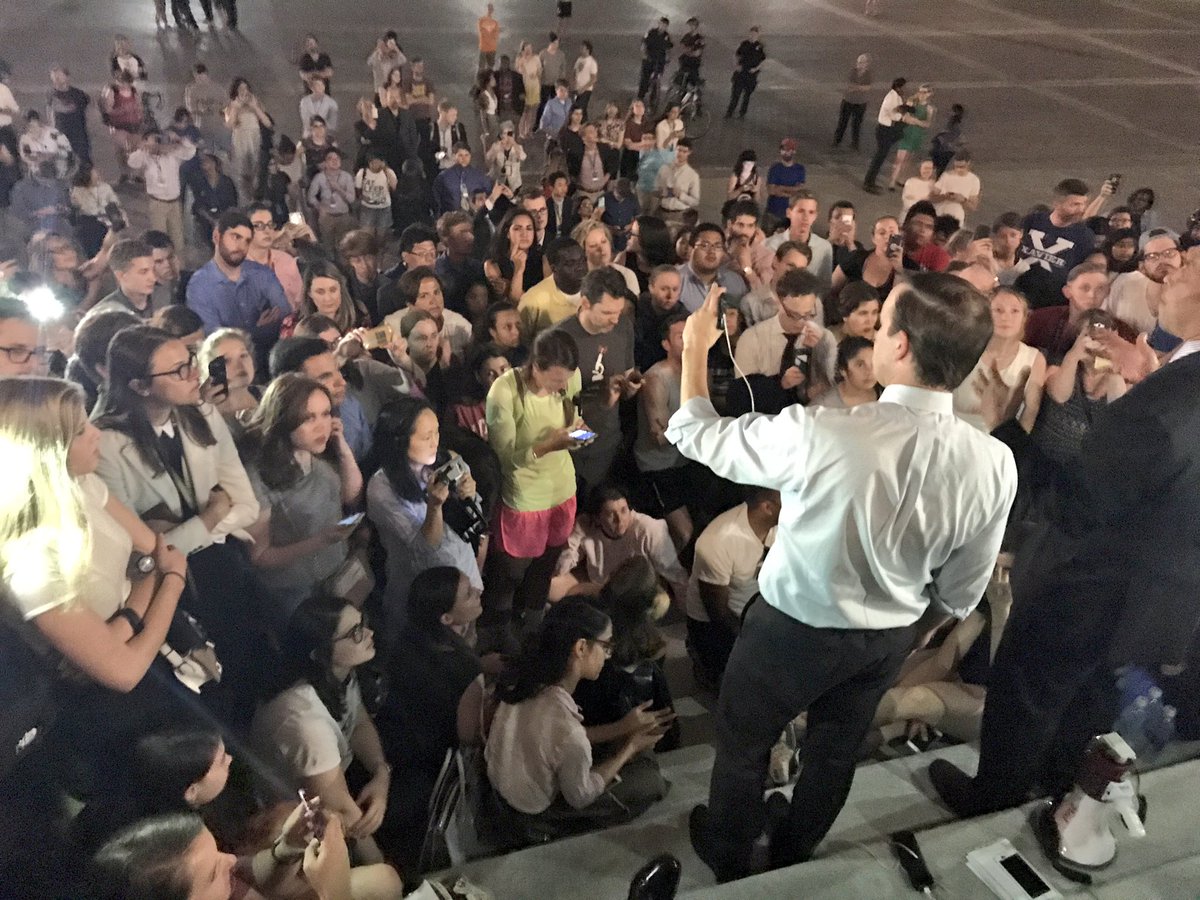 16.
This was a rally now. Part of my job is speaking at rallies. Some are great. Some are fine. This one? Everyone was *on fire.*
17.
A bunch of groups have been planning a People's Filibuster—three days of Capitol protests to stop Trumpcare, starting 2pm tomorrow.
18.
The People's Filibuster started early.
19.
People told their stories. A refugee diagnosed with cancer weeks before her graduation, alive now thanks to Medicaid.
20.
A child of immigrants, born with a rare disease, now healthy and an organizer fighting for justice for all—preexisting conditions or no.
21.
People asked how they could fight. We shared ways to do it. Come protest at the Capitol this week. Protest at local offices. Make calls.
22.
@CoryBooker
's phone was running out of juice. I had a battery! Very proud that that's my iPhone cable in the photo. Keep it going!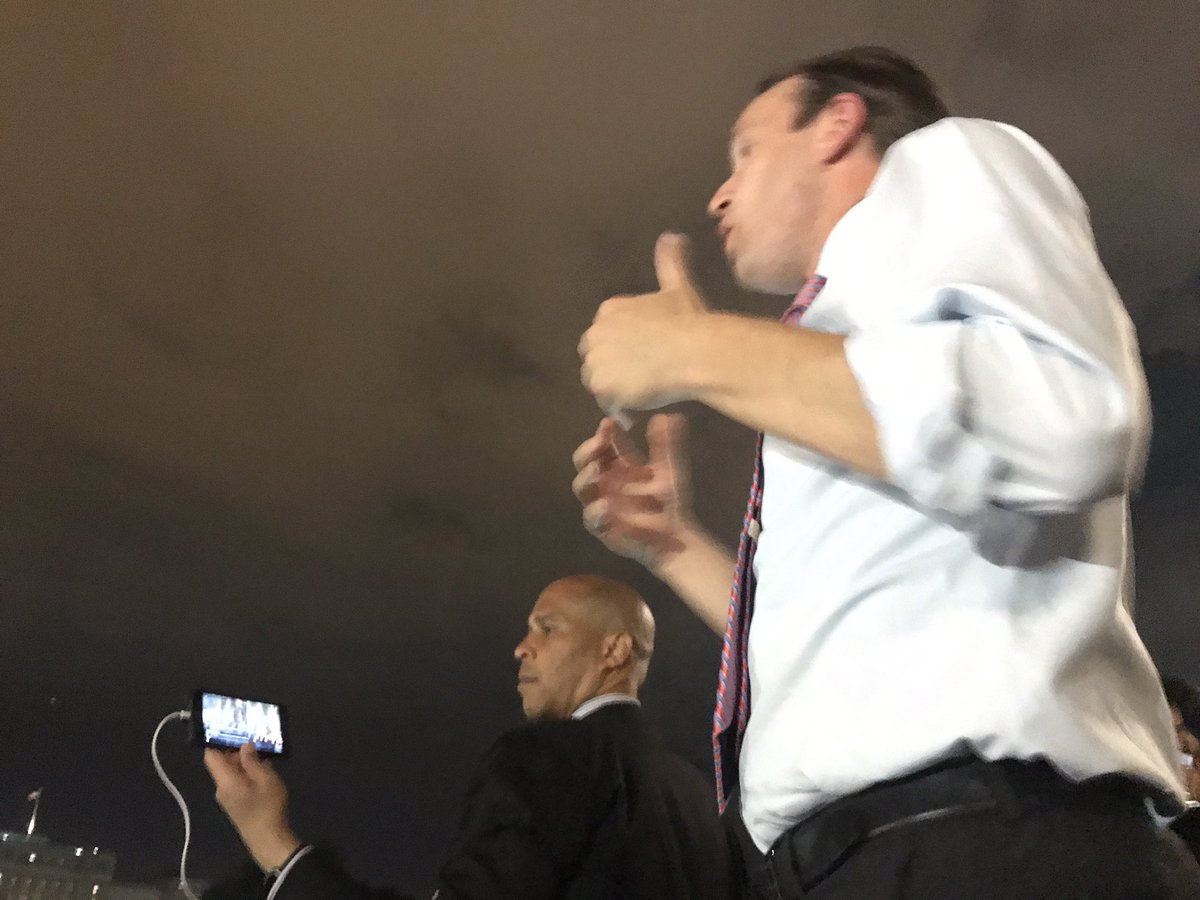 23.
Where did these people come from? Honest question. If you were there, how did you find out about it?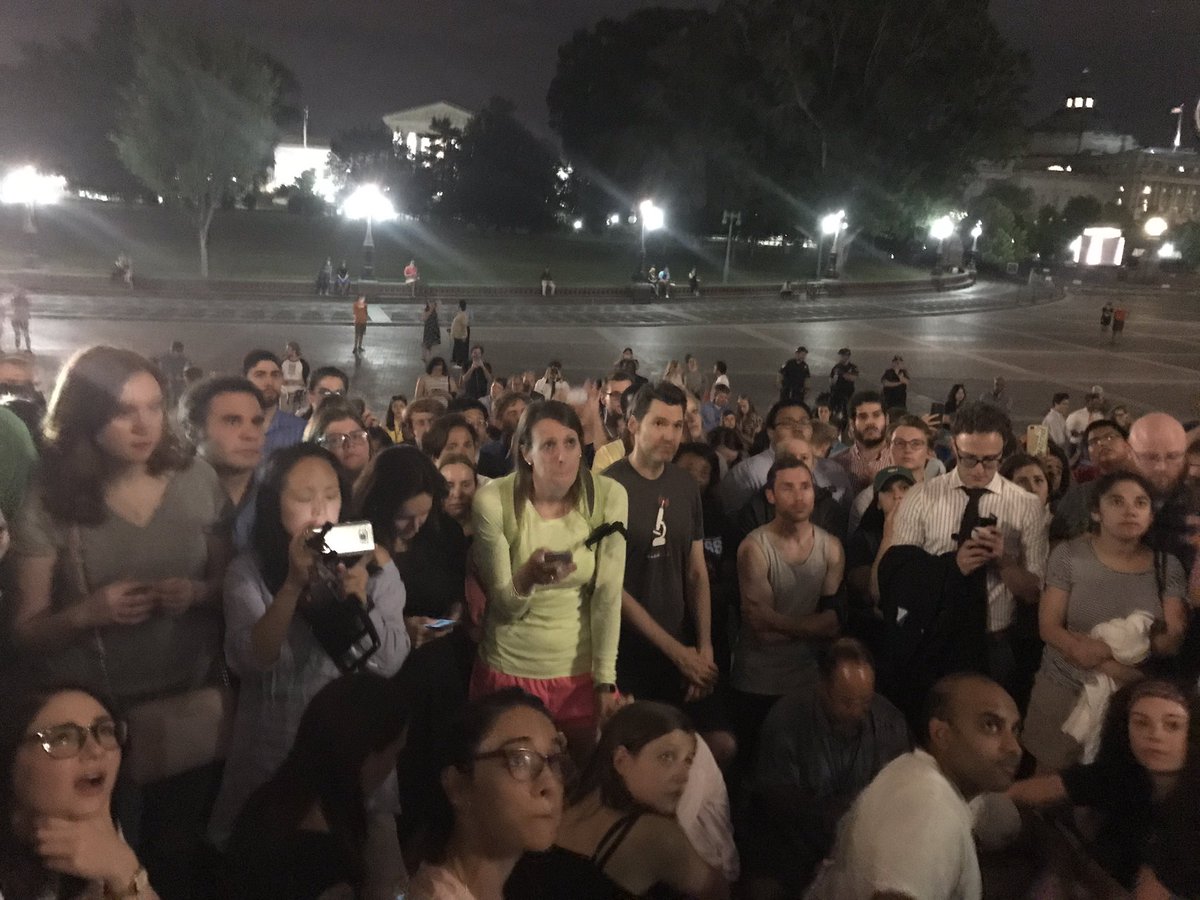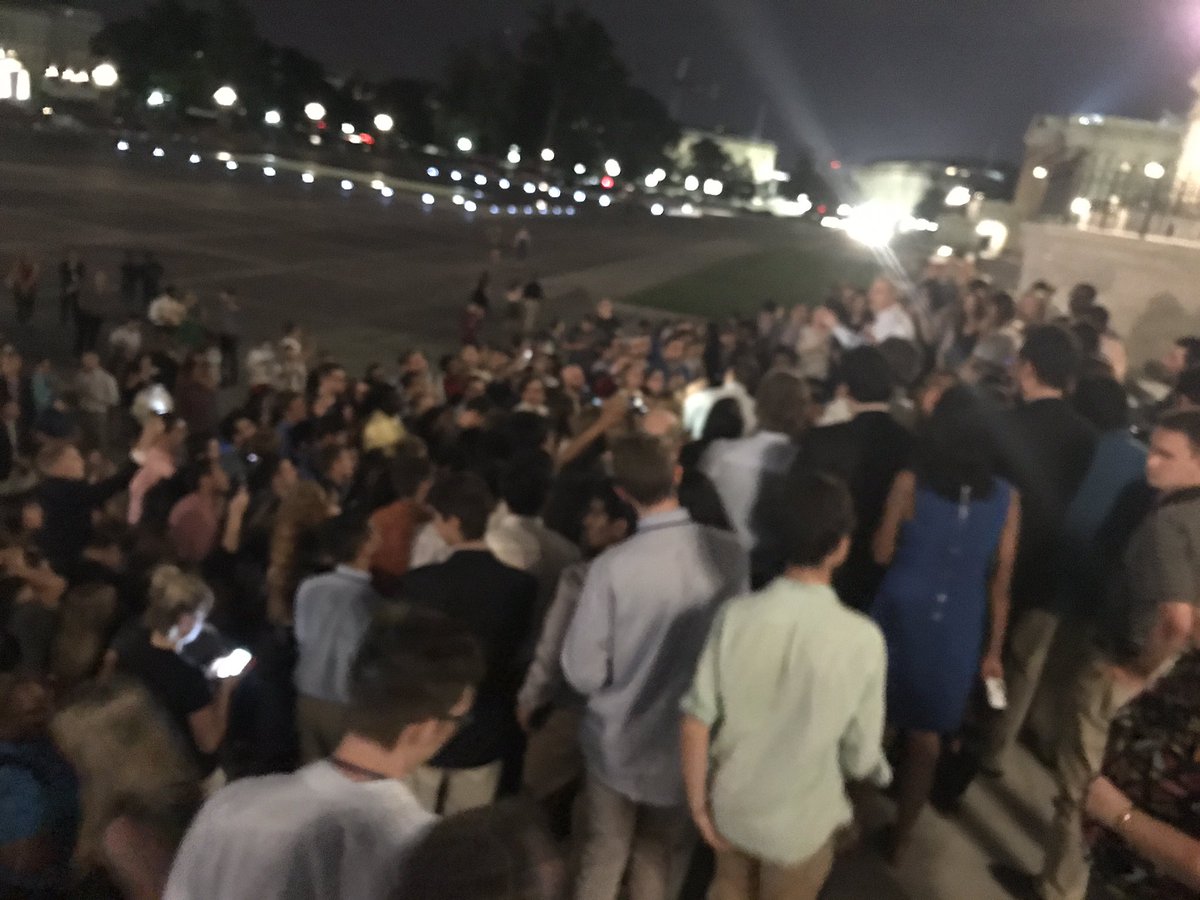 24.
Here's why this matters. The whole question in this health care fight is whether the public—which HATES the bill—is going to show up.
25.
There are 52 Republican Senators. This is their top priority. By rights, it should be done already. Smart insiders still say they'll win
26.
And yet they might be cracking up. And there's just one reason for that: you. Me. All of us. A public that thinks this bill is hideous.
27.
One way or another, this week is probably going to be historic. One of the most morally bankrupt bills in US history could pass.
28.
OR: the resistance could come of age. The public could rise up. Backroom deals could fall apart. Our values could beat their cynicism.
29.
The whole question is whether GOP senators come to the conclusion that they can't get away with this. That the public is too outraged.
30.
Look, I can't predict what will happen this week. Very strong chance it will end tragically. But tonight—a spontaneous, joyous protest?
31.
Hundreds of people outside the US Capitol at 11pm on a Monday, thunderously promising to show up every day this week to fight Trumpcare?
32.
People texting their friends then and there, asking them to show up for the human chain protest this Wednesday? (5pm! You should come!)
33.
This is what it's supposed to feel like at the beginning of something big. This is what movements are supposed to feel like.
34.
I don't know if we beat Trumpcare. But I know that tonight gave me hope for a movement that believes health care is a right.
35.
After the crowd broke up, I finally went over to
@CoryBooker
the to ask for my phone battery back, and maybe a selfie please? Cheese!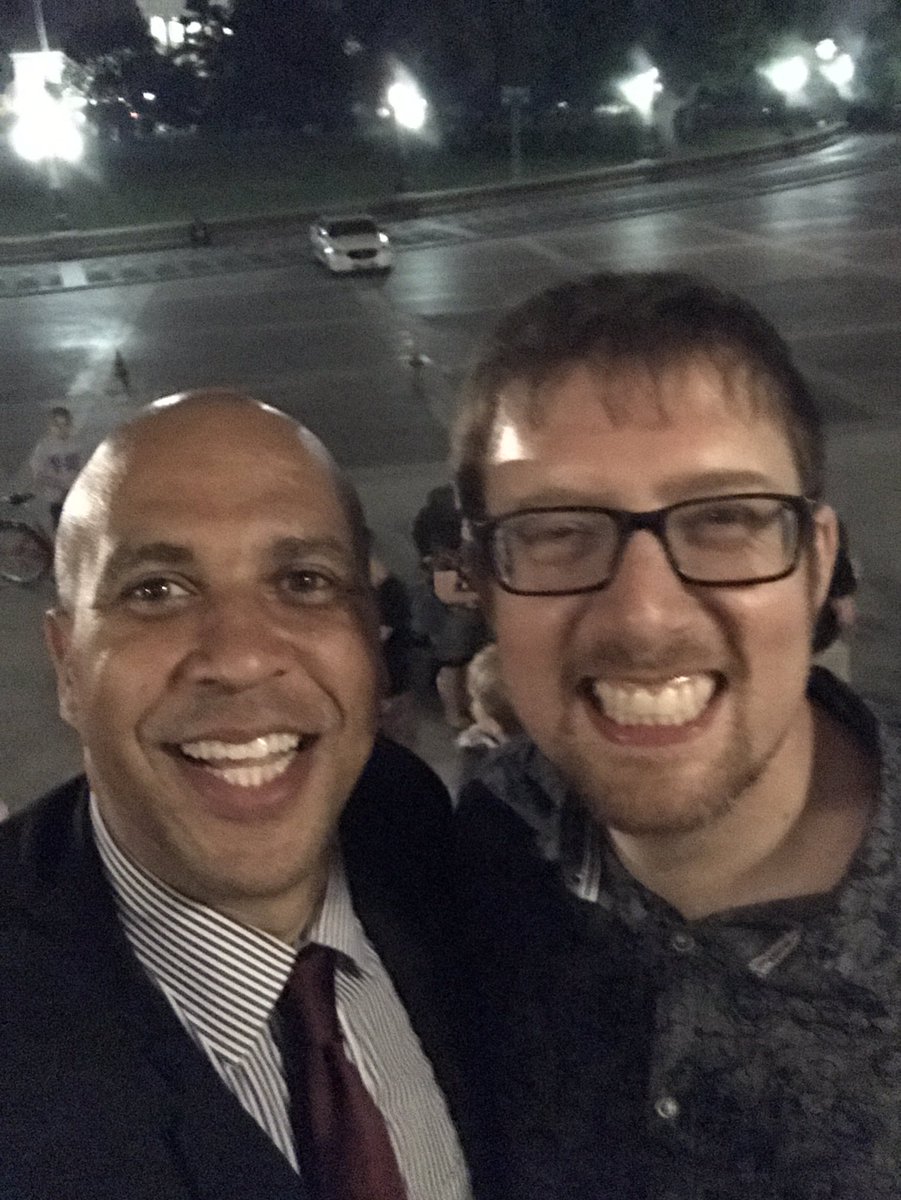 36.
I only learned how it started after it was all over. You should watch & share the whole video here:
facebook.com/corybooker/vid…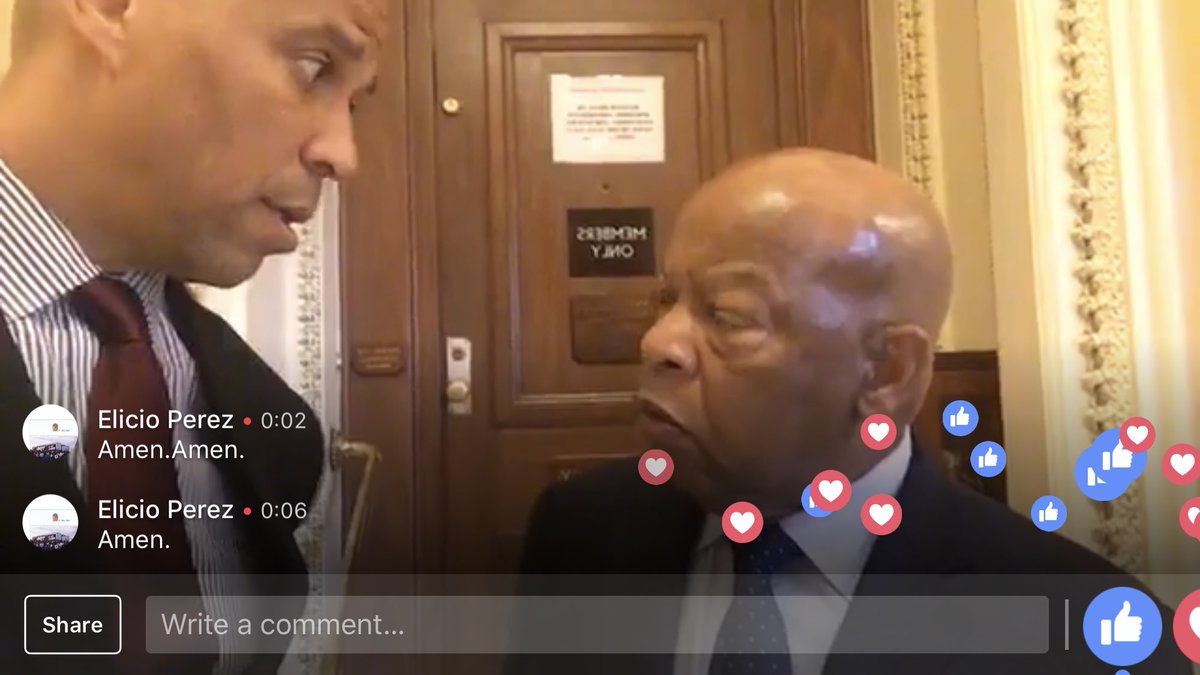 37.
Let's make this the kickoff moment for the week we all get together and defend 22 million human beings' health care.
/end
PS: Come to the OFFICIAL kickoff of the People's Filibuster today (Tue) 2pm @ the Capitol! RSVP, recruit, & retweet!
facebook.com/events/1967200…