Yeah, we're going to talk a little about this.
I do a lot of remote wilderness
#fieldwork
looking for dinosaur bones & tracks in B.C., and I never feel more secure than when I'm among the bears, hours from people.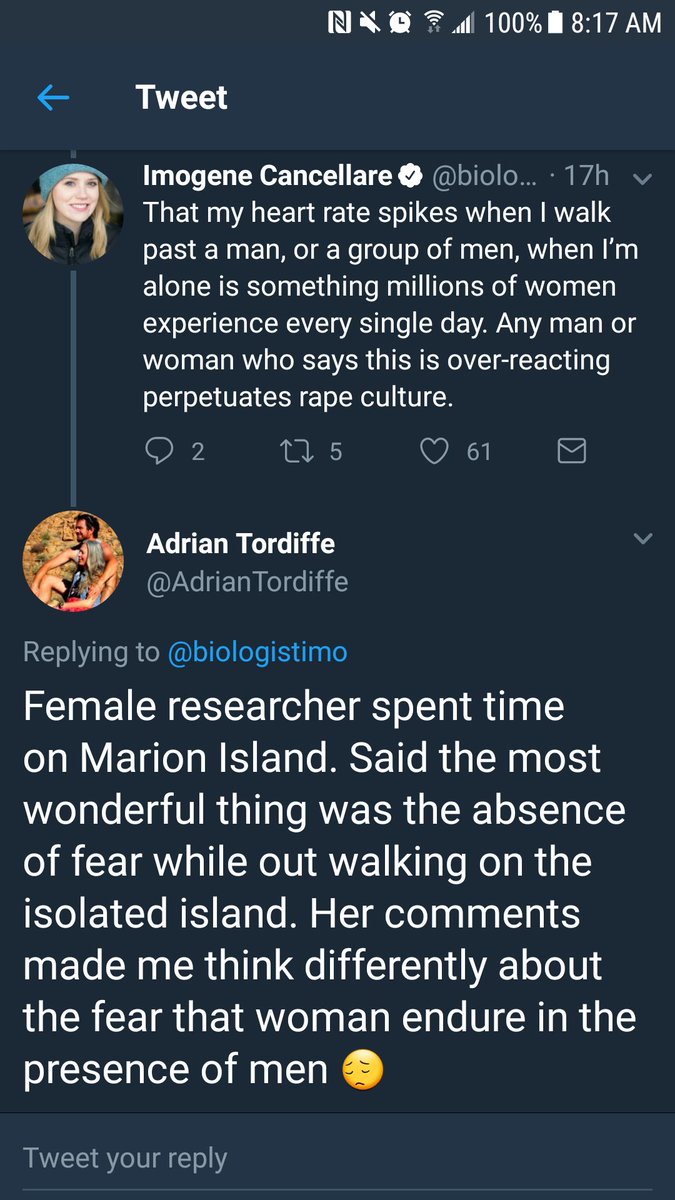 I exist in a rather sparsely populated area of B.C., but a large percentage of that population is involved in industrial work.
I have visited many industrial sites.
It's sad that I'm no longer surprised to see pics of nude women in smaller outbuildings.
The fact these images exist on industrial work sites demonstrates to me *exactly* the level of respect I or their women coworkers can expect: that I'm just a thing that exists for their amusement.
It doesn't end in town, either. Even though ppl do know my name, to get my attention on the street I've been whistled at like a dog or honked at.
I've been admonished for not acknowledging these rude gestures. I've been admonished for not smiling at someone who I didn't even see bc I was thinking about work.
I'm admonished for not performing a a pretty trouble-free thing.
Field season, for me, is a chance not only to get away from the phones & emails, but a space where a large part of the demographic constantly reminds me that I'm not a person: I'm a thing that exists to serve and titillate.
Now, if you're one of the many many MANY ppl who have experienced SA, SH in the field, the field will be no escape.
I have been lucky with my field experiences in that sexual assault and harassment were not there. I realize my experience is not the same as those who have survived those field experiences.
It wasn't until field season of 2016 when we worked 6 Peaks Dinosaur Track Site that I realized the pressure that fieldwork removes from me.
Most of our field sites are so remote that the public doesn't visit them when we work on them. They're a helicopter or a LONG hike/drive.
Hadrosaur excavation (featured in DinoHunt Canada on History Channel) was less remote: Rich & field tech escorted 2 drunk guys off site once
When they staggered down to site, Rich (Head Curator & Expedition Leader) made sure volunteers & crew women were not visible...for a reason.
Less important than specimen safety was OUR safety Didn't want word out of a campsite near w women. See, he's witnessed industrial sites too
Fast forward to 2016. Even though the track site was on a rather unforgiving road, we had over 600 visitors to it over the summer.
Once again, we had a mostly women field crew. Rich was the only full-time man on site.
Most of our visitors were well-behaved.
HOWEVER. There were instances of bad behavior.
I don't know about you, but if it's freaking hot out, I'm going to wear a tank top.
The women on my crew are going to wear tank tops...or whatever the heck they want to make them comfortable to do the job.
There's no BS of "oh tank tops will distract!" on our sites.
So, we would have visitors (always men) who would try to hang out way too close to women wearing tank tops.
Some took way too many pictures.
I will say, not of me.
I don't know how to put this delicately, so I'll come out & say it.
I am physically strong.
I have visible muscles.
I also have quite a deep voice. I've lost track of the number of times ppl call the museum & think they're talking to Rich.
During the visitor-heavy summer of 2016, I used my physical presence & deep voice to run interference for the women on our crew.
And let's examine how effed up that is. I could only get respect and demand it for my crew by presenting "male qualities."
If Rich was off-site & it was just us women, I was more on edge when visitors arrived.
I made sure my physical presence was more obvious.
Can I tell you how freaking exhausting that summer was? I could not let my defenses down once.
Wildlife was the LEAST of my concerns.
This imposing physical presence had to be juxtaposed w being a friendly engaging scientist that most visitors wanted to interact with.
Have any idea how exhausting it is to be on & engaging while also on guard?
If you're an underrepresented group in STEM, you already know.
Contrast that with a remote field site where the visitors are golden-mantled ground squirrels and marmots...bloody bliss, let me tell you.
If you've never experienced having to be on guard, to have walls up 24/7 you won't understand the magnitude of relief of being away from ppl
I'm never more Me than when I'm at a remote field site.
I'm just realizing now: very few ppl have ever been around me at my Most Me.
Gimme a moment: I need a cup of tea before I continue.
I'm back. Also now at peace with the fact that very few ppl have seen me at my Most Me bc
THESE PPL DON'T DESERVE & AREN'T ENTITLED TO IT.
"Walls Up On Guard Me" is the version most ppl are going to see of any person from an underrepresented group in STEM.
Y'know what hurts the most? It's when you think you've found a space where you're accepted, and then someone there does this toxic crap.
Heck, I've gone to meetings knowing outright ppl will be hostile to me being in their space, & that is less horrid than THAT betrayal.
Are you a guy who thinks that just because a woman is in your lab that you should be able to hit on her?
Congrats, you're the problem.
You think you can "joke" about racial/sexual stuff w a lab member because you want to see how "cool" they are?
Congrats, you're the problem
You think hugging/backrubs/arm touches/attempted kisses are just innocent & friendly in lab/field.
You're gross, and the problem
You get offended because a women in the field didn't respond to your smile?
Yeah: all of my gross encounters started with that exact smile.
Get this through your skulls:
You are not entitled to friendship, time, attention, or sexual gratification from your lab/field members
You are not entitled to attention, time, or sexualized entertainment from women you encounter in the field.
You are not entitled to claim your space by covering it w sexually explicit material.
You are not entitled to be sexually stimulated at work
If you don't think any of this is a problem, or that anyone who says this happened is over reacting,
YOU ARE PART OF THE PROBLEM.
Also note: if you feel any of this harassing crap is OK behavior in the field, you are not welcome on my field sites. Walk on & be ashamed.
I did not expect to talk about this today, but I needed to.
Will take a break now to write & will be back this afternoon for bird tracks.
Popped back on to say that I'm impressed NO ONE has @ me with "Just talk about dinosaurs!"
This is my experience working on dinosaurs.
And that's just my experience as a white cis hetero abled woman. Keep that in mind. Privilege has spared me much.