WHAT EVERY YOUNG NIGERIAN SHOULD KNOW ABOUT GEN. TUNDE IDIAGBON
The no-nonsense general every young Nigerian should know
It does not require clear thinking for one to see how shameful and revolting things have become in our country.
Follow the Thread...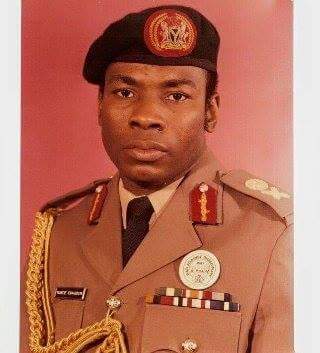 integrity was a man, they would have called him Idiagbon.

The world, especially Nigeria, is what it is today because of our inability to live a life of integrity. The pillars of our guiding principles are no longer standing on the foundation of value.
Instead of dignity and morality to be the watchful directors of our course, we decided to let vanity and impunity to rule over us.

Regardless of any other opinion, it was this senseless decision of ours that Gen. Idiagbon tried to dethrone from our mind. But in vain he tried.
Born on the 14 September 1943,in Ilorin, Kwara state,Babatunde Abdulbaki Idiagbon received his secondary education at the Nigerian Military School, Zaria between 1958 and 1962.

He would join the Nigerian Army by enrolling in the Nigerian Military Training College (NMTC) in 1962:
NMTC was renamed the Nigerian Defence Academy (NDA) in February 1964.

In April 1965, Idiagbon was commissioned second lieutenant upon his arrival from Pakistan Military Academy where he had obtained a BSc in economics.

From 1966 to 1967, he served as an intelligence officer,...
4th Battalion and General Staff Officer,3rd Intelligence,1st Sector.

It was during this time that he got promoted to the rank of lieutenant,and also to the rank of captain two years later.

At the age of twenty-five,idiagbon had already become the commandin officer,125 Battalion
Owing to his intelligence, qualification, and personal ability, his promotion kept coming until he rose to become Brigadier General in 1983.

Nigeria before 1983 had already taken side with lawlessness. In addition, the nation's resources were handled with recklessness.
The depth of corruption among public officials had succeeded in dragging the country into a state of economic shambles and the government in charge at the time seemed to be very okay with the situation.

The Shehu Shagari's govt succeeded in creating a group of dark kleptocratic
thieves whose heartless goal would not be reached until the nation is plunged into a well of hopelessness.

As a matter of fact, record has it that in the space of four years, between 1979 and 1983, Shehu Shagari administration had mismanaged Nigeria into debt.
Infact,Nigeria was at the time counted among the most indebted countries in Africa.

Owing a colossal sum of about fifty billion dollars,inflation found a fertile soil to sprout. The result could only lead one end,hardship.

And of course,where there's hardship,there's insecurity
At the time, a radical Islamic insurgent called "Maitatsine" operating from present-day Gombe state was inflicting all sorts of atrocities.

The Shehu Shagari government could not contain this vicious and dangerous Islamic fundamentalist. The nation was in a state of disarray.
It was during this time of national disorganization that the military ousted the Shehu Shagari administration in a coup d'etat.

Thus, Gen. Buhari became the Head of States and made Idiagbon chief of staff at Supreme Headquarters (de facto vice president).
Spearheading the control of all visible instruments of national, political, governmental and administrative powers, Idiagbon made use of power the way power should be used.

With ruthless zeal and determination,he introduced and implemented policies like War Against Indiscipline,
which comprises of five phases:
Phase One - Queuing (launched on 20 March
1984)
Phase Two - Work Ethics (launched on 1 May
1984)
Phase Three - Nationalism and Patriotism, launched on 21 August 1984
Phase Four - Anti-Corruption and Economic Sabotage, launched on 14 May 1985
Phase Five -Environmental Sanitation,launched on 29 July 1985

To enumerate,the first phase was forcefully introduced to encourage customers and citizens to always line up to board buses.

And to always do the same whenever they find themselves vying for services with high demand
Anyone who deemed himself too important to comply was met with the military's wrath. The purpose for which this phase was implemented was to bring social order back to society.

In like manner, the second phase was launched to encourage hard work: Civil servants must be punctual,
arriving work at the strike of the clock. Frog jumps and sometimes kobokos from soldiers were the lots of those who usually arrive late.

Interestingly, the war was also extended to the classroom; making cheating during examination a very serious crime.
The third phase was launched to foster nationalism and patriotism. And this was supported by the implementation of import substitution industrialization policy; based on the use of local materials.

Thus, importation was tightened.
The sole aim of the policy was to ensure the growth of local industries.

And it was further supported by the implementation of the Go Back to Land Programme which was part of the government's farming policy that encouraged massive agricultural food production.
In a bid to implement the fourth phase, which was to counter corruption and economic sabotage, Idiagbon announced the introduction of a new currency for Nigeria.

He said the new currency would keep the same name, but the colors of bills would be different.
It was reported that some former politicians including ministers, governors and local government chairmen were holding large amount or sum of stolen monies in their houses. The move was to render those monies useless.
Notice was given to the public, a time frame to withdraw their old naira notes from the bank and re-change it to the new ones.

Idiagbon had already announced that the exchange limit was 5000 naira; exchanging in excess of the limit had to explain where the money came from ...
with government clearance.

He had affirmed that the deliberate sabotage of the Nigerian currency through large-scale illegal trafficking was the major cause of the nation's economic problems.

So ruthless was the implementation that when Fela was caught at the airport with ...
more foreign cash than was stipulated by law, not even the truth that he was known for could set him free from paying the prize.

Even a huge consignment of Abiola's imported newsprint, which was on the government contraband list was seized.
Without conformance to bias nor sentiment, the no-nonsense general blasted corrupt politicians on a radio programme known as Military in Action; promising to smoke them out of their holes to face justice.
It might interest you to know that it was during this administration that late Alhaji Barkin Zuwo, a former senator and Governor of Kano state, was slammed for corruption with an imprisonment sentence of two hundred and fifty years.
Like the Great Thomas Sankara, Idiagbon believed that Nigeria was strong enough to develop from within; that should Nigeria be focused, she could become a creditor nation.

ALSO READ: Africa's greatest leader that never was
In fact, it was with this conviction that he blasted the International Monetary Fund when he said: "International Monetary Fund (IMF) cures no sick state, in most cases, they worsen the ailment."
Idiagbon's ruthlessness wasn't born out of foolishness; he was intelligent and prudent enough to know what he was doing.

In April 1985, he was heavily criticized for executing a drug trafficker. In replying his critics, he said, "a uniquely Nigeria solution is necessary to ...
curtail the get-rich-quick mania that encourages serious crime."

Also,when he was blasted by some critics,for jailing corrupt Second Republic politicians,Idiagbon blasted back:"All these criminal racketeering and swindling went on while the salaries of local government employees
government employees and teachers were left unpaid for months."

The no-nonsense general never smiled.

But how could he have smiled with a country like Nigeria? A country whose thought alone calls depression to the thinker's mind.
Nigeria has always been an organization of disarrangement. A nation where sentiment and bias ride upon the horses on its Coat of Arms. A state where religion and tribalism make mockery of patriotism.
It does not require clear thinking for one to see how shameful and revolting things have become in our country.

A country where the people's representatives pocket in a year, what an average citizen won't earn in three earth lives if we are to go by the minimum wage.
However, one major highlight of Buhari/Idiagbon's regime was the Umaru Dikko saga.

Umaru Dikko was a special adviser to Shehu Shagari and also the minister of transportation. He exiled himself from Nigeria and took refuge in the UK when he sensed that danger was coming for him
Accused of looting a whopping sum of $1billion, he was declared Nigeria's most wanted.

With an intent to bring him back home alive, Umaru Dikko was kidnapped, injected into a state of unconsciousness and packaged inside a specially made crate.
Luckily for him, the move was somehow double-crossed by a British customs officer known as Charles David Morrow.

Though the Nigerian government denied involvement, Idiagbon was, however, angry that the British government foiled the plan.
was detained by the British government.

The no-nonsense general would retaliate by detaining a British Airways passenger plane at the Murtala Muhammed Int'l Airport.

It was not long before it became clear that his style of leadership had earned him a long chain of elite enemies
In August 1985, while on a pilgrimage in Saudi Arabia, news reached Idiagbon that Buhari had been overthrown and detained in a coup led by Ibrahim Babangida.

He was cautioned to stay away from the country or he will be dealt with.
Upon hearing this, the late King Fahd Bin Abdulaziz Al Saud called Idiagbon and made an offer. The Saudi king told Idiagbon that he would get him a magnificent mansion to stay for his retirement for life and forget about the idea of returning to Nigeria.
Idiagbon politely declined the offer. He was too rugged and brave to hide behind closed doors.

A few days later, he was unwelcomed by soldiers armed with all sort of weapons. And for forty horrible months, he was placed under house arrest in Benin and Bauchi state.
His reign as vice president lasted for only twenty months.

With no millions of dollars to his name, Idiagbon took to farming and detached himself from public activities.

Nigeria had chosen not to be better, and there was nothing he could do about it.