I hope you all are ready to help me welcome
#NeuroThursday
back in action this week with a story about how you stay balanced - and the amazing things you accomplish with that ability!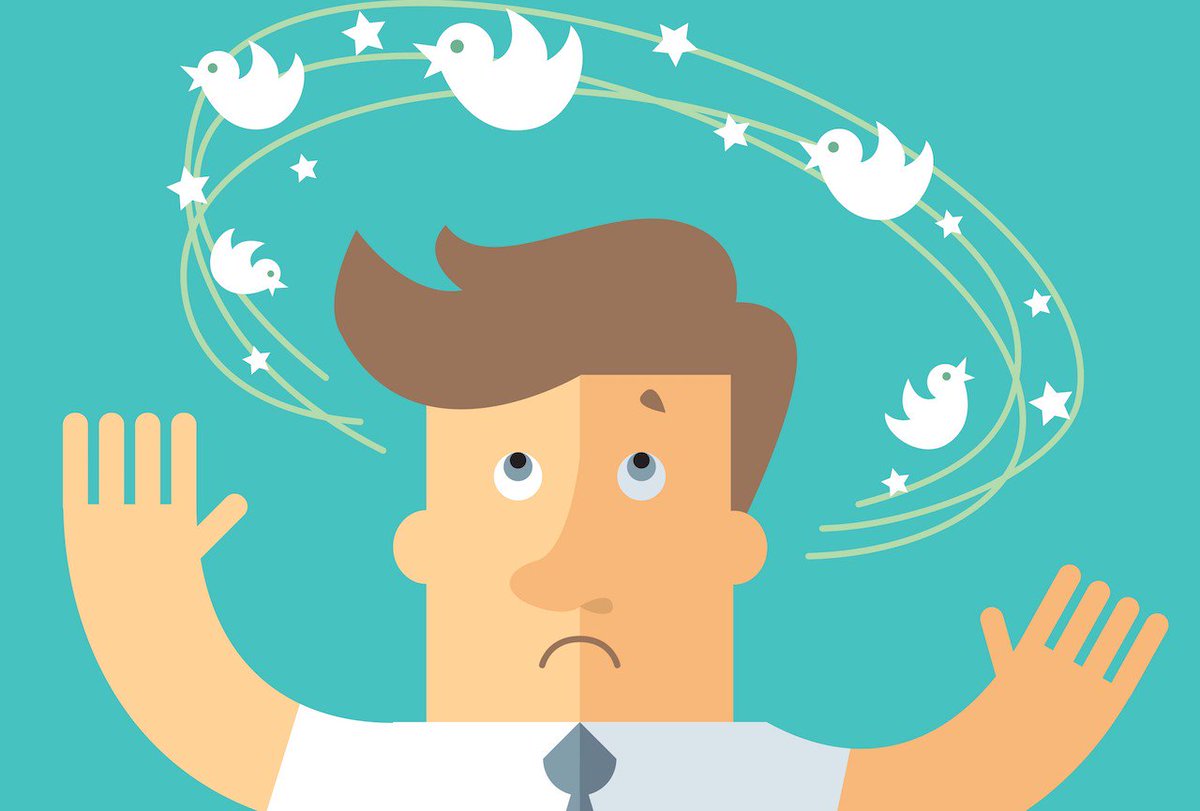 This topic was requested by the illustrious
@KJKabza
, who wondered: "Are there special strengths of the human balance system (we all know that it is easily disrupted if you spin around)?"
Yes, KJ, oh yes. Your balance system is doing highly badass things all the time, quietly under the hood while you go about your life. Like the devil, its best trick is making you think it's not even there.
So what is this balance system? Mostly it's the "vestibular system," a set of tiny organs in your inner ear that detect movement of your head. Neaby the ear-bits that pick up sound, but distinct.
(For non-head balance, you have another sense, called proprioception - a distributed sensory system that detects your body position. But that could be a topic for another day!)
This handy Wikipedia image shows the layout well. The important parts are the Semicircular Canals/Ducts (3 rings in the organ's upper-left) and the Utricle and Saccule (blobs in middle). The snaily bit below is for hearing.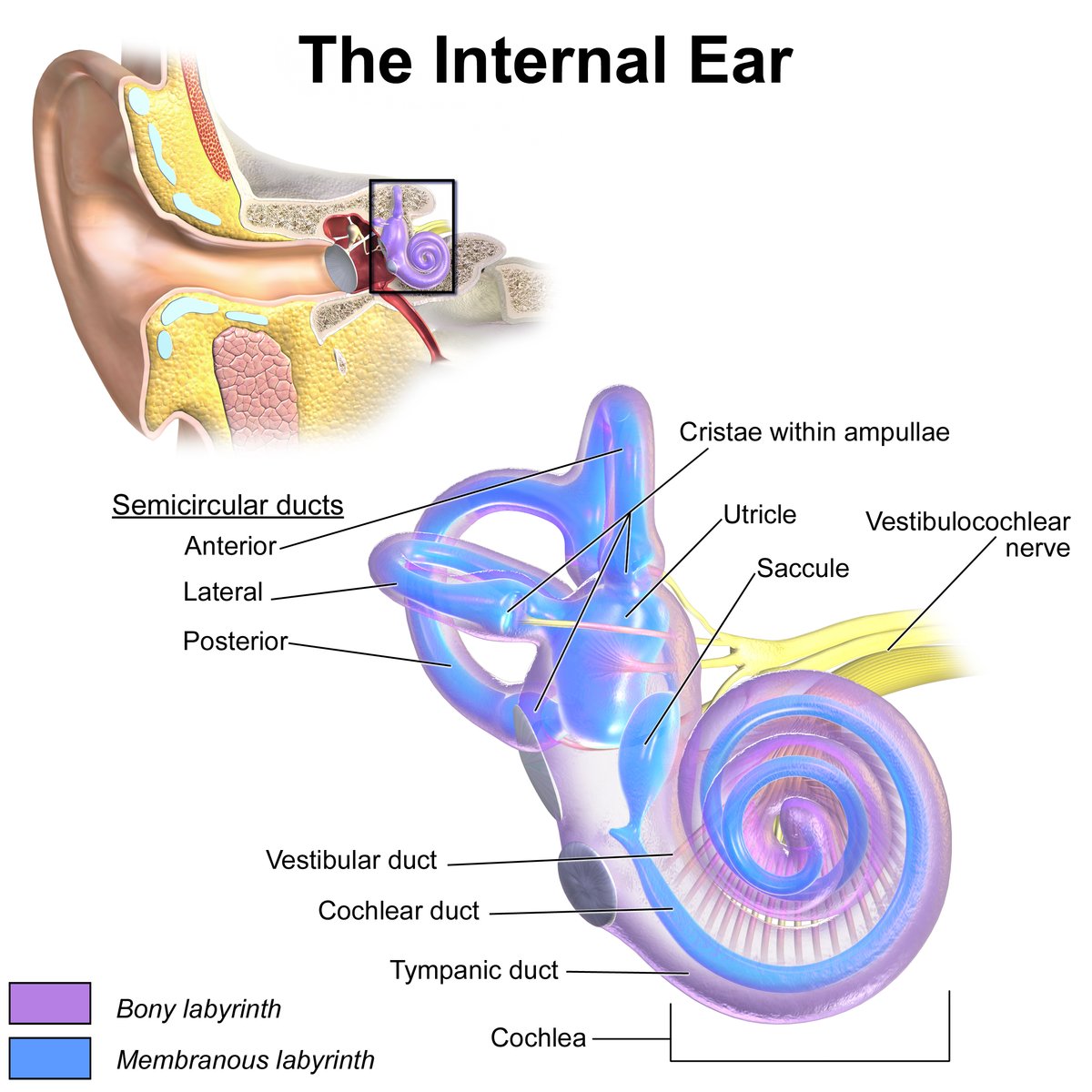 The semicircular canal & utricle/saccule all follow the same principles. They're filled with Goop, and when the goop moves, it bends tiny hair cells. The hair cells are neurons, and they activate when bent. Bam!
How the canals work: imagine spinning a hula hoop full of water - the water lags behind a bit. The hair cells are attached to the rim, so from their little POV the water is flowing past them, and they bend in the current.
These canals are for detecting rotation: if I just shove my hula hoop around (instead of spinning), it's not gonna work. You have multiple canals in different orientations so that you can detect head rotation in any direction.
The semicircular canals are the part that get out of whack if you spin around too much! Put too much velocity in the water and it'll keep going and going and going even after you stop spinning the hula hoop.
The utricle/saccule are simpler. Goop is full of tiny crystals. Linear acceleration will jostle the crystals & thus the hair cells.
Whew that's enough anatomy. But now you know how we detect head motion. Ok please stand up and spin around until you understand this system's flaws. I'll wait.
Seeing straight yet? No rush, I'll be here. C'mon! You know you want to!
Okay anyways. Now you definitely know the flaws in this system. But it's allowed to have some flaws because it is SO GOOD. Let us demonstrate. (No seasickness this time, promise.)
You can do the demo with this text if you're reading on a laptop/phone. If you're twitterizing from a desktop computer, grab a book.
As you read this tweet, shake your head back and forth. Start slow, as if saying "no thanks" to this demo, then build up speed. You should be able to move pretty fast and still read this tweet.
Now hold your head still, and shift your screen back and forth instead.
Hahaha no you can NOT read while your screen/book is shaking back and forth. Why the difference? VESTIBULAR SYSTEM, BABY.
Down in your brainstem, your vestibular system connects to your eye-movement system. That connection lets your eyes compensate automatically for your head movements.
If this were easy to do, you could read while shaking your book! But it's gotta be perfect, and you can't pull that off alone.
If you want to be a goofball, test this in the mirror. Watch your eyes while you move your head around! You can hit a limit somewhere, but generally it's a perfect match.
This is your vestibular system's magic: it lets you tell what head movements you make, and compensate for them to keep your visual field fixed. Super useful for every activity that involves looking at things without holding your head stock-still.
Which is, really, most things. But if you wanna invent an evolutionary explanation, we can spin a story about keeping that visual field unmoving so you can detect actual real motion in the world.
When this system goes wrong, you get a condition called nystagmus: uncontrolled movements of the eyes, as if it always thought you were aspin. Awesome creepy video ahoy!
So here's your
#NeuroThursday
takeaway: your balance system is SO GOOD, you never notice all the hard awesome work it does keeping your gaze where you want it.
(And by "you," I mean the typical human. Maybe not you personally! That's cool, you do you! But if not you, maybe ask your doctor – or check out the Vestibular Disorder Association
vestibular.org
)