THE BOY FROM TOMORROW is a *very* white book, and I feel uneasy about this. But I didn't make my characters white by default, and I want to talk about this today. I also want to tell you how I intend to write more diverse books from now on.
My two main characters are Josie and Alec. Josie is 12 years old in 1916; she is the daughter of a popular (and therefore affluent) Spiritualist medium. They live in a New York suburb.
Alec is her friend-across-time, 12 years old in 2016. The *first* thing I knew about Alec, the one non-negotiable thing besides his social anxiety, was that his dad was a high-powered attorney, that he'd had an affair, and that's why the marriage is ending.
If you read an early draft of the book, you might not have noticed that. I made the affair perfectly explicit only in the rewrite. At any rate, Mr. Frost has left his family.
He appears in the novel for literally ten seconds, when he brings his new fur-wearing girlfriend to a lunch that's supposed to be QT with the son he hasn't seen in months.
So: typical arrogant white-guy behavior. I was discussing the novel's whiteness with one early reader, who happens to be a white divorced mom living with her son in a house that's too big for them.
She can easily see herself in Alec's mom. And she's the first person to admit that these are affluent white-people problems—and that to many people, eating vegan and going to yoga classes look like very white methods for self care.
Henry Jennings is modeled after the Australian parapsychologist Richard Hodgson, who was head of the American Society of Psychical Research until his premature death in 1905.
But my character is named after, and his warm-heartedness is inspired by, my middle-school art and history teacher, Mr. Jennings—a person of color. (Here's his self portrait in my 8th-grade yearbook.)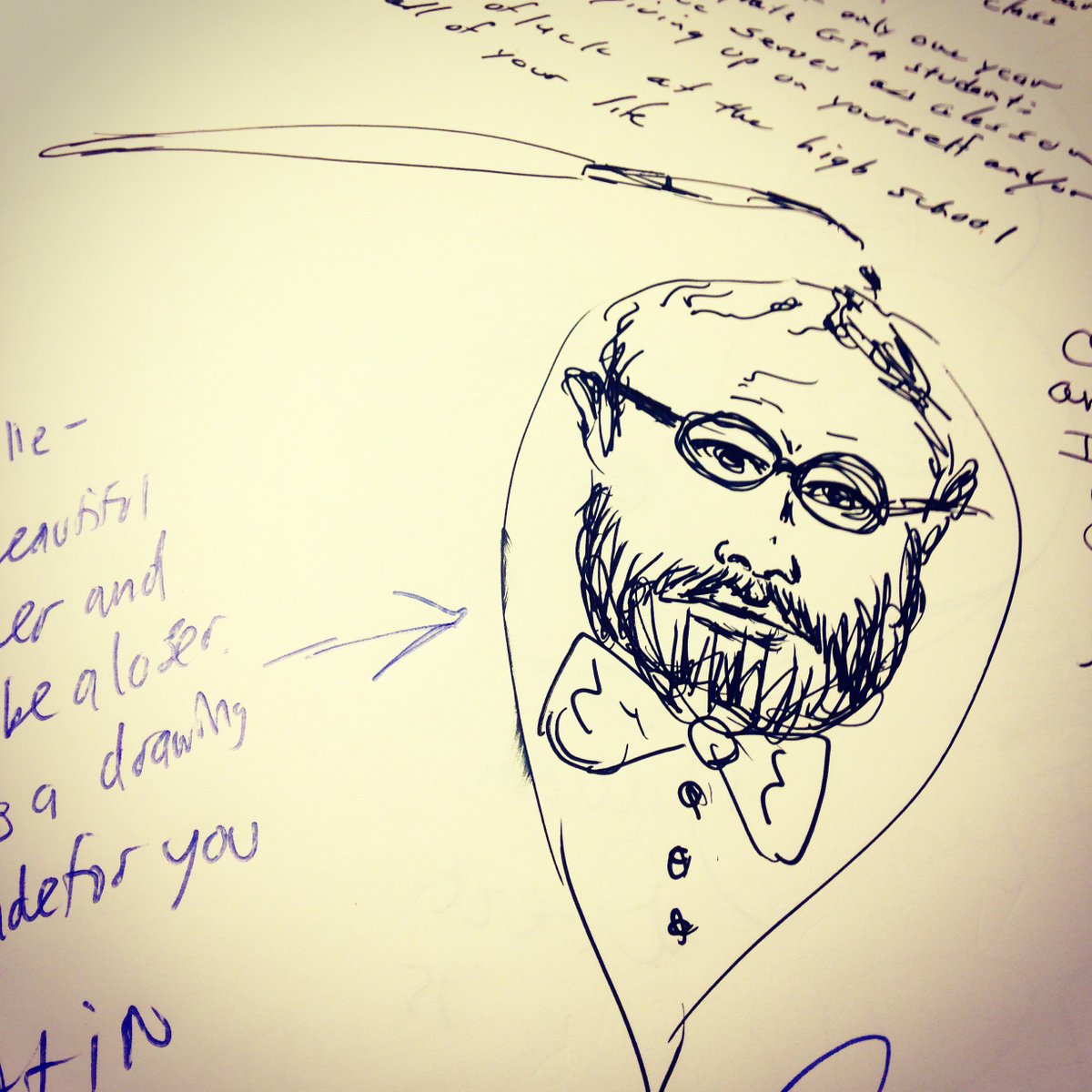 Had I written Dr. Jennings to look like my beloved teacher, it is quite possible Josie's mother—a hypocritical white suffragist—would not have let him into her house to study her.
And how I addressed this in the classroom reading guide (available on my website):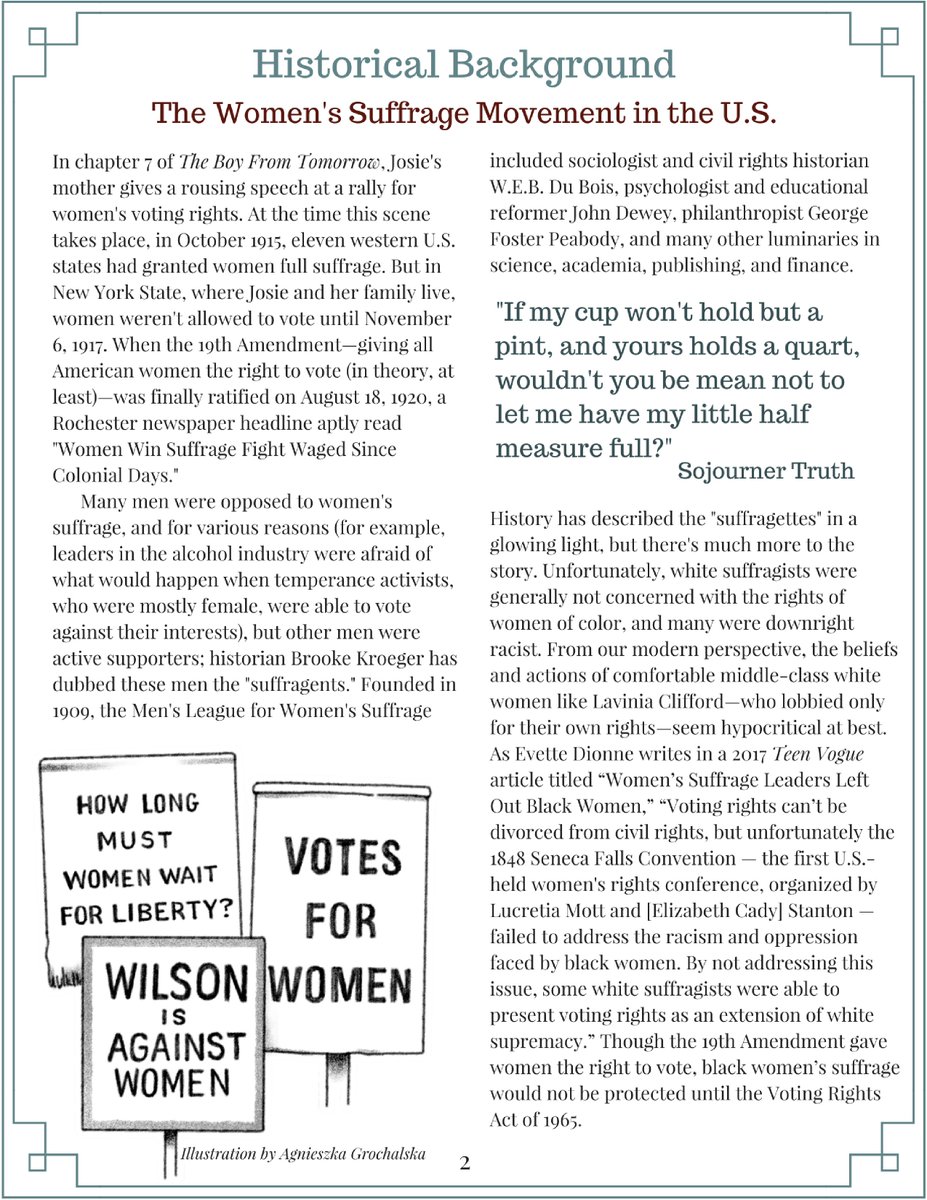 Now I have to tell you how I messed up in my portrayal of a minor character. Harold is a friend of a friend who belittles Alec. He's under a lot of pressure from his father to get straight As (etc.), and his hyper-criticalness is a byproduct of suppressed anxiety.
I'd always pictured Harold as Asian. At one point I thought, "This feels stereotypical, but if I change his ethnicity, am I being too politically correct? That's how I've always pictured the character..."
I decided to keep Harold Asian, and didn't reconsider until my friend
@susansmtan
read the book and wrote me this wonderfully candid email about how problematic Harold's Asianness was.
I want to take a moment to acknowledge how brave and generous a fellow writer has to be in order to send an email like that. I feel terrible Susan even felt nervous about how I would take her (SO kindly and respectfully articulated) criticism.
What I failed to cop onto is that political correctness is irrelevant. The point is: how is someone who looks like this character going to respond to the way I have depicted him? How is that depiction going to make an Asian reader feel?
I changed Harold's surname from "Yu" to "Yates." I still feel like a total clueless jerk, and that is a good thing, because my embarrassment will ensure I make better choices next time.
Susan Tan is the most wonderful writer and brave & loyal friend, and you should buy her smart and hilarious books and read them to your kids:
susantanbooks.com/books/
The other thing Susan pointed out is my use of the Victorian adventure novel SHE by Henry Rider Haggard. If you haven't heard of it, read this Guardian piece:
theguardian.com/books/2017/jul…
In 1915, Josie's tutor Emily reads SHE (and the first sequel, AYESHA) to Josie and her little sister Cass. The archetype of She-who-must-be-obeyed is a near-perfect match for Josie's mother; BUT I never addressed the fact that the book is thoroughly racist/imperialist.
I read SHE a decade ago now, and as I read the racist parts I remember thinking, "Unfortunate that this book is a product of its time, but it's still a great yarn!" I suppose we white people could get away with that kind of thinking in 2008.
After Susan emailed me I went back and reread the blog post I'd written about SHE expecting to find at least a mention of the novel's intensely problematic worldview, but I had written NOTHING about the racism or anti-Semitism or the colonial asshattery. WTF, 2008 Camille?!?
(I unpublished the post and will eventually republish it with a link to this thread.) Here is an illustration from an early 20th-century edition of the book, which I found at the Providence Athenaeum. Yup. Horrifying.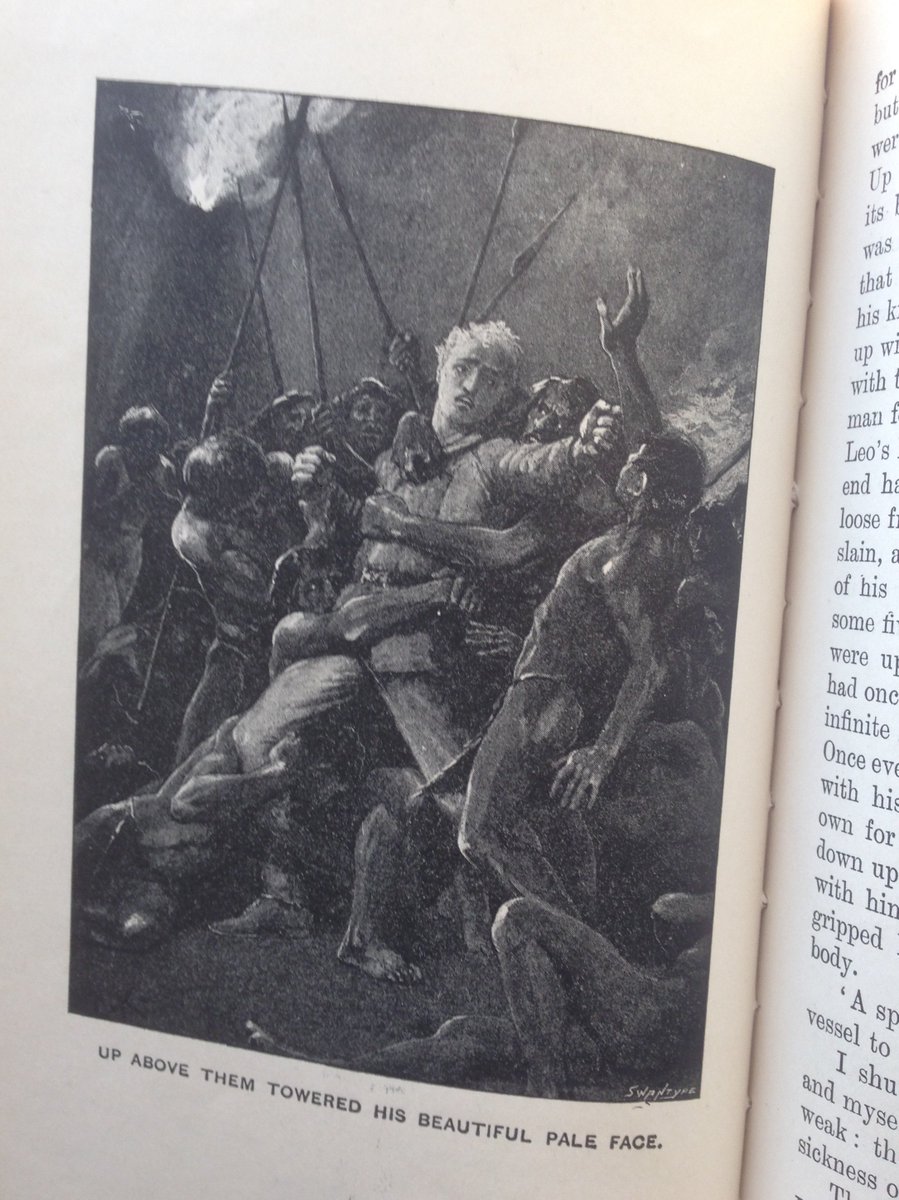 So Susan suggested I add a brief acknowledgment of the novel's racism, either in the text or in the author's note.
My BIL said, "Yeah, but is a 12-year-old white boy in pre-Trump America going to notice the racism in that book?" A valid point. But we want to live in a world in which privileged white boys DO notice a white supremacist mindset and recognize its moral bankruptcy. So in it went.
I've also addressed the sociopolitical context of Haggard's novels in the classroom reading guide: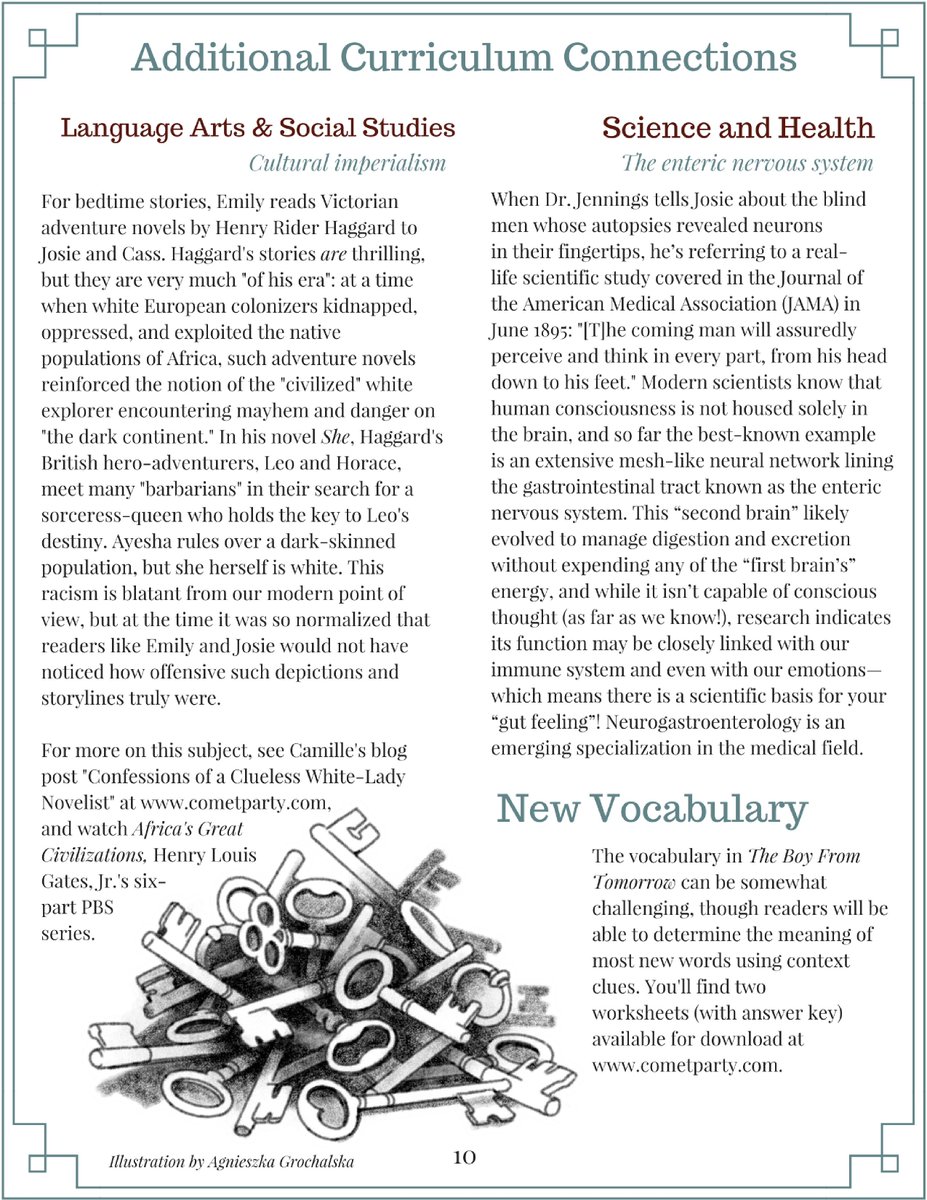 Truth is, THE BOY FROM TOMORROW I'd have written in 2017 would be quite different from the book I conceived of in 2011—for better and for worse.
Whenever I've reread the book, it feels like ducking out of this nasty, nasty reality we're living in. In Alec's world, Obama is still president...and the neo-Nazis are still in the woodwork.
I'd intended to talk about whiteness in my other books today too (particularly BONES & ALL), but this thread feels long enough. I'll just tell you a little bit about my next middle-grade novel, which is about a middle-school ghost-hunting club: THE PARANORMAL ADVENTURE SOCIETY.
There are four kids in this club: two are African-American, one is a foster kid, and the boy who starts the club is a working-class white boy who is, in a lot of ways, struggling to keep up. He has no idea when he starts this club how it will change his life.
My young characters of color began telling me about themselves after I started wondering, "what would be THE most terrifying ghost a twelve-year-old black boy could encounter?" Then I wrote this scene that creeps the hell out of me every time I revise it.
I'm thinking about the whiteness of the European-American ghost-story canon (if that's a thing? I think it is?)
I've also been thinking a lot about group dynamics and how kids influence each other at this point in their development (which in my experience was the tenderest and most painful part of growing up).
I "auditioned" a lot of imaginary kids with lots of different personalities and backgrounds for this book; some of them will appear later on (because this is probably going to be a series! Whoop whoop!!!)
And in conclusion, yes: I intend to hire a sensitivity reader.
Thanks for reading this thread. If you have any reactions or learning experiences of your own, I'd love to hear them!