THREAD: Thought I'd take a break from the news to share the story about how I was fortunate to witness an early glimpse into the genius of
@Lin_Manuel
.
9 years ago on this exact date, I saw him perform in the White House East Room. I even still have the program.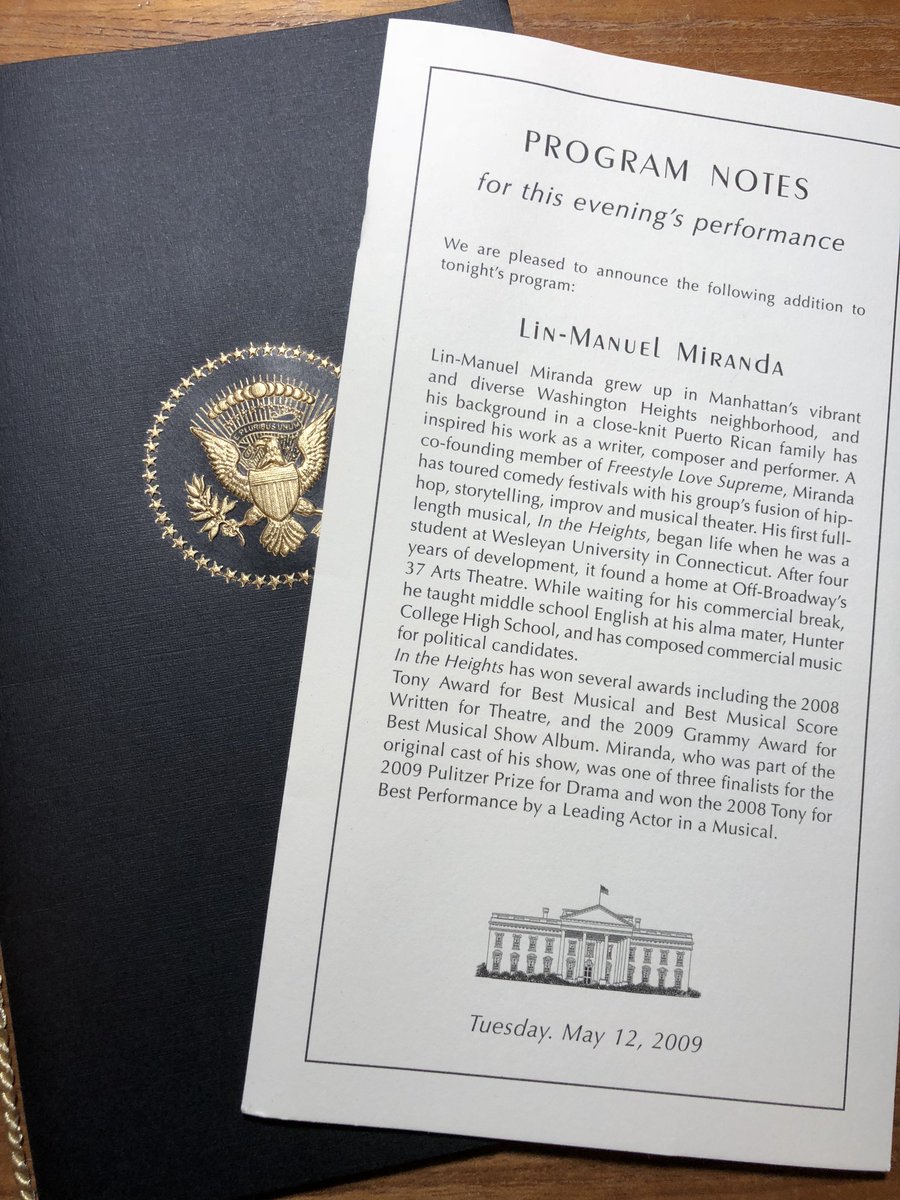 2/
My first WH job was in the Office of Legislative Affairs. We were simultaneously working on Recovery Act implementation, credit card reform, Senate confirmations, ACA, to name a few. I'd get to the office before our 7am mtgs and often get home after 11pm. Worth it, but…
3/
OLA was located in the East Wing of the WH to be symbolically closer to Congress. This meant anytime we went to get food from the WH Navy Mess (in the West Wing), we would cross the bottom floor of the residence, where we'd stealthily walk by the guests for official events.
4/
On May 12, 2009, I was picking up food for another long night when I ran into my friend from the WH social office. I must've looked haggard bc she said I should take a break and join the event. They had some cancellations and a few seats in the back. I had a lot of work but...
5/
I sat in the back & felt awk bc I was staff but just as I had second thoughts, the WH Poetry Jam started. A guy went on stage and said although he was invited to perform something else, he was going to perform a rap about Alexander Hamilton. I was skeptical yet very curious.
6/
Of course, that guy was
@Lin_Manuel
performing a song from his soon-to-be Hamilton musical. In fact, if you listen closely, you can hear my VERY high-pitched, so-excited-and-loud-I-forgot-I'm-in-the-same-room-as-POTUS/FLOTUS giggle at 2:15.
7/
After the event there was a reception for all the talent & attendees. I was standing in between the East Room & Cross Hall, still in a daze from the performances, when I saw
@Lin_Manuel
, also in a daze, stealing a brief moment alone in between being mobbed by new fans.
8/
We stood there in silence. Then, I just HAD to say something. I awkwardly blurted out how truly amazing he was. He was, as you would expect, wonderfully gracious.
10/
To paraphrase Leslie Knope and Teddy Roosevelt, working at the Obama WH was the best prize in life:
The chance to work hard, at work worth doing, with people I love.
Witnessing historic moments like
@Lin_Manuel
that night were indeed special.
11/
Don't let the daily news of corruption, dishonesty, and vitriol distort your view of public service.
The world has so many decent, honest, intelligent, hard-working people dedicated to making things better, inside and outside of gov.
I know bc I got to be in the room...
12/
Speaking of those incredible ppl, thank you to
@Lin_Manuel
for his positivity, his generosity, and his voice. 🙏😍
If you can, please donate to his org to help people in PR. Many are still w/o water/power.
hispanicfederation.org/unidos/