The single most rewarding bit of knowledge when it comes to cooking is food science, and I'm not talking
@ajit_bhaskar
level of PhD chemistry, just some basics that can completely remove your dependency on highly detailed & precise recipes.
So here are a few food science tricks that I've learnt over the last few months that I think will take your cooking to the next level. These largely fall under the categories of understanding caramelization of sugars & starches, pH levels & smoking point/temperature
The first trick will sound familiar but I'll bet almost every one of you is likely getting it wrong. Caramelization of onions. Literally every other dish involves sauteeing onions in oil & every one of those recipes will ask you to wait till they're translucent. Not good enough
Onions contain quite a lot of complex sugars but the caramelization reaction that breaks them down into astonishingly delicious simple sugars happens around 140C, and the difference in taste when you genuinely let onions get really brown vs just translucent is unbelievable
I made a batch of caramelized onions yesterday and the key thing is to do it slowly. If you let the pan get hot too fast, the bits that get caramelized first will turn into, well, nasty burnt stuff that's carcinogenic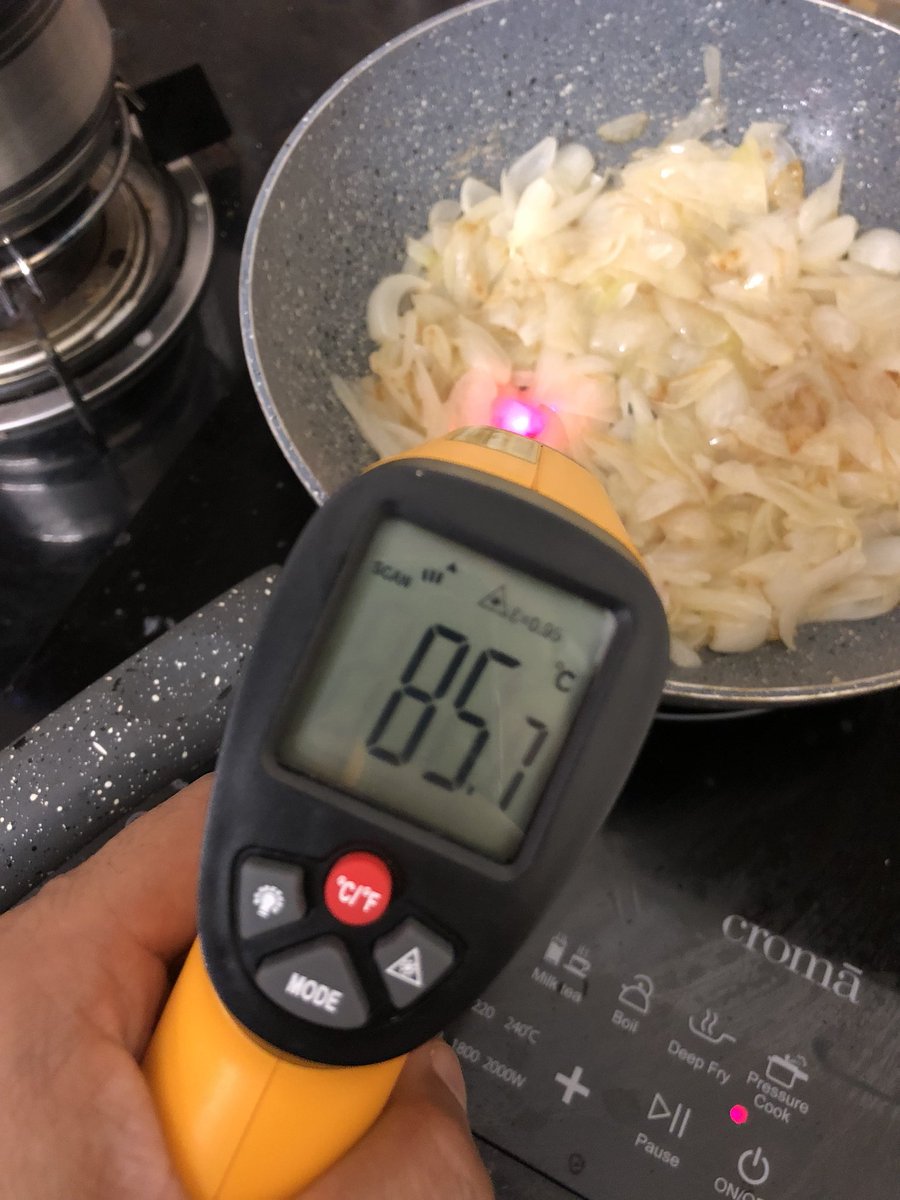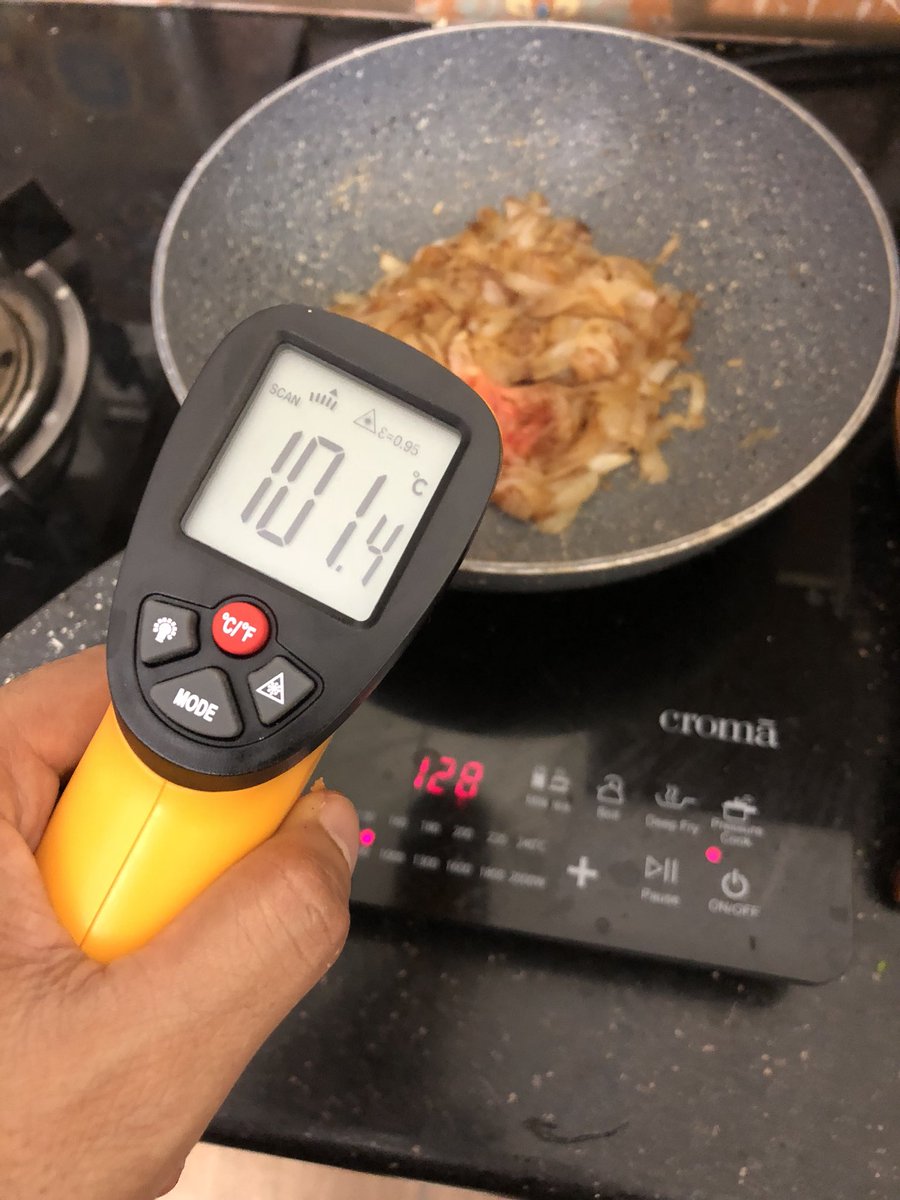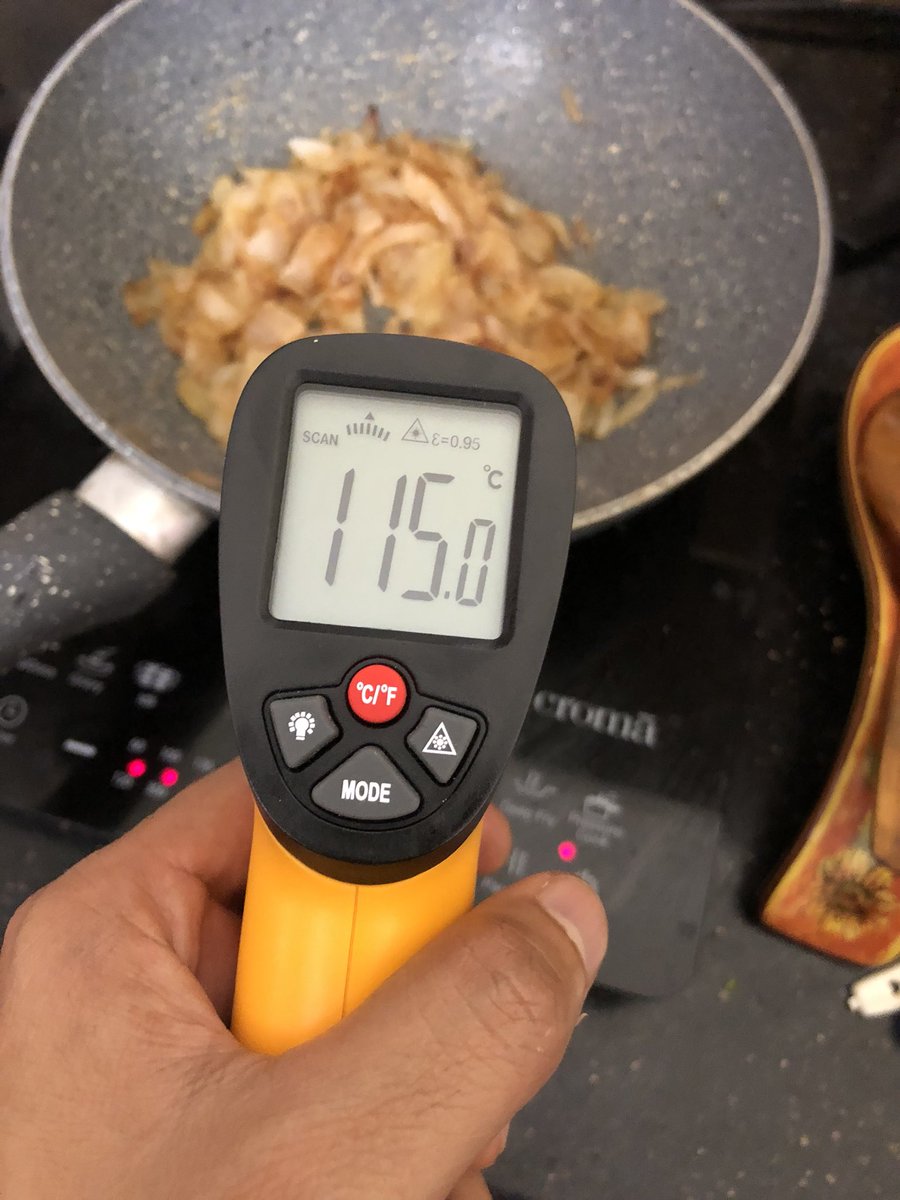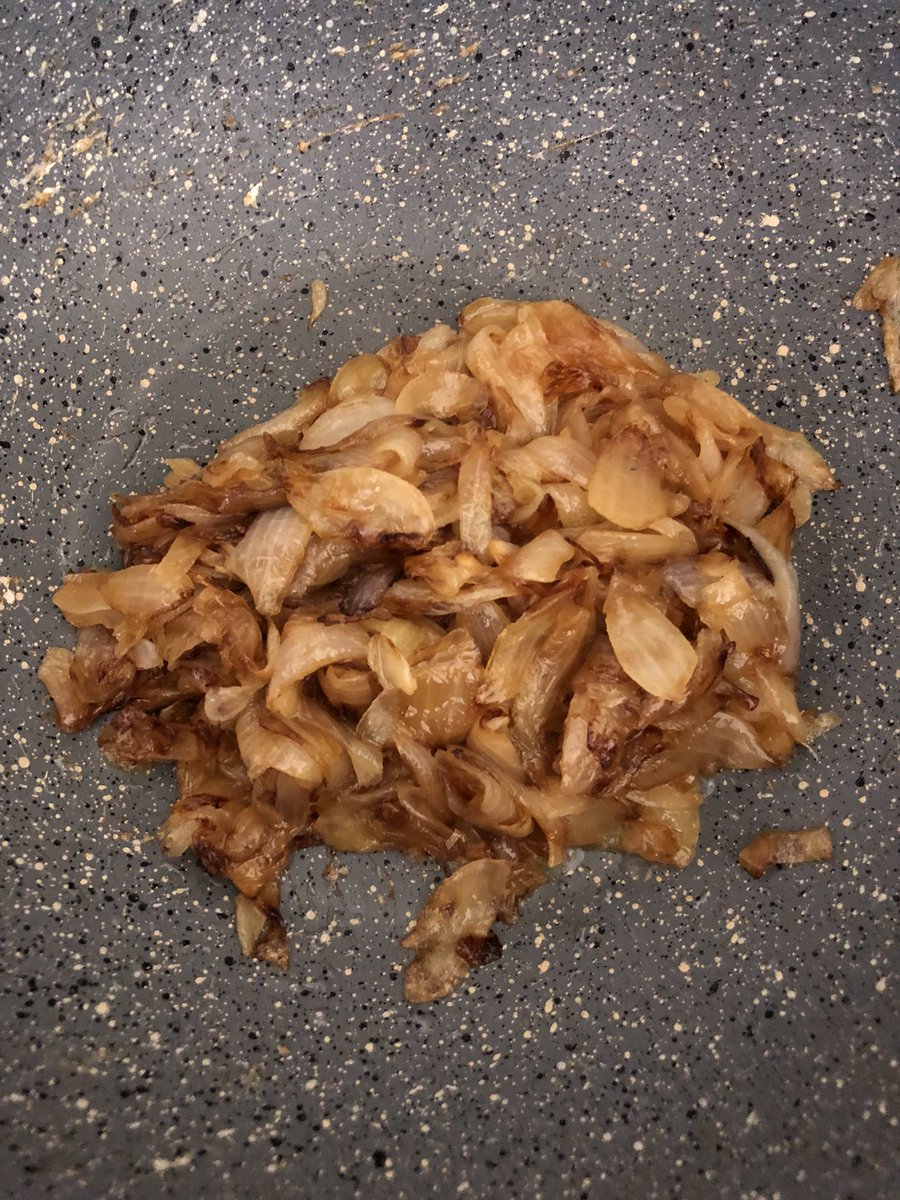 So when you are making anything simple, even a dal that involves onion, ginger & garlic, it's totally worth the effort to take the 10-15 mins it takes for a small amount of finely chopped onions to get completely caramelized. Pro tip for the adventurous: deglaze with brandy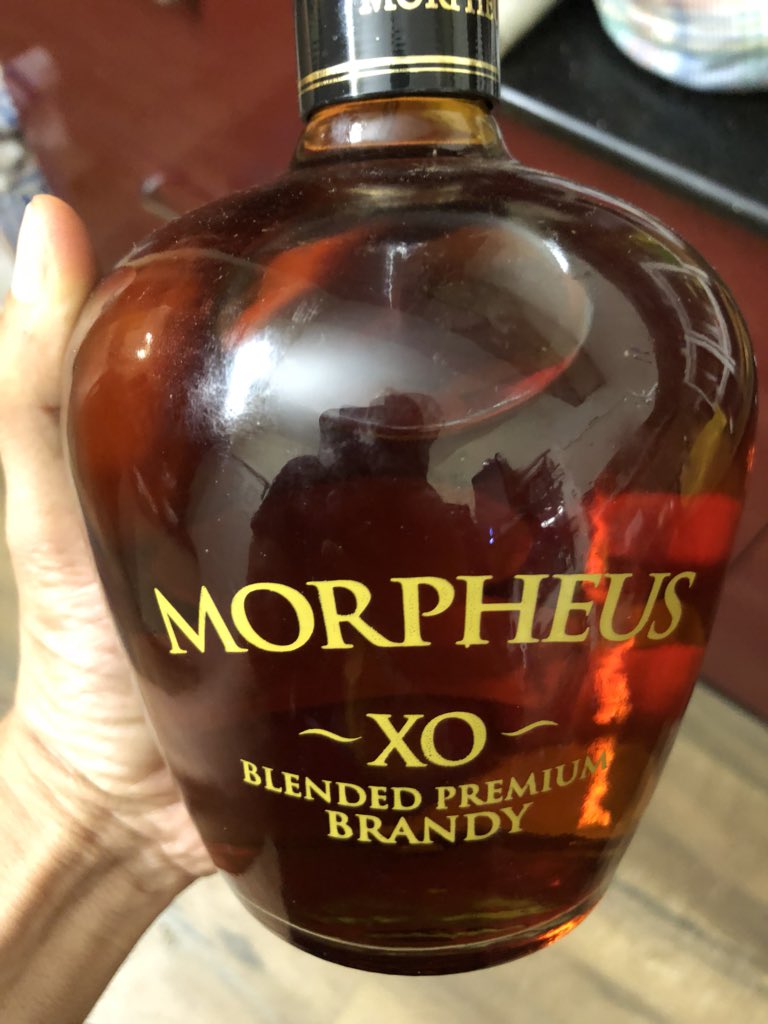 Those wondering if it's a good idea to use strong liquor in day to day cooking, remember this - alcohol evaporates at 78C, so most of it just vaporizes. The rest bonds with flavour molecules & more efficiently delivers them to your nose, thus improving taste.
Alcohol also more efficiently scrapes all the delicious proteins and sugars stuck to the bottom of your pan and prevents them from burning further. So it fits in the larger, good indian value of "never wasting stuff"
The second food science tip is about baking soda - sodium bicarbonate. The WhatsApp university types will tell you that it's bad for health and must be entirely avoided when cooking etc. As with most WhatsApp citations, utter nonsense. Soda is incredibly useful.
Adding a pinch of baking soda to a batch of peeled potatoes in boiling water will break down the pectin on the surface of the potato, increase surface area of ridges & releases a starch called amylose. Now when you fry those potatoes, you get amaklamatically heavenly crispy brown
I mean, if you think you have had crispy potatoes, (insert goundamani laugh) you haven't. Just try this and you will never ever make potatoes without that pinch of baking soda. In fact, its plant cell wall breaking properties are useful with Chana & rajma as well!
The third tip is about pH. It's important to understand the role acidity plays in food. Acids enhance other tastes even if they are, by themselves not great tasting. So it's useful to know what is acidic - tomatoes, lime juice, tea & what's basic - egg whites, soda
So squeezing a tiny bit of lime juice at the end of any kind of sabzi will totally lift its overall taste. Vinegar plays a similar role, but is a stronger acid than lime juice. Guess why they ask you to put a tea bag when pressure cooking channa?
Most assume that it is to lend a lovely brown colour, but that's not the important reason. Colour doesn't contribute to taste. The tea, which is acidic, compensates for the baking soda, which is added to cook the channa more efficiently (pectin breakdown etc)
Unlike acids, bases aren't great for taste at all. That's why excessive use of baking soda leaves a bad aftertaste that one regularly experiences in low cost restaurants that will use any trick to cut fuel costs of cooking anything. So the tea brings the pH down
I have 2 reading recommendations if food science intrigues you.
1.
Salt, Fat, Acid, Heat by
@CiaoSamin
- a superbly illustrated and accessible book on food science
2.
On food and cooking - Harold McGee - an incredibly influential book on the subject, but can get very sciency
And for those who aren't the reading types, Harold McGee has a fascinating lecture series on the relationship between food and science at Harvard
And finally, if you are serious about food science, buy an infrared thermometer. Actually, even if you aren't serious, it's still a cool device to keep around the house and it will hopefully inspire kids to learn science
amazon.in/Generic-Contac…