THREAD on the conspiracy theories about Jews that Jonathan Rosenhead of Jewish Voice for Labour (JVL) is promoting.
He unleashes a few his latest speech: Jews descended form Khazar region, Ruth Smeeth's walkout being "staged" to undermine Corbyn...
1/
antisemitism.uk/appalling-clai…


Which, apart from anything, is a pretty unpleasant assertion.
But he is now suggesting that it is possible that Israel is paying people to make antisemitic comments to topple Corbyn, which is worth unpacking.
2/
The idea of antisemitism in Labour being a smear has all the components of the classic conspiracy theory with its' unfalsifiability principle now firmly in play.
3/
Typical Conspiracy theories are unfalsifiable as any evidence given to contradict the theory is taken as being part of the conspiracy itself. EG: When Popular Mechanics debunked the 9/11 conspiracy theory it was claimed that they were on the payroll of the conspirators.
4/
Rosenhead, like many others, are committed to promoting the idea that antisemitism in Labour is a smear, there is more antisemitism on the right so the idea of antisemitism being a *specific* issue on the left is fraudulent, there is a conspiracy to make it a specific issue.
5/
But since mural-gate and the Enough is Enough demo there was a very noticeable outpouring of vitriol towards the Jewish community from parts of the left on social media, on Twitter and on Labour forums, in CLP's, and from new-left media.
6/
Then Corbyn himself admitted that there is a specific problem with antisemitism in Labour and said by far his strongest words to date which included an apology.
standard.co.uk/comment/commen…
Momentum also issued a pretty strong statement. 7/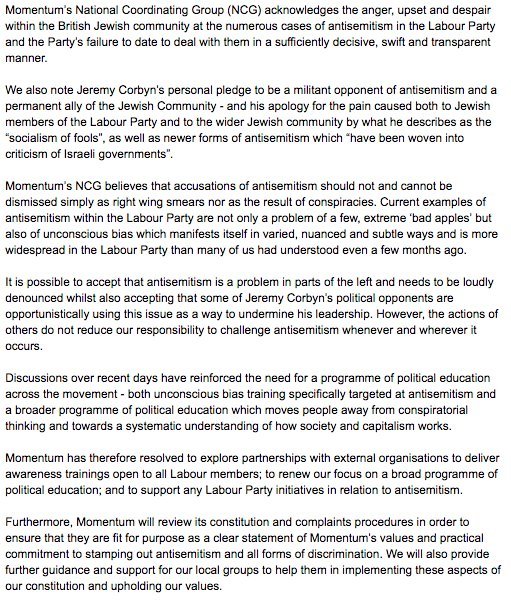 To those committed to the antisemitism smear conspiracy, it's translated to mean that what Corbyn & his staff are actually seeing may not be real. It can't be. Chris Williamson, promoter of the same conspiracy theory, thus shifted to blaming Tory trolls for the antisemitism. 8/


Conspiracy theories are also informed by our prejudices and biases. EG: Sigmund Freud became committed to the conspiracy theory that Shakespeare didn't write some of his plays *after* it emerged he wrote Hamlet before his father died, which debunked his Oedipal theory of Hamlet.
For Wiliamson his bogeymen were the Tories. But for Jonathan Rosenhead, with his anti-Zionism at the forefront of his politics, it is Israel, paying people to be antisemitic in Labour's name. Note also: how much more antisemitic the conspiracy theory is beginning to feel. 10/


Two other components of conspiracism have now come into play: Big event = Big cause and the conspiracy theory exanding exponentially every time new evidence emerges.
Corbyn's statement = big event.
Israeli government trying to topple Corbyn by subterfuge = Big cause.
By now the conspiracy is huge. Labour Right, the entire MSM, the Tories, the pro-Israel lobby, the Zionists are now joined by the ghoulish foreign power which happnes to be their ideological bogeyman.
12/
Antisemitism in Labour as a smear is now an absolutely perfect conspiracy theory: no amount of evidence can be be produced to counter the claim becuase if frequent antisemitism does appear, it isn't real. It's infalliable.
/13
But it's worth emphasising that this is a conspiracy theory starring Jews. Conspiracy theories about Jews have traditionally led to pretty negative outcomes and there is evidently still plenty of room in the Labour Party for people who spread them. /ENDS