I would argue that you and pro-gay writers like Matthew Vines overlap on identity much more than we overlap either with you or with Matthew Vines.
I am not the one who talks about gay identity: you are. I have criticized identity talk.
spiritualfriendship.org/2012/07/12/ide…
Yet despite the fact that I have persistently denied that I see my sexual attractions as a defining or constitutive part of my identity, you persist in uncharitably and dishonestly responding as if I do.
This is less surprising to me in Rosaria Butterfield. Her academic training is as a lesbian feminist doing women's studies, and has no formal training in Christian philosophy or theology. It doesn't surprise me that she is unable to think outside the cultural studies box.
But I would expect a theology professor who read my writings to see that in shifting the conversation to chaste friendship, vocation, etc,
@aelredsfriends
is in fact reaching back into the Christian tradition to formulate a very different way of thinking about love and desire.
Sexual attractions (both those that are rightly ordered to procreative marriage, and those that are in some way disordered, are just part of post-fall human experience. After Freud, however, the idea began to spread that all love was REALLY based on desire for sexual pleasure.
From the essay: "Though this provides a way of thinking about same-sex love (friendship) as well as same-sex lust, it is very different from the sexual orientation paradigm which dominates modern thinking. ...
... On many popular versions of that view, if a person is sexually attracted to the same sex, their only chance for real love lies in a homosexual relationship. ...
... On the other hand, Christians often think that if the Bible forbids gay sex, then it must also forbid any close same-sex love.

Aelred offered a new framework, which was Biblically grounded and which jibed more closely with what I had experienced.
The difficulty I find in arguing with you is that your thinking about desire, sexuality, and human love seems almost as Freudian as Matthew Vines'. You disagree with him about the place of same-sex sexual desire in God's plan. You think it's bad, he thinks it's good.
But you see the phenomenon in similar ways.
@wesleyhill
and I, however, see it differently. We think that at least some important aspects of the longings and desires of LGB persons would find their proper fulfillment in chaste friendship--which is true friendship.
The fact that you don't engage any of those arguments, and focus on arguing as if our main goal was to defend "gay identity" in the same way that Matthew Vines does shows, I think, that you have more in common with him than you think.
C. S. Lewis, "On the Reading of Old Books," points to the way that within the same culture, there are shared assumptions between those who apparently disagree violently. I may be wrong. But at least acknowledge that I've read old books and am resurrecting "Spiritual Friendship."
Here's the money quote from Lewis: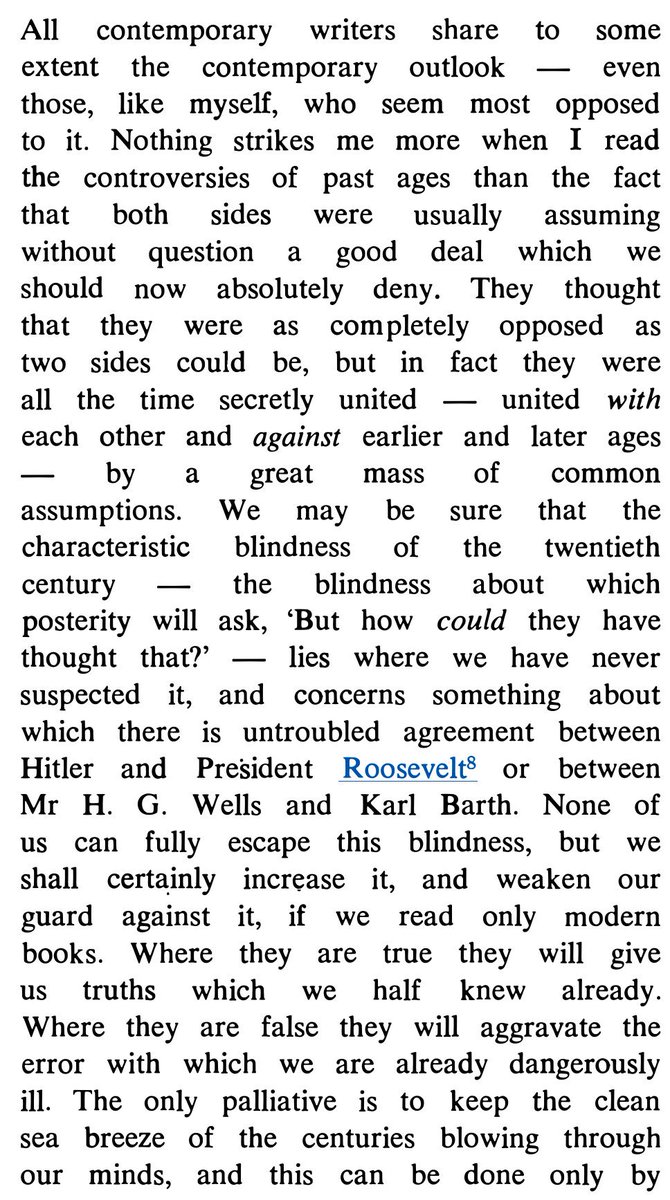 See also Augustine, City of God, Book XXII, Chapter 23:
newadvent.org/fathers/120122…
For though sometimes more violent and at other times slacker, yet without intermission does the flesh lust against the spirit and the spirit against the flesh, ...
... so that we cannot do the things we would, Galatians 5:17 and extirpate all lust, but can only refuse consent to it, as God gives us ability, and so keep it under, vigilantly keeping watch" (see link above for context).
In "Is Homosexual Orientation Sinful?"
dennyburk.com/on-the-ethics-…
@DennyBurk
gives a lot of attention to his interpretation of Augustine, arguing that later in life, he came to view temptation as sin. I'm not an Augustine scholar, but Book XXII of CoG was pretty late in A's life.
In acknowledging ongoing sexual attraction, while resisting and seeking to redirect our affections to chaste, Christ-centered friendships, we refuse to consent to the flesh so that we can remain faithful to the Spirit.
See
firstthings.com/blogs/firsttho…