In Taos for a detention hearing on the 5 suspects arrested at a NM compound. Suspects have walked into the courtroom. Hearing about to begin.
Prosecutors making an opening statement: Prosecutor says suspect Siraj Wahhaj took several firearms classes in rapid succession in 2015. In 2017 he made a trip to Saudi Arabia. When he came back he told his wife he wanted a divorce.
Prosecutors now discussing a rollover crash last year where several children were hospitalized. Siraj Wahhaj was armed and several other guns were found in addition to a bullet proof vest.
Interviews with children allege that rituals were preformed on a small child named Abdul. The child died during one of these rituals.
The children told investigators they were told Abdul would be resurrected as Jesus and instruct them on what corrupt institutions to attack. Including teachers. The children were allegedly given tactical training on how to clear rooms and taught how to shoot firearms.
Prosecutors say the two men were heavily armed when they were arrested. Children were found carrying ammunition. One may have been armed.
Sheriff on stand, saying they didn't take bullet proof vests because they aren't illegal to have.
Sheriff says Siraj Wahhaj was armed with an AR15 and a pistol when taken into custody... and a boy was also found with a holster, later telling investigators that he was told to arm up by Siraj and armed himself during the raid.
.308 Sniper rifle found, 30/30 and a glock among the firearms found on the compound.
Sheriff says ATF is doing background check on the guns that were found- but so far nothing out of the ordinary.
Defense attorney making the case that it might be prudent to teach teenager how to safely use firearm. Sheriff agrees.
Sheriff says the deceased child was wrapped in cloth and plastic.
FBI says that the children told them about rituals that were performed on the small 3 year old child Abdul. Says the children reported that Siraj would place his hand on the child's forehead and repeat verses from the Koran. Says the boy died during one of those rituals in Feb.
FBI says boy told him they would participate in tactical training, speed loading, moving and shooting and room clearing. Child says at first training was to defend compound against government.
The boy then told the FBI they were trained on how to attack "corrupt institutions" including financial institutions. Said they would carry out attacks by telling people about their message and if they didn't accept the message they would kill them or detain them
FBI says that one of the women believed that Abdul was rightfully her son and stolen from her womb by black magic.
The child said they were told that Abdul was possessed by demons and the suspects believed he was dead and only able to walk because the demons kept him alive. They believed that when the last demon was exorcized, Abdul would come back as Jesus.
FBI says the children told them that the body of Abdul would be washed by hand every other day. Eventually placed in the tunnel because it was cooler.
The FBI says children told them that one of the mothers believed she was receiving messages from the angel Gabriel that she would translate.
FBI says that the children said the corrupt institutions were educational institutions, law enforcement or banks.
FBI has finished testifying. Prosecutors arguing that this family was on a violent and dangerous mission with future dangerous conduct. Describes them as anti-government as they ask judge to keep them detained until trial.
Very telling exchange between prosecutor and Judge. Judge says she hasn't heard anything about the condition of the children, which she expected to hear today.
Important note: Initially authorities said the children appeared to have been starving and filthy, dressed in rags. So far, unless I missed it, we have not heard that in court.
Defense now making the case that the rituals were faith healings. Says if these were white people of a christian faith with guns, it would be of no consequence. Judge asks, what about the child who was taken from family and died?
Defense says they didn't hear a single fact about the child abuse charges. Says Siraj has a clean criminal history.
Judge says her concern is that a young child died. Defense says the state has not proven their case in holding the defendants in custody until trial.
Second defense attorney stands up and says her client wasn't really mentioned during the hearing. Says she has no criminal history and his a mother to an 8 year old daughter who is now in CYFD custody. Says she came to NM because a credible threat had been made to her family.
Attorney for Subhannah Wahhaj now saying her client was barely mentioned in the hearing. Says she is 7 months pregnant and there has been no evidence that she had anything to do with the firearms or training. Says state has failed to show her client is a threat.
Defense attorney for Jany Leveille says that during the raid- she told others to disarm and put their weapons down. Says she wasn't involved in the firearms training, but even if she did, it wasn't illegal. Says they have heard nothing to suggest she was abusive.
Prosecutors closing, saying a 13 year old and a 15 year old were talking about being trained in weapons tactics & getting rid of government institutions, a dead child, letters to others saying bring guns, etc. Says looking at the totality, suspects should be kept detained
Judge has left the courtroom after saying she will make her decision and be back shortly.
Judge is back- says what she heard today are troubling facts about numerous children in far from ideal circumstances living in an unconventional way.... says most troubling fact is the young child who died.
Judge says the defendants didn't have a criminal history. Says the state wants her to make a leap based on troubling facts, but she didn't hear a plan that was being made by the state.
BREAKING: TAOS JUDGE allowing bond and conditions of release in the
#NMCompound
case- $20,000 + list of conditions. Says state failed to prove the defendants should remain in custody until trial.
@NBCNews
BREAKING- Defense attorney says suspects will most likely be released from custody tomorrow. Unclear what will happen to Siraj Wahhaj who may have a fugitive warrant out of Georgia.
#NMCompound
@NBCNews
BREAKING: The suspects in the
#NMCompound
child abuse case will be released on a signature bond. THAT MEANS THEY WILL NOT HAVE TO POST ANY MONEY TO BE RELEASED.
If you need a quick refresher on some of the allegations and complexities of this case.... This walk through of the compound is a good place to start.
#NMcompound
👇🏽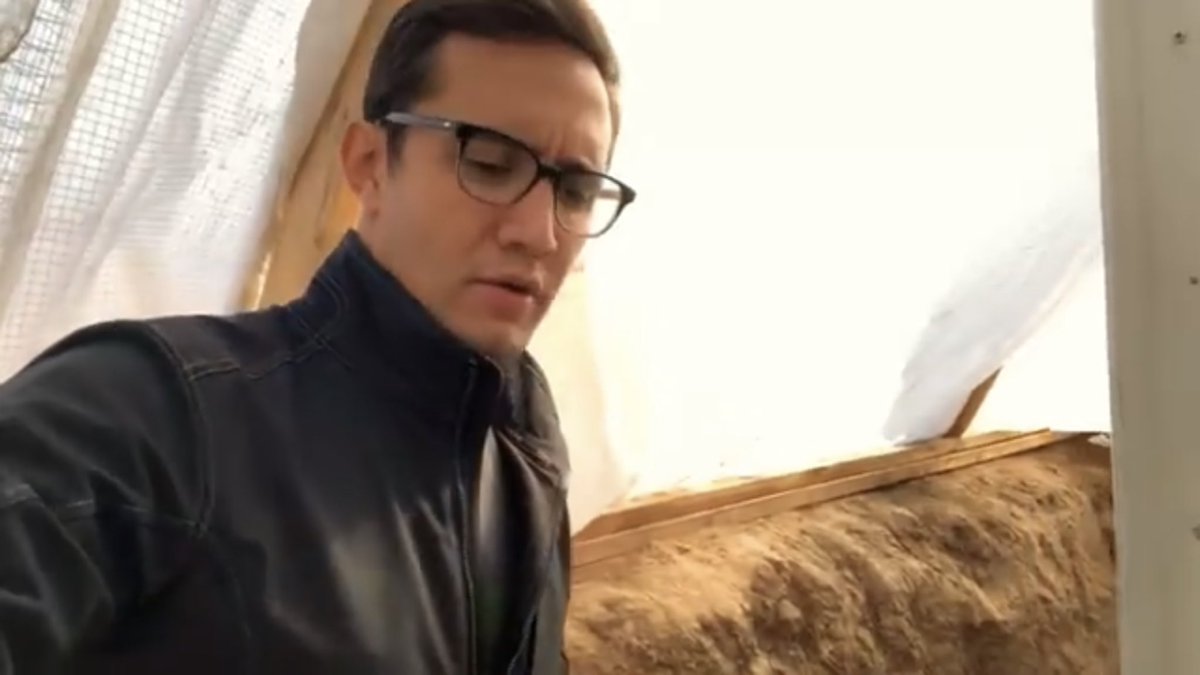 Quick note on NM law... Burden is on prosecution to prove a defendant is so dangerous that no other condition of release, pre-trial, will reasonably protect public safety. State must prove by clear and convincing evidence.
#NMCompound
@NBCNews
The above was a letter to a family member encouraging them to join the compound