it is a busy day here in charlottesville! after ramos' sentencing, there's an albemarle county school board meeting. residents, parents, and activists are asking the school board to ban hate symbols, like the confederate flag, in county schools.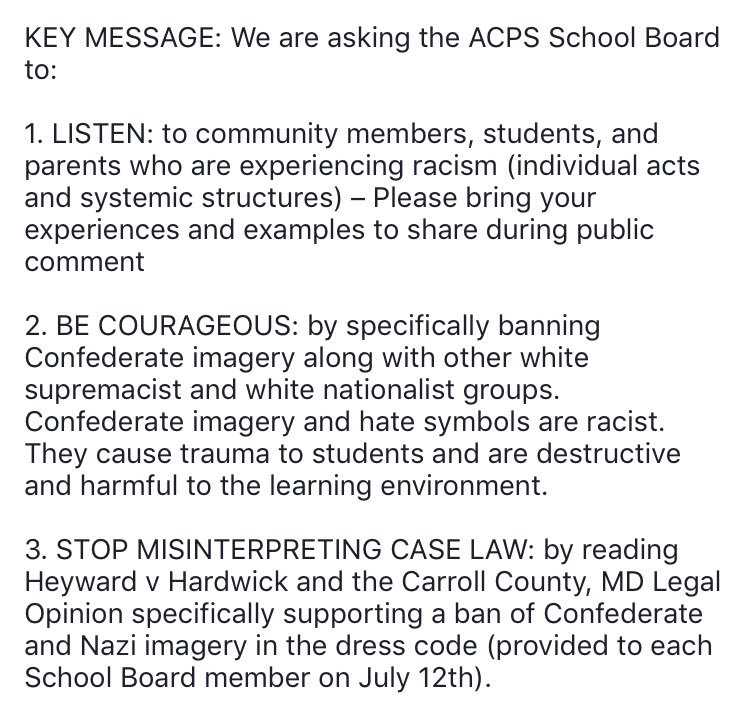 the albemarle county school board meeting is, inexplicably, being held in a very small conference room down the hall from the auditorium it's been in every other time i've ever attended. the room is at capacity, with people standing, lining the walls.
members of the hate-free schools coalition of albemarle county are joined tonight by the hate-free schools coalition of orange county, nc.
after the events here last august, orange county, nc schools successfully banned hate symbols from their schools!
heraldsun.com/news/local/cou…
public comment is starting momentarily. we'll hear from both local & NC members of hate-free schools. the policy is on the agenda for later tonight as "info/action" - it isn't clear whether there will be a vote tonight.
members of the coalition tell me if there IS a vote tonight, they are hoping for a no vote, as the current policy does not contain any of the language they requested.
we've been warned that the rules of public comment are that we can stand to show support, but we can't make any noises of approval or disapproval, including applause.
the first speaker: "we were lied to" - HFSC was told the policy revision would include language to ban confederate flags. it does not.
HFSC was shut out of the process. "we did your research for you. not a single board member reached out to follow up."
"no board members would agree to meet with us."
ACPS is unwilling to represent the voices of the most marginalized.
"i want to say something about all the righteous anger you will hear tonight: sit with that."
the speaker says board members who don't vote to ban hate symbols will be voted out.
the audience snaps in support, and a member of the board yells "NOPE! NOPE! NO NOISEMAKING!"
"you can be either anti-racist or racist. there is no in between. we are coming for your seats, we are coming for your jobs."
the crowd applauds. the same board member calls a recess to tell us they will not tolerate "vocalizations" of any kind and threatens to remove us.
she's called a ten minute recess. the audience chanted SHAME SHAME at her until she left the room.
this is... much more disruptive and wasting far more time than a little clapping would be.
a community member, a woman of color and a teacher, asks if they are really threatening us with police, with physical removal, for snapping our fingers. would they really arrest a teacher at a school board meeting? several board members have left the room silently.
it's pointed out that there are community members standing in the hallway, due to the room being at capacity, despite the empty auditorium just down the hall. members of the coalition contacted the board ahead of time about the need for a larger room.
the actual guidelines prohibit ALL forms of showing support for a comment, but the board explicitly said folks could stand to show support. at the very least, this proves they can modify their own policy at will.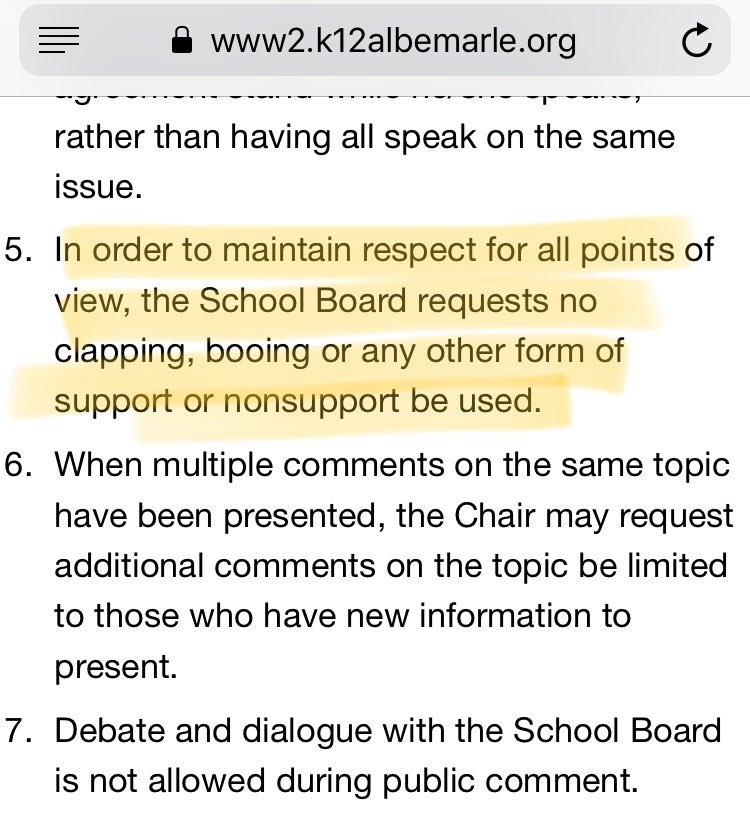 many board members were chatting in the hallway during this recess. i wonder if anybody discussed meeting business outside the public meeting? sure would be a shame if they violated the open meetings act.
oh interesting. the board member says "school board meetings are held in public, but they are not public meetings." any policy experts wanna weigh in on that?
we're being scolded heartily. apparently "any form of noisemaking" could discourage people from participating?
he says we can stand to show our support. there are several members of the community in this room who have disabilities that would prevent them from standing. and what about the people in the hallway? or the people who don't even have chairs?
oh these cowards just motioned to adjourn. they're leaving.
the albemarle county school board won't even sit in a room with the public long enough to hear from parents about how their children are being harmed by racist symbols in their schools.
representatives from hate-free schools have said they'll stay and give their comments anyway. school board members are trying to clear us from the room, "this meeting is adjourned!" but this is our meeting now. one parent followed a board member out, "get the fuck out!"
a police officer is now asking us to leave. says he "does not want to" declare it an unlawful assembly.
i think we're moving the people's school board meeting outside.
one member of the community, an attorney, says she was trying to speak with the board chair when the chair accused her of assault. unclear if there's going to be follow up on that accusation...
we've appropriated the outdoor benches for the continuation of the public comment from the hate-free school's coalition.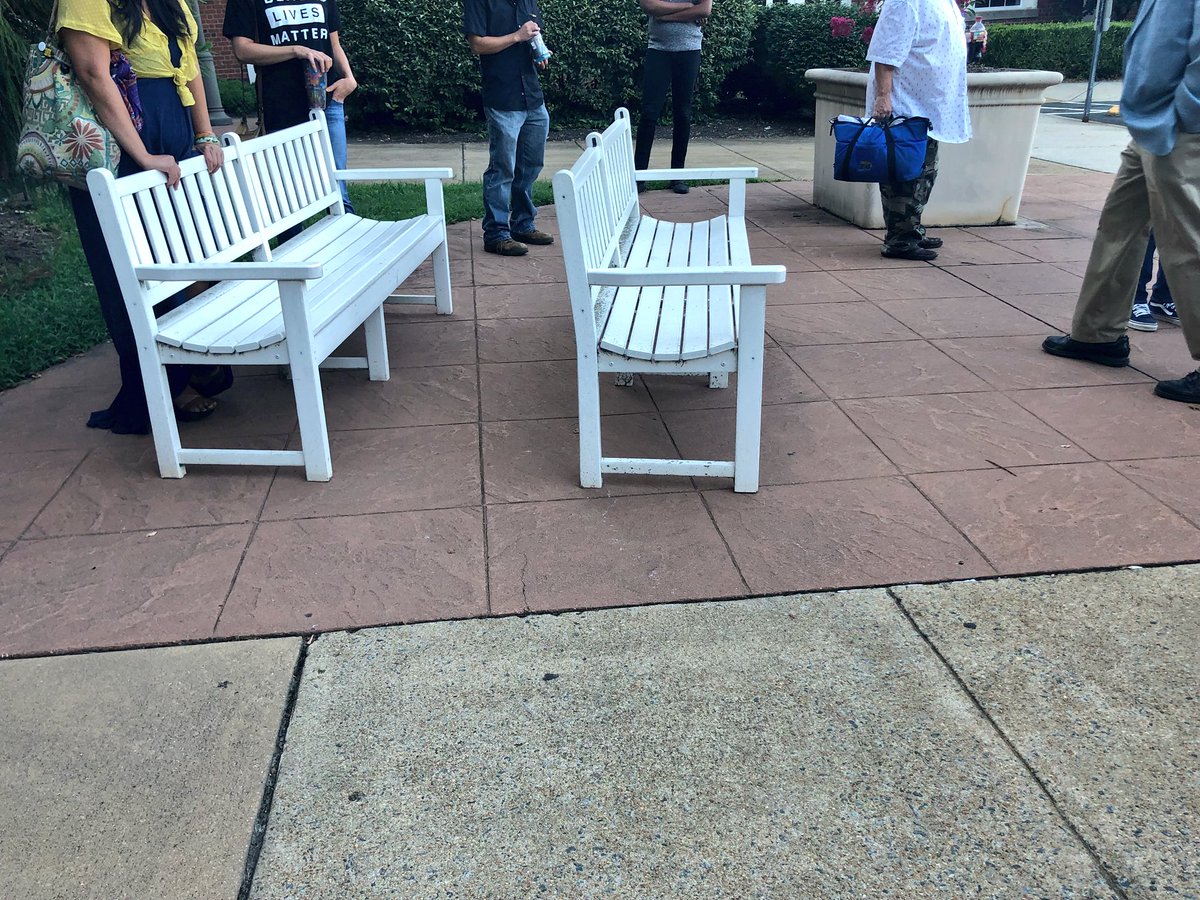 apparently the school board chair told the representative from orange county, nc hate-free school coalition that she was a "bitch" and should "go back to north carolina. (i did not witness this, but trusted community members did.)
the indomitable
@ZyahnaB
jokingly introduces the rules of the meeting, riffing on the absurd rigidity of the school board.
this speaker says the board told them they were unable to ban racist imagery "due to legal concerns," which they say is false. the board says confederate imagery in schools creates "teachable moments" 🙄
traumatizing children is not a teachable moment. the teachable moment will be when the board bans confederate and racist imagery and explains their decision to do so.
a seventh grade student is now addressing the crowd to great applause, which is not disruptive.
"if you believe in respect, i challenge you to treat all students with respect and dignity" and "ban confederate imagery from our school system" says the student.
"how are we really preparing our children for the future" by failing to teach them the truth behind these symbols?
the next speaker is citing misstatements by school board members about the issue. one board member misrepresented a supreme court decision, another claimed to be unaware of any legal precedent upholding a ban on this kind of imagery.
the speaker lists five court decisions that would support the ban, starting with tinker v des moines: student speech may be limited if it causes a significant disruption. another case specifically cites "racial hostility."
(i'll reach out to her for the full text of her comment!)
jamie paulen from orange county HFSC came all this way to give her comment, only to be called a bitch by the albemarle coubty school board chair, who also accused her of assault.
another school board member just passed us, walking to her car with a police escort.
"the first amendment argument is a red herring. it's white supremacy." the audience applauds and thanks her for making the trip. now hearing from another student.
confederate flags in the classroom foster an unwelcoming environment for many students. it is a disruptive symbol of hate that infringes on the rights of others. she calls on the board to foster an inclusive environment in their schools & cites other districts who have banned it.
a teacher has a textbook in hand, a public school law book published by pearson, and is reading aloud a passage about court rulings allowing banning of such imagery in school dress codes, which cites racial hostility & school disturbance.
another cited example cites the school's stated purpose of "inculcating manners" and upholds an anti harassment policy punishing the display of racially hostile imagery.
"thank you all for staying, thank you all for fighting."
the next speaker is from chapel hill, nc & a member of HFSC. there is big applause! (again, that's not disruptive! our meeting is going just fine!)
"the courts are behind you and there is no need to be fearful" "it is time to be on the right side of history."
this speaker cites an event in which monticello high school students publicly displayed confederate symbols the day after an administrator demanded other students stop distributing black lives matter materials at school.
"the culture of white supremacy is alive and well"
"we are asking the school board to make the hard but necessary" decision to stand up for marginalized students. crowd cheers and chants "ban it now"
latarndra strong, the leader of hate free schools in orange county, nc says she has never gotten used to seeing the confederate flag. it's a reminder to stay in your place & do what you're told. "that time is long gone
wral.com/racist-threats…
fiZP
"this fight is worth your energy"
"it's a baseline. it's a baseline of human decency."
strong says they addressed their school board every two weeks for 9 MONTHS as they navigated this process. they now have an equity task force focusing on race related issues in schools. "there are some great things happening."
"you're in the storm now," but change is coming.
after orange county changed their policy, five other districts immediately made similar policy changes!
jessica taylor, also from orange county, encourages us to VOTE THESE PEOPLE OUT. she says she wasn't civically engaged until this issue. she helped get antiracists on their school board & says we can do it here!
now chanting "vote them out!"
another speaker from NC, "the hate symbols in our schools are th same as confederate statues."
"there's a difference between remembrance of history and reverence for history."
another NC HFSC member: "he [a board member] has to face racism without fear."
the worst part of white supremacy isn't nazis in the streets, it's white board members in meetings ignoring their constituents, she says to applause.
a woman says everyone here needs to ask themselves "am i gonna be the one who runs for that seat?"
a member of albemarle county hate free schools coalition says "this is the best possible outcome," of the successful people's school board meeting outside the county office building. "this is our community."
well folks, that meeting started out with peak white fragility and ended in a powerful showing of community. we have a lot of work to do but this community can absolutely do it.