And here we go... Justice Kagan and Sotomayor take the stage with Yale Law Dean Heather Gerken at Princeton's celebration of 50 years of women.
#SheRoars18
#YahooNews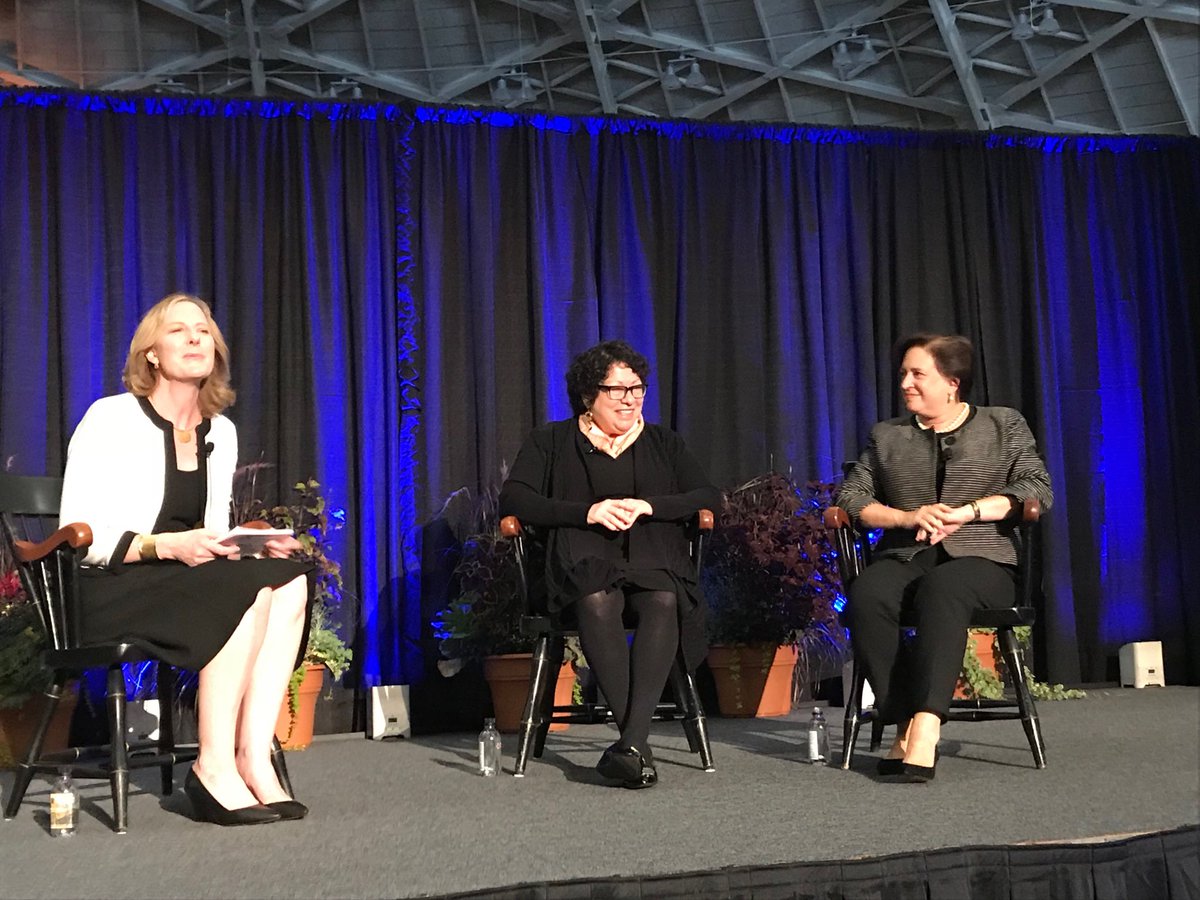 "I would have never imagined a crowd like this when I came to Princeton... To see a gymnasium filled with women..." Justice Sotomayor
"The longer I stayed at Princeton the more different I felt compared to most of my classmates... It was just opening its doors to women...When you feel like a fish out of water I dont think you ever completely get past it..." Justice Sotomayor
Elena Kagan thanks her senior thesis advisor, in the audience, for "convincing me I didn't want to be a historian." Recalls that her senior thesis on the Socialist Party caused a lot fo trouble during confimation hearings because "they assumed I was a Socialist"
Seems both Justices wrote veeeeery long senior theses. Longer than mine certainly, Kagan's was 150+ pages
"You have to demonstrate your ambition" Sotomayor says about finding and working with a mentor. "You don't find them, they find you..."
Justice Sotomayor recalling getting a C from beloved emeritus professor Nancy Weiss (also here) brings laughs of recgonition from audience of 3300 Princetonians, most of whom have also had Professor Weiss
"When you go into the workplace find people who are doing things that you admire who are doing things that you don't think you know how to do," Justice Sotomayor on how to choose a mentor "They open up different worlds to you."
Seems Professor Weiss didn't give Justice Kagan a very good grade either...
"This job has life tenure you know, so it's going to be awhile, knock wood..." Justice Kagan talking about how her career before SCOTUS was a variety of types of jobs...
The crowd of fellow alumnae love these two women, but are also eager to hear about the one thing they likely won't actually talk about -- the events of the week...
"I thought I was going to be a University president as my next job, and then here I am, doing this..." Justice Kagan
"I had a mother who went to college when she was in her late 40s and she taught me that its never too late to retool..." Justice Sotomayor
"There is no occupation or profession that can't give you an avenue to do good work,"Justice Sotomayor, talking largely to the hundreds of current students in the balcony
"Each of you has been in many situations where you are the only woman in the room..." Dean Gerken, first woman Dean of Yale Law to Justices Kagan and Sotomayor
Justice Kagan recalls the wall of "13 of the scariest looking older white men", all former Harvard Deans when she took over the job... "so the first thing I did was I took that picture down..."
"I don't believe that you can be part of the working world without having a story about being treated differently because you are a woman," Justice Sotomayor, "even today..."
"It took (Justice Scalia) awhile to invite me (to the men's poker game) and I think they were glad when I said no," Sotomayor says. "They never invited me," offers Kagan. "We did it in reverse," Sotomayor says, "we have poker games and don't invite them."
"There were always men of good well, men who understand that equality had to be put into practice, men who mentored me. They are still out there." Justice Sotomayor
Dean Gerkin: "This is a very difficult time in terms of partisanship, and the court has always been known as a neutral arbiter, but it's hard these days..." getting to the subject everyone wants to hear about
"Part of the court's strength and legitimacy depends on people not seeingt he court the way people see the rest of the governing structures right now... somehow above the fray, even if not always.... not merely an extension of the terribly polarized political process..."
"Our political parties have adopted the conversations that judges were having for the longest time about how to interpret laws and the constitution," Sotomayor says about originalism vs broader interpretation.
"I think there are structures within the court, not the least of which is our modern understanding that we have to rise above partisanship in our personal relationships, that we have to treat each other with respect and dignity..." Justice Sotomayor
"Neil Gorsuch and I are doing a lot of work together promoting civic education in the United States..." Sotomayor
"All of us need to realize how precious the court's legitimacy is. Every single one of us has an obligation of what it is that provides the court with its legitimacy and how we can be not so politically divided as some of the other institutions in the nation," Justice Kagan
"There are some periods in our history where the members of the court had pathological relationships with others, they would walk out of the room when others walked in. We don't do that..." Justice Kagan
"We have lunch all the time. This might seem a little thing, but every time we meet to discuss cases, we follow that with a lunch in the Judges dining room, and there are rules, you can't talk about cases..." Seems they talk about each other's families instead, and tell bad jokes
Another key to really getting along, Kagan says, "we get to escape each other in the summers" and when get back together in the fall "you realize that you miss each other."
"Justice Clarence Thomas knows every employee in the building, is the first to send flowers when someone is sick," Sotomayor says. He and I havent voted together on hardly anything, but I know there is a deep goodness inside of him. When you can approach people this way there's..
"...more space to talk, more space to compromise..."
Dean Gerken asks about their dissenting arguments, "because I think you might have more chances to dissent" in the near future
"I bet the majority of people never read a Supreme Court case. They read the summaries in the New York Times..." Justice Sotomayor
Gerken asks about Kagan phrase "weaponization of the First Amendment" and how it came to be, since it was a rare flash of anger in her writing. She says "some cases are the court going down a road that you think is profoundly dangerous. And when you see that you have to say so."
"If you're speaking to the next generation, you have to up your rhetoric a bit," Justice Kagan
Sotomayor talking about how she wants to make people feel with her dissents and Kagan about how she wants them to think... (or, perhpas "to feel that they think the majority is very very wrong..." )
Kagan -- doesn't think about her gender on the bench. Cites studies that show she and Sotomayor get interrupted more than male colleagues. Says it happens in other parts of her life, but not on the SCOTUS bench.
"There are three women on the bench, none of us are shrinking violets, we all ask lots of questions, we all can give lawyers a good run for their money... We don't take a backseat role..." Justice Kagan
Sotomayor, on the other hand, says "I do not disbelieve the statistics about interruptions," but adds that "it doesn't affect us because we just don't care..."
Kagan : "When I get an email it is such an exciting moment" because people just don't email Supreme Court Justices apparently...
"This is what you can't do and still be able to do your job well and according to the ethical rules of the job... Sure, there's a lot of stuff I can't talk in public about, but that's true of most jobs in the world..." Justice Kagan on not being able to say everything she thinks
"You can't wear shorts anymore. When I was just a judge people wouldnt think fo taking a picture of me walking around my neighborhood," now they do..." Sotomayor...
Sotomayor: "I used to be able to share a view with a friend and not worry if they would report it publicly. Now I am much more guarded."
What do you do for fun? Gerken asks two Supreme Court justices. Seems Sotomayor likes cooking and poker and good food. "This is fun," she says about flying here with Kagan...
Kagan says she reads a lot, goes to movies "try to do some exercise once in awhile..." Thinks Sotomayor is more recognized. "I find as long as I put on a hat and sunglasses... So in the winter it's a little but weird. But I can do most things without making a scene."
Gerken with another zinger (since there's so much she can't ask...getting frustrating ) -- what would your dream job be if not this one? Sotomayor says she loves law in all its forms, but would love to be a salsa dancer
Kagan says "I think I'd be Serena Williams"
Last question from Gerken, about the "effect that Princeton had on you...What has stuck with you from Princeton?"
Sotomayor: "It opened the door of opportunity for me. It was transformational...I didnt really understand what it meant to come to a place like Princeton and all of the changes it would create in me. That gift is one I treasure."
"I got the best education and I made the best friends..." Kagan on Princeton experience "
And, we're done... Without Kavanaugh's name mentioned once...