1/
We launched the first version of Schoolze in 2015. Last 3 years has been a journey of highs & lows but our discovery of
#SchoolSuccess
factors has been fascinating. Here is how we did it -
2/
Schoolze started as a classroom productivity tool and a year later, we built a school product to measure parental engagement. While at it, we discovered a major shift taking place in K12. To understand this shift, let's revisit some historical K12 facts.
3/
Our current K12 model dates back to the Industrial Revolution of the 19th century. Influenced by conformity, compliance & obedience, it sought people who could take instructions and get a specific job done without being disruptive.
#YouYourChildandSchool
4/
Standardization being the norm, Testing was introduced to filter people based on academic ability & a 12-year conveyer-belt process begun to mass produce knowledge "workers".
@salkhanacademy
&
@michaelnoer
(
@forbes
) did a fantastic video on this here - .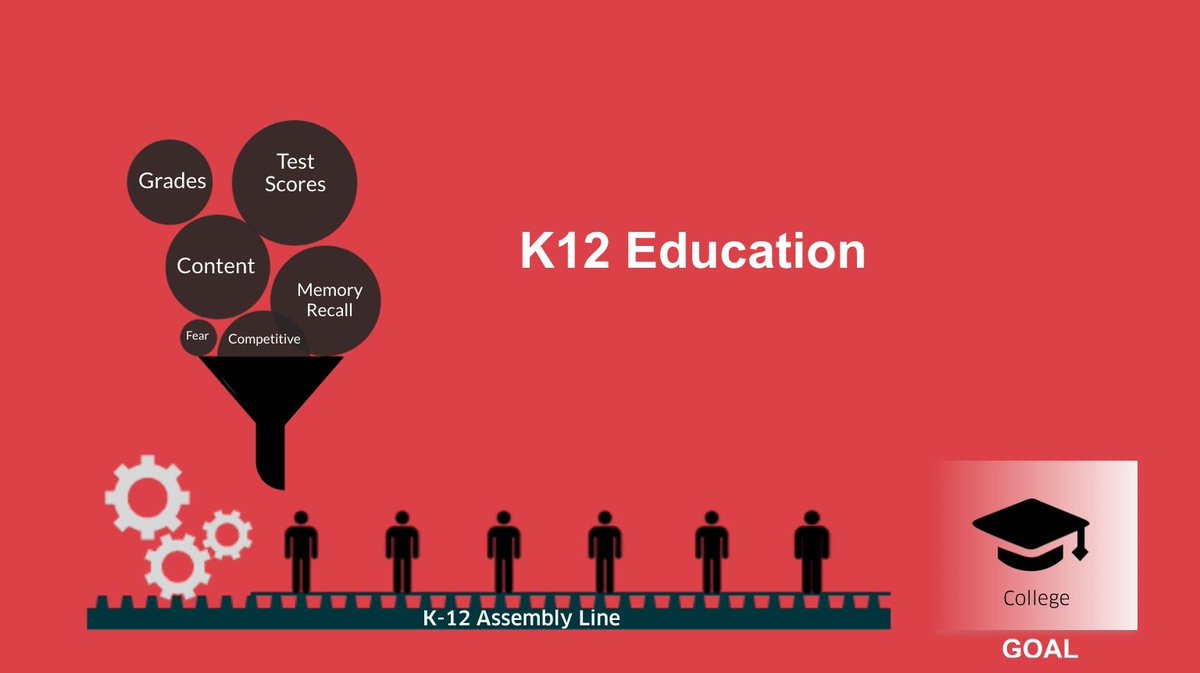 5/
Due to the associated financial rewards, academic ability grew in importance & became a symbol for intelligence. Those who didn't excel at it was assumed dumb or learning-disabled. Focus was to prepare kids for college rather than
#mastery
,
#happiness
&
#fulfilment
.
6/
Talking about happiness - last year, in a
@googletalks
panel ( ),
@sama
spoke about how technology is making people unhappy. Few days before that, a
@Telegraph
article quoted that work pressure is making people unhappy. I think both are mistaken.
7/
People are unhappy coz our social/educational systems didn't prepare us for
#happiness
&
#fulfillment
but for college & jobs. Tech is easy to be blamed but ultimately it is just a medium. IMO technology is our only saving grace from the crisis - due to the scale it offers.
8/
With groundbreaking work from
@sirkenrobinson
and alike, we are seeing a shift to make education mindful & holistic but until we are able to measure the impact and scale it into public schools, the idea of a permanent change is elusive. This is our mission at
@schoolze
.
9/
Our hypothesis - Build an incentivizing and affordable technology framework that can 1) measure "subjective" aspects of a school (
#whatgetsmaesuredgetsdone
) and 2) work side by side with the current measurement system, without getting influenced by it.
11/
Today, research backs it - that if we can measure & enhance these 7 factors (i.e.
#TheContext
) in a school, even a failing school will start producing happier & well-rounded students. If you measure the right thing and sustain it long enough, it will become mainstream.
12/
Example - last year, we launched an MVP to measure
#funfactor
and results were fascinating (but not surprising if you follow the work of
@sirkenrobinson
). Notice the drop from 2nd grade to 3rd grade? It is real!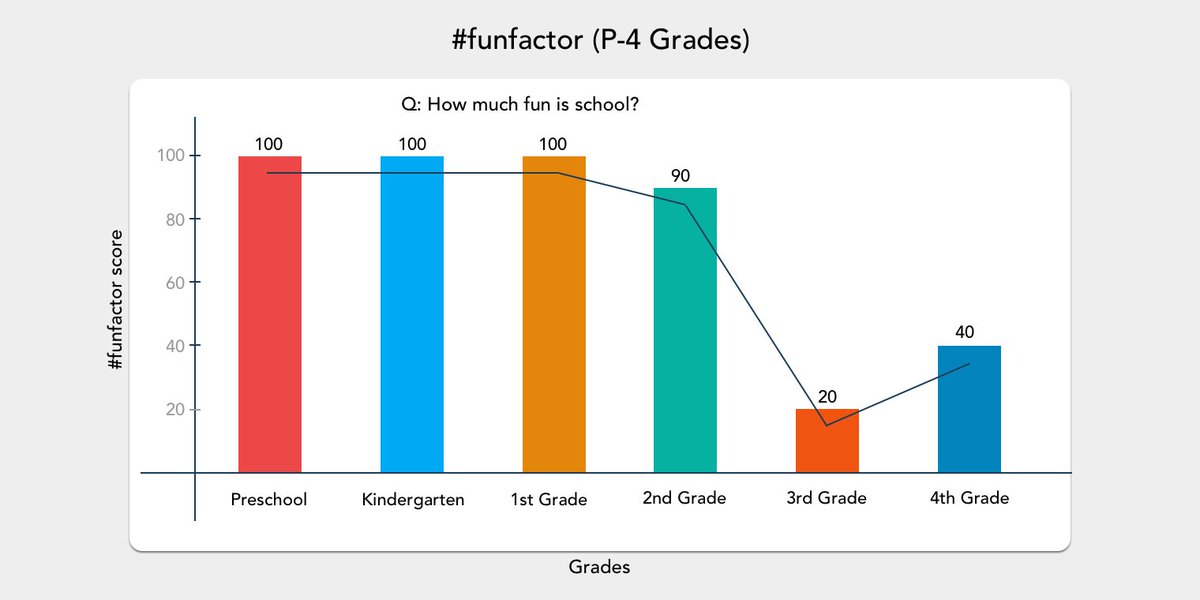 13 / So with
#TheContext
Schoolze has built a measurement tool for schools that will coexist with today's "academic" measurement systems and will scale to find dominance - because it is the only thing that matters.
14/
Next-up Solving for the distribution - The hardest part of taking over an old & bureaucratic incumbent ( aka testing ) is nailing the distribution. We crafted a 4-pillar strategy to solve for it. This is the topic for my next tweet.
15/
Also - we are passionate about bringing a positive change in our schools and about making them more mindful. If you are too, consider joining us in our mission. DM me here for a conversation.