i swear to god it is starting to feel like there is never NOT a school board meeting happening.
i have school board meeting fatigue & i didn't even make it to last week's meeting.
tonight's agenda. public comment is set for 8:55pm — we're in the lane auditorium at the albemarle county office building. come on down!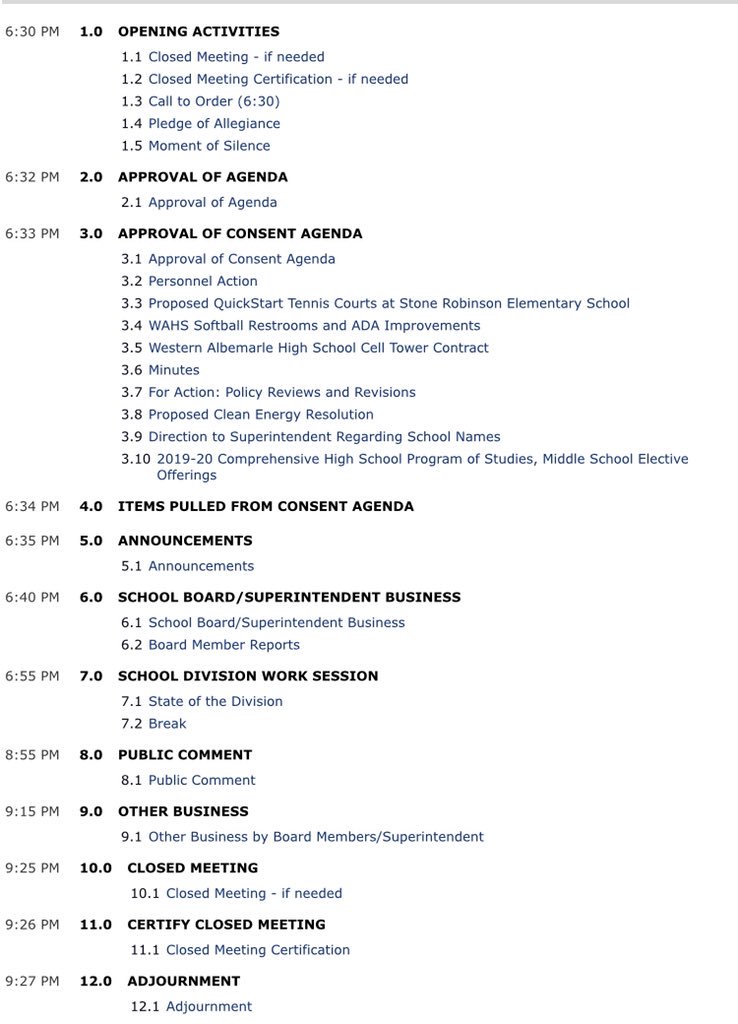 jason buyaki, the school board member who wore a confederate flag tie to the meeting about banning confederate flags from the dress code, just came out as a climate change denier.
he said there is scientific consensus among scientists who study it, "but it's a pretty broad field." says the language in the resolution acknowledging climate change is a red flag.
racist school board member: "i question the idea that petroleum products come from fossils." "that's something that was taught to me in schools - that oil comes from fossils. i find that very strange, that fossils are buried so deep in the earth" and we can just pump them up.
jason buyaki says "science is a constantly changing thing."
jesus fucking christ if there weren't a bunch of armed police officers in this auditorium ready to arrest anyone who makes a peep i would be hollering.
here's the resolution & the specific paragraph he takes issue with. i'll clip the audio from this portion of the meeting when i get home
esb.k12albemarle.org/attachments/53…
u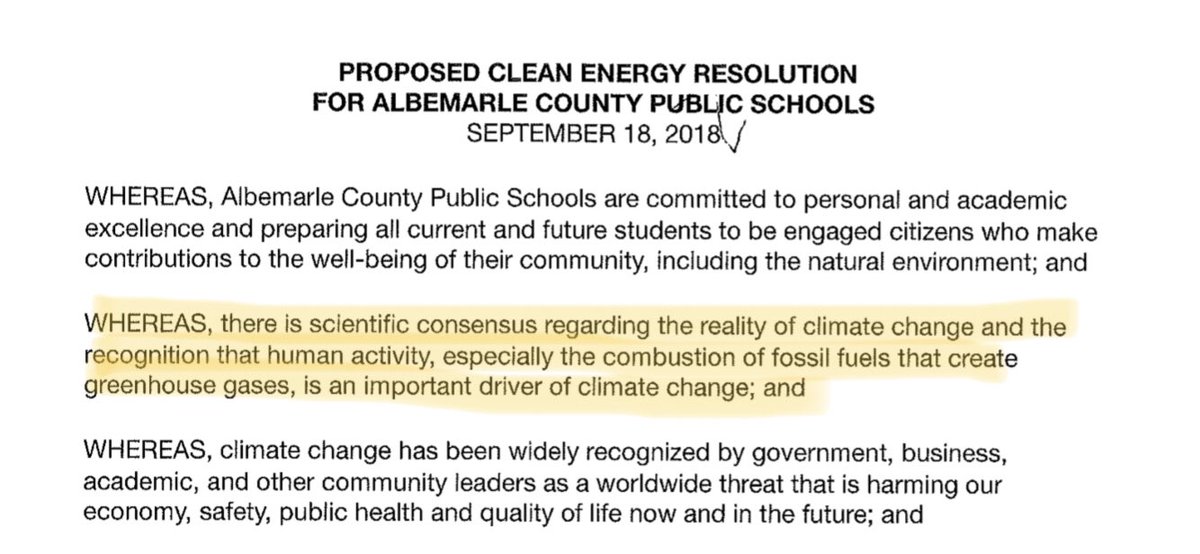 b0op
see also: the recent new york times/pro publica article about the enormous racial achievement gap in charlottesville city schools (turns out it's even worse in the county!)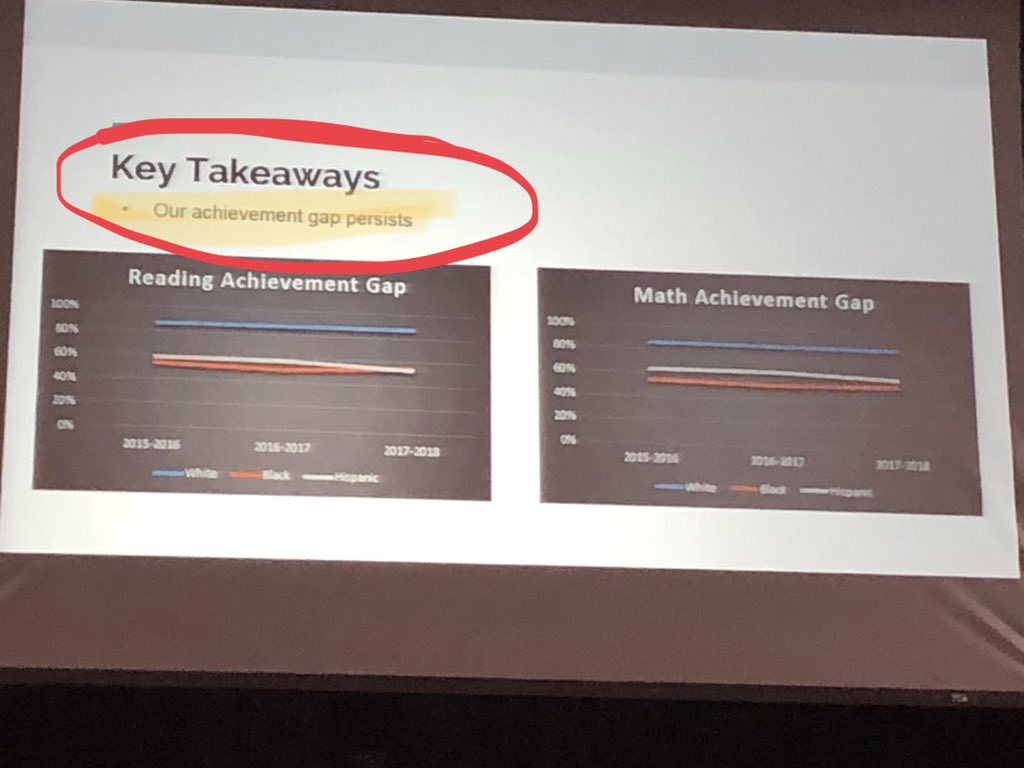 they've divided up into three groups to discuss different priorities — i opted to sit in on the group with kate acuff & jason buyaki because everything that comes out of either of their mouths makes me furious & i like being unhappy.
they spent a few minutes with a partner discussing this racial disparity data. the facilitator called them back to the table & asked what bright spots they found. they're struggling to come up with any.
"one of the concerns i have is the low percentage of blacks and hispanics identified as gifted," says school board chair kate acuff.
another woman at the table explains gifted identification is based on a universal screener. kate asks if the screener has been tested to be free of racial bias & she evades the question a little.
(i wish the people at the table had nameplates or something.)
still talking about identifying kids as "gifted": they're trying to ID *fewer* kids — what's not happening in the classroom that parents are pushing for pullout services? they want to instead raise expectations for all students in the classroom.
county schools have in recent years come close to eliminating the huge racial disparity in suspensions. a school system employee says this is due to funding for their step program, an alternative to suspension.
you can tell they expect little to no public observation when there are exactly two chairs shoved into a corner in the room they're using for a breakout session.
asked to identify a bright spot in the SOL data, kate acuff says "overall, the pass rates are good." (and they are! but that really underscores the severity of the racial disparities we're seeing)
now, when the chair of the school board asks "what does an interventionist do?" that's not because she doesn't actually know... right? right?!
did kate just say "how stinky they are doing at educating their black students"

stinky. institutional racism is just the pits.
back in the auditorium after the breakout sessions. public comment was scheduled for 8:55 - should be getting there soon.
oh you think your community is engaged in local government? you absolute infants. it's 9pm on a thursday and we've got a videographer and a legal observer at a school board meeting.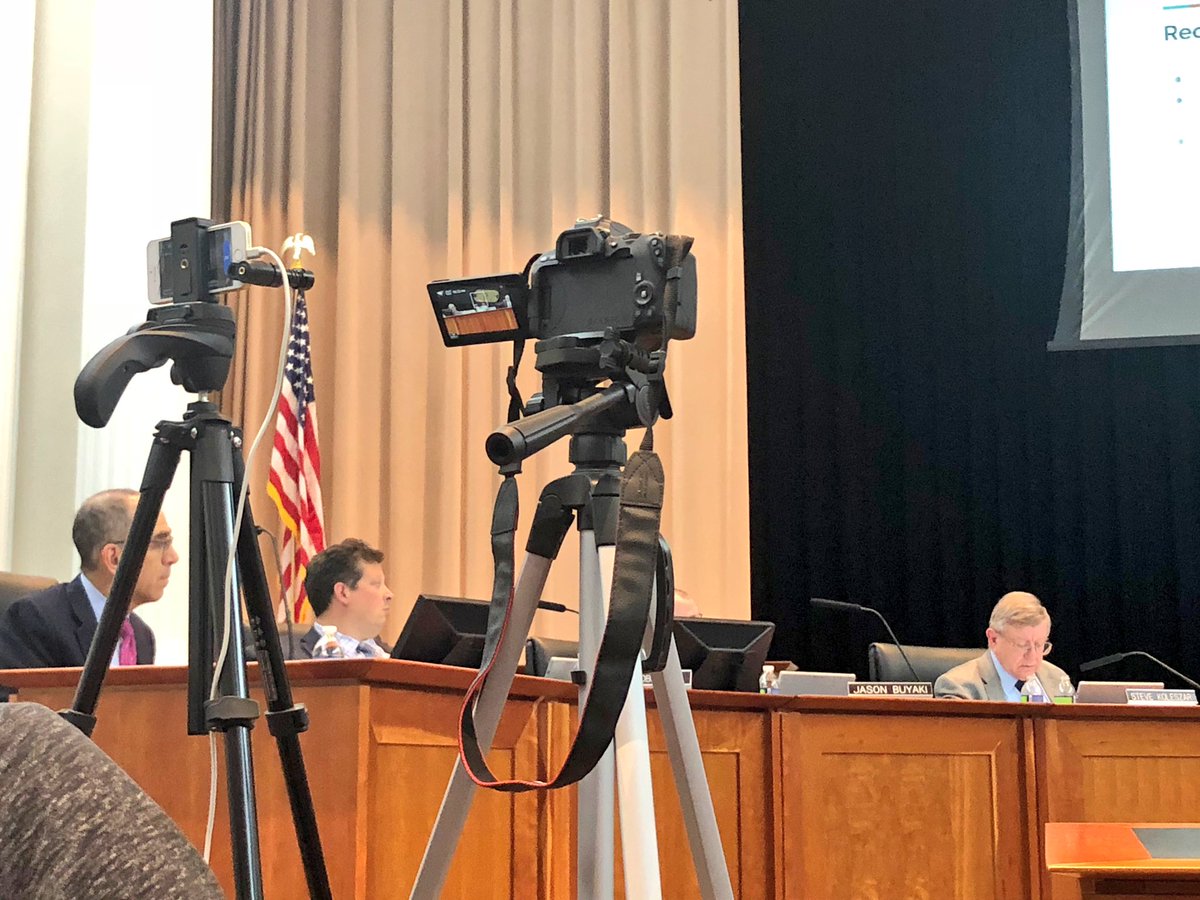 "there's obviously something wrong with this process," says school board member steve koleszar about the massive racial divide in gifted identification. he says he attended a session with chesterfield schools & they've made changes to their process & no longer have that disparity
"it's not acceptable, it's just not," says david oberg, agreeing with koleszar about the need for change.
i don't mind a late meeting. city council often goes past midnight. but i am concerned that this delay in starting public comment will result in it being cut. this school board has been known to stick to their scheduled adjournment times & isn't known to value public inp

U9bD
steve koleszar asks, seemingly out of the blue, how easy it would be to find out how many ACPS graduates "are in jail." he goes on to explain that if they (as a school system) are doing a good job, none of them will be in jail 🤦‍♀️
i fuckin' love these weird fascist reminders about how if we don't behave during public comment they'll have the cops drag us out
i have to behave because all the lawyers i know are already busy defending my friends arrested at previous school board meetings.
the first speaker is worried about "the recent controversy" about the name of cale elementary school. he says he knew mr cale personally & he was "a good christian gentleman" who "never said anything raci
dailyprogress.com/news/education…
QVL0
the first speaker implied that they never would've named the school after cale if he weren't great? second speaker points out how many local buildings are named after confederates.
"our children deserve to feel safe in school. that's the most important thing." "if they don't feel safe, there's nothing else they're going to be able to do in school."
both the 2nd and 3rd speakers acknowledge that the board doesn't have authority over the police or the commonwealth's attorney, but at the very least call for the board to make a statement condemning the police brutality at the august meeting.
re: the name of cale elementary, the names of these schools send a message & "we can find someone who didn't make the kinds of comments that he did make about black people. it's very well documented."
the next speaker says it's dishonest to say this information about cale is "newly discovered" - many people have known about his problematic history all along.
next speaker speaks to whatever semblance of humanity or compassion the board may have. "the people you arrested are not just activists — they are people." "they are not just my comrades, they are my best friends. they're people who've stood toe to toe against white supremacists"
"you can't undo what you did. but you can make a change right now"
"i ask you right now, whose side are you on?"
(i'd clap & hoot & holler but they'd drag me out in cuffs if i so much as snapped my fingers)
next speaker is an educator & a parent speaking to the issues with gifted identification. 10% is best practice - in cville city schools, 40% of white students are labeled gifted.
TWO PERCENT of african american students in albemarle county schools are identified as gifted.
"there's something wrong with the process. and if you let that process continue" you should not be in public education
meeting adjourned! the school board does not respond to (or even really acknowledge) any statements made during public comment (this is their standard, official policy)