This paywalled article claims 28% of all Tweets about
#migrationspakt
were posted by bots and therefore the debate was significantly influenced by bots. I don't believe that and here ist why.
(Thanks
@Heimatlost
for bringing it to my attention.)
welt.de/politik/deutsc…
/1
Machine learning often misclassifies humans as bots. Either because of a faulty learning set or because they act the same.
- Fixed definition like 50 Tweets per day. Wrong on multiple levels. Watch the talk by
@MichaelKreil
:

/4
- By hand. Look at the Tweets, at frequencies (
@accountanalysis
), how they reply, if they can hold conversations, etc.. Lot's of work, needs experience, not viable for big numbers of accounts.
There is no reliable way. Machine learning with manual confirmation probably best.
/5
The article gives no examples (automated accounts or Tweets) to at least give it some credibility.
/6
There are other parts in the article that are plausibel. The importance of YouTube, the chatrooms where images with captions are shared, websites that publish lies. Even 'Influence operations' are plausible in the sense that people organize themselves to push something.
/9
There is no proof of bots.
Hoaxy (uses botometer scores) shows 6% probably automated accounts. Analyzed way less Tweets, but you can click on each suspected bot:
hoaxy.iuni.iu.edu/#query=%23migr…
While many of them are indeed automated, they didn't significantly influence the debate. /10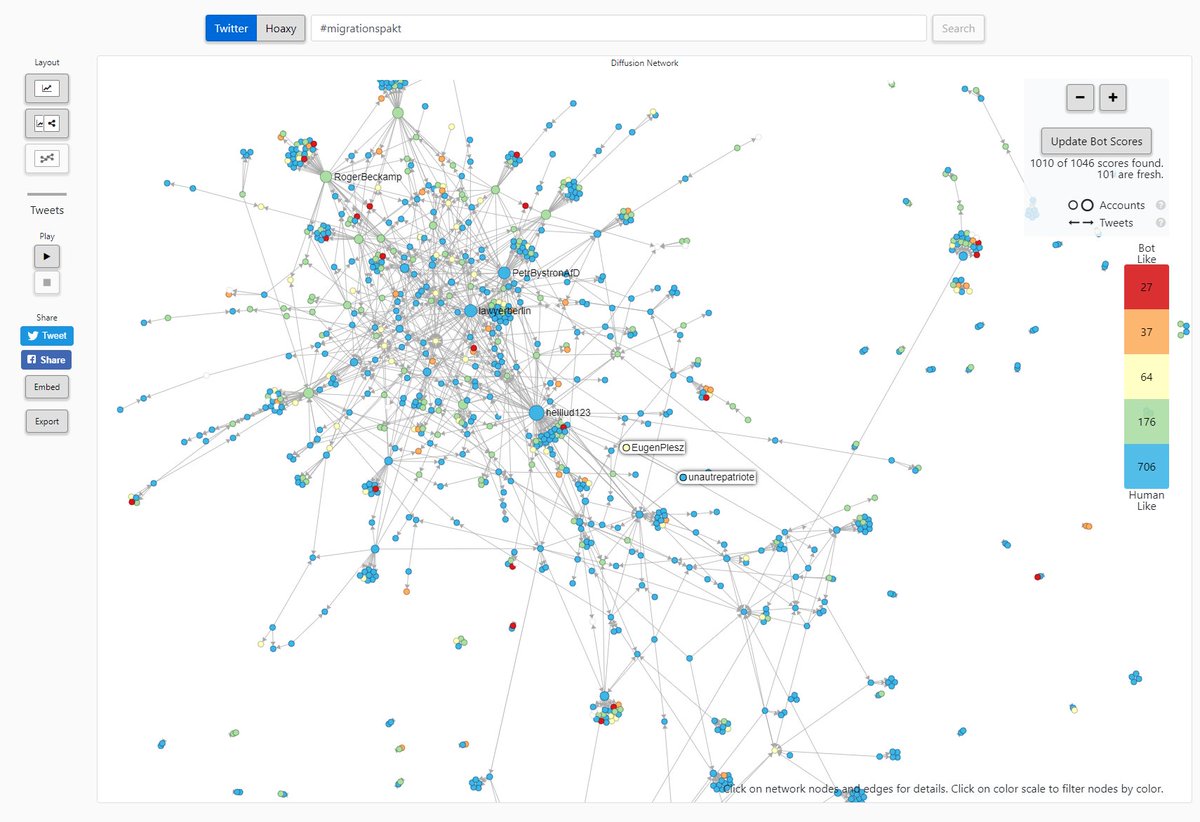 @uebermedien
While I question the methodology, you should question the influence of automated accounts as well:
/12
Identifying bots is complicated.


Open letter to
@TabWilke
and
@botswatch
asking them to share their data/methods with the public to review them.
2016 called and left some explanations about bots. [German]

The non-existence of bots does not mean, that there was no misinformation.