Good evening beautiful people of Twitter street, your darling story teller is here again, and tonight will be a wonderful time.
Today I am talking about a wonderful icon, Ibadan son
STORY TITLE : Adegoke Adelabu 'Penkelemesi'
#thestory_teller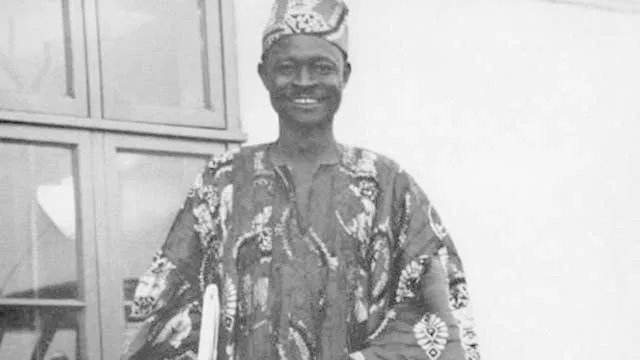 Adegoke Adelabu attended St. David's C.M.S School in Kudeti, Ibadan from 1925 to 1929; CMS Central School, Mapo, Ibadan in 1930 and Government College, where he was a head boy, from 1931 to 1936.
He later took up a civil service job, then returned to UAC in 1945 only to leave after a short period to start a textile trading business which was successful.
After acquiring little wealth from his textile business, a business he did with Levantine clients in Ibadan.Adegoke Adelabu got involved in politics.
Ibadan Native Authority system was dominated by junior chiefs, family heads (mogaji) and the Olubadan, majority of whom were not literate. Adelabu became interested in acting as an Administrative Secretary for the native council
At this time Ibadan lineage chiefs (Mogajis) rose against Salami Agbaje, the then Otun Balogun of Ibadan, from becoming the Olubadan of Ibadan. In 1951, during the local elections, Adelabu and some other political elements formed a new party called the Ibadan People's Party
However, the Ibadan People's Party broke apart after an informal alliance with NCNC was proposed by Adelabu. Adegoke Adelabu stayed with NCNC and became the secretary of the party's Western Province Working Committee.
He held this post along with his chairmanship of the Ibadan district council.

He later resigned from both positions after allegations of corruption by the opposition party, Action Group.
The people so much loved Adelabu. He was indeed a 'man of the people'. when he became the Minister of Labour, he was given an official limousine car which he drove to Ibadan to show his friends and followers and declared that the car belonged to them, not him.
Adegoke Adelabu simply said, "If they do not like noise and drumming, they are free to go back to their own country." Adegoke Adelabu admitted being an egoist in a book he wrote in 1952 titled 'Africa In Ebullition: Being a handbook of freedom for Nigerian nationalists'.
In the voice of
@OnigegeWura
One of the places you must endeavour to visit in the historic town is Taj Mahal in Oke Oluokun. That's the residence and final resting place of Alhaji Adegoke Adelabu, the Lion of the West.
THE END.
THANK YOU