Speaker from Burkina Faso: women requesting clitoral 'reconstruction' surgery in his clinic after some forms of FGC don't realize that the external clitoris is not necessary or sufficient for orgasm: many women without FGC struggle w/ orgasm; many with do not. So first step in
counseling is to explain that clitoral structures that are anatomically involved with orgasm are still extant and can function; with appropriate sex therapy and education, many women do not pursue surgery (with its additional risks); others pursue it for a sense of identity -
feeling 'whole' again as a woman, in a sense symbolically undoing the prior, non-consensual cutting with new, consensual cutting (which consists basically of repositioning of the remaining clitoral structures, bringing them forward, outside the body). See
sciencedirect.com/science/articl…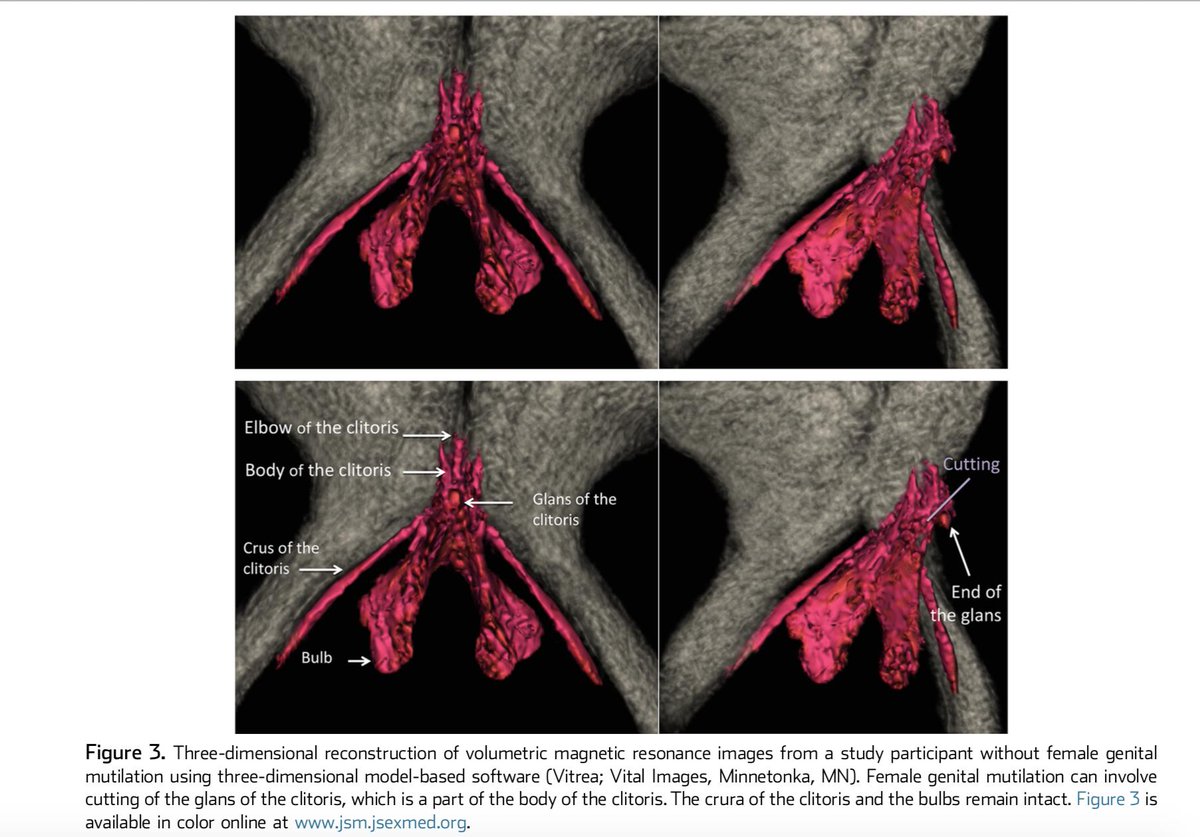 S. O'Neill speaks next. Case studies of women seeking clitoral 'reconstruction' (CR) after FGM/C. Most experience pleasure and enjoy sex, but some are concerned they 'look different' and will have to explain to partners that they were cut. Counselors may explain that uncut vulva
appearance varies dramatically, and it may not be so obvious that cutting has occurred; moreover, CR itself risks damaging nerves/ causing risk to sexual pleasure, b/c it is a new cutting & may be more severe than original FGM/C. This risk causes some women to reconsider CR.
One background problem is the language of how "barbaric" and "mutilating" FGC practices are, which, beyond any physical effects, cause many women to feel shame/discomfort about bodies (often after migration or being exposed to Western discourse on 'FGM'): this can damage sexual
experience/confidence, driving some women to feel they must now seek additional cutting/surgery to (re)conform their bodies to the new standard of the Western culture, when before they enjoyed sex and felt comfortable in their bodies.
Thought: 1 way 2 address this tension may b 2 focus on the fact that FGC is *wrong* when it is *non-consensual* but this does not entail that it is always debilitating/physically harmful in the way suggested by Western 'mutilation' discourse. So helping affected individuals come
to terms with the wrongfulness of what happened to them (because non-consensual) - such that the practice should not be done to next generation - does not entail that they themselves are now 'damaged goods' (which can cause secondary harm & psychosexual dysfunction). Applies to
other non-consensual forms of genital cutting as well, steering a course between secondary harm through 'mutilation' discourse and denial of harm coming from non-consensual nature of the cutting.
J. Abdulcadir (moderator): We must remember with clitoral 'reconstruction' that we are now cutting *again* a place that was cut, and this carries surgical risk, and we do not have good evidence that the physical (or even psychological) outcomes are generally beneficial. Promising
a 'surgical fix' to something that requires sensitive counseling, education about sexual anatomy, etc., is something we should be very cautious about; if the outcomes are not as promised, this is harm on top of harm, and unjust to the women who were already cut.
C. Vanderhoeven - new talk on sexual function/experience after FGM/C. Many women unfortunately believe that the external clitoris is the 'place' where sexual pleasure happens/is made possible. She uses drawings and counseling to show that sexual experience is more heavily shaped
by beliefs, thoughts, emotions, treatment by others, genital structures that are not removed by FGM/C - indeed, recognition of the entire body as a sexual organ - with quality of the sexual interaction (taking time, communication) being very important. Sexual fulfillment is a
journey, that takes learning about oneself, one's body, one's society, and respectful relations with partners - not something that is just obvious or will happen automatically; understanding the entire vulva as a 'treasure map' rather than belief that external clitoris is
necessary/sufficient for orgasm ... the goal is to undo the "mental castration" that comes from so many sources (including, unfortunately, the prevailing Western discourse on 'FGM' which misrepresents the cutting as inherently sexually disabling).