MODERN SYSTEM OF
#EDUCATION
FROM MADRAS
While over millennia, many world over came to India to learn, the British went one step further. They decided to take the system back to England with them to educate their children.
The man who did this, lies buried in Westminister Abbey. He was Dr.Andrew Bell. As a reminder of his contribution, the epitaph on his tomb reads,
"The Author of the Madras System of
#Education
".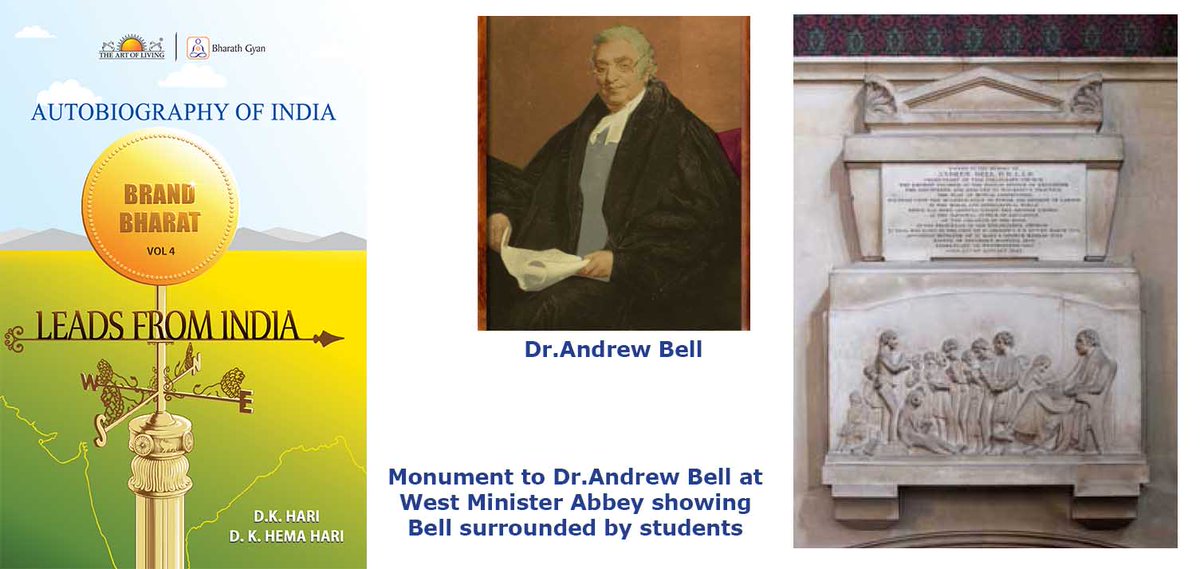 Searching for teachers for his school, Bell came across a Malabar school teacher, teaching his students by tracing letters on wet sand. The other way to teach writing was using a piece of chalk on slate.
These simple systems of teaching how to write, using economical, erasable aids, were borrowed by his Male Military Orphan Asylum school.
Bell saw Gurukula in the villages of India, where older students minded and taught the junior students. From there, he borrowed the concept of a Class Monitor for his school and John Frisken became the first monitor for the Male Military Orphan Asylum Madras.
Thus was formed the basis for the system of education in the Male Military Orphan Asylum at Egmore, Madras.
Along with another Englishman, by name, Mr. Lancaster , Bell started The Madras College in England.
In Indian Gurukula, one of the popular ways of learning was through Group Study, which again was incorporated into the system of education introduced by Bell.
One more method of educating children, inspired from India, was the concept of attractive, short & sweet Nursery rhymes